24 Cool Gifts For The Rolling Stones Fans
A list of the coolest gifts for The Rolling Stones fans. From Studio Album Collection to Sweatshirt, you'll find all kinds of awesome gifts here.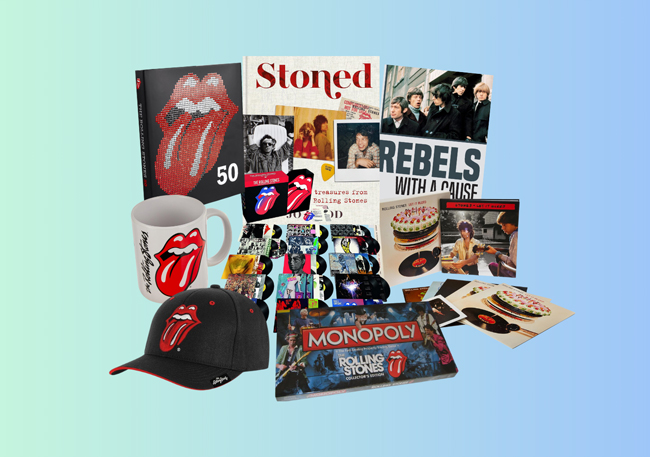 It's the dreamers that change the world. Where would we be without the irrationally optimistic people who, despite the scary pile of odds stacked against them, aspire to think different, to start a company, make a film, write a bestseller or start a band.
It was a 20 year old guitarist in London who dreamed of starting his own rock and roll band that lead to the creation of one of the most influential and popular bands in the history of music, The Rolling Stones.
Brian Jones persuaded Mick Jagger and Keith Richards to join him in his journey and the rest is history.
They were the opposite of the family friendly Beatles. Being hated by the old generation, they became more popular among the young. Even today, there are millions of fans all over the world who are loyal to them.
Following is a list of gifts for The Rolling Stones fans. From neon light signs to Mick Jagger mugshot poster, you'll find the best gifts any fan of the band would love.
The Rolling Stones Studio Album Collection
A true fan would love nothing more than to own a collection of The Rolling Stones Albums. This limited edition collection has all the albums from 1971 - 2016.
Music is mostly digitized now and no one buys disks or vinyls, but that only adds to the value of this gift. No amount of binary can replace the feel of a vinyl disk or the way it looks on the shelf. There is something fulfilling about it.
Rolling Stones Neon Light Sign
This Rolling Stones neon light makes the room look awesome. A fan would definitely like to have this on their wall. If they're in a band or have a studio, they'll love it. Actually, I don't think anyone who wouldn't want this.
You can gift this to someone young and unmarried. I wouldn't recommend this for someone who is well past their rock and roll age.
Rolling Stones Poster Print
We decorate our walls with posters, paintings and decorations that reflect on who we are as people. Every home is an art piece in itself and the walls, tables, and shelves are the canvases for us to fill.
Any Rolling Stones fan would love to show their admiration for the band they like by putting up this beautifully designed poster on their wall. It's a tribute to the artists that rocked the world.
The Rolling Stones 50 - Book
This photo book features the best collection of photos of the band at their best. It captures the energy of the band while they performed in largest stadiums filled with thousands of fans crazy about the Rolling Stones.
It's a pleasure to see these photos and in a way it takes you there, right along with the audience and the band. You can almost imagine what it would feel like to be part of this awesome madness.
Any lover of the band would enjoy this book as a present.
The Rolling Stones All the Songs - Book
Wouldn't you love to read about the stories behind the songs of your favorite rock band? The inpsirations, struggles and breakthroughs that lead to those creations that you can't imagine life without.
May be I'm being dramatic but without the songs that are close to our hearts and the memories they are associated with, we'd be different people.
This book is about the stories behind all the Rolling Stones songs. Any fan would be thrilled to read what's inside.
The Rolling Stones Logo Wall Poster
Who doesn't know the signature lips and tongue logo of the Rolling Stones? Somehow it symbolises the crazed passion and forbidden fruit nature of the band.
This stunning poster will look great on any Rolling Stones fan's wall. The simple yet outstanding design makes it great. It's a cool gift.
The Rolling Stones Lyrics Wood Sign
The lyrics on this sign belongs to one of their most popular songs. It has become a philosophy of sorts. And there's an essential truth in these words.
"You can't always get what you want," which is true. But if you try, they say, "you might get what you need."
Maybe someday your Rolling Stones loving friend will wake up, see this and get inspired enough to go after the thing they want.
The Rolling Stones Singles Collection
An essential for any self respecting Rolling Stones fan. A collection of all the songs from the London years. From Come On to Sympathy For The Devil, this one has them all.
Yeah, sure, they can download these songs online, but, like I said before, digital can't compare with having a physical disk that reminds you of the music before you put it in. A simple but effective gift.
Rebels With A Cause - Book
Most of us know the Rolling Stones as the mega popular rock band that dominated the show bizz a few decades ago, but before all the fame, they had a very different identity.
This book tells us about the times when Brian Jones, who wasn't so popular among critics but was a music genius, was part of the band and how his death changed the band.
An intriguing read for any fan who would like to know more about the band's history.
The Rolling Stones - Rock & Roll Circus
This Rock and Roll Circus documentary was filmed before a live audience in London in 1968 and was a BBC-TV special. The Rolling Stones performed six of their classic songs and the audience had the time of their lives. Makes you wish you were there.
The set contains a Blue-Ray and a DVD of the film along with the 2CD expanded soundtrack as a bonus. Trust me, a fan would be thrilled to get this as a gift.
The Rolling Stones Door Mat
A door mat as a gift you say with suspicion in your voice? Well, why not if it's the world's coolest doormat.
Welcome people into your home with this awesome doormat so that they know whose home they're getting into. By you I mean your recipient.
And also it makes a good ice breaker. "You like the Rolling Stones?" "I love the Rolling Stones!"
Rolling Stones Tour of Europe T-shirt
I'll be honest; t-shirts don't always make good gifts. You have to consider your recipient's taste, size and it's difficult to know if they'll want to wear it.
But you can't go wrong with this if it's a band t-shirt. As long as the design is not too bad and you get the size right, you're good to go.
Let it Bleed - 50th Anniversary Edition
Let it Bleed was one of the biggest hits of The Rolling Stones. It is a favourite of many around the world. I love that song. I can't believe it's been 50 years since it was released.
Anyway, this 50th anniversary edition is a pleasant reminder of the everlasting popularity of the band. If you know your recipient likes this song, give them this.
Mick Jagger Mugshot Poster
I found this seller on Etsy who sells these celebrity mugshot posters. He has posters of Frank Sinatra, Tupac and even Johnny Cash.
I'm not sure where the idea came from, but I love how this guy made it into a business.
Anyway, this Mick Jagger mugshot poster is just so cool, any fan would want it. It'll make a fun gift.
Rolling Stones Original Cassette Poster
There is a beauty in simplicity. It calms down the mind and lets us focus on the beauty. This poster does exactly that.
No distractions. The artist knew that the images of the original Rolling Stones cassettes by themselves were attractive enough so nothing else was needed.
If your intended recipient is into minimalism and has a simple taste, they'll love this, but if not, maybe pick something else.
Can't Give It Away on Seventh Avenue
This book is not just about the band. It has two subjects–The Rolling Stones and New York. Specifically how after coming to America, the band went on to win the hearts of the people.
It's a story of the relationship between the world's most famous rock band and America's most famous city.
Any fan of the band would love to read this. And if they're New Yorkerers, nothing else will make them prouder.
Rolling Stones Crew Neck Sweatshirts
I have a rule–sweatshirts are best when they're plain. I don't like printed sweatshirts. But I made an exception with this because of the great design.
It just looks awesome. The font, the graphic and even the placement are all perfect. This will make a lovable gift.
Rolling Stones Keith Richards Poster
I don't know where and when this photo was taken, but I love this poster.
Listen to Keith Richards, kids. "A drug free America comes first!" This will make a refreshingly fun gift for any fan of the Rolling Stones.
Keith Richards was truly a genius.
Rolling Stones Harley Davidson T-shirt
Like I said, I'm not big on t-shirts as gifts, but when Harley Davidson starts making Rolling Stones t-shirts such as this one, I'm buying.
This is a woman's t-shirt though. You can gift this to a girl who loves the band. They'll love it. How can they not? This is too cool. Seriously, I love the design.
The Rolling Stones In Mono Box Set
Back then in the 60's most of the band's songs were recorded in mono. And this collection contains 186 tracks, and 56 of them were never heard before in mono before this. Which kind of makes this a historic release.
It's a different experience, and, if they know their music, your recipient will be able to tell the difference. If not, you can always tell them the thought behind this gift. They'll like it.
Up And Down With Rolling Stones
This book was originally titled "I was Keith Richards' Drug Dealer." The author worked for Richards for over eight years and tells a fascinating story about the life with the Rolling Stones.
Everything from racing cars along the Cote d'Azur to frantic flights to Switzerland for blood changes. This book is no short of a thriller mystery. Only it's all true. It's a great read.
Talk is Cheap - Keith Richards
Not exactly a Rolling Stones creation, but if your recipient loves them then chances are they'll not mind anything by Keith Richards.
From Make No Mistake to Blue Jam this set has Richards' best solo albums. It will make a simple enough but fine gift for any fan.
Rolling Stones Lip And Tongue Ring
If you're looking for a gift for your girlfriend or wife, this is a great option to consider. Women love their jewelry and a Rolling Stone loving girl would absolutely cherish this silver ring.
It has no diamond though, just lip and tongue, so if you're looking to propose, get an actual ring.
Rolling Stones Airpod Charging Case
Practical, useful gifts are effective. People prefer them over what givers think they do. But practical gifts don't always work. So, here's a better option; thoughtful yet practical gifts.
And this Airpod Charging case is one. It's useful and because you are considering their love for the Rolling Stones, also thoughtful. A great gift.