25 Cool Gifts For The Rolling Stones Fans
This gift-guide brings you a collection of cool products that any fan of The Rolling Stones would want to own. The best gifts that'll impress your recipient.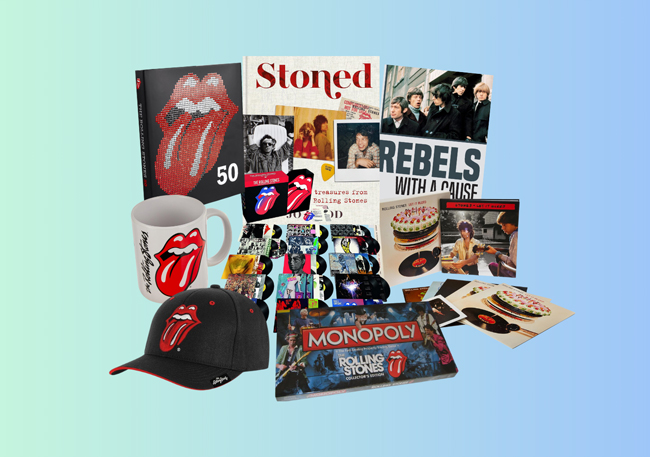 It's the dreamers who dare to aspire big end up changing the world. Where would we be without the irrationally optimistic people who, despite the scary pile of odds stacked against them, dare to be unconventional, to start a company, make a film, write a bestseller or start a band. It was a 20 year old guitarist in London who dreamed of starting his own rock and roll band that lead to the creation of one of the most influential and popular bands in the history of music, The Rolling Stones.
Brian Jones persuaded Mick Jagger and Keith Richards to join him in his journey and the rest is history. They were the opposite of the family friendly Beatles. Being hated by the older generation, they became more popular among the young. Even today, there are millions of fans all over the world who love them.
Following is a list of gifts for The Rolling Stones fans. Pick one that you think suits your recipient's style.
Stoned - Life With The Rolling Stones
Jo Wood, the author of this book, was married to The Rolling Stones guitarist Ronnie Wood and spent decades traveling with band, witnessing firsthand what life is like for the artists. She also documented her life along the way.
Stoned - Photographs and Treasures From Life With The Rolling Stones is an insider look into the band. It's a collection of interesting photos, her notes and diary entries that reveal stories that have never been before. Any fan would enjoy owning this book.
The Rolling Stones Crossbody Bag
Recipients are often more impressed when they get gifts that they can use. Your gift doesn't always have to be practical. Symbolic value matters when it comes to exchanging gifts with loved ones. It's better to pick a gift that is somewhat practical and also related to your recipient's interest.
Any fan of the band would love to use this stunning Rolling Stones themed crossbody bag. It's well designed, good quality and represents their love of The Rolling Stones.
The Rolling Stones Tumbler
A gift should be aesthetically pleasing. Recipients prefer it over functionality. A gift should be useful, but you should also pick one that is attractive and "giftlike".
This stylish Rolling Stones themed tumbler is a perfect gift for any fan of the band. It features a variety of logos that the band have used over the years. It's appealing and practical. Any dedicated fan would enjoy using it.
The Rolling Stones Photobook
This is the 50th Anniversary deluxe edition of The Rolling Stones 1972 Photobook. Legendary photographer Jim Marshall was brought in by LIFE magazine to shoot the 'Exile on Main ST.' tour by the band. The result is a collection of iconic photographs that still fascinate fans even after five decades since they were taken.
If your recipient is someone who isn't much of a reader but would be interested in a premium photobook, give them this as a gift. It's a must own for any real fan of the band.
The Rolling Stones Vinyl Coasters
The age of internet and ecommerce ensures that no product is limited to boring options. You can find interesting spinoffs of the most mundane objects.
You can give these Rolling Stones themed vinyl coasters to any fan who owns furniture. They'll appreciate getting coasters that look so cool and save them money on furniture repair at the same time.
Handcrafted Rolling Stones Ring
If your recipient is someone close to you–a romantic partner, family member or a close friend, you should give them a gift that feels a bit personal. A ring does a fine job communicating closeness.
If your recipient loves The Rolling Stones and doesn't mind taking fashion risks (observe if they do wear rings and such accessories) this will be a perfect gift for them.
The Rolling Stones Baseball Hat
It's better to pick a gift based on a recipient's general interests rather than going for a very specific preference. Even if you think you understand your their needs well enough, you're likely not match up with their exact wants.
A baseball cap with their favorite bands logo on it is something most people would appreciate getting. This Rolling Stones hat will make a good gift for any fan who wears them.
The Rolling Stones Beer Glass
Everyone like beer and drunk people end up with broken beer mugs from time to time. Which is why everyone appreciates it when they get a beer glass, especially one with their favorite bands logo printed on it, as a gift.
This Rolling Stones Themed beer glass will make a fine gift for any fan who drinks beer.
The Rolling Stones Mug
Coffee mugs with cheesy lines or puns don't make good gifts. Your recipient will likely roll their eyes and, if they're polite enough, give you a fake smile to reassure you that they like your gift.
A stylish one such as this Rolling Stones official mug is much more impressive. It looks cool and since it's related to their interests (Their favorite band) they'll want to own it.
The Rolling Stones Unzipped
The right book can make a great impression when given to the right recipient. You have to know their reading preferences well enough to know what kind of a book they'd want. For people who aren't much into reading, you can give them a book with lots of illustrations and pictures in it.
The Rolling Stones: Unzipped covers the musical career of the band. Their history, what life was life for the musicians and their influence on the culture. It's full of stunning illustrations and photos and even commentary by Mick Jagger, Keith Richards, Charlie Watts, and Ronnie Wood. Any fan would be delighted to get this as a gift.
Studio Album Collection Boxset
A true fan would love nothing more than to own a collection of The Rolling Stones Albums. This limited edition collection has all the albums from 1971 - 2016.
Music is mostly digitized now and no one buys disks or vinyls, but that only adds to the value of this gift. No amount of binary can replace the feel of a vinyl disk or the way it looks on the shelf. There is something fulfilling about it.
Rolling Stones Monopoly
The most effective gifts are those that relate to a recipient's multiple interests. If your recipient enjoys board games and is a fan of The Rolling Stones, they'll be thrilled to get this Rolling Stones Monopoly game as a gift.
If they don't seem like a person who'd be interested in playing board games then skip this one. Just because it's inspired by their favorite band won't be enough reason to get them interested.
The Rolling Stones 50 - Book
This photo book features the best collection of photos of the band at their best. It captures the energy of the band while they performed in largest stadiums filled with thousands of fans crazy about the Rolling Stones.
It's a pleasure to see these photos and in a way it takes you there, right along with the audience and the band. You can almost imagine what it would feel like to be part of this awesome madness.
Any lover of the band would enjoy this book as a present.
The Rolling Stones All the Songs
Wouldn't you love to read about the stories behind the songs of your favorite rock band? The inpsirations, struggles and breakthroughs that lead to those creations that you can't imagine life without.
May be I'm being dramatic but without the songs that are close to our hearts and the memories they are associated with, we'd be different people.
This book is about the stories behind all the Rolling Stones songs. Any fan would be thrilled to read what's inside.
The Rolling Stones Logo Wall Poster
Who doesn't know the signature lips and tongue logo of the Rolling Stones? Somehow it symbolises the crazed passion and forbidden fruit nature of the band.
This stunning poster will look great on any Rolling Stones fan's wall. The simple yet outstanding design makes it great. It's a cool gift.
The Rolling Stones Singles Collection
An essential for any self respecting Rolling Stones fan. A collection of all the songs from the London years. From Come On to Sympathy For The Devil, this one has them all.
Yeah, sure, they can download these songs online, but, like I said before, digital can't compare with having a physical disk that reminds you of the music before you put it in. A simple but effective gift.
Rebels With A Cause
Most of us know the Rolling Stones as the mega popular rock band that dominated the show bizz a few decades ago, but before all the fame, they had a very different identity.
This book tells us about the times when Brian Jones, who wasn't so popular among critics but was a music genius, was part of the band and how his death changed the band.
An intriguing read for any fan who would like to know more about the band's history.
The Rolling Stones - Rock & Roll Circus
This Rock and Roll Circus documentary was filmed before a live audience in London in 1968 and was a BBC-TV special. The Rolling Stones performed six of their classic songs and the audience had the time of their lives. Makes you wish you were there.
The set contains a Blue-Ray and a DVD of the film along with the 2CD expanded soundtrack as a bonus. Trust me, a fan would be thrilled to get this as a gift.
Rolling Stones Tour of Europe T-shirt
I'll be honest; t-shirts don't always make good gifts. You have to consider your recipient's taste, size and it's difficult to know if they'll want to wear it.
But you can't go wrong with this if it's a band t-shirt. As long as the design is not too bad and you get the size right, you're good to go.
Let it Bleed - 50th Anniversary Edition
Let it Bleed was one of the biggest hits of The Rolling Stones. It is a favourite of many around the world. I love that song. I can't believe it's been 50 years since it was released.
Anyway, this 50th anniversary edition is a pleasant reminder of the everlasting popularity of the band. If you know your recipient likes this song, give them this.
Mick Jagger Mugshot Poster
I found this seller on Etsy who sells these celebrity mugshot posters. He has posters of Frank Sinatra, Tupac and even Johnny Cash.
I'm not sure where the idea came from, but I love how this guy made it into a business.
Anyway, this Mick Jagger mugshot poster is just so cool, any fan would want it. It'll make a fun gift.
Can't Give It Away on Seventh Avenue
This book is not just about the band. It has two subjects–The Rolling Stones and New York. Specifically how after coming to America, the band went on to win the hearts of the people.
It's a story of the relationship between the world's most famous rock band and America's most famous city.
Any fan of the band would love to read this. And if they're New Yorkerers, nothing else will make them prouder.
The Rolling Stones In Mono Box Set
Back then in the 60's most of the band's songs were recorded in mono. And this collection contains 186 tracks, and 56 of them were never heard before in mono before this. Which kind of makes this a historic release.
It's a different experience, and, if they know their music, your recipient will be able to tell the difference. If not, you can always tell them the thought behind this gift. They'll like it.
Up And Down With Rolling Stones
This book was originally titled "I was Keith Richards' Drug Dealer." The author worked for Richards for over eight years and tells a fascinating story about the life with the Rolling Stones.
Everything from racing cars along the Cote d'Azur to frantic flights to Switzerland for blood changes. This book is no short of a thriller mystery. Only it's all true. It's a great read.
Talk is Cheap - Keith Richards
Not exactly a Rolling Stones creation, but if your recipient loves them then chances are they'll not mind anything by Keith Richards.
From Make No Mistake to Blue Jam this set has Richards' best solo albums. It will make a simple enough but fine gift for any fan.