34 Fascinating Gifts For True Crime Fans
Discover the perfect gifts for true crime lovers in this handpicked selection. From books to immersive games, this list has all kinds of cool gift ideas.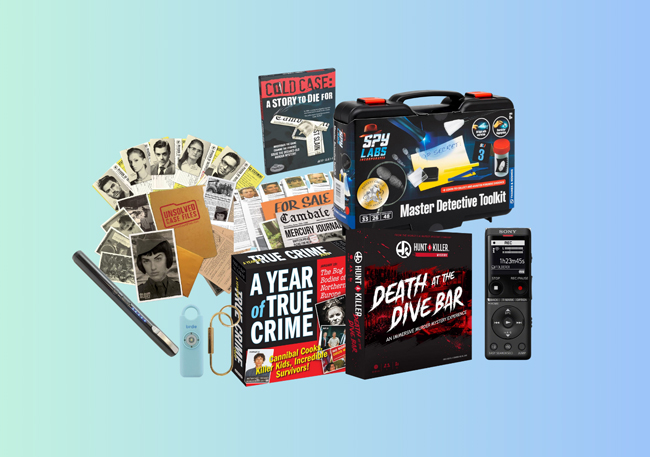 Many people, especially women, are drawn to true crime stories for a variety of reasons.1 This fascination stems from both psychological and social factors that make us interested in exploring the darker side of human nature from the safety of our homes. These stories allow us to empathize with the victims, offer a glimpse into the minds of criminals, their motivations and the factors that led them to committing the cruel acts. They appeal to the problem solver in us that wants to make sense of the world and also help us understand the social implications of these stories on society and the flaws in its structuring.
Women and people with higher neuroticism are especially interested in true crime because it helps them avoid the same dangerous situations and people that the victims fell for. Also, the new generation of mass media, like podcasts, YouTube channels, true crime books, and unsolved mystery documentaries have created a space for people who are obsessed with true crime- to talk about true crime to others who share the same interests.2
No matter where the motivations of a true crime junkie come from, at the end of the day, they love the genre with passion and giving them a gift related to this interest is a good way to seem thoughtful. Following are some gift ideas that'll appeal to anyone who is obsessed with true crime stories. Whether they aspire to be the next Sherlock Holmes or simply enjoy immersing themselves in the intriguing world of true crime, this list has something for every type of true crime junkie. Pick one that suits your recipient best.
The Crime Book
Featuring over 100 groundbreaking accounts of true crime, The Crime Book employs a visual approach with eye-catching graphics, charts, timelines, and illustrations that bring the stories to life. This guide explores the mysteries behind history's most notorious cons, heists, and murders, presenting them in a simple yet entertaining format.
It's the perfect gift for adults interested in the subject or students seeking a comprehensive overview. Whether they are new to the genre or seasoned enthusiasts, this book will satisfy their craving for thrilling true crime stories.
Multipurpose LED Tactical Light
Any true crime junkie will tell you that the world is full of dangerous people with ill intent and it's smart to have some means of protecting yourself. You never know what peril they'll find themselves in. This multipurpose LED tactical light is designed to provide you with a tool that'll give you a fighting chance. It features a cutter with a saw and bottle opener function, a fuel lighter, a stainless steel glass breaker, a compass, and a paracord lanyard. These six tools work independently and efficiently, making it the perfect pocket-sized tool kit for various tasks.
Not only is this flashlight a practical tool, but it also makes a thoughtful gift. Show your recipient that you care about their safety by giving them this versatile and reliable tool.
Practical gifts aren't for every occasion nor for every recipient, but if you combine practicality with thoughtfulness, you'll have a perfect gift. Find something that is both useful and has personal meaning in some way.
Sherlock Holmes Board Game
For the true crime junkie who imagine themselves as being a brilliant detective, the Sherlock Holmes board game is the perfect gift. This immersive game brings the world of Sherlock Holmes to life. This game includes ten brand new cases crafted by Dave Neale, an English author with a deep knowledge of the iconic detective. These cases offer a wide range of investigative challenges suitable for both beginners and seasoned players.
Suitable for ages 14 and older, this detective board game can be played with 1 to 8 players, making it perfect for gatherings of all sizes. This game combines elements of detective work, problem-solving, and collaboration, making it an ideal gift for true crime enthusiasts who enjoy the excitement of solving mysteries.
True Crime Calendar
This is a calendar that is specifically designed for true crime enthusiasts. It takes you on a journey through vintage crimes, shedding light on notorious cases like the shocking tale of Mary Blandy, who met her fate on the gallows for poisoning her father with a deadly concoction. But that's not all. A Year of True Crime goes beyond the headlines to explore oddball laws that will leave you astonished, like the Victoria, Australia regulation prohibiting vacuuming after 10 p.m. Discover the thrill of cold cases cracked, where unsolved mysteries find resolution.
As a gift, it demonstrates thoughtfulness and consideration for the recipient's specific interests. It shows that you understand their passion for true crime and have chosen a gift that aligns perfectly with their fascination, making it an ideal present for any true crime enthusiast in your life.
Digital Voice Recorder
A true crime junkie is always full of ideas, theories, and thoughts that deserve to be captured. That's why a digital voice recorder makes an excellent gift. Compact and portable, this device allows them to document their investigative journeys, record podcast ideas, or conduct on-the-spot interviews.
The study "Give a piece of you: Gifts that reflect givers promote closeness" reveals that gifts that reflect the personality, values, and interests of the giver are more likely to foster a sense of closeness between the giver and recipient. Such gifts, often personalized or meaningful, convey a deeper level of thought and connection.3
With high-quality audio recording, easy-to-use controls, and ample storage capacity, they can capture every detail with clarity. Whether they're unraveling a mystery, analyzing a case, or reflecting on their own insights, the digital voice recorder ensures that no thought goes unnoticed. It becomes their reliable companion, preserving their ideas and observations, and adding a professional touch to their true crime endeavors. If your recipient is also an aspiring writer who is planning to write a book about true crime, this will help them gather their ideas.
Helter Skelter
This gripping true crime classic is penned by the prosecutor who brought Charles Manson and his followers to justice. Vincent Bugliosi's meticulous account of the case, combined with his insider perspective, provides an in-depth understanding of the shocking crimes that gripped the nation. Helter Skelter delves into the disturbing details of the murders, the motivations of the Manson Family, and the complex legal proceedings that followed.
Reading this book will allow any true crime lover to gain insights into the minds of criminals and the complexities of the justice system. Ideal for a recipient who is a reader.
Stun Gun Pen
This pen is a powerful self-defense tool that combines discreteness with incredible effectiveness. This tiny thing packs a punch, making it an ideal choice for personal safety when you don't have a weapon. Its lightweight and sleek design allows for easy concealment, making it the ultimate self-defense companion, especially for women.
The Pain Pen stun gun offers both peace of mind and reliable protection. Also it makes you feel like you're James Bond. You can gift this to a true crime lover and empower them with the confidence and security they deserve.
The Book of Body Language
Help your true crime junkie sharpen their investigative skills. "The Book of Body Language" by Joe Navarro is an essential guide to understanding nonverbal cues, gestures, and facial expressions. With insights gained from Navarro's experience as an FBI agent and behavioral analyst, this book offers valuable techniques for reading people and uncovering hidden intentions.
Whether they're studying suspects in true crime documentaries or observing people in their daily lives, this book will equip them with the knowledge to spot subtle signs and draw accurate conclusions. It's a gift that will take their detective abilities to the next level.
The Serial Killer Cookbook
For the true crime junkie with a dark sense of humor, The Serial Killer Cookbook is a gift that blends their interests in crime and culinary curiosity. This unconventional cookbook offers recipes inspired by the last meals of infamous death row inmates. Each recipe is accompanied by intriguing anecdotes and background information, providing a macabre yet fascinating insight into the minds of these twisted individuals.
From "Hannibal Lecter's Liver Pâté" to "BTK's Bind-Torture-Kill Brownies," this cookbook adds a dose of dark humor to the culinary experience. It's a conversation starter and a unique addition to their collection of true crime literature, satisfying their fascination with criminal psychology in an unconventional and ironic way. If your recipient is someone who enjoys experimenting with cooking they'll be glad to have something novel like this book to try out.
The Book of Unsolved Mysteries
The Book of Unsolved Mysteries by Colin Wilson explores a variety of perplexing cases, from disappearances to unexplained phenomena, inviting readers to become armchair detectives. With meticulous research and compelling storytelling, Wilson explores the theories, evidence and possible solutions behind these enduring mysteries.
For the true crime junkie in your life, this book is an ideal gift. It offers a captivating exploration of some of the most enduring mysteries in history. From infamous cases like the Zodiac Killer and Jack the Ripper to baffling phenomena like the Bermuda Triangle and the Georgia Guidestones, this book delves deep into the unknown, leaving readers with a sense of intrigue and curiosity.
Hidden Camera & Bug Detector
When it comes to true crime junkies being paranoid about getting bugged and watched comes with the territory. If you're looking for the perfect gift that will truly impress the true crime junkie in your life, consider this hidden camera & bug detector. This portable device comes with advanced detection technology that will allow your recipient to sweep their surroundings for hidden cameras, audio bugs, and other surveillance devices.
This gadget will help them get a piece of mind by making sure there are no such hidden devices around. With this they'll be able to confidently navigate the world, knowing that their privacy remains intact. It's a practical and empowering gift that they'll appreciate.
True Crime Stories Inspired Cocktails
Mixology and Murder is a gateway to a thrilling journey where true crime meets mixology. Cocktails Inspired by Infamous serial killers, cold cases, cults, and other disturbing true crime stories. From the Fugitive Fizz to the Sazer-Ax Murderer, each recipe is crafted to reflect the essence of the chilling true crime stories that have captivated audiences worldwide. Inside this guide, you'll find 75 step-by-step drink recipes alongside the terrifying stories that inspired them.
This cocktail recipe book will let your recipient immerse themselves in the dark world of crime while enjoying creatively crafted cocktails. It's the perfect gift for a true crime junkie who knows that sometimes, a chilling tale and a strong drink are the ultimate combination.
Murder Mystery Game
Mystery games make good gifts because they offer an immersive and interactive experience that engages the recipient in a thrilling storyline. Mystery games are excellent for fostering social connections and creating memorable experiences. They are designed to be played with friends, family, or even as team-building activities.
This immersive puzzle game is the perfect gift for those who can't get enough of true crime stories. Players spend 45-60 minutes of investigation, using documents and puzzles to crack the case. If your recipient is someone who enjoys mystery games, they'll be thrilled to get this.
Unsolve Case Files Game
Finding the perfect gift for a true crime junkie can be a challenge, but this cold case files mystery game is an exceptional choice that is sure to thrill and engage them. This game offers an immersive experience that allows players to step into the shoes of a cold case detective, challenging their investigative abilities and putting their problem-solving skills to the test.
The game is filled with over 50 investigation documents and photos, immersing players in the world of the unsolved case of Veronica Falcone. This gift is perfect for a true crime junkie who wants to experience what it's like to work with evidence to figure out a mystery. It's a fun experience.
Mindhunter
Written by FBI profiler John E. Douglas and Mark Olshaker, Mindhunter, offers a behind-the-scenes look at the development of criminal profiling. This book draws from Douglas's firsthand experiences interviewing and studying some of the most notorious serial killers. It also explores the motivations, behavior, and methods of these criminals.
True crime junkies will appreciate the psychological insights and the opportunity to delve into the minds of these complex individuals. Mindhunter provides a compelling blend of true crime narratives and psychological analysis, making it a must-read for those fascinated by the dark side of human behavior.
Cold Case Murder Mystery Game
The Story to Die For is another variation of the cold case file set that'll make a cool gift for a true crime enthusiast. You can bundle it with the other cold case set listed above if you want to make your gift even more impressive.
This immersive and captivating game is designed to provide an unforgettable investigation experience for ages 14 and up. With a complex story and 28 pieces of evidence, this game offers a deep dive into the world of crime fiction and puzzle-solving. Players can utilize their deductive reasoning, critical thinking, and logic skills to search for clues among the evidence, unraveling the mystery step by step.
Forensics Book
Delve into the fascinating world of forensic science with Forensics by Val McDermid. This captivating book explores the techniques, technologies, and breakthroughs that have revolutionized crime-solving. From fingerprints to DNA analysis, ballistics to forensic psychology, McDermid takes readers on a journey through the evolution of forensic science. With real-life cases, expert insights, and compelling storytelling, this book offers a comprehensive understanding of the crucial role forensics plays in criminal investigations.
True crime junkies will appreciate the meticulous research, the intriguing anecdotes, and the opportunity to gain a deeper knowledge of the scientific methods used to solve crimes. Forensics is an engaging and educational gift that satisfies their curiosity about the science behind true crime.
True Crime Coffee Mug
This coffee mug is adorned with true crime-themed designs that resonate with the dark sense of humor of true crime junkies. It's a practical and stylish gift that allows them to showcase their passion while enjoying their favorite hot beverage. The crime scene tape is a perfect touch.
It looks cool, is practical and any true crime lover will want to own it. Also, it's a great conversation starter. A good way to let fellow true crime junkies know that they share the same interest.
Self Defence Tactical Pen
The Atomic Bear Tactical Pen, designed with the true crime junkie in mind, is more than just an ordinary writing tool. It's a self defense weapon that'll help your recipient feel safer. This pen combines practicality, self-defense, and a touch of sophistication to make the user feel like Jason Bourne.
Crafted with solid construction and a comfortable grip, this tactical pen offers a balance between functionality and self-defense. You can use it to strike and fend off an attacker. It also features a window breaker tip that can shatter car windows in one strike. It's an ideal gift that offers peace of mind and functionality, making it a thoughtful choice for any true crime enthusiast.
A Book on Criminal Profiling
Criminal Profiling: An Introduction to Behavioral Evidence Analysis is a must-have for aspiring cops and true crime enthusiasts. Delving into the fascinating world of criminal profiling, this book provides a deeper understanding of criminal psychology and offers a glimpse into the world of forensic investigation.
Whether they're a professional in the field or simply an avid enthusiast, Criminal Profiling is a valuable addition to any true crime lover's collection. It's a gift that combines knowledge, intrigue, and a deep dive into the fascinating realm of behavioral evidence analysis. Perfect for a true crime lover who enjoys learning about human psychology.
Self Defence Knuckle Knife
Give your true crime junkie a unique and empowering self-defense tool with a self-defense knuckle knife. This compact and discreet knife is designed to fit comfortably on their hand, providing both protection and a sense of security. With a knuckle grip and a sharp blade, it offers a practical and functional solution for personal safety.
This knuckle knife is a practical gift that aligns with your recipient's interest in true crime as they're likely to be aware of the dangers around them. It's a statement piece that reflects their bold and vigilant nature, ensuring they're always ready to tackle any potential threat.
The Anatomy of Violence
The Anatomy of Violence by Adrian Raine explores the complex relationship between biology and criminal behavior . In this thought-provoking book, Raine describes the biological and neurological factors that contribute to criminal conduct. Drawing from extensive research and case studies, he examines the role of genetics, brain abnormalities, and environmental influences in shaping criminal behavior.
True crime junkies will find this book a fascinating and informative read, as it offers a unique perspective on the nature versus nurture debate in criminology. This book challenges conventional notions of criminality and provides a deeper understanding of the various causes behind antisocial behavior.
Don't Get Stabbed Card Game
By giving them this card game you can inject some humor into your recipient's true crime obsession. This light-hearted game takes a playful spin on the world of crime-solving, as players navigate dangerous scenarios and try to avoid being "stabbed" by their opponents. With clever cards, strategic gameplay, and a dash of dark humor, this game offers entertainment and laughs for true crime enthusiasts.
It's a perfect gift for game nights, parties, or casual get-togethers, allowing them to indulge in their fascination with crime while engaging in friendly competition. This game will be a quirky and enjoyable addition to their collection of true crime-themed games.
Personal Saftey Alarm for Women
Show your care for their well-being with a personal safety alarm designed specifically for women. This compact and stylish device emits a loud, attention-grabbing sound when activated, drawing attention to potential threats and deterring attackers. It can be easily attached to keychains, bags, or clothing, ensuring they have a reliable safety measure wherever they go.
This personal safety alarm will offer them peace of mind and empower them to take control of their personal safety. It's a practical gift that combines functionality with a strong message of empowerment and self-protection. If your recipient is a woman who is obsessed with true crime stories this will make a fine gift for them.
Practical Homicide Investigation Book
Books can make great gifts if you pick one that suits your recipient's interest and follow the proper book giving etiquette. Practical Homicide Investigation by Vernon J. Geberth explores the intricacies of homicide investigations. This book serves as a comprehensive guide to the tactics, procedures, and forensic techniques employed in real-world homicide cases. Geberth, a renowned expert in the field, shares his knowledge and insights gained from years of experience as a detective and consultant.
True crime junkies will appreciate the detailed explanations, case studies, and step-by-step guidance provided in this book. It offers a rare glimpse into the methods and challenges faced by investigators in their pursuit of justice.
Heavy Duty Stun Gun
Give your recipient a powerful tool for self-defense with a heavy-duty stun gun. This compact and reliable device delivers a non-lethal electrical shock to incapacitate potential attackers, providing a sense of security and protection. With its strong voltage and durable construction, this stun gun is designed to deter and disable threats effectively.
It's a practical gift for true crime junkies who prioritize personal safety and want to be prepared for any situation. It's a gift that'll empower your recipient to feel safe, secure, and ready to face the world with confidence. Also, it'll let them know that you care about them and want them to be safe.
Serial Killer Trivia Book
This trivia book is packed with fascinating facts, quizzes, and trivia about infamous serial killers. It challenges true crime enthusiasts to test their knowledge while providing new insights into some of the most notorious cases in history.
The book is a perfect gift for those who enjoy delving into the minds of serial killers and uncovering the mysteries surrounding their heinous acts. With its engaging content and interactive quizzes, it offers hours of entertainment and education, making it an ideal choice for true crime lovers who are always hungry for more knowledge.
Crack The Code Mystery Game
When it comes to gift-giving for a true crime junkie, WHAT DO YOU MEME? Crack The Code is an excellent choice. This game combines the love for mystery-solving with the excitement of social deduction, making it a perfect gift for those who enjoy solving puzzles. This interactive game presents players with a series of complex puzzles, riddles, and codes that must be deciphered to progress through the game.
The game has multiple levels of difficulty and captivating storylines and offers endless hours of entertainment. With its wide age range, suitable for detectives aged 8 and up it's perfect for both solo play and game nights with friends and family. The game allows them to step into the shoes of a detective, solving intricate puzzles and unraveling mysteries in their quest for the truth.
Crime Scene Science Kit
If you're searching for the perfect gift for a true crime junkie, this Forensic Science Lab - Crime Scene Science Kit is an excellent choice. This captivating kit will allow your recipient to step into the shoes of a detective and delve into the fascinating world of forensic science. With real techniques and tools, such as fingerprint matching, DNA analysis, fiber identification, footprint casting, and deciphering secret messages, this kit provides an immersive experience that will make them feel like they're solving a real case.
It's an ideal gift for children above the age of eight and teenagers. By giving this kit as a gift, you'll not only be fostering a love for forensic science but also nurturing their problem-solving abilities, attention to detail, and scientific curiosity.
True Crime Trivia Book
True crime trivia book is a treasure trove of fascinating questions, intriguing facts, and lesser-known details about famous cases. What sets this book apart is not just the trivia questions, but also the surprising stories and shocking details that accompany the correct answers. It's a chance for true crime enthusiasts to discover new information about cases they thought they knew and explore lesser-known mysteries.
From serial killers to unsolved mysteries, landmark trials to criminal psychology, this trivia book covers a wide range of topics. Perfect for true crime junkies, and anyone fascinated by the dark side of human nature, this book will make an excellent gift choice. Your recipient will appreciate the opportunity to test their knowledge, discover new facts, and immerse themselves in the captivating world of true crime trivia.
Master Detective Toolkit
Fuel your recipient's aspirations of becoming a master detective with a toolkit designed to mimic those used by real investigators. This comprehensive set includes essential tools such as a magnifying glass, fingerprinting kit, evidence bags, and a detective's notebook. With these tools at their disposal, they will be able to immerse themselves in the world of crime-solving, conducting their own fun mock investigations and honing their detective skills.
It's an ideal gift for teenagers who are fascinated by forensic science and might want to pursue a career in it. Also a good choice for aspiring cops.
The Big Book of Serial Killers
Written by true crime writer Jack Rosewood, this comprehensive guide explores the lives and crimes of some of history's most notorious serial killers. Through meticulous research, detailed profiles, and chilling narratives, Rosewood offers a deep understanding of the motivations, methods, and psychology of these killers. From well-known cases to lesser-known ones, this guide provides a fascinating overview of serial murder throughout history.
If your recipient is someone who enjoys reading about true crime and is also a history buff, they'll appreciate getting this book as a gift.
Crime Scene Mystery Game
Help your recipient unleash their inner detective with the Hidden Games Crime Scene Mystery Game - 1st Case. This immersive and captivating game puts players in the shoes of a seasoned investigator, challenging them to solve a thrilling crime scene mystery. With intricate clues, puzzling evidence, and an engaging storyline, this game provides an authentic crime-solving experience right at home.
It's the perfect gift for true crime junkies who love to immerse themselves in suspenseful and challenging adventures. Whether playing solo or with friends, this game guarantees hours of thrilling fun and guarantees to keep their detective skills sharp.
True Crime T-shirt
Designed for true crime enthusiasts, this trendy and eye-catching shirt features a witty slogan that expresses their priorities in life. Crafted from high-quality materials, it offers comfort and durability, making it perfect for everyday wear.
This t-shirt is a great gift choice for those who want to proudly display their fascination with true crime while making a fashion statement. Also, it's a great conversation starter that'll help them make friends with other true crime lovers.
1. Vicary, A.M. and Fraley, R.C., 2010. Captured by true crime: Why are women drawn to tales of rape, murder, and serial killers?. Social Psychological and Personality Science, 1(1), pp.81-86.
2. Dmitrieva, K.I., 2017. Why Are We Fascinated with Violence? An Investigation of Mass Media's Role in Depicting Violence as Entertainment.
3. Aknin, L.B. and Human, L.J., 2015. Give a piece of you: Gifts that reflect givers promote closeness. Journal of Experimental Social Psychology, 60, pp.8-16.