37 Charming Gifts For Authors & Aspiring Writers
An awesome collection of gift ideas for writers. If you're looking for a present to give to an author or even an aspiring writer here's a list of the best ones available online.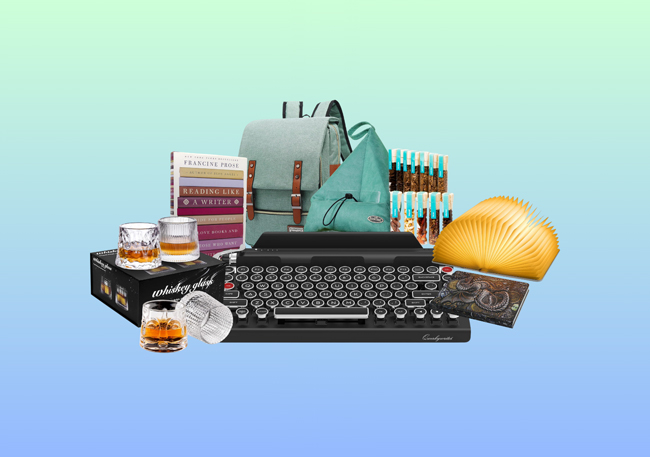 Writers are strange creatures. Sometimes they look at their work and think to themselves. "This is genius. I'm the best writer in the world." Other times they feel like they aren't good enough to put words together to make a decent sentence. No sane person chooses this career path voluntarily and sticks with it. And those who are not crazy are just talentless hacks.
It's not easy trying to understand what goes on in a writer's mind. It's like trying to make an ice castle in the Sahara. Completely pointless and stupid. On the other hand, finding a gift for a writer is really simple. They're insecure people. So you have to find something that tells them you acknowledge their talent and they'll love it, no matter how useless it is.
Following is a list of ideal things to give to a writer. Choose one depending on your relationship with them and what you know about their interests.
I Make Stuff Up T-shirt
Making stuff up for a living was something writers do. Although nowadays journalists and mainstream media have been doing it for clicks and ad views. The difference is when the former does it we know to call it fiction and the later give us fiction disguised as the truth.
Anyway, let's not get too deep about the lies and manipulation of the media. This post is not about them. This is about writers who are the ones supposed to create a world out of their imagination based on their observations about reality. So this t-shirt will absolutely amuse a writer.
A funny, cool design that will not fail to impress.
Reading Like a Writer, by Francine Prose
You should never give "how to write" books to a writer. Besides from being useless and having conflicting and misleadingly vague advice, these books don't please the receiver at all.
This one is not a how to write book though, this is guide that shows you how to read better, more efficiently. How to read to learn the craft. No writing advice.
The reason the methods from this book are so effective is that it teaches you the old tried and true method of learning how to write. Which is studying the works of successful writers. This is what they did when there weren't many of writing guides around.
This book will save them from all the confusion out there.
Book Themed Night Light
It is not a far fetched idea to assume that most, if not all, writers love books. After all, you start with reading the works of others and grow a desire to create your own. This beautiful book themed night light is something a writer would love to own.
It's useful, too, for night owls who want a little light for their bed time reading sessions. It'll make a cool gift.
Typewriter Print Tank Top
Those cheesy "I'm a writer," or "I will put in my novel," t-shirts are lame. Writers hate clichés so if you gift them one like that they'll roll their eyes and depending on how honest they are will either give you fake smile or make a snarky comment about your choice. You don't want either to happen.
This, "weapon of choice" tank top is rather cleaver and original. After all I designed it.
It's cool, it's minimalist, it's very writerly. They'll love it.
Kindle Oasis
In his book On Writing, Stephen King advices any aspiring writer to do two things above anything else. Read a lot and write a lot.
This advice is so simple, that it's hard to believe it could work. But if you interpret it correctly, it is the best advice you'll ever get.
Kindle helps you with the reading part. You can download any book you want to read. Tons of great books are available for free on Gutenberg Project.
It has some great features. Inbuilt dictionary, vocabulary builder, no back-light (Good for eyes), battery lasts for weeks. The perfect reading machine.
If you're looking for a gift for an aspiring young writer who doesn't own a kindle, this is the best choice.
Writer's Messenger Bag
Writers are old fashioned, stubborn souls who have a hard time letting go of the old ways. The past is always more romantic than the present for a writer.
You wouldn't see most people other than hipsters rocking these vintage looking messenger bags, but writers in the past did use them. And chances are your recipient will love this. They can use this to carry their laptops and scripts.
LED Reading Light
For someone who enjoys reading the craving to open up and read a book can strike any time of the day, or night. There you are trying to fall asleep and you get an urge to just read another chapter from a book you've been exploring.
While night lights and table lamps do the trick, they have their shortcomings. One, you can't take them with you when you're travelling and, two, the abundance of light can irritate the normie besides you who just wants to sleep.
This LED reading light is the solution. It's portable, rechargeable and good for the eyes. It'll make a useful and charming gift for any writer who loves to read.
Hemingway Pencil Cup
You may be wondering why they'd call a typewriter shaped pen holder a "Hemingway pencil cup." It may seem like there is no real reasoning behind the name, but there is some logic behind it. Earnest Hemingway believed in writing his first draft with a pencil rather then just typing it out on a typewriter. He felt that the extra step of converting the written word into a typed manuscript allowed him add to it, edit it.
I wonder if he would have been the great writer he was if he wrote on his macbook at a Starbucks. I doubt it. If you choose this to be the gift for your recipient, make sure you tell them this fact. May be they'll adopt it and find it useful.
Typewriter Keyboard
Typewriters are pretty much extinct for all practical purposes, but for a writer they represent the golden age of the greatest writers like Hemingway, Fitzgerald and Jack Kerouac. There is something romantic about these low tech machines that attracts writers of today to them.
Though it's not really practical to use a typewriter today, you can still get the same feeling with this keyboard. You can gift it to a old fashioned writer and they'll love it.
War of Art by Steven Pressfield
Human motivation is a tricky subject to learn. For decades scientists have tried to understand what makes us tick and there's some conflicting information on the subject. Some suggest it's willpower that's the key, others argue that it has nothing to do with that, rather it's our ability to focus and pay attention that helps us find motivation.
In his book The War of Art Steven Pressfield offers a more artistic view of the subject of motivation. He describes an entity that prevents writers and artists from achieving their true potential. He calls it resistance.
However you explain it, whether through the working of the brain or through metaphors, most writers do stumble upon motivational blocks often. This book might be able to help them out. A useful gift any struggling writer will appreciate.
Writer Themed Ceramic Vase
Writers love their books. For them they're more than just showpieces to decorate their places. In the age of short attention spans and anything requiring more than five minutes of attention is unbearable, we still don't mind spending hours, sitting still in a place reading.
This pen holder vase is for writers and readers. A simple yet likable gift.
Reusable Notebook Writing Tablet
As the threat of climate change and global warming destroying the planet looms over us it's wise to do whatever we can to minimize our carbon footprint. And while some writers prefer writing with their hands over typing on a computer (Woody Allen, one of the most prolific Hollywood writers, rejected computers) they have to find the middle ground for the sake of humanity.
This little device solves the problem. With this reusable writing tablet you can use a stylus to write like you would on a normal piece of paper and even erase stuff. Great for brainstorming and noting down stuff when coming with those ideas for the next great American novel.
It'll make a thoughtful gift idea for any eco conscious writer.
Study Lamp
Different writers have different routines. An artist has to figure out, through trial and error, what works and doesn't work for them. Some wake up early and write for a specific amount of time and some work at night because they like the peace and quite that nighttime offers.
Although even the most organized writers can't control when the inspiration may strike and so a study lamp is a necessity.
An old fashion lamp like this is preferred by most. This will make a fine gift.
Reader Iron Sculpture
Reading, and a lot of it, is what one has to do to learn the craft of writing. This is why you'll find a ton of books in a writer's home. Real writers don't learn how to write sitting in classrooms. They read, they write, they observe and think.
With all those books lying around, a gift like this will be very useful. This reader iron sculpture/ book holder looks like modern art. A great gift for readers and writers.
On Writing, by Stephen King
Like I said how to write books are useless and counterproductive. But On Writing by Stephen King isn't a writing manual. It is rather his memoir. His experiences and some insights about writing he learned on the way.
There is some great advice in there, for instance, King tells you to do two things above everything else if you want to be a writer. Read a lot, and write a lot.
You stick to this method and you'll succeed. But instead if you buy a dozen how-to-write books and you'll get so confused and discouraged, you'll start to hate writing.
So, give this book to an aspiring writer and tell her it is the only book on writing she'll ever need.
First Lines of Literature Mug
Usually, I don't recommend mugs as gifts, no one likes them, and they probably have too many to use, but in this case of specific kinds of creatures, namely writers, anything that evokes memories of a book they love, makes a fine gift.
One of the perks of this is if they get bored working or find themselves creatively blocked, they can take a break and read some of the lines for inspirations.
Who knows? A line from Moby Dick may shoot some brain waves that generate an idea for the great American novel.
Typewriter Coaster Set
Your caffeine addicted, beer sipping writer friend probably doesn't mind a few rings on their table. After all coasters are kind of lame. They remind us of people who make horrified facial expressions when someone accidentally keeps a mug on their furniture.
This coaster set is not lame though. It's kind of cool. They won't mind using these awesome coasters just because of the awesomeness. A fine present.
Writer Emergency Pack
A truly effective tool to get the imagination going, to get the writer out of a block. Some writers have a hard time just start writing. Once they got the basics right, they work like a writing factory, but till then they are miserable.
This writer emergency pack makes it easier to open your mind to new possibilities. Just to give you a little push. It even has some tips they might find useful.
A very useful tool to have in a writer's toolbox. Even if just for emergencies. Makes a very likeable and thoughtful gift.
Bibliophile Reader's Journal
Learning is most efficient when the information in question is organized. The human brain is wired to find structure and meaning in the things we learn. It's why we connect to stories; there's a beginning, middle and end.
Organizing and making sense of what they've read and the observations that came with it is important for writers. They learn their techniques from reading
Bibliophile Reader's Journal helps readers take notes about the books they've read in an organized manner. This is a useful tool for any writer to have. It'll make a fine gift for any aspiring or professional author trying to hone their craft.
Creative Block For Inspiration
If your recipient is a perpetually struck with a writer's block, this might help them get out of it. A good tool to get the ideas flowing. A unique choice of gift too.
This is ideal for aspiring writers having trouble getting started. A veteran writer will probably get offended if you give them this. They're kind of arrogant that way.
Typewriter
I know, it's not like anyone uses a typewriter anymore. They're right there with the dinosaurs and Myspace users in the extinct category. Still, if you've got some money to burn and the recipient is someone special or close to you, this will make a fine gift.
No aspiring writer will mind owning a typewriter, even if they're not planning to replace their laptops with it. May be they can use it to switch things up once in a while.
Correcting Grammer Mug
It's not just purists who don't like witnessing the murder of the English language, writers, too, are protective of the tool of their trade. Every LOL, emoji and ill punctuated sentence they receive takes out a little of their soul.
They'll be able to relate to this message. It's kind of corny but still funny and charming.
Work in Progress Workbook
To master any skill you need to have practiced it for years till doing it becomes second nature. At first doing something feels unnatural because of the sheer amount of decision making involved in the process. When it comes to writing a book or a story the questions that will face you are going to be something like: where to start? Who am I writing about? Where? How? And more such.
This workbook is ideal for aspiring writers just starting out and trying to get in the habit of writing stories. It'll make a fine gift for any new writer trying to learn the process. Once they have gotten used to the basic structure they can break the rules and write without such aid.
Waterproof Notepad
Dalton Trumbo, arguably the most productive Hollywood writer of his time, took a notepad with him in the bathroom. He would pen down ideas while sitting in the tub. This was the time no one was supposed to disturb him.
Good ideas can strike us anywhere, and as you might already have experienced, you get more creative in the shower. A relaxed mind wanders freely, more creatively. However you should not let these thoughts get lost in your mind by the time you are done. These notepads help you with that. They're waterproof, so won't get spoiled in the water.
Encourage your aspiring writer to use this method. They might come up with a great idea because of you.
Digital Voice Recorder
Ideas. Mischievous bloody things. They appear and disappear as they wish. They don't care where you are when they arrive, or what you're doing.
The best ideas will come at the most inconvenient times. While you're in the bathroom, or in the bed ready to fall asleep. If you're too lazy to get up and get a pen and paper, adiós, they're gone forever. You'll think you will remember the good ones. No, you'll just remember you had a good idea.
A voice recorder comes handy in this situation. Any idea you get, you just have to press a button and say it out loud. Especially useful for writers since a forgotten idea can cost them a Pulitzer.
Banned Books Coffee Mug
Having a book banned is like a badge of honor for a writer. If your ideas are too hot for the big government to let be exposed to the public, means that you're a revolutionary who scares them.
This mug might not be for everyone but it certainly has a transgression vibe that's intriguing. You can gift this to a bad boy writer you know.
The Writer's Toolbox Set
Mechanics use their tools to fix things. A writer needs his tools to fix his stories. This writer's toolbox set has some useful items that can help a young writer solve fix a storytelling problem.
This is not meant for published authors though. Some people don't like using these things for work. They think it's silly. It depends on the outlook, I guess.
Antique Style Pen
Antique things are like time machines. Instantly they take us to the past. Even where we have never been.
You can imagine Shakespeare, excited, furiously writing Romeo & Juliet with his feather pen wearing those ridiculous English cloths.
Writers like that stuff because of the memories it evokes. And who knows. They might use your gift to create some genius work of their own.
The Emotional Thesaurus
Writing is more than telling of events. It's how you tell a story that matters more than what it is you're telling. It's a delicate art that a budding wordsmith has to work on and master. Readers love to be seduced by clever wordplay that takes them on a literary ride.
Describing a feeling to others may be the trickiest thing an author has to do. A writer needs all the words they can use to convey emotions in their arsenal. The Emotional Thesaurus is just that. It's a book full of useful words, definitions and synonyms a writer can use in their work.
You can gift this to any aspiring wordsmith trying to hone their craft.
Leather Journal
A bit of travelling is what every writer must do once in a while. Go to different places, meet new people, learn from them. For some it might seem terrifying to travel alone (especially introverts), but once you get over the initial fear you'll come to love the experience.
Now, as good as the teacher a journey can be, it helps to pen down your thoughts before they fade away. Ideas are not always easy to come by, so it's important to not forget them.
Anyway, these beautiful journals are like candy to writers. They can't have enough of these. Ask me, I have tons of these.
Research suggests that writing by hand rather than typing is better for creativity and learning. Tell them that.
Writing Definition T-shirt
It's true. Writing is a lot more than coming up with ideas and creating fiction. You have to delve deep into your own psyche to make sense of the things that can be painful to deal with. You have to be willing to be honest about the things you don't want to be honest about.
In a way when a writer gives it his all, he's bleeding on that paper in hopes to be authentic enough for his reader to feel his pain. It's a deep thought, but a real writer will be able to relate.
Wordsmith Deck For Writers
Another weapon to add in a apprentice writer's arsenal. Words are what a sentence is made up of, and sentences make up a book.
When you're learning to write, it's difficult to form sentences that satisfy the writer. Like learning new skill, it's difficult in the beginning because you have to consciously think about it. With time though, as you keep writing and improving, it becomes automatic and effortless.
This wordsmith deck helps new writers learn the tools of the trade.
The Book of Awesome Women Writers
If you wonder why there is so much disparity between male and female writers you see in the classics it's no accident. For a long time women were barred from this profession. It's as if they weren't interested in what women had to say or express.
It took a long line of courageous women who pursued their ambitions despite all the obstacles to change things. Thanks to these pioneers such as Zora Neale Hurston, Jane Austen, Rachel Carson and many more, girls today can dream of pursuing writing as a profession.
The Book of Awesome Women Writers explores many such women in history. It'll make a fine gift for a girl who loves writing.
Eco Friendly Notebook
If your writer friend is the go green, let's save the world type, they might not feel good about using pages and notebooks to write. But writing on paper can be a better and more productive experience.
This Eco friendly notebook solves the dilemma. It'll help them write better and not feel guilty about it. This is simple enough but it'll engage their emotions and they'll be grateful.
Bamboo Pen Set
In the film The Words the protagonist who's an author meets an old guy in the park. The guy asks him to sign his copy of the book and when the writer is unable to find a pen, he says, "A writer without a pen." If you've seen the film you know the context of this scene. Anyway, real writers who are passionate about their crafts carry a pen and a notebook wherever they go. After all ideas don't wait for you be in your office.
This pen is an excellent choice. It's unique, it's useful and it'll be put to a good use.
Story Idea Cards
When it comes to coming up with ideas, sometimes what a writer needs is to get the thoughts flowing. A simple overused cliché idea may evolve into something spectacularly novel and unique.
These cards are designed for the sole purpose of achieving that. If you think they're not that useful you're underestimating them. Like I said, all we need sometimes is for the creative mind to get to work, eventually something will come out of that.
Obviously, this is a very useful, even lifesaving, tool for writers. They'll love this. May be even credit you in their next novel.
Typewriter iPhone Case
Like how a dumbbell is symbol for gym bros a typewriter is for all aspiring writers. Somehow it makes our pupils dilate.
If your recipient owns an iPhone, you can give them this phone case. It's designed for writers. And it looks super cool.