7 Perfect Charlie Chaplin Gifts for His Fans
A collection of gift ideas for Charlie Chaplin fans. Things a true fan of the legendary comedian will love to own.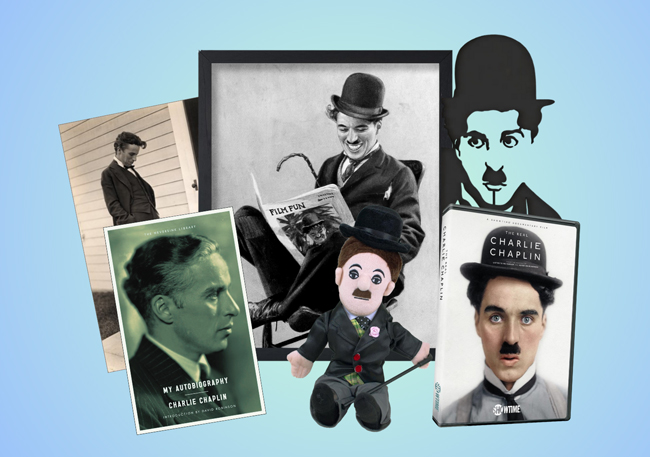 "To truly laugh, you must be able to take your pain, and play with it!"
Charlie Chaplin was a performer, comedian, actor, writer and filmmaker. The man is, and has been ever since he took the big screens, considered a master storyteller in comedy. He gave hundreds of millions of people the gift of laughter and inspired thousands comedians to learn the craft.
Chaplin was much more than a comedian. He was a magician who took away the audience's ability to resist laughing without uttering a single word. He was a philosopher who preached self acceptance. There are a lot of Charlie Chaplin fans in the world, and following is a list of some really cool Charlie Chaplin themed gifts for them.
1
Chaplin 15th Anniversary Edition
I like Robert Downey Jr. He is a talented actor who can pull off and rock challenging roles with ease. To portray one of the greatest visual performers in history on screen is not an easy task. To recreate the level of excellence in non verbal comedy is not something anyone can do.
Barely few actors could have carried out a task like this and RDJ did it masterfully. I love his performance in the film. Any Chaplin fan would too. Which is why this makes a good choice of gift for them.
2
Charlie Chaplin's Autobiography
Getting to know a star you admire through his words and stories is a pleasurable experience for many. Especially readers.I would recommend this book as gift for a Chaplin fan who reads.They will love it.Readers always appreciate a good book as a present. Especially a book that will take them to a journey of experiences full of wisdom and a well told story. Which this one does with excellence.
This one will delight them. While reading this they will get to see the world through Chaplin's eyes. What can be a better gift than that?
3
Chaplin Quote Poster
Sometimes we need to be reminded of important lessons that we forget while dealing with hardships in life. Posters like this do more than just decorate the wall or just express our personalities. They act as reminders. We may sometimes take life a little too seriously and develop a negative way of looking at circumstances.
But this poster, whenever we look at it and think about what it says, reminds us to laugh. To not let life go by while we wallow in pain and misery. Some gifts can affect a person's life deeply. And they are the best gifts one can receive.
4
Chaplin At Keystone
Keystone was the beginning of a journey for Chaplin. In 1913 he came to the Keystone studios as a little know vaudevillian. This was before he came up with the epic tramp character. There he created and developed the Tramp and learned to write and direct films.
This is a collection of all the best Charlie Chaplin's keystone films. Many restored with years of efforts. There are many special features included and it has a documentary about the international restoration efforts. I think this is a perfect gift for a Charlie Chaplin fan. They would love to own a collection like this
5
Charlie Chaplin Finger Puppet
I love this. Even as a puppet Charlie Chaplin is effortlessly funny. If you want to gift them something a little lighthearted & charming, go for this finger puppet. They will crack up when they see it and they will like it.
A rule of thumb: If a gift makes your recipient laugh, they will remember it. Emotions, good or bad, are etched in memory deeper than other things. Which is why gifts like these are memorable. This one is especially recommended for someone who is funny and likes to make others laugh.
6
Charlie Chaplin Special "The Kid" DVD
The Kid is an important film because it was the first of Chaplin's silent feature films. It is also considered one of the greatest films in the history of cinema. The genius of the film is how skillfully it combines drama with comedy. This was never done before in films.
Even today comedy films fail to make the story moving and funny at the same time. Charlie Chaplin did it in 1921. And he did it perfectly. The DVD contains The Kid and two short films, " A Day's Pleasure" and "Sunnyside." No Chaplin fan would mind having this in their collection.
7
Charlie Chaplin: A Photo Diary
They say a picture is worth a thousand words. They say it because every good picture tells a story. We see a photo and instantly our minds try to decode the meaning behind every detail. The story that the photographer tries to tell is what intrigues us. A Chaplin fan will love to get a glimpse of the legend's life through the pictures in this photo book.
The images are amazing, some will make you roll on the floor with uncontrollable & delightful laughter.This will make a lovable gift for anyone who likes Charlie Chaplin.
This post was originally published on Jan 29, 2018