19 Classy Gifts for Jazz Lovers
Looking for a unique gift for a jazz enthusiast? In this list you'll find the best gift ideas that'll impress any jazz lover in your life.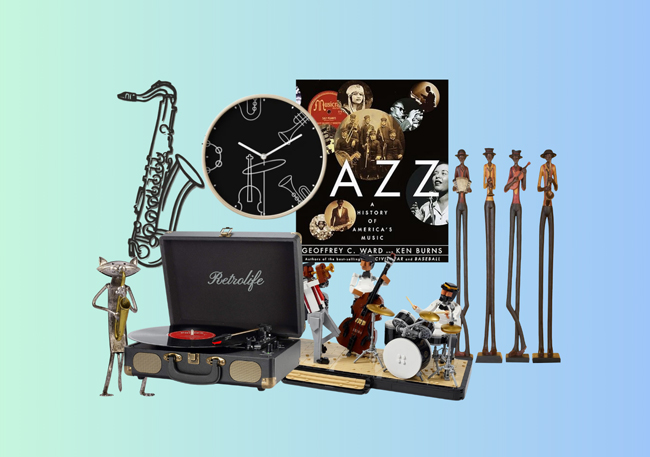 For some, it symbolizes a powerful expression of resistance and the pursuit of equality. Others hail it as America's greatest contribution to the world of music. And then there are those who simply enjoy how it sounds. Despite the different perspectives, all of them share a common thread—a love for jazz.
Jazz stands apart as an exceptional genre of music, characterized by its rhythmic swings, intricate harmonies, and improvisational flair. Once popular among young black folks as a music of revolt, it's now the favorite of middle aged academics and music nerds.
Within this guide, you will find a curated selection of interesting gift ideas for people who love jazz. There's something for every kind of jazz enthusiast in this collection. Pick one that suits your recipient's style.
Jazz Themed Wine Rack
A gift should be practical and have some use for the recipient but a gift that is too practical and without any charm will fail to delight. Consider for example: a sandwich maker, while being a useful product, isn't appropriate for a husband to give to his wife on their anniversary.
This beautiful wine rack is useful for storing wine bottles and is also gift material. If your jazz loving recipient is a wine drinker they'll be glad to put their favorite bottle of wine in this beautiful saxophone themed bottle holder.
Jazz Themed Wall Clock
Whoever it was that said "Beauty is in the eyes of the beholder." probably never had to see the disappointed face of a recipient on getting an ugly present. Recipients prefer aesthetically pleasing gifts. A gift should look the part.
This stunning, minimalistic wall clock will impress any jazz lover with good taste in decor. They use high quality materials to make this clock, it comes with a built-in rear hook and the frame is made out of bamboo wood.
Vinyl Record Player
If your recipient doesn't own a vinyl player you could surprise them with this portable model by Victrola. The retro look along with the vintage suitcase style will appeal to a classic guy. If they own a vinyl player already, they'd be glad to get a portable version they could carry around.
A smartphone connected to a bluetooth speaker will do a good enough job of playing your favorite music but there's a certain charm that comes with playing a great song on vinyl that only a true music lover appreciated. This player comes equipped with bluetooth connection and a headphone jack, which makes it versatile. It's a classy gift meant for a special recipient.
Jazz Stands for Freedom T-shirt
For some people jazz is a genre of music they enjoy listening to, for some it represents much more. In its early days jazz was a way for the African American community to have their own flavor of music. It was something they built together. This music which was once a part of a resistance movement and its improv nature makes it a symbol for freedom.
If your recipient is a true fan and knows the history of jazz, they'll relate to and appreciate this cool t-shirt as a gift.
Vanity Fiar 100 Years - Jazz Age
History tells us stories. You can track the evolution of a civilization, technology or an artform by looking at where it began and how far it has come. Vanity Fair, which began publication in 1913, has documented the history of America and its culture for over 100 years of its existence. They covered the music scene and jazz in its early years, a period referred to as "The Jazz Age".
This book, celebrating a century of publication, gives you a fascinating picture of the history of the genre documented by the magazine. It seems like a printed time capsule. It's full of stunning photos and illustrations and well crafted text written by talented journalists. This is an unusual and interesting gift idea for a jazz lover and makes for a stunning coffee table addition.
Charles Mingus at Carnegie Hall
Considered one of the greatest jazz musicians of all time, Charles Mingus was a talented bass player and a composer with a unique style that stood out. This Deluxe Edition of his performance at the Carnegie hall features the never before released material, the entire set at the venue as it was originally played, with little to no background noise.
It also includes new line notes by jazz historian Michael Cuscuna. This vinyl set would make a fine gift for any fan of the musician or a jazz enthusiast with good taste.
Great Jazz Interviews Anthology
The DownBeat Magazine, established in 1934, is one of the country's oldest and most prominent jazz magazines. They've been covering the jazz scene for over eight decades. The Great Jazz Interviews Anthology features their best interviews, stories and photographs since their conception. It includes in-depth interviews with jazz's greatest personalities–Miles Davis, Jelly Roll Morton, Louis Armstrong, Duke Ellington and more.
This anthology came out over a decade ago in honor of the magazine's 75th anniversary so it's not the latest bestseller on the market, yet any music lover who is interested in knowing these artists through these interviews will appreciate getting this as a gift.
Saxophone Playing Cat Figurine
Practical, useful gifts are great. Any product that improves your recipient's life in some way will be well received. Yet they're not for every occasion, nor every kind of recipient will appreciate them either. Gifts are signals and sometimes inefficient gifts are better signals. This Jazz themed cat sculpture is a great way to charm your jazz loving recipient who has everything. With this you let them know that you're aware of their interests and want them to have something they can keep around forever to remember you by.
It's handmade by an "experienced old blacksmith" (according to the seller). It comes in three variations. Saxophone playing cat, guitar playing cat and a singing cat holding a mic. You can give it as a set if you wish.
Jazz Themed Metal Wall Decor
People often decorate their homes with things that reflect their interests. You'll find movie prints all over a dedicated film buff's house and posters of the current pretty boy film star on a teenage girl's wall.
This jazz themed wall decor is something someone passionate about jazz will love to have a part of their decor. Although this is appropriate to give to someone only if you know them well enough to know their tastes. It will make a fine housewarming present.
How to Listen to Jazz
If your recipient is fairly new to jazz or even someone who's trying to understand the artform better this is the perfect gift for them. Written by award winning music scholar Ted Gioia, How to Listen to Jazz teaches you what to listen for in a performance and also a guide to today's leading jazz musicians.
I wouldn't recommend giving this to someone who considers themselves a sort-of jazz expert. It'll likely hurt their ego and might even offend them.
Jazz Quartet Lego Set
Lego sets aren't just meant for children. And while there's nothing charming about adults who are obsessed with them, having a little interest is fine.
This Jazz Quartet Lego set is perfect for anyone who enjoys jazz and is still young at heart. After they're done building it, they can use it as a unique decorative item in their home.
Jazz Instruments Patent Art Prints
Art prints can make excellent gifts. They're affordable, versatile and you can personalize them according to your recipient's personal taste and preferences.
This jazz themed patent print set is perfect for anyone who loves jazz. They're fairly minimalistic, look creative and are aesthetically pleasing.
Jazz Covers
Put together by Joaquim Paulo and Julius Wiedemann, Jazz Covers is a book that celebrates jazz with a collection of album cover art. The authors explore the intersection of music and design by showcasing the creativity expressed in the artwork.
It comes with insightful commentary and interesting information about the history of this art. Any true jazz lover will be impressed by this gift.
Jazz Saxophone Wall Metal Art
Giving decorative items can be tricky. You have to consider your recipient's taste and the space in which it is likely to be displayed. The texture and color of the wall, lighting, etc.
If you know your recipient well and have seen their home, consider giving them this saxophone metal wall art. A jazz lover will be glad to have it. Metal wall art is a good choice because of their aesthetics, durability and the perception of being a quality gift in the recipient's mind.
The Art of Jazz
Written by a prominent jazz historian Alyn Shipton, The Art of Jazz: A Visual History, is an excellent book that explores the visual representations of jazz through a collection of artwork and photographs related to the genre.
Anyone who wishes to learn more about the history of jazz, from its early roots in New Orleans to its evolution into subsequent genres, will be delighted to own this. It also explores the historically significant movements that the music has been a part of.
Jazz Band Sculpture
Sculptures convey ideas and express the beauty of emotions. They make great decorative pieces and enhance the aesthetics of a home. You can find a wide variety of sculptures in the market. And if you know how to pick one based on your recipient's interests, they can make impressive gifts.
This jazz band themed sculpture set is perfect for anyone who loves the genre. They'll appreciate this classy gift.
Jazz: A History of America's Music
Co-authored by Geoffrey C. Ward and Ken Burns, Jazz: A History of America's Music serves as a companion to the acclaimed PBS documentary series Jazz.
The author collaborated with the documentary filmmaker to create a compelling account of the history of the genre. It's a well researched and written book with important interviews with key figures in jazz, a collection of archival photographs and illustrations. A perfect gift for any true jazz enthusiast.
Jazz Themed Water Bottle
Everyone knows how important hydration is for health. Yet most of us don't do it enough. Fortunately, this stylish jazz themed water bottle will motivate your recipient to drink more since they'll carry it everywhere to show it off.
This will make a fine gift for any recipient who loves the genre. Ideal for people who work out. It's practical, high quality and durable.
Music: The Definitive Visual History
Books can make cool gifts, but you have to do it right. You can't just give your recipient a book that vaguely relates to their interests and hope for the best. The trick is to anticipate what they'd enjoy reading, and for which you have to know them well enough.
Music: The Definitive Visual History is a book any music lover would be glad to own. It explores the evolution of music within human societies. Its use in religious rituals, festivities and for leisure since prehistoric times. One of the chapters covers the history of jazz. It'll be a fine gift for any person with a curious mind and passion for music.