24 Rocking Gifts for Pink Floyd Fans
A collection of impressively cool gift ideas for Pink Floyd fans. A list of variety of gifts for those who love the legendary band.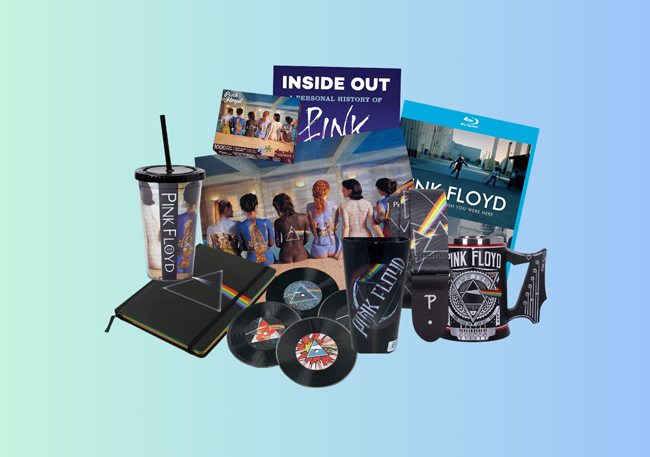 Pink Floyd has given us some of the greatest music of the 20th century. They were the preferred band of the underground movement. I think it's fair to say that there really hasn't been a greater influence on psychedelic music since Pink Floyd. Their songs topped the charts for decades for a reason. They were able to give the audience what it couldn't from anywhere else–a feeling of limitlessness in form of soothing melancholy. They also have had their share of tragedies and moments of greatness. I guess these two go hand in hand in art.
Like any good student of a craft they started with what existed. Early on their music was heavily influenced by the blues. That was the foundation they built their style on. The name "Pink Floyd" itself is a tribute to two bluesmen – Pink Anderson and Floyd Council. But as the greatest artists do, they moved on and experimented with their own unique style which they are now known for.
Following is a list of some cool gift ideas for fans of the legendary band. Pick one that you think is right for your recipient.
Pink Floyd All The Songs
A lot goes into creating a good song. It's not just well written music and lyrics that makes a song work, it's also what it communicates to the listener. Every great piece of art has a story which leads to its creation.
Pink Floyd - All the Songs is a book that tells you the story behind making of all the songs by the band. From the 1967 debut album The Piper at the Gates of Dawn to their greatest hits like The Dark Side of Moon.
This book will make a great gift for any curious recipient who likes to read.
Pink Floyd Guitar Pick Necklace
The Dark Side of The Moon is the most successful album by Pink Floyd. The progressive rock album topped the charts for decades and still continues to be popular among fans.
Don't overthink your choices. As long as you keep your recipient's general interests in mind when picking a gift and find something they can put to use, they'll be pleased.
The graphic on the cover has an interesting story behind it too. Richard Wright asked Storm Thorgeson, the graphic designer, to create the album's artwork and keep it simple and elegant. Throgeson delivered on what was requested from him and the result ended up becoming one of the most iconic designs.
This guitar pick necklace is a great fit for any Pink Floyd fan who has good style.
Pink Floyd Beer Glass
Recipients prefer gifts that are practical and reflect their personal interests. You are better off giving them something they can put to use over a gag gift that is only amusing for a few seconds.
A beer glass is useful to anyone who drinks beer. They wouldn't mind it looking so cool. Designed after the iconic Pink Floyd prism design, it'll please any true Pink Floyd fan.
Pink Floyd Jigsaw Puzzle
It's a good idea to target your gift to your recipient's personality traits. If someone is naturally drawn to problem solving and enjoy activities involving it, you should pick a gift that reflects that. Don't be too specific though. You are more likely to hit the mark and pick something they'll love if you keep it general.
This Pink Floyd puzzle is ideal for people who like puzzles. They'll have a good time putting it together and being rewarded by a wonderful art poster.
Pink Floyd Tankard
Recipient's prefer gifts that reflect their general interests rather than specific or unique gifts. The problem with being too specific is that you are likely going to miss the mark. You know a lot less about your recipient's current needs and want than your recipient.
And if you really want your gift to be distinctive, make sure it's practical enough too. This tankard with a unique design is perfect for any Pink Floyd fan.
The Story of Wish You Were Here
What's the cost of fame? This is the question Pink Floyd attempt to explore in their album Wish You Were Here.
The creation of the music itself has a tragic story. They wrote it at a time when they were all struggling to find inspiration. This was time the time of loss. The original guitarist and singer Syd Barret was spiraling down and left the band. And they blamed the industry machine for it.
This resulted in a melancholic music that the audience loved. This documentary discusses the story of Wish You Were Here. Any fan interested in learning about this important moment in the band's history will be glad to receive it.
Pink Floyd Travel Cup
I don't know if the world is going to end because of global warming but I think we should try to do whatever we can to avoid contributing to the problem. Reusing carry bags can cups helps prevent unnecessary production of plastic.
The band started with the name "The Pink Floyd." They eventually dropped the "The" a little after Syd Barrett left the band.
This will make a fine gift for a climate conscious Pink Floyd fan. Also, as far as design goes, this aquarium cover print makes anything look cool. So you're good.
Pink Floyd - Inside Out
If your recipient is someone who'd be interested in reading the history of Pink Floyd this book by the founding member Nick Mason will make a good gift for them.
It's a fascinating read (lots of images included) and gives you a glimpse into the lives of the the members. It is suitable for hard core fans as well as those who are getting to know their music.
Pink Floyd Guitar Picks
Who needs boring plain guitar picks when you can have ones with the most interesting designs. Thanks to capitalism there exists anything there's a demand for. If someone with an idea and means thinks a product is profitable they'll sell.
If your Pink Floyd loving friend plays the guitar they'll appreciate this beautiful set of picks as a gift.
Pink Floyd Live Collected
For people who really enjoy reading, a good book about a topic they're curious about makes impressive gifts. Give them a book they haven't read but are likely to have fun exploring and they'll appreciate it.
Pink Floyd Live Collected is about the bands' greatest live shows. The stories behind the successful tours including The Dark Side of the Moon, The Wall and The Division Bell.
It'll make a fine gift for any fan who's interested in learning more about their favorite band.
Pink Floyd Coasters
Nature creates but it also destroys. Water is essential to our survival but not so good for wooden furniture. There you are enjoying a chilled beverage and realize that the glass has left a mark on your beloved work table.
Coasters help prevent them and no one minds having some extra ones around. Especially ones that look so cool. These coasters are ideal gifts for any Pink Floyd fan.
Pink Floyd Notebook
Writers love to own a variety of notebooks with different designs. It's like how car enthusiasts want to own exotic cars. We're all collectors in some way only with different interests.
This Pink Floyd themed notebook will make a impressive gift idea for an aspiring writer or songwriter. You can gift it to a fan of the band who keeps a journal.
Making of The Dark of The Moon
The Dark Side of The Moon is a significant album in the history of Pink Floyd. It was an immediate commercial and critical success and helped them turn into one of the biggest bands in the world.
This film covers the story of the making of the album. An interesting documentary to watch for any fan of the band. It'll make a cool gift for anyone who enjoys such informative films about music.
Pink Floyd - Live in Pompeii (Direcotor's Cut)
This is a director's cut of the concert documentary film by French director Adrian Maben that features Pink Floyd performing at the ancient Roman amphitheater in Pompeii, Italy.
While some of it is available online for fans to watch, this version contains some add-ons that true fans will appreciate. It contains a 90 minute director's cut with a 16:9 aspect ratio as opposed to the original 4:3. The picture quality is also much better.
Only gift this to a die hard Pink Floyd nerd who'll appreciate the work of art.
Comfortably Numb - Inside Story of Pink Floyd
Comfortably Numb is one of the last iconic songs that David Gilmour and Roger Waters worked on together. They always had a dysfunctional relationship. Even when they worked together there was always a power struggle between the two.
Comfortably Numb - The Inside story of Pink Floyd is a book written by Mark Blake who interviewed the band and their crew, friends and more. This is considered a good biography of the band.
It'll make a great gift for anyone who likes to read and would enjoy learning about the insider stories and group dynamics.
Pink Floyd Vinyl Clock
These days you'll only find vinyl disks in the home of old fashioned collectors and purists. Some argue that the music just sounds better on vinyl. It doesn't matter though. This is the age of Spotify and disks of any sort are out of fashion.
This vinyl disk clock is a creator's way of reusing the out of style product and turning it into something useful and beautiful. This clock with the iconic Pink Floyd graphic is perfect for any fan who admires creative things.
Wish You Were Here Poster
Simple things such as a creative poster of your recipient's favorite rock band can make impressive gifts. Ideal for those who have recently moved and in need for artwork to put up on their walls.
Wish You Were Here being one of the most important songs by Pink Floyd, it has a special meaning for the fans. This poster will make a fine gift for any true fan.
Pink Floyd Trivia
Some people are naturally more curious than others. Humans intellectually evolved and our civilization progressed because the curious typed discovered and grew the combined knowledge.
These types love to know things. Facts and pieces of information they can bring up in conversations and fascinate people with.
If your recipient is such type you can gift them this book. It covers the history of the band, their philosophy and even trivia questions. A must have for any Pink Floyd fan who wants to brush up on their knowledge about the band.
Pink Floyd Guitar Belt
Professionals don't prefer receiving specific equipment as gifts. You should leave it up to them to pick what piece of equipment they want.
A really cool Pink Floyd guitar belt is something anyone who owns a guitar and loves the band would want to own. This will make a fine gift for any musician who own a guitar.
The Dawn of Pink Floyd
The story Syd Barrett, one of the founding members of the Pink Floyd, is a tragic one. A star with so much to offer the world couldn't fulfill his potential because of his struggle with mental issues.
The song Wish You Were Here is in reference to the band missing their fallen friend. Makes you wonder what Pink Floyd would have been if he remained a part of it.
This book covers the life and struggles of Barrett. If your recipient is someone who loves to read they'll enjoy this book.
Pink Floyd Doormat
People like to own stuff that reflects who they are and what they love. Even the most boring, ordinary essential items get so much more interesting when they're personalized to suit the user.
This is a stunning doormat with a Pink Floyd prism design that any fan of the band would love to own. Perfect for any homeowner with style.
Pink Floyd Storage Case
There aren't many people who own Vinyl disks anymore. Only the old fashioned enthusiasts stuck in the past and appreciate the beauty of it do.
This vinyl record storage box will make a cool gift idea for any Pink Floyd fan who owns a collection of vinyl records. It's practical and reflects your recipient's interests, as a good gift should be.
Pink Floyd Piano Anthology
If your recipient plays the piano and is experimenting with different genres of music guides like this one will make a great addition to their songbook arsenal. Pink Floyd Piano Anthology is a collection of some of the best songs by the band that are suitable for keyboard instruments. Songs such as The Great Gig in the Sky, Nobody Home and more.
It's a very specific gift idea, so be careful only to give it to someone who's very passionate about music.
Pink Floyd Playing Cards
So much of life is us finding ways to occupy our attention, to distract ourselves from things we rather not think about. Before the internet most of us used to spend time with other people and that involved doing things. Card games have kept us entertained before modern entertainment.
This Pink Floyd themed pack of cards will make a cool gift for an fan who doesn't mind letting the phone down to enjoy other things.