19 Cool Bob Dylan Gifts For Fans
A list of best gift ideas for Bob Dylan fans. The coolest gifts you can give to a recipient who loves the great folk singer.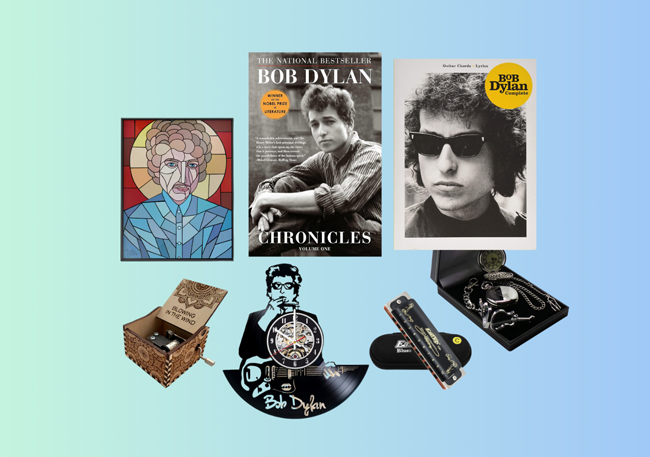 Bob Dylan is a living legend. He is rightfully, in my opinion, considered being one of the greatest songwriters and musicians of all time. His revolutionary music didn't just make him a counterculture icon, but also influenced American culture and politics significantly. It brought attention to the civil rights movement and aimed to turn people against war.
Dylan had an unusual climb to fame. He didn't exactly have a conventional singing voice, and he was a folk singer. Most people considered folk music to be second rate, small label material and big music companies were marketing mostly to the elite. Fortunately for Dylan, a prominent talent scout, John Hammond, recognized his talents and bet on his success. Hammond got him a contract (Not very lucrative, but Dylan thought it was ok considering his own lack of experience.) with Columbia Records. And from there, his career kept growing, and he became a big star. Today at 80, with a career spanning almost six decades, he's still actively touring, bringing all millennials to shame.
Following is a list of the best gift ideas for Bob Dylan fans. Pick one that suits your recipient's style.
Bob Dylan - The Original Mono Recordings
This box collects Bob Dylan's first eight 12-inch LPs. From his first and self titled album Bob Dylan(1962) which was a collection of folk songs to John Wesley Hardin (1968) A.K.A JWH which is based on a true outlaw character born in Texas.
An important collection for any true fan to possess. This will make an impressive gift.
Bob Dylan Chronicles - Vol 1.
The Guardian said this was "The book no one thought he could write." And this book indeed outperformed the fans' expectations.
I've read it and it makes for a truly enjoyable read. Mostly because it sounds honest and has some intriguing stories about his life. If your recipient doesn't already own a copy, they'll welcome this interesting gift.
Bob Dylan Complete Book
If your Dylan loving recipient is a musician or even plays the guitar, this chord book will make a useful yet charming gift.
It is a collection of guitar chords and lyrics for every song he has ever written. Which is a copious amount of songs. Unsurprisingly, the book is over 500 pages, so can be used for building biceps alongside training your music muscle.
Mouth Organ/ Harmonica
Bob Dylan is one of the people who made playing a harmonica look cool. He'd play it while simultaneously strumming his guitar.
If your recipient can play one or is interested in learning this Bob Dylan signature engraved harmonica will make an amazing gift.
Blowing in The Wind Custom Music Box
A cool looking, engraved wooden music box that plays Blowin' in the Wind. I don't think artists at Etsy like to leave many ideas unexplored.
If your recipient is a romantic partner or a love interest a music box like this one can make a charming impression. Just don't use gestures like these too early in a relationship or gift it to a person you barely know. It comes off as trying too hard.
Rolling Thunder Revue
You know you are a huge cultural icon when a master filmmaker like Martin Scorsese decides to make a documentary about you.
This film is a fascinating visual story of the legendary tour the Rolling Thunder Revue. A tale of adventures of Dylan into the counterculture with artists such as Joan Baez, Allen Ginsberg, and Joni Mitchell. A film a true fan must watch and would appreciate as a present.
Bob Dylan Vinyl Wall Clock
Gift items don't have to be too rare but they shouldn't be too general. Uniqueness is the stuff of gifts. After all, there's not much charm in getting something anyone can buy at a general store.
This beautiful Bob Dylan wall clock made from vinyl disks is a creative gift that any fan of the singer would adore. It makes a nice decor item that any fan will be glad to hang on their wall.
Man on The Street Box Set
This is the second volume of the Man on the Street Box Set. A somewhat unique gift idea for any Bob Dylan fan. A box set of some of his iconic songs. Live recordings alongside Tom Petty and The Heartbreakers.
This will make a fine gift for any analogue in a digital age person.
Bob Dylan Signature Engraved Lighter
Lighters always make cool gifts. That is unless your recipient is trying to quit. Then it's just going to make you look insensitive. Still pretty cool though.
This gold Bob Dylan signature engraved lighter is ideal for musicians in their twenties. It also comes with a keychain, making it just more impressive.
Bob Dylan Poster
This is something you would see on a church window, but only it's Bob Dylan and not Mother Mary. Giving someone paintings or posters as gifts is tricky. You have to consider your recipient's taste. If you feel like they'll like this design, go for it.
A creative, unique poster like this will work for recipients who have an artistic side or, at the very least, like cool posters on their walls.
Bob Dylan All The Songs
Any Bob Dylan fan with imagination would love the idea of witnessing the creation of his greatest songs. Unfortunately, time travel isn't a thing yet. But you can always read about the stories behind all his songs.
This book will tell you what happened during the creation of these songs, details like instruments used and behind the scenes stories. A perfect gift for a Dylan fan who likes to read.
Bob Dylan Coffee Mug
Everyone drinks coffee in America with the exception of Brits and Pseudo-nutrition experts who think coffee is slow poison.
If your recipient loves both Bob Dylan and coffee, and has a good taste in mugs with cool designs on them, this will make a good gift.
Essential Bob Dylan CD
If you want your gift to be simple yet thoughtful, then consider this Bob Dylan essential CD as an option.
Giving an audio CD as a gift in the age of Spotify can seem weird but, given the artist and his history, it seems more authentic and somewhat charming. Ideal for recipients who are new to Dylan's music too.
Bob Dylan Pocket Watch
Pocket watches are out of style, but if you're aiming for a creative gift idea for someone close to you, this is a pretty good choice.
It looks great, has a cool engraving of Bob Dylan's face carved on it, and it comes with a keychain.
Bob Dylan - Don't Look Back Documentary
If you want to learn about Dylan's growth as a new artist, this film by D. A. Pennebaker is a must watch. It captures Bob Dylan's transition from a folk hero to an unconventional rock icon.
This is an ideal gift for people who don't read but enjoy a good documentary about the stuff they're interested in.
Newport Folk Festival 1965 Poster
The 1965 Newport Folk Festival was a significant event in Dylan's career. It is where he, for the very first time, played an electric guitar on stage. This made some fans upset and shocked the music world.
A cool, retro poster that's a simple enough gift for recipients you are not very close to. Thoughtful yet not trying too hard.
Bob Dylan Vinyl Coasters
In the age of streaming services, where you can find all your favorite music just a few clicks away, things such as vinyl discs and cassettes seem like relics from the past, only to be found in the collections of old school music lovers.
Whether your recipient is a vinyl person or not, they'll appreciate getting these creative vinyl themed Bob Dylan coasters as a gift. It's a stylish way to preserve furniture.
Bob Dylan - The Lyrics
In the age of Google and 5G, finding lyrics to your favorite songs is just seconds away. That doesn't mean a fan who likes to sing along with Dylan's song wouldn't like to own a book with all of Bob Dylan's song lyrics printed on it.
A collection of lyrics that shaped the politics of the country. A must have for any real fan.
Bob Dylan Car Air Freshener
I'll be honest with you. A car freshener doesn't sound like the coolest gift out there, and by itself will make a pretty weird choice, but you can tag it along with something else.
This is one cool looking air freshener. You can gift it to any Dylan fan who owns a car.