45 Kickass Gifts for Guitar Players
A list of some awesome gifts for the talented guitar players in your life. The best collection of gift ideas that any guitarist will love.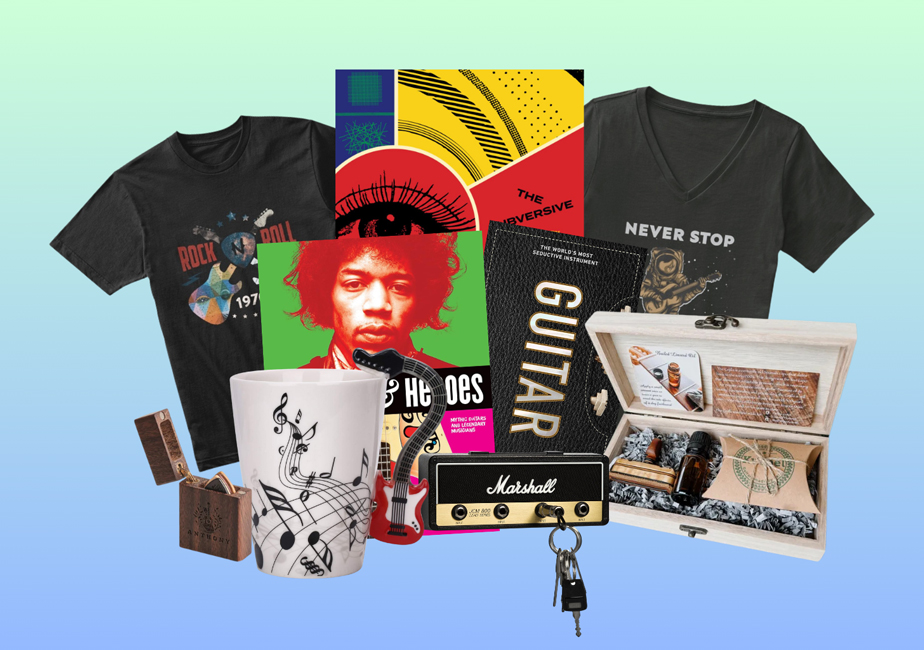 Becoming a guitar player is no joke. Anyone can order a cheap guitar from Amazon, look up a few YouTube videos and declare himself the the next George Harrison. Learning to play it is relatively easy but to do it well requires hours of dedicated practice every day for years.
I'm no guitarist and wouldn't claim to be, but I can tell you what to gift one. Other guides on the topic you will find on Google will mostly be filled with guitar accessories and equipment. I guess they were written by someone who knows nothing about gifts or guitars and just searched for guitar on Amazon to put together a stupid list.
Guitar players don't want you to gift them equipment. They're usually very specific about what accessories they and equipment they use. Your gift will probably sit in the basement for eternity. Of course there are exceptions to this rule. You can gift them a gadget or tool that is popular among professionals and is general rather than of very specific use. I've included such things in the list.
Fortunately there are a lot of things you can gift to a guitarist that they'll love. Following is the list of the best options.
Personalized Wooden Guitar Pick Box
A good gift is meant to appeal to the recipient and ideally fulfill a need, but it's also meant to make an impression about the giver. You want to be seen as someone with good taste.
A classy looking personalized wooden guitar pick box like this does exactly that. It looks cool, is useful and lasting. Any professional guitar player would treasure it. You can choose a custom message to be engraved on it making it more personal for the recipient.
Rock & Roll T-shirt
I've always believed that only musically challanged people don't like Rock 'n' Roll. May be I'm biased by my love for it but I think it's true. You've got to be born with microscopic ears or hang out with robots who like the sound of electronic noise not to appreciate the beauty of Rock and roll.
This is a great choice of gifts for any Rock 'n' Roll loving guitar player. The design is so good that even Pablo Picasso would look at it and throw his paint brush away realizing he couldn't do better. I'm not saying that just because I designed it. Or may be I am. Doesn't matter, it's a great option.
Guitar Metal Wall Art
Creativite expression is not exclusive to artists. It's something we all do from time to time in our own unique ways. Anything can be an art project, even decorating the walls of our homes. After all, everyone enjoys being surrounded by beauty and where else is it most relevant but the place where we spend most of our time?
Not everyone is good at this though. Some people would spend years in a place with empty walls. And not because they don't like things on their walls but because they aren't used to picking the right decor. If your guitar playing recipient is such a person with walls to fill, you can give them this stylish, minimalist guitar wall art decor.
Minimalist Guitar Wall Clock
You can't just decorate your walls with only posters. Variety is what makes a design complete and pleasing to the eyes. That's how filmmakers design their sets. It's hard to find attractive decor items that will please any recipient. You need to know exactly what they'll find interesting and worthy of a place in their home. The idea is to find something that reflects their personality or is related to things they care about.
This guitar themed wall clock will make a fine gift for a guitarist. It's simple yet elegant. The minimalist design makes it a safe choice because it doesn't impose.
Portable Guitar Amplifier
The best gifts are those that recipients can put to use. For recipients what makes a desirable gift is the ownership value they get from it. They prefer gifts that are practical.
This amplifier looks cool, has amazing features like Bluetooth connectivity, great sound quality and the portability makes it really convenient. This will make an impressive gift.
Guitar Themed Music Lamp
Good lighting makes a lot of difference in the appearance of a room. A properly lit house looks cinematic and is pleasing to the occupant, which affects mood and productivity. This is why nightlights and decorative lamps can make impressive gifts to the right recipient.
If your recipient is a guitar player who is passionate about their craft, a guitar shaped night light will appeal to them. It comes with a USB cable and you can connect it to a laptop, making it ideal to travel with.
Guitar Themed Bracelet
Jewelry makes for endearing gifts. It takes a relatively deep understanding of the recipient's tastes to figure out what kind of jewelry they'd like. Which also makes it difficult. I recommend that when it comes to picking jewelry items or accessories for someone you choose something minimalistic and simple. This way you're less likely to hit too off the mark. Everyone can pull off an accessory that doesn't stand out. That doesn't go the other way around.
This guitar themed black bracelet is a perfect gift for a friend who is a guitarist or musician. It'll feel personal to them, like a memento to keep and preserve.
Guitar Music Note Coffee Mug
Americans love their coffee. Even the bald eagle makes a trip to Starbucks before going out for a hunt in the desert.
While I wouldn't recommend you buy the mugs with those cheesy lines with lame puns like "I pick you," or "Best guitar player" or whatever, this one is kind of cool. You can gift this to any guitar strumming, coffee drinking friend.
Rolling Stones 500 Guitar Songs
The Rollings Stones magazine is considered by music lovers as a reliable source of information on the artform and its developments. They cover musicians all over the western world and feature stories that both aspiring musicians and audiophiles enjoy. The magazine is known for publishing the collection of their choice of top songs in a ranked list.
This book is the second installment of the Top 500 Greatest Songs of All Time - Guitar Classics series. It covers sixty seven classic rock and modern rock tracks. It's meant for experienced tab players though. Don't give this book to beginners. If your recipient is someone who has been playing the guitar for a while and is interested in the classic rock or modern rock genre, they'll like this present.
Guitar Shaped Decorative Hooks
I like decorative stuff like this. It adds personality to a place. Makes the house look more interesting. I mean why have regular, mundane hooks when you can have stylish ones like these? These guitar head shaped hooks will appeal to any guitar player with a knack for home decoration.
Practical things your recipient can use and that are related to their interests make the best gifts. Make sure your gift meet these two conditions and you won't go wrong.
Guitar Style Barbecue Set
These are kind of cool for a barbecue set. This set will make a fine gift for any guitarist, unless your recipient is a devout vegan, in which case they might get supremely offended and try to stab you with these.
What better way is for a guitarist than to barbecue a steak with guitar style barbecue set while chilling in the garden with a friend playing a country rock song? It can't hurt to own a pair of these. Gift away.
Beatles Miniature Guitars
The Beatles were the most popular and influential band in the world during the 70's. They changed the world of music in significant ways. Their music is still pretty popular. Americans are even considering changing the national anthem to John Lennon's Imagine.
These are the miniatures of the guitars used by the band. If your recipient is a Beatles fan, they'll love this.
Maple Wood Guitar USB
In the age of high speed internet and easy sharing options, USB drives are becoming pretty obsolete. Still, it's useful to own one, after all the big brother is watching and you can't have some nerd in the NSA getting their hands on your embarrassing family photos.
This flash drive with a maple wood guitar shaped cover is perfect for guitar players. They'll find it very charming.
Guitar Love Me Coffee Mugs
What would music be without love, and what would artists be without their muses. If you are trying to find a gift for a boyfriend or a husband this is good choice. It's romantic and touching.
This corny mug will also work for a friend who's in a relationship. It comes in a pair so they can share it with someone they care about.
Guitar Desk Lamp
How in the world will people know that you are a guitar player if you don't own a guitar shaped desk lamp? They're not mind readers. You'll have to tell them or worse, perform.
I'm kidding. Not a necessity for a guitarist but for someone who use their guitars to make a living a glowing one will be loved.
Guitar Wallet
Giving a wallet as a gift is considered a sign to wishing good fortune in many cultures. Also, they're practical and endearing if added a personal touch. This guitar themed wallet will make a fine gift for any guitar player. Even struggling guitarists and musicians need wallets. They might not be making millions yet but whatever money they have needs a place.
Ideal for giving to a guitar playing boyfriend, father or a close friend. They'll be remined of you every time they go shopping.
Guitar Neon Sign
No amount of light can fill the darkness of in your heart if you are one of those people who eat a pizza with knives and forks. There is no cure for you. But you an still have good lighting in your bedroom.
This guitar neon sign is the coolest thing you can put on your wall. Excellent gift for a guitar player with a wall to spare.
Marshall Guitar Amp Key Hanger
Creativity is a gift but it comes with a cost. Creative people are often forgetful. When your mind wanders with infinite possibilities of innovative ideas you're not paying attention to the small things.
Artists of all kind find themselves misplacing things because of this dilemma. Especially keys. Well, this key hanger looks so cool that it's hard to miss it. They'll be subconsciously forced to remember putting their keys on it. It's legit science.
Guitar Ice Cube Tray
There's nothing wrong with regular ice cubes. They serve their purpose after all. But when you can have guitar shaped ice why not do it.
Your rockstar friend will have a good laugh using the ice made from this tray the next time they have their whiskey on the rocks.
Guitar Patent T-shirt
Patents are significant because of what they represent; a beginning. Design is the first step towards creation. Also, there's something intriguing about looking at a two dimensional drawing of a thing that you're so familiar with.
You can give this to any guitar player passionate about their craft and respect their instrument. It makes for a cool poster to hang on the wall of any musician.
Guitar Themed Pendant Necklace
A simple yet stylish necklace you can gift to a special friend. A gift like this would impress the recipient and also make their admire your taste in presents. You don't have to get too creative with gift ideas. Most of the times, it's the simplest gifts that make the most lasting impressions.
You can gift this pendant necklace to anyone who plays the guitar. Any musician will appreciate this gift.
Guitar Engraved Bookmark
I know a lot of musicians. Most of them don't read a lot if at all. But some do and do it passionately. For those of your guitar playing friends who love reading this will make a charming gift. After all, readers need bookmarks.
I will suggest this for only those people who love reading and not just read a paragraph once a decade. They won't find much use out of it.
Quarter Made Guitar Pick
I'm not completely sure if you can use this pick very well to play a guitar. It seems it works but mostly is designed to be a keepsakes gift.
Gifts are best when they're practical and useful but it's not always the case. Sometimes the not practical aspects make a present a good one. I found this pick made out of quarters a cleaver idea. Something your recipient will be glad to own.
Custom Wooden Guitar Picks
Ignore the cheesy message, you can customize it and have something less lame engraved. If you are close with them and use a nickname, that'll do.
Personalized gifts can be very effective with close friends. But don't really work if you don't have a real connection with the recipient.
Guitar Plug Keychains
This is probably the coolest keychain in the world. I'm not a musician and even I want to buy one. It's a terrific present even though it's a simple one.
Generally it's not a good idea to gift multiple items to someone but it works if both the products make a set. You can couple this with the Marshall Key Hanger from above in the list and it'll be good set.
Guitar Strap
This is a guitar accessory but also a fashion item. It's a cool design an artist will like. Although some musicians prefer them to be simple and plain. Which makes it a bit risky but most likely than not your friend will be impressed and love your choice.
When it comes to picking a gift you should keep your recipient's tastes in mind. If you know them well, use what you know when making a decision.
Marshall Bar Fridge
I can't imagine a musician not wanting to own one of these. This Marshal mini fridge is the best thing you can gift a guitar player. It's modeled after the Marshall Amp Speakers that professional use.
It's a bit expensive though so pick this one if it's for someone close to you and you're rich.
Talent Is Overrated by Geoff Colvin
If we lived in the world of Matrix we could just download a skill into our brain and master it within seconds of upload. We don't though. Or may be we do. Can't know anything for sure. Anyway, learning and mastering skills is not easy. The world class performance you see doing awesome things and creating stuff than seems magical is not just the result of talent. I think talent has something to do with it but without years of dedicated practice and hard work it's not possible.
This book explains how these performers, masters of their crafts and experts in all fields get to where they are. A must read for anyone who wants to know the best way to maximize their performance.A useful guide that will help further their career. What can be more thoughtful?
Unless they don't like reading. In which case it won't help. It's a book not a scam crystal ball from Mars.
Personalized Guitar Pick
A present simple enough but not any less effective. You can get any text engraved. I'll suggest just their name or if you're close and have a nickname for them, it'll do.
It comes in a decent little box and the pick is good quality. It'll be a special thing which will remind them of you.
The Greatest Music Stories Never Told (book)
The world is a weird place, with weird stories that make me question about my own existence and if I'm living in a comedy TV show. May be I'm Truman and you're watching me write this right now. I should put on some pants, I guess. Nah, my legs look pretty good. Anyway, this book is full of weird music related stories you'll ever hear. A ballet that sparked a riot, a rockstar that became an astrophysicist, UFO abduction of John Lennon. OK, I'm just kidding about the last one. But buy this to find out about the rest.
And, oh, gift this to your musician friend as well. It's a fascinating, fun read they'll enjoy.
Guitar Wall Clock
Who needs a wall clock when you can look up the time on your phone, right? Well, actually, it's just better to make it easier to keep up with the time. It makes you be aware and hence more productive. After all, unless you're one of those people whose eyes are glued to their phone every waking moment, you're not going to know the time unless you use your phone.
It's a nice looking clock that you can gift to a guitarist who's always late to places they're supposed to be.
Guitar Cutting Board
The concept of starving artist may sound romantic and noble for aspiring musicians but it's not to be taken too seriously. You can't create music if you're thinking about food all the time.
If your recipient is not one of those people who when the last time they cooked something George W. Bush was still the president, this will make a charming and useful gift.
Whiplash (Film)
Whiplash is a film about an passionate, aspiring Jazz Drummer who is dedicated to his craft and will do what it takes to succeed may that be tolerating the insults and borderline abuse from his authoritarian instructor to practicing at night till his fingers bleed.
It's a tale about passion and shows us the dark side of it. It's about a drummer but is a must watch for any musician.
Guitar Stand
This is an expensive one so I'll recommend this for someone close to you who's passionate about his craft and owns multiple guitars. Gifts don't have to be ridiculously expensive for your recipients to appreciate them. Most of the times it's the simplest gifts which are most loved.
Still, if you're looking for a gift for a really special occasion this will make an excellent one.
Musicophilia by Oliver Sacks
Science isn't just for nerds from the Big Bang theory. Even artists need to be familiar with the science behind their craft.
This book by Oliver Sacks, a great neuroscientist, explains how music affects our brains. It's very well written and a must read for any musician. Don't pick this if they don't read though.
Guitar Themed Phone Purse
Mobile phones when they first came out used to be huge. With time and advancement in technology we were able to make them smaller and better. Now they're getting bigger again. Hence the invention of phone purses.
They make nice accessories and are generally liked as gifts. You can gift this to your lady rockstar friend.
Guitar by David Schiller
The same as how race drivers are passionate about cars and cinematographers are obsessed with camera equipment guitar players love the beautiful variety of guitars that exist.
This book by David Schiller is a collection of pictures and information on almost every kind of guitar out there. Anyone who loves guitars should own this. This will make an interesting gift.
Guitar Tool Kit
You can come up with the most witty and creative idea for your recipient but chances are they'd rather have picked something practical and simple.
A guitar tool kit and string organizer for guitar players they'll find very useful. Recipients love feasible gifts like these.
Guitar Pick Holder
If you are known to be a man or woman of good taste, you want it to reflect in the gifts you give. After all, a man must maintain his reputation at all costs.
This stylish guitar pick holder is what I would expect from a person with class. A really cool gift idea.
Hand Painted Guitar
Givers instinctively believe unique gifts are desirable for their recipients. Research suggests that recipients prefer gifts that are general and related to their interests. Don't try to put too much emphasis on find unique gifts. Your recipient won't value it as much as you think. The important factor in the likeability of a gift is the ownership value your recipient derives from it.
A hand painted guitar with distinctive design is still "valuable" because it is a desirable thing to own. If you want to gift them something remarkable go for this one.
Guitar Pick Case Key Chain
Some guitarists prefer the fingerstyle over using picks. Which style is superiors is a matter of never ending debate. One advantage of fingerstyle is not being dependent of a guitar pick to play the instrument, just in case you don't have access to one at any moment.
This guitar pick keychain case solves that problem. It makes sure that you have a spare pick available at anytime. Your recipient will find this cool and useful.
The Complete Guide to Blues Guitar Compilation
Many of the biggest rock bands you know started their journey with the blues. Pink Floyd's early music was heavily influenced by the genre. The name "Pink Floyd" itself is a tribute to two bluesmen – Pink Anderson and Floyd Council.
Any aspiring musician who aims to achieve mastery of their craft spends their time learning different genres. The idea is to learn the existing arts so you can create something unique of your own. If your recipient has shown interest in learning this genre, The Complete Guide to Playing Blues Guitar is the place to start. It covers all the techniques and information one would need to practice the style. Gift this only to those who are passionate about mastery.
Guitarlab Gift Box
If you're short on time or don't know the recipient very well to pick a gift that'll suit their needs, you can just give them a gift box related to their interests. Gift boxes work because of the variety of items they offer. Even if they don't like every individual item in it, they'll still get the same feeling of happiness a great gift offers.
This gift box by Guitarlab is perfect for beginners who are just getting into the field. Maybe they've bought a new guitar and could use a bunch of accessories to go along with it. Don't give this to a more experienced player though. For them you can just pick a bunch of items on this list and put them in a box.
John Pisano's Jazz Guitar Masterclass
John Pisano is a prolific Jazz guitarist from New York. He has been playing his music for almost six decades now. He has worked with music legends such as Frank Sinatra, Tony Bennett, Barbra Streisand and many more. In this masterclass John covers all the fundamentals of playing jazz on guitar and shares his unique knowledge about the craft.
If your recipient is interested in learning about playing jazz on their guitar, this masterclass will make a fine gift for them.
Greatest Guitar Rock Songs
The 50 best songs handpicked by experts at the Guitar World Magazine. It's a simple chord book that any guitarist will find useful to own. It includes musical classics such as Bohemian Rhapsody, Highway to Hell and Hotel California.
You don't have to pick the most unique gifts to please your recipient, sometimes the simplest of gestures communicate intentions better than the most creative gift ideas you can imagine. For an aspiring guitarist a simple chord book as a gift tells them you care about their dreams.