17 Rocking Gifts For Metallica Fans
If your recipient is a fan of Metallica, they'll appreciate getting a gift from this list of the coolest Metallica gift ideas.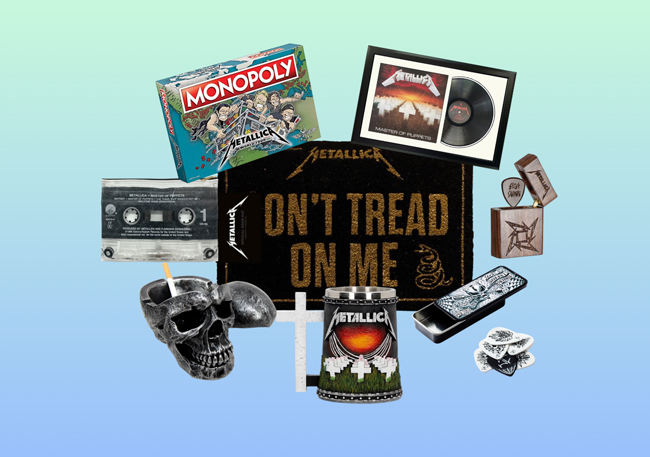 I was listening to Nothing Else Matters, a song which has been up in my playlists for decades, when I had the idea of compiling a gift idea post for Metallica fans. I figured if I'm still listening to Metallica in 2020 and I know many people who do too, there must be people out there looking for gifts for their fans. And although this post is not a Pulitzer winning article, I guess music inspires us to create.
Metallica is one of the most popular heavy metal bands in history. They've performed on every continent in the world and sold millions of copies worldwide. They've had mega success stories and their shares of tragedies. And if you're a fan, you know how their experiences have reflected in their music.
Following is a list of the coolest Metallica gifts you can buy online.
Metallica Mug
Master of Puppets is a significant album for the band, not just because it was one of the most influential heavy metal albums of all time, but because it was the last album they made before Cliff Burton died in a bus accident. It was a tragic loss for both the band and the millions of fans.
The design of this mug features the artwork of the album. It's a damn cool looking mug too and will make a fine present for a goth Metallica fan.
Metallica Guitar Pick Necklace
I love when creators combine simplicity and creativity to bring us exceptional stuff. A guitar pick shaped pendant with your favorite band's artwork is simple yet elegant. This is a cool necklace designed for Metallica fans.
If your recipient is kind of goth and has a metal head fashion sense, they'll love this as a gift.
Metallica Zipper Pouch
Oh, the good old days when you could collect cassettes of your favorite songs, actually feel the physical thing rather than the virtual stuff on your Spotify playlist. Digital music is convenient, you can take all your music library everywhere you access it from any device, but there is something about actual things you can touch and own that digital can't fulfill. Or maybe I'm just an analog guy in the digital world who doesn't like change.
Anyway, cassettes are almost extinct and all that's left of them are things like this zipper pouch designed to look like one. This Master of Puppets cassette pouch will make a fine gift for any lady Metallica fan with good taste.
Metallica Pick Holder
If your recipient plays guitar, this wooden Metallica themed pick holder will make a charming gift for them. It's stylish, high quality and shaped like a lighter.
This pick holder is handmade and comes with a magnetic lock. You can put around a dozen picks in it, depending on their thickness. Give your recipient this so they can carry their picks with class.
Metallica Vinyl Clock
Vinyl, like cassettes, is another relic from the past. Only collectors and old school fans seem to own vinyl discs. The purists will argue that music just sounds better on vinyl. I think that's somewhat true.
Anyway, many creators are using old vinyls to create stuff like this Metallica vinyl clock. I think it's really a cool clock that'll impress any fan of the band.
Metallica Door Mat
The album Don't Tread on Me was inspired by the motto of the Gadsden flag from the American revolution. The message to the British was clear, "we won't be trampled on". This album symbolizes the anti-establishment beliefs of the band.
This doormat is a clever pun and homage to the Metallica album. Any staunch fan will quickly get the reference.
The Ultimate Metallica Photographs
A stunning collection of photographs capturing the most iconic moments of Metallica's history. A photo book by Ross Halfin who documented the band for over 25 years.
A good picture doesn't just capture the image but the significance of the moment being captured and Halfin has done it well. Reading this book feels like being traveled back in time to witness those historical events. Any genuine fan would love to own this.
Metallica - Stories Behind The Songs
Every song has a story. It's always fascinating to read about the inspirations behind the music that rocked the world. This book tells you about the history of Metallica's greatest songs.
It has got some cool pictures too. This will make a fine present for any fan.
Metallica Shot Glass
This shot glass seems like something Satan worshippers would use during their initiations. It just looks so macabre.
Your recipient doesn't have to be a Satanist for you to gift them this though, if they're into goth they'll love nothing more than to have their shots in this Metallica shot glass. Out of all the gift ideas on this list this, by far is my favorite one.
Metallica Skull Ashtray
I know this looks like something out of an anti-smoking ad but personally I think it's the coolest ashtray you can buy. Fans of Metallica love the grim tone of their music. It's about death and mortality. Which is why they would love this ashtray as a gift.
This goes without saying but it's ideal for smokers. Although it can be a fine decorative piece too.
Metallica Monopoly
"Boredom comes from a boring mind." says the lyrics from Metallica's The Struggle Within. Maybe that's true, but even people with the most interesting minds get bored sometimes.
If your recipient enjoys playing board games, they'll be glad to get this Metallica themed monopoly game as a gift. It's a fun way to pass time and great for people who're tired of playing the regular version.
Metallica Vinyl Wall Art
Paintings and posters are so 2010. In the age of ecommerce, where creators all over the world can connect with and sell their artwork online, you've got no shortage of beautiful art like this one.
Inspired by Master of Puppets this wall art looks uniquely Metallica. I know some people who have collected these vinyl artworks for all their favorite bands. The collection looks outstanding together.
Metallica T-shirt
A cool Metallica t-shirt by Damage Inc. that you can give to your Metallica loving recipient. The design will appeal to metalheads. Also, it's black. A color almost anyone can pull off, which makes it a versatile option.
T-shirts can make excellent gifts if you pick the proper size and consider your recipient's style. I think a fan of the band would want this one in their collection.
James Hetfield Pick Tin
The man who co-founded Metallica, one of the best heavy metal musicians in history. He wrote the music we loved and will always remain a legend.
If your recipient is a guitar player who is a fan, they'll love to own this James Hatfield pick tin. It comes with 6 Metallica themed picks and has a very cool design.
Metallica 2023 Calendar
Computers and smartphones have made many things obsolete that were essential in the past. Alarm clocks, stopwatches, and calendars are becoming less practical when you can have all those things on your phone. I don't think that's necessarily a good thing. Devices that allow you to multitask also leave the door open for distractions. It's just better to have a tool dedicated for a particular purpose.
Anyway, even though no one uses physical calendars to mark schedules anymore, it doesn't hurt for a fan to own a cool Metallica calendar from the official Met Store. Even if it's for decoration. A simple gift worth considering.
Metallica Lace up T-shirt
Is your recipient a lady with good fashion sense with a body to complement it? Then she'll love this Metallica lace up t-shirt.
Clothes can make fine gifts if you consider your recipients style and know their colors. Black works for most people.
Metallica Skull Figure
This one is not for the faint of heart. And Metallica fans are anything but scared of things that reminds them of death. Someone who's really into goth will love this. Metalheads dig stuff like this.
I wonder if Sherlock Holmes is into Goth. He talks to skulls after all.