27 Rocking Gifts for Beatles Fans
This gift guide brings you the best gift ideas for fans of The Beatles. Impressive gifts that will delight any true fan.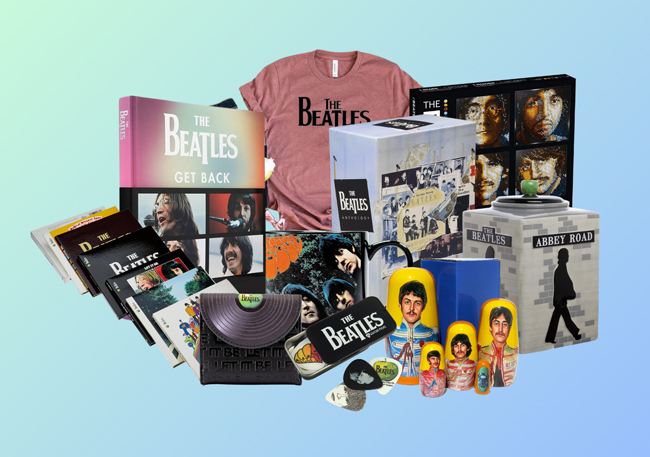 Very few things make such a huge impact on the world as The Beatles. One of the most popular pop bands in the world, with over 600 Million records sold worldwide, fascinated & influenced millions of fans in the 70s and still continues to do so. After all, there isn't a lack of Beatles fans in the world.
The band had an interesting journey to fame. They took years to develop their iconic style. Alone, they were just four ordinary kids from Liverpool but together they were The Beatles, the band that made history. They wrote the greatest songs of the time. Their music made the world take note and hum along. They wrote songs about war and peace. They changed the world for the better. The popularity of The Beatles was nothing anyone had seen before. So, I'm sure there will be a lot of people searching for gifts for The Beatles fans.
I bring you a list of the most loveable gifts for fans of The Beatles.
The Original Studio Recordings
Any Beatles fan who doesn't own a set of the original studio recordings would love to have them. You would be considered a thoughtful giver if you are one who gives them this.
Even if they have downloads of the same there is something about owning these physical collections that makes one feel like a true fan. All the original studio recordings in one set. What's not to love about this?
The Beatles Anthology
People like to watch interviews of their favorite stars because they reveal stories about themselves. Their experiences, struggles, passions and many things that we normally wouldn't know.
We humans are naturally intrigued by stories. Which is also why gifts in the form of books, films, documentaries, etc., are loved by the recipients. A good story that entertains and delights is as good a gift as any. The Beatles Anthology has hours of Beatles interviews all at one place. Any fan of the Beatles would find this intriguing and likable.
100 Things The Beatles Fans Should Know Book
You know the biggest regrets people on their deathbeds have are not the things they did but the things they didn't do. Maybe your recipient will regret not reading this book when they still could. I'm kidding. Although they'd appreciate reading this book and even be glad to know all the things they learned.
100 Things Beatles Fans Should Know contains a well compiled list of things and facts that any real Beatles fan would be interested in learning. If your recipient likes to read they'll enjoy this book as a gift.
The Beatles Signature Guitar Picks
Recipients prefer gifts that are practical and reflect their interests. This Beatles themed guitar pick set will make a fine gift for a recipient who plays guitar and is a fan of the band.
This is ideal for aspiring musicians though. Big boy guitarists with huge egos won't likely use picks like these. After all, a gift is only as good as a recipient finds it.
The Beatles Memorabilia Pack
Some things are just cool to own. This memorabilia pack is a kind of thing you didn't know you wanted until you saw it. Any fan of the Beatles would love to have this in their collection.
The best things in life, the things that bring you happiness are usually the ones attached to your emotions. Things like these take you on a nostalgia trip to the good old days, bringing back great memories.
The Beatles Coffee Mug
I don't gift mugs to anyone, but when I do I pick the ones that will impress the breathing crap out of my recipient. I got that from a meme. As far as coffee mugs go this is likely one of the coolest looking ones on the planet (Prove me wrong.). Far better than your average boring mugs.
You can gift this to a fan of the Beatles and they'll drink more coffee just to show it off. A cool gift for a coffee drinking Beatles admirer.
The Beatles Lyrics Stories Book
What's your favorite band? Your favorite song? Wouldn't you like to know the stories behind its origin? Wouldn't you love to learn how and where your favorite songwriter found the inspiration for the music they create?
If your recipient is the curious type and likes to read, they will enjoy this gift. Reading and learning about the musicians and the music they love will make for a pleasurable experience.
Beatles Retro Night Light
Thomas Merton said, "Art enables us to find ourselves and lose ourselves at the same time."
This doesn't apply just to Picasso or Van Gogh's paintings. Any art that has meaning to you and will inspire you is the art you need to have. It doesn't have to be a painting either. A creative night light that plays with light to create images on the wall is also the work of an artist. This night light will give any room a cinematic look. An impressive gift idea for any fan of the band.
The Beatles Lego Set
Legos aren't just for kids. Plenty of adults enjoy their Lego time. Some find it relaxing. A way to get away from earthly problems and focus on doing something with your hands.
This 2933 piece Lego set is a good way to introduce someone to this hobby. It'll help them relieve stress and clear the mind. The Beatles thing makes it kind of cool too.
The Beatles Sticky Notes
Our minds can only deal with so much information at a time. We're not computers after all. A little organization helps sort things out. It's always better to write down your thoughts on paper instead of letting them float around in the mind disorganized.
If your recipient is the organized type who likes to use sticky notes for work or studying, they'll love these Beatles themed sticky notes as a gift.
Beatles Home Cookie Jar
As far as cookie jars go this is by far the coolest one I've seen. I guess good design and the Beatles can make anything look cool.
If your recipient is a fan of the band and of cookies they love this gift. It's useful, looks great and has pictures of their favorite musicians. What's not to like?
Stories Behind The Beatles Songs
I've already listed a "Stories behind Beatles Songs" book, but couldn't resist including this one. It has its own unique additions and tales that I'm sure Beatles fans would love to read. It draws upon decades of research by historians Jean-Michel Guesdon and Philippe Margotin.
If your recipient is a reader they'll like this gift. If you've never seen them read, that won't likely change. Pick something else.
The Beatles Keychain
Sometimes the simplest gifts end up becoming the most memorable ones. Recipients like practical gifts that reflect their interests. When you pick any gift make sure that it enhances your recipient's life in some way.
This Beatles keychain is simple enough in its utility yet practical. No one minds having some extra keychains. It's a versatile gift you can give to any Beatles fan. If you're going for a gift box you can put this with some other items on the list and you're good.
The Beatles Magnetic Shapes
Refrigerators can be aggressively mundane to look at. An artist at heart always wants to be surrounded by beauty and life. I'm sure magnetic shapes were invented by someone very bored of dull, ugly refrigerators.
These Beatles magnetic shapes come with forty two unique shapes. Enough to cover all the ugly, plain metal surfaces in the house.
The Beatles Imagine Cushion Cover
A fact of life one learns when they grow up is that cushions get dirty and you have to wash them eventually. Which is why it's a good idea to have a couple of spare ones around.
And while plain, regular cushions are good for most people, those who are going for a hip look for their homes, this creative Beatles print cover will be perfect.
Abbey Road CD
If you're looking for a gift for someone you barely know but know that they're Beatles fans you should go with this Abbey Road CD. It's casual enough and tells them you were a little thoughtful but not too much, which comes off as people pleasing.
Even in the age of digital music. It's nice to have physical copies. They feel more real and concrete.
Quote Wooden Sign
The universe operates on rules and patterns that are hard to not notice. Makes you wonder how much free will one has. The rules apply to human behavior the same as to physics. Being selfish makes one mistrust others and not appreciate their love. Only when you selflessly love yourself will you feel the love others give you.
"In the end the love you take is equal to the love you make. "
This Beatles lyric sign serves as a reminder of a message one must remember to live by.
The Beatles Coin Bank
We live in a world where we are constantly being stimulated by instant rewards and temptations all the time by people trying to monetize our attention. Delayed gratification is a skill necessary to learn.
A money bank is a tool that has been used by parents forever to teach their children to delay rewards. Even adults must practice this skill from time to time. This Beatles money bank will make a fine gift for any young Beatles fan.
Beatles '66: The Revolutionary Year Book
1966 was the most important year in the Beatles' history. It was a transformative year that would change the music world forever.
In this book Steve Turner has explored the evolution of the band and how they transformed over the years. Especially the events of 66'. The year of their last concert and the fist album. I'm sure a true fan would be delighted to read this fascinating story.
Beatles T-shirt
No one minds getting clothes as gifts. After all you can't ever really have too many extra clothes. As a giver all you have to do is pick the right size and consider their fashion choices (Colors, style, etc.)
This t-shirt will make a fine gift for any Beatles fan.
Vinyl Wall Clock
Vinyl is going extinct and artists around the world are coming up with ways to recycle old vinyl disks and create something creative out of them. This has lead to some cool results.
This Beatles vinyl disk makes for a stunning decorative item. It looks good on any wall and will make an impressive gift for any fan.
The Beatles Wallet
Wallets have always been a traditionally popular gift and for a reason. They're practical and everyone uses them. Some like them simple and plain while others are more expressive.
If your recipient has a minimalist style they probably won't use this. For those who like a bit of color this handmade wallet will make a great gift.
Beatles Card Game
Card games can be fun. When you're out of things to do with other humans you have to coexist for the time being, you can fall back on this century old tradition of card games.
This Beatles card trivia game, with 600 questions about the Beatles, is fun to play and any fan of the band will enjoy it.
Beatles Abbey Road Sweatshirt
A simple, elegant sweatshirt with a clean design for minimalists. Not everyone likes to wear clothes with heavy graphics and wild designs. Some prefer simplicity.
If your Beatle loving recipient is such a type, they will like this sweatshirt. Make sure you pick the right size though.
The Beatles Songbook
If your recipient is a guitar player and an aspiring Rockstar who likes the Beatles they'll appreciate this cord book as a gift. Struggling artists are often insecure and will take all the validation they can get. After all not everyone makes it and to know someone is there to encourage you in all that uncertainty is good.
A gift like this makes a recipient feel as if you recognize and understand what's important to them.
The Beatles Get Back
This book is the official account of the band's final album Let it Be. Something the fans have been waiting for since decades. It also features some previously unseen images of the band.
If your recipient is someone who used to be a hardcore fan of the Beatles during their popular years, they'll appreciate getting this much awaited book as a gift. It'll bring back some fond memories from their youth and they'll have something to read. Ideal gift for people in their 60's and 70's.
The Beatles Flipbook
I often suggest my readers to pick a gift that is somewhat useful to their recipients. It's generally sound advice. But sometimes a practical gift isn't the best option. We're humans after all, with feelings and what not. If you're early in a relationship and want to impress your partner, an unfeasible gift may be a better choice.
This flipbook, while practically of no use to your recipient, will please any fan of the Beatles. They'll be glad to receive a unique gift that reminds them of their favorite musicians and will know that you pay attention to their interests.