15 Legendary Gifts For How I Met Your Mother Fans
A list of the best How I Met Your Mother based gifts for the fans of the show. From the Blue French Horn to The Playbook, I have put together the best things for you.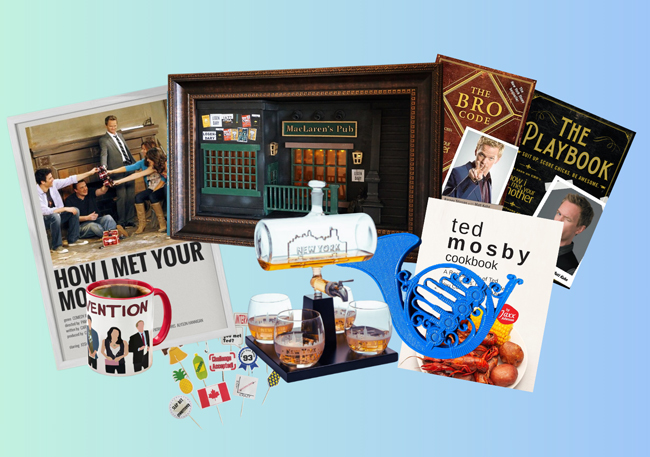 For nine years How I Met Your Mother entertained audiences all over America with Ted's obsession with finding the one, Barney's ridiculous plays, Marshall and Lily's annoyingly perfect relationship and Robin's Daddy issues.
What made the show special was the life lesson it had for us at the end of each episode. Something that the gang learned the hard way and for us to take notes.
This is true storytelling. Stories, in the form of films, TV shows, books or any other form are essentially life lesson. Like Barney Stinson claims to teach Ted, stories teach us how to live.
The last season air in 2014 and it was an end of an era. But the show wasn't forgotten. It can never be. Hell, I've watched it twice since then.
So, for all the fans out there, here's a list of awesome How I Met Your Mother gifts you can give them.
Decorative Blue French Horn
Ted is all about big romantic gestures. In the very first episode, he takes Robin on a date and they see this blue French horn in the restaurant. Robin Likes it.
After the date Robin has to leave so they end up not kissing. Ted regrets this and goes back, but not without the horn. He steals it from the restaurant.
Any fan of How I Met Your Mother knows the iconic French horn. They'll be delighted to get this miniature version as a gift.
Ted's Apartment Floor Plan Poster
They spent nine seasons in this apartment (Although it's a set but that's not the point.) They shared great moments and created memories. And the audience became so familiar with it that it felt like home. An onscreen one.
This floor plan of Ted and Marshall's apartment is a fine gift. Ted's an Architect after all. He'd love this.
How I Met Your Mother Themed Cupcake Toppers
This is for the fans who like to bake. They can have a How I Met Your Mother themed cupcake party with this. All the toppings mark some memorable episodes–The liberty bell, hot crazy scale, the pineapple. This is just awesome. Trust me, they'll love this.
And if they're any good at making cupcakes, you invite yourself over there and have fun.
The Bro Code From How I Met Your Mother
The Bro Code is the holiest text that all bros operate by. Bros must strictly follow the code to keep the harmony among bros. Seriously, bro code is awesome.
This is a fun gift for any fan of the show. I'm sure they've heard so much of the Bro Code through the show that getting it will be a great surprise.
Legen Wait For It Dary T-shirt
This was Barney Stinson's catchphrase in the show. Sometimes he'd add lines in the middle, like "Legen - wait for it - and I hope you are not lactose intolerant because the next word is - dary.
Any real fan of How I Met Your Mother won't forget this line. This t-shirt will make a fun gift. Just get the size right.
Blue French Horn & Yellow Umbrella Necklace
Perhaps the most memorable things in the show, both the blue french horn and the yellow umbrella have deep meaning in the show. The first one represents Ted's passion and commitment and the second represents destiny.
Someone had the right idea when they made necklace using them both. It's cute.
The Playbook From How I Met Your Mother
Barney's famous, or more like, infamous playbook is no news to the fans. All throughout the seasons he pulled off ridiculous plays and extreme lies to sleep with women.
I'm not saying you should encourage your recipient to be like that, but it's just a fun gift. And a funny read. I'm sure everyone who has watched How I Met Your Mother is intrigued about the contents of this book.
Awesomeness Motivational Poster
Barney has this poster hung in his office along with all other motivational posters. From teamwork to conformity, he has them all.
This awesomeness poster was something he got custom made. Classic Barney. I remember one of his dialogues. "When I'm sad, I stop being sad and start being awesome instead. True story."
This is a cool poster. Reminds you to be awesome.
How I Met Your Mother Inspired Intervention Banner
The gang had a way to stop one of them from going to the extreme–Interventions. This worked great for them. They got Marshall out of the funny hat, Barney to stop his fire tricks, Lily gave up the fake English accent, and I don't remember what Ted and Robin were doing. Maybe it had something to do with a gun with Robin.
Anyway, we need to have interventions sometimes. It's a way to solve problems and a fan of the show will be glad to get this banner as a gift.
How I Met Your Mother Quotes Pencil Set
A pencil set is not a gift one hopes to get, I know but gifts don't always need to be practical, sometimes the things that bring up great memories make good gifts.
I love these memorable dialogues and catchphrases from the show and something that reminds me of that is valued.
How I Met Your Mother Tote Bag
A gift as simple as a printed tote bag can be very effective when given to the right recipient. This How I Met Your Mother themed bag has cartoons of the most iconic things in the show.
The design is simple enough but the bag looks attractive. A fan will adore it.
How I Met Your Mother All Seasons DVD Set
I know it's all available online now, but there's something about owning a DVD of your favourite TV show or film that binary can't compete with. We love collecting things that we're passionate about. For readers it's books, for music lovers it's cassettes and vinyls, and for film buffs it's disks.
If they're a true fan, they need to own this. It'll make a fine gift.
Puzzles Bar Pint Glass
We do the craziest things with our best friends, and that sometimes involves the stuff that we regret. Ted and Barney ended up owning a bar, even though it was only for a night. It was called Puzzles. Why is it called Puzzles, you ask? Well, that's the puzzle.
Anyway, if your recipient had a crazy idea one day to start a bar called puzzles, this will come in handy.
Blue French Horn Poster
This is a great choice of gift for your minimalist friends. Maybe the necklace would be too attention grabbing for their tastes and they don't bake cupcakes, so this minimalist blue french horn poster is perfect.
It's simple yet attractive and you don't have to be a How I Met Your Mother fangirl to like it.
How I Met Your Mother Inspired Rubber Duck Tie
Barnie lost a bet with Marshall and had to wear this tie for a year. Can you imagine the misery he went through? Poor fictional character I'm feeling bad about.
Anyway, this is just a gag gift I had to include because the list wouldn't be complete without it. You can gift this to a close friend and have fun by placing bets or something but that's it's only purpose. They're not going to wear it otherwise.