27 Wolf Gifts For People Who Like Wolves
A list of wolf themed gifts for people who like wolves. A collection of the best gifts on the internet related to wolves. Make your animal lover friend happy.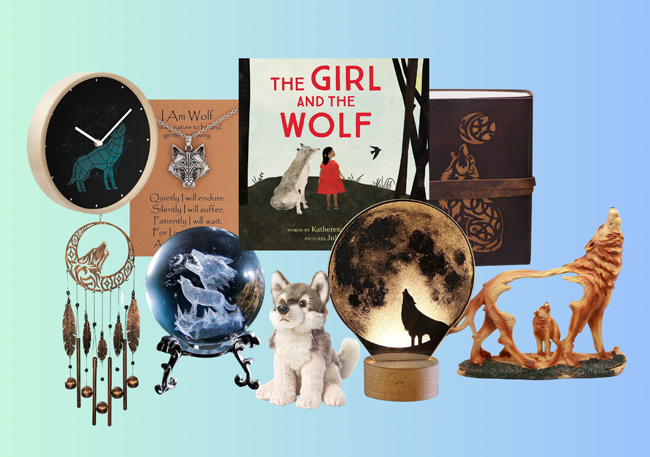 Wolves have always been a cool. They're the more badass versions of dogs. They started gaining popularity (More like bad rep) when werewolves were introduced in cinema. As if the fairy tales with the big bad wolf weren't bad enough these vampire hating monsters on the big screen gave children nightmares.
It was that lame movie Twilight that showed werewolves as them as human friendly vampire killing predators and helped with the PR.
The Game of Thrones TV Series introduced direwolves as these lethal and loyal pets. Watching the Stark Children have a cool ass pet made everyone want to have direwolves, which helped increase the popularity of regular wolves.
The point is, wolves are a popular animal among millions of people around the world. They're vastly misunderstood creatures. And if you're looking for a gift for someone who likes wolves, I have an awesome list of gifts for you.
I have more collections for animal lovers. I've got elephant gifts, panda gifts, and turtle gifts. Check them out too.
Wolf Figurine
When guys are drunk and extra confident they sometimes howl. It represents a superior feeling of dominance. After all, when an alpha wolf howls at the moon, he wants to be heard by the entire forest.
This howling wolf figurine is a beautiful addition to any wolf lover's home decorations. Something to remind us humans to be fearless and dominant in a world full of challenges.
WolfNation
Anyone interested in wolves will enjoy reading this book. It's a fascinating account of america wolves and is full of amazing facts and stories about the creature.
If your recipient reads and the book based on a topic that the reader is interested in, books make great gifts. You're gifting them an experience. A reader will travel to the story world and experience it as if they were there. And experiential gifts are liked more than concrete things.
Wolf Fleece Blanket
We are all attracted to beauty. A gift that is beautiful leaves us with happiness and gratification.
This printed wolf fleece blanket is gorgeous. I love the use of colors and the dreamcatcher concept is a great idea. They'll be impressed.
Wolf Stuffed Animal Toy
When it comes to giving gifts, sometimes it's best to give something simple that they'll like.
If you're looking for a gift for a kid, go with this one. Stuffed animal toys are favourites among little kids. Teddy bears and all are fine, but this will make them happier.
Wolf Themed Nightlight
The workings of nature, the order and chaos and the balance that they both maintain is fascinating. We notice these things when we're young but as we grow and begin to become obsessed with our lives we stop paying attention to these wonders.
A wolf howling with a full moon in the sky is symbolic of a creature connected with nature; with the stars. A fine gift to help them reconnect with that curious side.
Wolf Folding Hand Fan
Folding hand fans are exotic and beautiful. You can hang them on your wall or if you're trained by ninjas you can use them to fight bad guys with knives.
You can't really use hand fans to cool yourself down though, the movement heats you up more. They're not practical.
Mystic Wolf Necklace
If your intended recipient has a taste for such exotic jewelry designs and a passion for wolves, they'll love this necklace as a gift.
While you can't wear this thing to a wedding, it will go with a good modern look. It's for badasses.
Wolves Design T-shirt
Globalisation and dropshipping t-shirt websites has lead to an addition of a huge number of creatives t-shirt designs. You can find t-shirts on all kinds of themes.
This makes a gift givers life easy. A good quality t-shirt with an attractive design is always appreciated as a gift. This howling wolf t-shirt will impress your wolf loving friend.
The Girl and the Wolf
A cute little present if your intended recipient is a little kid not yet corrupted by the world. Kids love stories and this a beautiful one about a kid who gets lost in the wild and finds an unlikely friend.
You can gift this to a wolf loving child or a parent who has one.
Advice From a Wolf Wall Hanging
I found this hilarious. What advice would a wolf give you if you ask him how to live a content and fulfilling life?
The advice on this poster is spot on and relevant for all us humans. We should all learn to trust our instincts at times and enjoy howling with our friends. These puns really cracked me up.
Handmade Wolf Design Cardigan Sweater
If you're looking for a christmas gift for a guy who likes wolves this is a good choice. Even if it's not a christmas present, no worries–they can wear it on christmas.
Just make sure your recipient wears cardigans. Some people don't like to. If you've seen them wear it. Got for it.
Wolf Design Coffee Mug
I don't like to have coffee mugs in my list. They're out of fashion as gifts and they don't excite the receiver, but I just liked the design on this one. It's clean and attractive.
And chances are that if me, someone with no specific liking towards wolves, likes it, a wolf loving person will too.
If coffee mug as a gift isn't your style scroll down, there are better options.
Custom Wolf Zippo Lighter
Your wolf loving friend smokes? Consider this lighter as a gift. A smoker is always happy to own an extra lighter. And it helps if that lighter has some personality.
They will find this wolf design personalised quote lighter interesting. And every time they use it they will be reminded of you.
Wolf Design Necklace
Another stunning wolf themed necklace I found. Women love their jewelry and if you have a decent taste about it, you can't go wrong with gifting them jewelry.
The first one on this list went better with casual and dark outfits. This one will go with anything.
Tag this along with a thoughtful note to make this a more impactful gift. Preferably include a wolf related quote.
Wolf Design Pants
Clothes can be tricky to gift. You have to figure out the right size and think about the recipeits taste in fashion, but if you take the effort, clothes make effective gifts.
After all who couldn't use an extra pair of comfortable pajama pants? They're always welcome.
The cool wolf design on this one makes it more impressive. If you know their size, go for it.
Wolf Model Wooden Assembly Puzzle
Puzzles are awesome. They keep the mind sharp and they're fun to solve. And if the puzzle ends up looking so good you can use it for decoration at home.
This one is a great gift on many levels. The fun part makes it interesting and the decoration part makes it appealing. Not to mention it's sort of a DIY item and people love those.
Face to Face With Wolves Photobook
Photo books, when the creator knows what they're doing, can act as teleportation machines that take you a different part of the world you can't physically be.
A good picture taken at the perfect moment speaks a lot of things. This book is meant for kids interested in wolves, but adults curious about them will also enjoy it. It's a short read.
Wolf Geometric Wall Art
Simple geometric shapes remind me of the simplicity of the design of the universe. Order is the essence of all creation. Without order there would be too much chaos for anything to function and survive.
Sometimes too many details just spoil the art. Minimalism can be powerful.
This beautiful wolf wall art will make a likeable gift for any adult who likes wolves.
Wolf Printed Child Bedding Set
If your intended recipient is a parent, you can consider this stunning wolf print child bedding set as a gift.
Practical gifts don't fail because the receiver can use them and thus it brings value to their lives. They're not effective in every situation but for the most part, you have a better chance of getting it right with a practical gift rather than something that is not.
Wolf Mascot Costume (Partial)
You don't have to always pick something practical to gift someone. Sometimes something fun, which if you think about it is still useful to have fun, makes people happy to receive.
This will make a good gift for a kid but if you're creative you can figure out ways to use it.
Wolf Dagger Centerpiece
Guys love their weapons. Even if they're meant to be show pieces. This wolf centerpiece comes with a dagger and looks like an antique. Any man would love this as a gift.
Avoid gifting it to someone with little kids in the house except if it's meant for an office. For single guys, don't second guess. They'll love it.
Werewolf Silver Ring
If, by any chance, your intended recipient is a member of a ruthless biker gang called the "Werewolf Riders" this will be the perfect gift.
Obviously that doesn't mean that a non member wouldn't appreciate this. It's a cool ring to wear once in a while. May be on Halloween or when they're about to punch someone who says they don't like wolves.
If I was your recipient, I'd love this as a present.
Wolf Wall Mounted Bag Hanger
What self respecting wolf loving person would use a regular bag hanger when they could have this awesome wolf themed wall mounted bag hanger?
It looks great and even people who don't particularly have a fascination for wolves will love it. And it's black so goes with any wall color. You can gift it to anyone who has a wall to nail it on and a bag to hang.
Wolf Design Boots
I like the design on these boots. It looks cool. And the wolf design just makes them look badass.
They're hand crafted and made out of vegan leather so you're contributing to the death of any animal.
This will be an ideal gift for young women who mostly wear dark clothing items.
Wolves: Behavior, Ecology, and Conservation
If your recipient the curious kind who loves to learn and gain knowledge about the things they're interested in, they'll be delighted to get this.
This book has all the knowledge anyone fascinated about the creature would want to know. It explains their behaviour, ecology, communication, hunting habits and more. You can read about the different breeds of wolves from all around the planet. It's a great read.
Hooded Wolf Children's Blanket
One more gift for kids who like wolves. And they'll love this blanket because while being comfortable and cozy they can play pretend wolves.
Little kids love this kind of stuff. Just make sure they're not too old to be using this. I'd stop at six. This will make a good birthday present.
Wolf Salt And Pepper Shaker Holder
We can't really ever be absolutely sure about anything. That's what philosophers have realized over the centuries. But, unless your recipient is a time traveling caveman who introduced to salt and pepper, you can be sure that they can put this wolf statue salt and pepper shaker to use.
And if they are indeed time traveling cavemen, you can introduce them to salt and pepper and they'll appreciate the improvement.
Just keep in mind your recipient's style. If they prefer minimalistic things, don't gift them this. Otherwise, go ahead. They'll like this.