27 Lovable Gifts For Dog Owners
A list of unique and impressive gift ideas for dog owners. A collection of the best gifts you can give to a proud dog parent.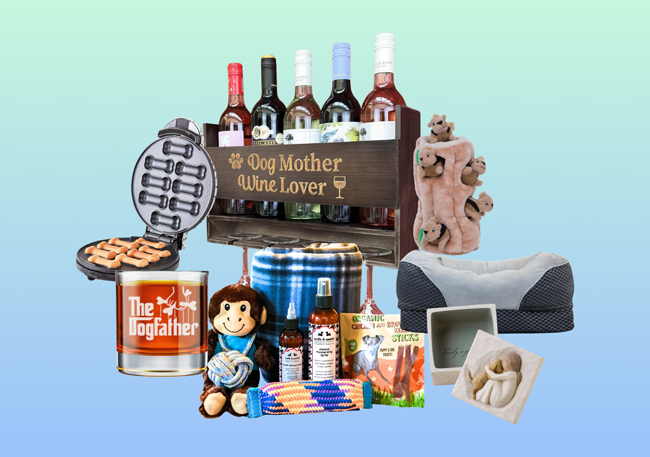 With over 70 Million pet dogs living in U.S., it's safe to say that they're pretty popular among Americans. After all they're loyal, kind and make great companions. Dogs are among the very few species that show kindness towards others even without rewards.
I think you can divide the most of the human population into two personality types–dog people and cat people. That's it. That is what everything comes down to. It affects culture, art, elections and memes. Essentially the world revolves around cats and dogs.
Dog people are more friendly and hard working than cat people. They're also happier.
Following is a collection of the best gift ideas for dog owners. Some are more practical than others. You can pick the best one based on your recipient's personality.
Dog Lover Keepsake Box
The most memorable gifts are those which are simple yet touch the recipient's emotions. You don't have to overthink about your gifts. You should just go with your instincts.
If you feel connected to your recipient your instincts will guide you to the perfect gift for them. This keepsake box will make a fine gift for any lady dog owner.
The Beagles Funny Dog T-shirt
If your dog loving recipient is also a Beatles fan they'll almost certainly appreciate this comical portrayal of The Abbey Road.
Printed t-shirts make good gifts as long as you pick the right size and are somewhat competent in your sense of style. After all who couldn't use an extra piece of clothing that also helps them express their love for their favorite bands and dogs at the same time.
Dog Camera
Romance novels and films have had us believe that gifts have to be thoughtful and put a lot of effort into picking, but that's not true for all occasions.
For most gift giving purposes you can just pick some practical thing relevant to your recipient's needs and they'll be content.
This dog camera is perfect for any dog owner who doesn't have one already. It has a full HD camera, two way audio, and you can even toss a treat remotely. Who would have thought civilization would come to this.
The Dogfather Whiskey Glass
They say puns are the lowest form of comedy. I think it's true at some level. Although when born out of witty spins on pop culture can be fun.
This design on the whisky glass is in reference to the classic film The Godfather. This will make a great gift for any film buff who's also a dog owner.
Dog Travel Bag
I know that traveling only seems like a distant faded dream or something that'll take time to be normalized again for some people. But as things are starting to get back to normal this travel bag is exactly the gift any dog owner needs to make their travels and life easy.
A practical and likable gift your recipient will be grateful for.
Plush Toy For Dogs
A fun fact: your average grown dog is as smart as a two year old. And in many ways dogs are like little kids, they like to play.
This bong shaped squeaky dog toy is perfect for your stoner friend who owns a dog. It's highly giftable.
The Dog Encyclopedia
The best thing about kids is their curiosity and openness to ideas. Some people who are able to maintain these qualities into adulthood are able to create great things.
You can't stay a kid forever but you can keep some part of yourself.
This Dog Encyclopedia for kids is full of fascinating facts and information about all kinds of dog breeds. If your recipient is below 4 foot 5 and is years away for being able to get a driving license then this will make a fine gift.
Dog Expressions 101 T-shirt
You might think that when you dog makes those puppy eyes when you scold him but researchers have found out that dogs don't really feel guilt. Anyway, even though it's not scientifically accurate, this t-shirt gets how humans see when they see their pawed companions.
This dogs expression 101 t-shirt will make a great gift for any dog owner with style.
Collapsible Dog Bowl
Who doesn't like collapsible utensils? They're a minimalist's default choice. They're practical and travel friendly.
This collapsible dog bowl by RUFF will be appreciated by any dog owner who travels. It's 100% food grade and eco friendly. They'll be happy and grateful for receiving a useful item like this one.
Gift Box for Dogs
The first rule of gift club, you don't talk about gift club, the second rule of gift club: when in doubt just give them a nice gift box.
Gift box have a quality about them that brings out the treasure hunting, gift opening child inside us. The sheer amount of different items just gives the recipient a dopamine rush.
This set includes a blanket, dog grooming products, organic chicken jerky and interactive dog toys. If you don't want to spend much time picking between all the choices in this list, just go with this one.
Dog Bed
A good dog owner loves their dog and cares about its comfort. A beautiful, comfy bed like this as a gift will delight any dog parent. After all a happy dog means a happy owner.
This bed is made out of premium soft polyester cover and comes in two sizes so pick the appropriate one according to your recipient's needs.
German Shepherd I Love Mom Shirt
Personally I feel like the German Shephard is the best dog breed among all. Other breeds are fine, but they got specific flaws (needy Golden Retrievers are too needy, Pitbulls are too murderous, etc.), but the German Shephard is flawless.
If your recipient is a lady who owns one, this t-shirt with a "I love mom" tattooed to the dog's arm will make a perfect gift. Knowing that the gift is tailored to them they'll feel special.
Jurassic Park Themed Dog ID Tag
The first Jurassic Park is my preferred one. There was just something about Steven Spielberg's Creation that felt more than life. I can't say that about the sequels and I'm not very impressed by the newer ones.
If your recipient likes dinosaurs and the movie than This Jurassic Park themed dog ID Tag is a great fit for them.
Cheers Human Mug for Dog Lovers
Life is dull and full of suffering, pain and misery. There's nothing one can do about avoiding all that. Even those who try to control and manage everything to the last detail derail sometimes into chaos.
Dogs are amazing at cheering us up. An innocent expression that somewhat translates into "What happened, why so sad?" can cheer you up and make you feel like it's all ok.
This funny mug will at least bring a smile sometimes to your recipient's face.
The Game From Fable
The same as us humans dogs are smart social animals. They need constant interaction and challenges. They get a lot of fun out of games and solving puzzles for rewards, like us.
This dog feeder and exerciser is an awesome way to keep your dog fed and entertained so that they are healthy and stimulated. A useful gadget any dog owner would love to own.
Portable Dog Pool Float
I like portable things. They're very convenient for travelling and being a person who values his independence I like stuff that is made keeping in mind that some consumers don't like being stationary a lot.
This portable dog pool float is an excellent gift for any dog owner who likes to travel, goes on trips or even just owns a pool. It can carry a good amount of weight so pretty much works for dogs of most sizes.
Funny Dog Calendar
Life is too short for regular, boring calendars. Why waste precious white space on company branding or not so great nature photos when you can make it funny and adorable.
Give this calendar to a recipient whom you just casually know and don't want to seem like trying too hard. Overall it'll make a charming gift for any passionate dog lover.
Dog Treat Maker
Dogs are pretty simple to train. All you need is to reward them for the behavior you want them to do. They love treats.
This dog treat maker is easy to use and makes tasty looking, bone shaped treats. With this your recipient can make delicious treats for their dogs at home. There is a strange satisfaction that comes with the process.
This will make a fine gift for any dog parent.
Pet Nail Clipper
Having a pet is not all play and hugs. It comes with certain responsibilities, not unlike taking care of a child. When it comes to dogs, trimming their nails is part of it.
This nail clipper comes with a LED light that makes the bloodline visible helping you avoid accidently hurting the dog. It also comes with a nail storage box which makes the job easier.
This gift will be much appreciated by any dog owner. Especially new dog parents who are getting the hang of it.
Squeaky Puzzle Plush Dog Toy
Dogs love hunting squirrels. Well, they love chasing after pretty much anything that's small and fast. It's their natural hunting instinct.
This squeaky puzzle toy helps keep the dogs engaged. All you have to do is fill the trunk with the plush squirrels and let the dog have its fun hunting them.
Of course, no one gets hurt in the process so it's a win win for all. This is a fun gift idea.
Squeaky Chew Ball For Dogs
Before you scroll down past this seemingly basic choice (after all every dog parent owns a ball to play fetch with their dog), know that this is not an average chew ball.
This one is made with Encapsiscent Technology. Which basically means that it's embedded with microscopic particles that have natural scents that dogs love.
It's easy to clean and durable. A fine choice of gift if you want to go with something practical.
Dog Mother Wine Rack
Being a mama, even to a furry canine, ain't easy. They need to relax and sip some wine every now and then.
If your recipient loves dogs and wine, this "Dog Mother, Wine Lover" wine rack is a good fit. You can gift this to a close friend or a partner. I'd advise against giving it to people who aren't close to you. They might take offense in the insinuation that they have a drinking problem. Keep that in mind.
Dog Feeding Reminder
A little bit of organization can be a good thing. It helps reduce anxiety. If you can just cross something off a list you don't have to exert your memory and wonder if you did it or not.
This dog feeding reminder is an ideal present for a new dog parent.
Dog Anxiety Jacket
Dogs are great at making us humans feel better. They make us feel loved and not lonely. Research suggests that our blood pressure goes down when petting a dog (So does the dog's.)
Dogs have mostly adapted to the human world but sometimes certain situations can make them feel anxious. A thundering sky or firecracker going off can set them off. This anxiety jacket helps with the situation. It applies gentle pressure to calm them down which helps control over excitement and fear.
A very useful gift your dog loving friend will appreciate.
Pet Fountain
Speaking of useful gifts this is another one that will be of great use and convenience to your recipient. Practical gifts aren't for all occasions but when picked with thought can be really impressive.
Apart from the cool design that'll look good in any place this pet water fountain comes with some great features. It makes healthy and hygienic water available for your pets all day and comes with different setting for the flow.
LED Dog Collar
A sad fact I learned while researching for this post is that over a million dogs die each year in road accidents in the United States alone.
This mostly happens because they often aren't visible to the drivers until it's too late. More so at night.
This LED dog collar can prevent a tragedy like that. It's USB rechargeable, easy to use and comfortable for the dogs.
Your recipient will thank you for this considerate gift.
Water Bottle for Dogs
Last but not the least, a very useful thing for any dog owner to have. A water bottle with a fold cup that acts as a bowl so pets can drink out of it effortlessly anywhere.
A simple yet thoughtful gift.