34 Elephant Themed Gifts For Lovers of The Mighty Animal
Gifts for elephant lovers. An amazing collection of cute, attractive and fun things that all elephant loving people will adore.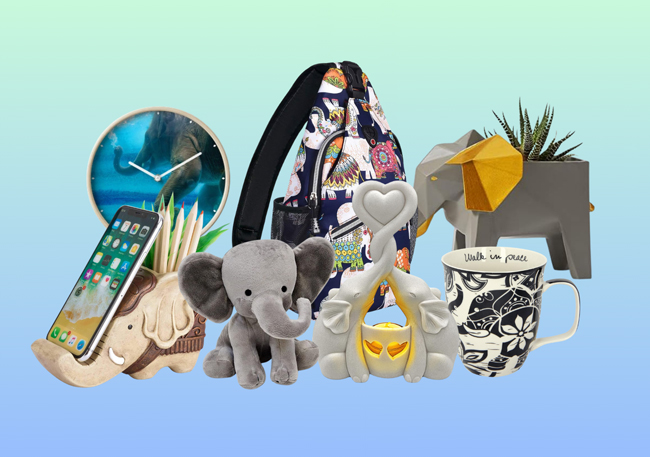 Elephants are incredible animals. They laugh, they cry, they express grief, compassion, self awareness and are capable of altruism. They are sensitive and caring. If a baby elephant cries, the entire family comforts and caresses it. In a way they are more human than humans. It's not a surprise that many people love this amazing animal.
A good way to pick the perfect gift for someone is to consider their interests. And if you share those interests with them, the choice of gift will help strengthen the friendship.
If you're looking for a gift idea for someone who likes elephants you'll find many great options in this list. You might also want to check out this wolf gifts collection if you have a wolf loving friend. If not, scroll down for awesome elephant gift ideas.
Elephant Toy
This will make a lovable gift for a girl. Especially a girl who likes elephants. Most girls love teddy bears. It's the most popular gift for girlfriends, followed by chocolates and flowers. Some grow up but the little girl in remains, which is good. We should all try to preserve our childlike spirit.
Most of us take life too seriously, getting every little things take us down. Children focus on the present and so are happier. Gift this elephant teddy to a girl or a kid and they'll be happy.
Elephant Dictionary Art
Artists come in many forms. Some paint on canvas, other decorate their walls. You may be an artist yourself. What's your form of art? When it comes to your home you can express it through the art on your walls, who you are, what you love, your taste in art.
If they like the mighty animals they will love this present. It's creative and attractive. Make sure you wrap it up nicely. Although, consider that some people just aren't into this stuff, for them, choose a more practical gifts and they'll be happy.
Elephant Pencil Holder
I bet this is cutest pen holder you have ever seen. Pen holders are generally very dull and boring. That's why something like this is instantly loved. You can gift this to anyone, from kids to adults. They will all find it adorable.
It's attractive too, so anyone who likes to decorate their house will find it very useful. Why don't you go ahead and buy one for yourself? Is your pen holder cooler than this one?
Elephant Reflections
Books can make good gifts for the right recipient. If they read you can pick one that suits their interests and one they don't own already and you're good. If they're not readers, no book in the world will please them. Photo books though are exceptions to this. Even people who don't enjoy reading don't mind getting a good book with cool pictures as a gift.
Elephant Reflections is a collection of gorgeous pictures of Elephants by the award winning photographer Karl Ammann. It also features interesting information about the animals written by Dale Peterson. You'll learn about the recent discoveries of field scientists in Africa and the politics of ivory trade. If your recipient is fascinated by Elephants they'll enjoy this book.
Elephant Pillow Toy
Does your receiver have a baby? This will make a perfect gift. New parants are perpetually exhausted. Sleep deprivation isn't fun. They can use all the help they can get. Even a toy cushion which helps them put the baby to sleep will be very appreciated.
You'll be called a life saver. Gifts like these are better liked than more expensive gifts that aren't very practical.
The Secret Lives of Elephants
Every human is unique. From the sequencing of our DNA to the personalities that are shaped by genetics, experiences and knowledge, everything that makes us different from others around us also helped humanity to evolve and grow as a species. If everyone was the same and was interested in the same things there wouldn't be many innovations. Different people find interest in different things. Curiosity must be encouraged and rewarded.
People who are drawn to animal nature and get into the related fields of work have contributed to the compendium of knowledge that helps us discover about the world around us. The Secret Lives of Elephants by Dr. Hannah Mumby explores the behaviour of elephants in the wild. She's a field researcher who has spent time with the creatures, studying and observing them. This book will make a fine gift for people who love reading. Anyone curious about the animals would find this book interesting.
Elephant Candle Holder
Wow, this looks cool. Not just elephant lovers but anyone who likes to decorate their place with attractive, classy things will like this. You might not think of candle holders are very impressive gifts, but when it comes to gift giving, simple yet useful things make the most likable gifts.
Be thoughtful when selecting a gift, which you already have done since you are considering their love for elephants, and make sure it is something they can use and they'll like it.
Elephant Sweatshirt
If I had to choose a gift from this list, I'd go with this. This is my favorite among all the elephant lover gifts for many reasons. First, it's stylish and attractive. Anyone with a decent fashion sense will appreciate the choice. Sencond, it's colorful. The colors are balanced in a way to be eye pleasing.
Girls love colorful things. Not all girls but most do. The quality of this pretty good too. Gifts that last for a while are always a good idea.
Elephant With Heart Sculpture
If you are looking for a romantic gift for a lover or a spouse, this will make a fine gift. This is also a good idea for a fifth wedding anniversary gift, because it's made of wood.
The cute looking elephants make this a lovable present.I woundn't recommend this for someone you don't know very well. They will probably not find it very practical. Only gift this to a elephant lover you know.
Elephant T-shirt
Black is classy. I love black. I can wear it any day. When it comes to gifting clothes, you have to consider the receiver's choice. You can't give every girl a pink top. Sometimes people just don't like a particular color. Of course, if you know the receiver well, you can just observe their dressing style and find out which color they like and which they don't.
But in case you can't figure it out, your best bet is black. This one looks cool. The elephant design is just beautiful.
Elephant Watercolor Print
I like paintings. They make me wonder. As if they have the power to teleport me to a different place. This one took me to Africa, imagining the girant beasts walking tall and with pride.
I like the way it's divided into five panels, It's different. Before buying this, find out if your receiver will use this. Do they have such paitings hung on their walls? Do they like decorating their walls. If yes, then go ahead and buy this, if not then scroll down and look for a different gift.
Cute Elephant Lantern
If you're looking for something unique to gift someone, go for this.Have you ever seen an elephant lantern anywhere? Which makes this a delightful surprise. Especially for elephant loving folks. You can even include a note saying something like,
"This giant, lovely creature will make sure there is always brightness in your life and you home." They will always remember the gesture.
Modoc by Ralph Helfer
For most of our history humans have communicated and shared our knowledge of the world through stories. Our brains are wired to crave them as it serves an evolutionary purpose. After all, facts are boring for most people and hard to remember. A good story communicates ideas and gets the message across better than any lecture.
Modoc The True Story of the Greatest Elephant That Ever Lived by Ralph Helfer is based on a true story about a friendship between a boy and an elephant raised together in a circus. An interesting read that explores the nature of relationships and bonds that we form with the creatures not from the same species. Animal lovers, especially those who like elephants, would enjoy reading this book.
Elephant Print Kimono Cardigan
Clothes make the best gifts. Everyone likes new clothes.If you have a decent taste in clothing and guess your receiver's size, you can't go wrong with this. Just try to keep your receiver's taste in mind.
Kimonos aren't going out of fashion anytime soon and they look so good on anyone who's in shape. An Elephant print Kimono will make a likable gift for any woman. If this is for your girlfriend, go ahead and buy it. She will admire your taste.
Hippie Elephant Sling Crossbody Bag
Remember what I said about useful things? They make the most likable gifts. Add stylish to useful and thoughtful and you have a recipe for a no fail gift.
Women love fashion accessories, shoes, purses, jewelery, bags. There can't have too many of those. A woman who likes elephants will be impressed. She can add this stylish crossbody bag to her collection and she will notice that you remember her interests.
Elephant Ring Holder
The fake hand for ringholders went out of style ten years ago. Now is the age of creatively designed day to day things. In my Paris themed gifts post I have included a Eiffel tower shaped ringholder and people are loving it.
Like I mentioned before, useful things make likable gifts. Gift this to an engaged or a married woman who likes elephants. You can add a note saying "This little elephant will keep your ring safe."
Elephant Gloves
Have you ever seen a pair of gloves more adorable? They're so cute that any girl will be impressed. Creative and unique yet useful gifts like this one instantly appeal to the receiver. I must warn you that most guys will not like these gloves. No matter how much they love elephants.
If you're a girl looking for a gift for a guy, skip these. Look for something else on the list. But if you know a guy who has a liking for such items, gift away.
National Geographic Readers - Elephants
Children are naturally curious about the world. Being dependent on adults to survive they have to be in order to learn about it. As we grow up and come to terms with the reality of our surroundings the curiosity is replaced by responsibilities. And while one should always strive to maintain their curiosity and willingness to learn new things, it's childhood that is the best time to explore it as much as possible.
The National Geographic Readers Guides are aimed at children who are curious about nature. This book about elephants is full of interesting facts coupled with graphics which makes it entertaining for kids to learn. If your recipient is an introverted kid who loves elephants, they'll enjoy this book.
Personalised Elephant Initial Charm Bracelet
Some people don't like to wear anything other than a watch on their wrist, others love to express themselves with bracelets & wrist belts. They're not just for rockstars. You'll see all kinds of artists & creative people wear these.
I'm wearing a set of four right now as I'm writing this. They have their own charm. They help us stand out, and also make a great excuse for a stranger to start a conversation with you. Gift this to the creative types. They will love it.
Mother & Baby Elephant Carved Sculptures
A mother and baby elephant carved sculpture will make a nice mother's day gift. But it doesn't have to be just a mother's day present, you can gift it to anyone who likes elephants. It will be a nice gesture to gift it to a new mother. You can write a note saying something such as:
"Mama elephant protects and nurtures baby elephant with love till it grows into the biggest, strongest animal in the forest. Where will we be without mothers."
Funny Elephant Coffee Mug
If you search for advice on picking gifts you'll almost always find yourself reading about the superiority of practical gifts over the more traditional (also inefficient) ones. There are studies that reflect the same. But this way of thinking is too simplistic. While it's true that recipients prefer gifts that are more useful and feasible they're not for every occasion. Sometimes it's the thought that counts rather than the gift itself.
A gift like this funny elephant themed coffee mug lets the recipient know that you've considered their interests (love for elephants) when picking it. It is ideal for friends and loved ones. If on the other hand you're looking for a present for someone who's not close to you, pick a more practical one.
Baby Elephant Welcome Sign
The best way to welcome people in your home? Let an elephant do it. Welcome signs don't have to be boring, you can be pretty creative with them. In fact, in the age of Etsy and Personalized online gifts, nothing has to be boring.
As for your elephant crazy friend, this will make a fine present. The next time you go to their place, you'll be greeted by an elephant. Personally I would have preferred it saying welcome in elephant language, but they don't make those. For now we'll have to make do with these.
Elephant Wall Stickers
Wall stickers are to rooms what jewelery is to women. They enhance the beauty; they add life to the mundane dull walls. If you receiver has a flair for decoration, he will like this one. The elephants look super cute too. They remind me of those cartoons I used to watch when I was a kid.
In the sticker there is a family of elephants so this will also make a fine gift for parents of toddlers. They can stick it in the nursery. I wouldn't recommend you gift this to a family with more than one kid, unless you buy two stickers and use the baby elephant from that to make it a family of four.
The Three Elephants
This is cool. You may have heard of the three monkeys. See no evil, hear no evil and speak no evil. Now it's trending in elephants. You can be creative when writing a note. Say something like: "In there is the best advice you'll ever get from an elephant."A girl who loves elephants would adore this gift. It's cute.
It is not just for elephant lovers though, anyone with a sense of humor will find this present amusing.
Elephant Design Jwellery Box
Finding a good gift takes effort. You have to be thoughtful about your receiver. That involves a lot of thinking and decision making. Don't spend your valuable mental resources on this.
Instead, just come to Science of Gifts and search for what you want. You'll find amazing gifts like these. This wooden jwellery box is a great idea for a fifth anniversary present. If your wife likes elephants, gift her this. She'll love it.
Elephant Socks
A pair of socks is the last thing anyone thinks of gifting someone. But simple gifts can be very effective. You can gift this to a new girlfriend who likes elephants. Anyway, it's not a great idea to give expensive presents at the begining of a relationship. It can make people anxious.
And don't even think about gifting expensive things to a girl you have a crush on, it won't get you any far. Actually, it will put you even deeper into friendzone. Stick to simple and thoughtful gifts.
Elephant Themed Himalayan Salt Lamp
While it's better to find simple, useful things to gift someone, sometimes unique things make impressive presents. Some people just like to be different. They want to decorate their homes with things people haven't seen anywhere else.
To find out if they'll like this lamp, just observe their place. If they have a flair for exotic decorative stuff, chances are, they'll love this one. Not everyone will appreciate this as a present, so consider your receiver before making a call.
Elephant Shaped Tea Mug
For your elephant loving recipients who are also fond of tea, this ceramic mug shaped like a baby elephant will make a charming gift. Normally I don't recommend giving mugs as gifts because people have too many of them (Most received as gifts) but something like this is a good choice. It's unusual and is appealing to elephant lovers.
You can also include a set of your favorite tea box along with it to make a better impression. That way they'll try out this mug and your tea.
Elephant Themed Crib Sheets
As I've said before, parents love gifts that make their job easier. And they love anyone who is thoughtful enough to give them those.Crib sheets or anything baby related is very much welcomed.
Anyway, it's the cutest crib sheet I've seen. I can't imagine someone not liking it instantly. We all love cute things, don't we? Why else would puppies and babies be so popular?
Elephant Pillow Case
There is no shortage of beautiful things you can use to decorate your sweet home in the world. All you have to do is be creative and know where to look. People tell me they come here looking for gifts for others but half the times end up buying something they found here for themselves.
Anyway, any elephant lover will adore this attractive pillow case. It is colorful and the colors are we balanced, maintaining the harmony of the design.
Elephant Wine Bottle Holder
Well, this elephant is enjoying himself. I hope he doesn't end up drunk texting his ex. Thank God for wine. What would we have done without it? Everyone loves gifts which make them laugh. A touch of humor to your gifts makes them memorable.
That's why those TV commercials are ridiculously stupid. The companies want them to stick in their minds. Remembering their products in the process. See? You're using advanced marketing tactics to give better gifts now. :P
Elephant Shower Curtain
Haha. This is the funniest thing I've seen all day. This is perfect for people who have a good sense of humor. They will love it. I read the other day about love being the best gift. Nah. Laughter beats love at this. Love is complicated. Laughter on the other hand is simple & pure.
Give this to someone and they'll laugh the first time they see it and a few more times. Then one day whenever they're feeling down they'll see this and smile. They will appreciate that. I say you buy this for yourself. Why not?
Baby Elephant T-shirt
I've already listed one t-shirt, but I thought this one was cool too. If she doesn't wear short sleeves you can go for this one. Also this one is a better choice for tall women who with skinny arms.
Don't give both though. It's a mistake to give two gifts at once. It will undervalue both the gifts.It's always better to just choose a single gift that will do the job. If you're buying a diamond necklace for your wife, don't tag along a sketch of her you made. Rather, save the second one for a different occasion.
Toy Storage
Two things kids love most: crying at inconvenient times & toys. A large army of toys lying around the house doesn't make a parent's job easier. An exhausted parent will appreciate a present like this.
Although they are likely to already have one, a cute, elephant printed toy storage may encourage the kids to use it. If that miracle happens, you'll be a hero.