34 Coolest Gifts For Men They Actually Want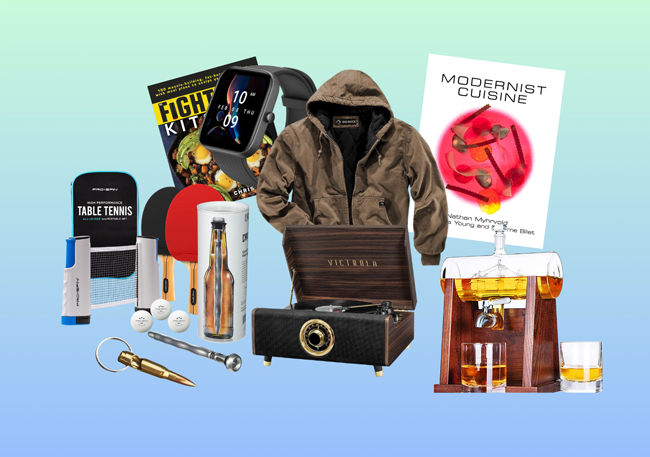 Speaking of gifts for men, one example comes to mind that explains the situation perfectly. It's from the TV show Modern Family. The episode is titled Great Expectations, and it's Phil and Claire's Anniversary.
Phil is a romantic soul and every year gives Claire the perfect gift she loves. This year, in a creatively romantic way, he gifted her a beautiful bracelet. Claire couldn't love it more.
On the other hand, Claire is a terrible gift giver. She gave Phil some useless coupons thinking it was a good idea (Which it wasn't) and said it was difficult coming up with it because Phil is impossible to buy for, and he doesn't want anything.
This is when Phil tells us: "Things I want: Robot dog, Night-vision goggles, Bug Vacuum, GPS watch, speakers that look like rocks….oh..Yoghurt Maker. I can't not think of things I want."
The lesson being, if you don't know what he wants, just ask.
But, may be you want to surprise him. Sweep him off his feet with an mind blowing gift he'll love.
No problem. That's what this website is for. I have done hours of research and made a list of things men actually want. Keeping their interests and hobbies in mind and pick one.
Portable Table Tennis Set
Table Tennis can be fun. Once you get good enough, it becomes insanely entertaining. But you probably can't buy a real TT table. Where are you going to keep it? It'll take too much space.
So, this is the perfect solution. All you need is a table big enough and you can play anywhere. Especially useful when you're stuck indoors. You'll get more exercise than playing monopoly anyway.
It's inexpensive, yet a very likeable gift.
.308 Cal Bullet Bottle Opener Keychain
They don't have to be pro guns to like this one. Like they don't have to be pro violence to like action movies. it's just a cool bottle opener. Functional, and attractive.
There are different calibres available on amazon. I think this one is the right size to carry around, but you can find bigger or smaller ones if you want.
If you're looking for something inexpensive yet charming for, may be, a co-worker or a friend, this will make a fine gift.
PlayStation 4
Video games are a great way to blow off steam. Far better option to deal with stress than other things if you think about it.
Researchers keep finding benefits of video games. They help improve attention, decrease stress, etc. And unless you give up your social life for them, there is no harm.
As for likeability, everyone likes video games. Even they don't know they do, they do. Plus, next time you can just gift a game DVD and be done with it.
No more trying to find new gift ideas every time. New Games will not fail to delight.
Smart Watch
Watches make great gifts by themselves, and smart watches, I don't think there is a more perfect gift.
It's stylish, functional, and attractive.
Also, there are options available with different designs and colors. Pick the one you like.
It has a lot of cool, useful features like voice control, google maps, heart rate monitor, distance tracker, calories calculator, traffic alerts, etc.
View it on amazon for more details.
Antique Style Turntable
I would say it's a gift for men who like music, but really, who doesn't like music?
Vinyl and turntables may be outdated, but that's what makes them special. While you can download a thousand songs on the Ipod, sometimes, on pleasant evenings, you feel like sitting back and listening to greatness on the real thing.
That's what you'll be gifting them–the experience. Trip to the past.
I like the design of this one. Not too modern, not too old. It's perfect.
Knuckle Key Chain
There is something about survival tools and men. We love everything that says survival. May be it's from the time we were cavemen, and had to depend on them for survival literally. That explains it.
Anyway, point being, men love survival tools. In ancient times we used to carve them out from stone. Now we can order them online.
This is key chain that you can use as a knuckle. Useful for both men and women for self defence. They're cheap, so order four. One for each finger.
Bar Cabinet
The one piece of furniture men care about the most is their bar cabinet. It makes us feel classy and Gatsby-like. A man needs to own a bar cabinet like this.
A present like this is for when you want to make it really special for him. May be he has given you the perfect gift and you want to do is do the same for him. Give him something great that he thinks is perfect.
This piece has an antique and classy look that adds to the beauty of the house.
Action and Sports Video Camera
For adventure loving men who like to document the memories, this is the perfect device.
List of activities it's useful for: mountain biking, skating, surfing, climbing, hiking, water-sports, motorcycle sports. You name it.
This is the camera with the coolest features out there. Rest assured, men cannot not like this camera. He will love it.
Perfect for father son adventures.
Motorcycle Jacket
You don't need to be a biker to look badass. Motorcycle or no motorcycle, this jacket looks good on anyone.
If you want to gift clothes but don't know what they'll like, this is the best choice.
It's stylish, durable and great quality too.
Cloths make the best gifts if you can find something according to their taste, but that's tricky to know. Style wise, you can't go wrong with a jacket like this, you don't have to worry if they'll like it or not. They will.
Professional Headphones
What gift is guaranteed to be loved by any man?
Answer: Good headphones.
Professional headphones like these provide you the ultimate audio quality, and although they're professional grade, it doesn't hurt to get a better movie or gaming experience out of them.
They're affordable, high quality and very useful. Great gift material.
Katana Bookends
They've gotten more creative with bookends. Whoever designed Katana bookends should be given an award for designing the coolest bookends ever.
They look so cool. They may be the best thing created for books since the invention of bookmarks.
The reasons whoever you're planning giving it to will like it: 1) They look great. 2) Everyone likes Ninjas. 3) No sane man cannot not like Katana Bookends.
Ninja Knife Magnets
While we're talking about how much everyone likes ninjas, you should check out these Ninja knife magnets. They stick to metallic surface and make an illusion like they pierced the wall.
They're useful for hanging keys, sticking paper notes, and if you're creative, you can figure out more ways to use them.
They're shiny, look cool and make fine decorative pieces. They come in black, silver and gold.
Modernist Cuisine Set
Science is the new black. People love the explore the science behind things. Deeper understanding of a subject helps us be better at it.
Cooking, like any skill, can be mastered. And this book helps you do that. It starts with the absolute basics (There is even a somewhat interesting history section.) and tells you everything there is you need to learn the art.
I'd suggest this for those who read and also like cooking. The former being more important.
Smart Kitchen Speaker
Triby's tagline is: "Bring your family together with Triby."
The way it does that is by letting you stay connected to your home and family. Of course you can do the same with a phone, but it's not the same. Triby somehow makes the texts and the calls more personal. As if the device says that your family is the priority.
Like a racehorse focused on his track, Triby is focuses on one thing only, communication between the family.
Landlines are so old school. This is the new, better way to call home. If Dad or Mom are going to be late, kids can just check Triby for messages.
He is going to genuinely love this. After all, men love gadgets.
Mountain Bike
Fitness is important, but spending hours on a treadmill can be tedious and counterproductive.
Why not get outside? Riding in the nature, having a little adventure, a little fun, and a yet a much better workout.
Sometimes a bit of fresh air can do wonders for your health. Nothing drives stress away like riding a mountain bike surrounded by nature and it's soothing sounds.
Kill two birds in one stone. Give an excellent gift and make them healthier without even trying.
Wilderness Survival Guide
Like I said, men love anything that has survival written on it. Thanks to evolution.
You might think they won't like this kind of thing, but they will.
It's like treasure of "useful" knowledge for us. And for anyone who's watched or read Into The Wild, just make sure they don't run off into the wild. That's a possibility.
Like it says on the cover, it's a field guide to the art of wilderness survival. Every trick you'll need to survive in wild away from civilization.
If you still doubt that anyone'll want to read this, let me tell you that it was in the New York Times Bestseller list.
Dartboard
Everyone should have a dartboard in their home, just because you should.
You can be bored out of your mind and have nothing else to do (your phone's battery died.), this will save you.
The reason it makes a lovable gift is: it's a dartboard. Everybody likes throwing darts.
Also, sometimes if you just feel like sticking someone's photo on it and practice. You can do that.
Credit Card Tools
Practical gifts are always the best. The first thing the receivers sees when evaluating the value of a gift (unless it has sentimental value) is how it fits into their life.
That's why things like this make good gifts. Credit card companion with 9 tools. That's 9 ways it makes their lives easier.
A friend gifted me something like this, and I loved it.
Noise Cancelling Earphones
We should all thank the person who invented noise cancelling earphones. Thanks, Dr. Amar Bose (I looked it up.).
The world is full of annoying noises, and there isn't a turn off switch. But we haven't made leaps in science not to have a solution for this.
Neighbour's dog won't stop barking? You love your partner but the snoring is driving you crazy? Want to be a writer, which is hard enough by itself, and can't find a quite place? There are million reasons to buy this.
Gift someone this and they'll see you as someone whose gift made their life easier. They should!
Ukulele
I always think about buying a ukulele, but then I think I shouldn't because I may end up not using it. That doesn't mean I wouldn't appreciate it as a gift.
Why not just gift a guitar? Because guitars involve making a commitment of time and you need to take lessons, but learning a ukulele is comparatively easier.
You can teach it to yourself in a few weeks if you can spare an hour each day for practice.
It's small, portable, and fun. It'll make a great gift for someone who always wanted to learn an instrument.
Solar Powered Speaker/ Phone Charger
Thinking of going a little green but don't want to give up your car. Well, I'm sure there'll be functional solar powered cars soon in the market, but meanwhile you should consider buying this.
Solar powered speakers. Great for outdoor parties. They're splashproof. And, did I mention you can use them to charge your phone? Just in case of an apocalypse.
As for presents go, if, like a good citizen, he cares about the environment, you should gift him this.
Heat Resistant Gloves
Simple, practical things make great gifts because that's what the receivers think about when evaluating a present.
Studies show that they'd rather choose to receive inexpensive and practical gifts over expensive and complex ones.
What makes these gloves cool is the high heat threshold (932°F). Makes you feel somewhat immortal. I think.
Ideal for guys who like to cook or bake.
Tactical Backpack
This is spy stuff. Something James Bond would have in his apartment for emergencies. Men dig stuff like this.
It's well built and looks awesome. They will feel like a Tom Cruise about to climb a building.
They won't be tagging along with the CIA for a mission but they'll still want to own it.
If you're looking for a gift for a spouse, close relative, or a very dear friend, consider this. They'll think it's cool. There. I saved you the trouble.
It's very useful when it comes to protecting the stuff inside. It'll keep the electronics safe.
Beer Holster
Beer Holsters should have been invented soon after they invented beer, or bottles for that matter.
I mean, you could do without them, but they're so convenient. One more free hand could be a lot productive.
Of course, you can't roam around wearing it, but it's useful while working–may be on a wood project or while painting or even barbecuing.
If you gift this to your partner, expect them to find excuses to use it. That means more beer consumed.
Wood Art Set
Everybody needs a hobby. Two in particular everyone thinks they can do. Writing and painting.
The former involves depression and carpel tunnel. The latter is good. Since the era of abstract art. Paintings don't seem to require any skill at all.
Let them get in touch with their artistic side. Painting is great for the soul. Also helps deal with stress.
Encouraging someone to pursue a lost dream is the best gift.
Double Hammock
If he's a laid back kind of guy, which we are all evolved to be (Non regular food supply, saving energy, blah, blah), some peaceful time lying in a hammock, on a breezy, cool morning may be what he wants the most.
Or may be he likes to read, but no seat is ever comfortable enough (Even bean-bags don't do it). A hammock like this is what he needs.
It comes in different colors. Pick the one you like.
Beer Chiller
There are lots of things invented for beer drinkers. I suspect most of them are invented by beer drinkers.
Makes you wonder if it's true that beer makes you more creative. Personal experience say yes.
This one keeps your beer chilled. Someone must have gotten fed up of their beer getting warm and said I will do something about it. Inspiring!
The truth is, we love things that makes our lives better in some way. Same goes for gifts. If it does, it's a gift they'll like.
Paintball Kit
Men will be men. We like to shoot things. Even if it's with paint bullets.
When someone receives a gift, they automatically imagine themselves using it. That's how we decide how much we like the present.
Give them a paintball kit, and they'll imagine themselves doing all kinds of fun stuff with it.
You can do a lot of fun stuff with a paintball gun. Just thinking about it makes me want to buy it.
Bamboo Charging Station
Everything has its place in the world. Even your phone. At least when it's charging.
Besides from hiding the ugly charging cables, which is the best perk, it also helps you arrange your gadgets.
Phones, tablets, music players, watches, and laptops. All at one place for you to find them.
It's made out of bamboo, looks attractive, and is amazingly useful yet inexpensive. See? Finding good gifts isn't that hard.
The Nasa Missions
In childhood, the years of blissful ambition, everyone who knew what an astronaut was has, at least once, dreamed of becoming one. We were all curious about the space and stars and wanted to get closer to them.
After that, most of us settled for more down to earth careers, but the curiosity is always there.
When We Left Earth is a collection of hundreds of hours of footage, interviews, pictures and a lot more. Everything you wanted to know about the NASA missions.
Order this from Amazon now and gift him an out of the world experience.
How The Universe Works
Ignorance is bliss. It's true. Being smart is hard work. That's why I wouldn't suggest this for everyone. Most people just don't care nor have the patience to watch a film explaining how the universe works. Even though it's a lot more entertaining than it sounds.
But there are others, curious types, who love this stuff. We know we could live without knowing most of this stuff, but we can't help it.
If he's like that, go ahead, gift him this and watch him get excited like a kid with a toy car full of candy.
Game of Thrones Set
The show is so popular that everyone who doesn't watch it or haven't read the books is curious about it. Which makes it a potential gift for both GOT fans and everyone else.
The fans will love to own a complete set. Even better is a hardcover set.
The books are a great read. Even someone who doesn't read fiction may get hooked. The complete set will look great in anyone's collection.
Night Vision Binocular Goggles
When Phil Dunphy said that thing about wanting night vision goggles, I thought about it, and the idea of owning night vision goggles is quite compelling.
Men love devices like these. May be because they give you superhuman abilities. Like a superhero. Also, these are like the gadgets the army uses in action movies. Which seem pretty cool.
There are all kinds of fun activities you can do with them. You can use them for neighbour's watch duty, for night stake-outs, be a night-time superhero, etc.
If he is the adventurous type, whatever expensive thing you're planning on giving him, know that he'll like these much better.
Mastery, by Robert Greene
Last but not the least. No, actually, I saved the best for last.
Gifts have social value. They improve social relationships, and make us happy, but a gift like this can really change someone's life.
Of course, only those who read and believe in self advancement will appreciate it, and others will find it useless. You should gift it to someone who's ambitious and needs a little guidance.
This book does that. Mastery by Robert Greene shows you how to achieve greatness. How to really find your purpose and fulfil your dreams.
It tells you how the greats in history like Benjamin Franklin, Charles Darwin, Mozart, Martha Graham, and many more became legends in their fields. The patterns that are common among all their stories.
I think you should give it a try too. I know you'll love it.