17 Kickass Boxing Gifts for Fighters
A collection of the best gifts you can gift to boxers and fighters. Presents that'll make the champion in your life very happy to receive.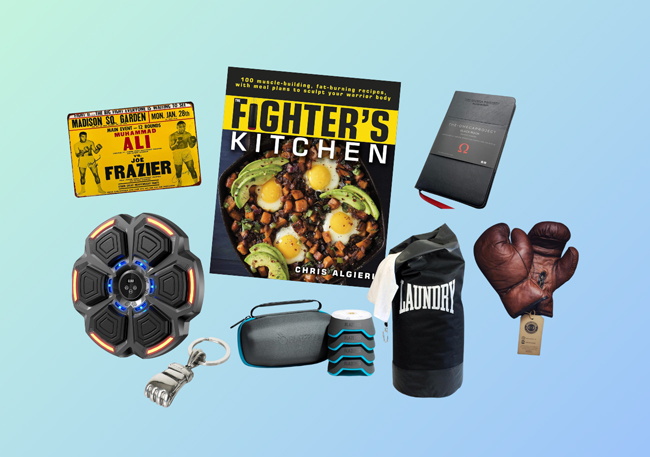 We watch sports to marvel at the absolute potential of humans to master physical feats and compete to prove to be the best.
But when it comes to boxing, it's not just a sport about physical excellence, it's about our need to watch violence that drives us.
As the world as it is today, violence of any form is pretty much frowned upon. No one even likes war anymore. After all, with thousands of civilization ending nukes in existence, it's just better to be cautious and take more diplomatic approach to doing things. But the primal need for violence remains.
To put it simply, it's fun to watch dudes punching the crap out of other dudes.
If you're looking for a gift for your fighter, this list has something for all kinds of champions. I'd urge you against gifting equipment to professionals. They are picky about them and the best pair of punching gloves you gifted to them will likely won't be put to use.
Just stick to fun gifts from this list and you're good to go.
Reflex Training Gadget
When you have punches thrown at you at lightning speed for several minutes at a time, it helps to have quick reflexes that get you out of the way. Quick eyes, feet and hands is what the art of boxing is all about (Plus, being able to punch really hard).
This awesome gadget helps you train your hand-eye coordination and build quick reflexes. A gift like this would help a fighter train better.
It's a bit expensive so ideal for family and close friends in whom you're really invested in.
Funny Boxing T-shirt
T-shirts really have become a new form of self expression now days. What you wear on your chest can tell people a lot about you and your interests. Also, they make good ice breakers.
This "I Punch People For a Living" T-shirt will make a fine gift for anyone who's a professional boxer.
Punching Bag Shpaed Laundry Basket
A laundry basket that looks like a punching bag? I can't imagine any self respecting fighter who won't look at this and won't instantly love it.
You can gift this to anyone who loves boxing, ammeters or professionals. At the least, it's much more interesting than a regular laundry basket.
Boxing Punch Tracker
Old timers used to be more instinctive about their training. They didn't have to be ultra organized. The sport was more raw. It had more heart.
Anyway, no point in complaining about the current state of the sport. It's competitive and boxers now have to do everything they can to have an over their competition. That includes keeping track of their punches and trying to beat their own records.
I warned you against giving equipment to professionals but this isn't something everyone uses. It's more like a addon. They'll appreciate getting this punching tracker as a gift.
Boxing Glove Keychain
Everybody needs keychains. That's a fact of life. Keychains are up there among essential human needs. Right after to food, shelter and clothing. Which is why they make such a universal gift you can gift to anyone.
This gorgeous boxing glove keychain is a perfect for any boxer or fighter.
The Fighter's Kitchen Book
To get to a physical form that boxing requires you to have, you have to do copious amounts of intense training. And it's not as fun as Rocky Balboa makes it seem in the movies. It's hard work.
And training by itself can only take you far if you don't pay attention to your bodies need for fuel. Good, healthy food is essential for any athlete.
This book contains some excellent recipes that any fighter can incorporate in their diet. A practical gift any boxer will appreciate.
Ali vs Frazier Metal Sign Decoration
Muhammad Ali vs. Joe Frazier fight was called the Fight of the Century. It was one of the most anticipated fights at the time. And it was a significant event in the history of sport.
Any fighter who knows the history of boxing knows this fight. If your recipient is a fan of Ali they will cherish this present.
This Metal Sign is perfect for decorating any boxer's home. They'll love it.
Boxing Pop up Card
Things like this make me amazed at how creative one can get with just a few pieces of paper and a pair of scissors.
This boxing themed pop up card is cute and it's relevant to your recipient. A fine choice for someone who has everything so the gesture is what matters most.
Vintage Style Boxing Gloves
Sometimes I look at things from the past times and wonder if we are losing our sense of style as humanity. Things from a few decades ago just seem to have more class.
Maybe it's capitalism, the ever evolving consumer science and fit-for-all style of mass production of thing that leads to this.
Anyway, anything vintage looking is pleasant to own and makes a fine gift if aimed at the right recipient.
If your recipient has a preference for classic style, they'll love this pair of retro style boxing gloves.
Unbeaten: Rocky Marciano Book
If you follow the sport, you may know about Floyd Mayweather's impressive record of never have lost a professional fight.
Before him though it was Rocky Marciano who owned that spot with a 49-0 record and was envied by the greatest boxers in history who couldn't have a spotless record.
In this book Mike Stanton tells the story of the legend and his struggles. A fascinating read for anyone who loves boxing.
Boxing Gloves Theme Neon Sign
Neon signs used to be only for exteriors of businesses and insides of bars. But now, thanks to capitalism, anyone who wants one can have one and in the shape they like too.
And why wouldn't you prefer to have the vibe and ambiance in your own home? They look so cool. Neon lights make for impressive gifts too.
This boxing gloves neon sign is a great gift idea for any boxer with good taste.
Boxing Encyclopedia
The art of fighting is as much about what a boxer has between his ears as the muscles in his body.
Without knowledge of the greats and the history you can't truly master the craft. Those who came before us inspire us to be better.
The Ultimate Encyclopedia of Boxing is a gift for any fighter who wants to learn more about his sport and its past.
Boxing Bracelet
Boxing is a hyper-masculine sport but outside the gym a fighter can be more free with their gender expression.
This fine bracelet, with a tiny glove in the middle, is perfect for any boxer with good style. They say it's made out of natural onyx stones, which, I admit, I have no idea what it means. But it'll still sound cool when you tell your recipient about it.
A simple yet charming idea for a gift.
Sports Gym Bag
Picking something as a gift that is practical and useful isn't always a great idea. But most of the times your recipient's will appreciate getting something that they can put to use.
This gym bag will make an excellent gift for any fighter. It looks great, it comes with a billion compartments for them to organize their stuff and they can replace their old bag with this one.
Once There Were Gods Book
We're all born with a clean slate. The experiences, memories and ideas we have as we grow up make us who we are and the choice we make.
To succeed in life we look at and learn from others who have done it before us. They shine a light at the paths there are and that helps us find our own path.
Once There Were Giants is the story of the golden age of heavyweight boxing. It covers the sport from 1962 to 1997 and legends such as Muhammad Ali, Sonny Liston, Mike Tyson and more.
If your recipient likes to read they'll love this as a gift.
Tao of Jeet Kune Do by Bruce Lee
When we think about combat we don't think about it as something that requires or is related to philosophy, but philosophy plays an important role in a fighter's life.
Ali's famous quote "Fly like a butterfly, sting like a bee." is a perfect example of philosophy in boxing.
Bruce Lee was a fighter, filmmaker, actor and a philosopher who wrote down the philosophy of the martial arts style he invented in a book called Tao of Jeet Kune Do. It is mostly a collection of his interpretations of the writings of other great philosophers and his own ideas about combat and life.
If your recipient admires Bruce Lee, they'll be glad to get this book as a present.
Boxing Toy Game
Not every gift has to be serious, thoughtful and unique as an honest politician. Sometimes gifts can be just fun.
The best thing you can expect out of a gift is to get a smile out of your recipient when they open it.
This boxing game toy is really fun and makes a fun past time, stress reliever you can play with your friends. It's like foosball but smaller. And you can knock out your opponent's piece. It's war.
A fun gift for about anyone, especially for boxers and fans of the sport.