15 Coolest Gifts for Rocky Balboa Fans
A list of kickass gift ideas for Rocky Balboa fans. This gift-guide brings you a collection of gifts that any fan of the movie will love.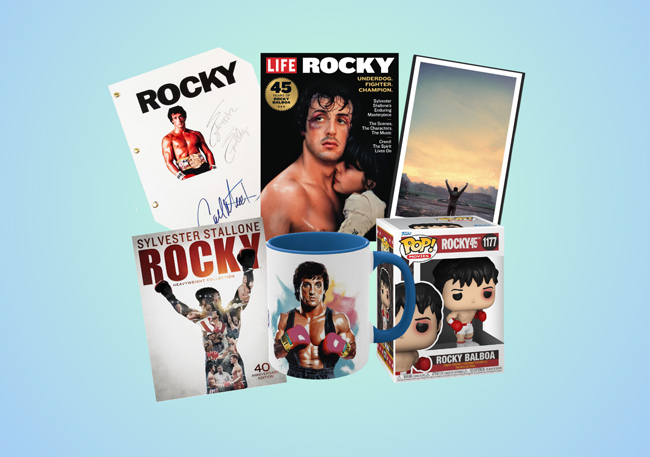 For many fans of the movie series, Rocky isn't just a film. It's much more. A life philosophy of sorts. It inspires them to keep fighting the fight and reminds them that "Life isn't all sunshine and rainbows." An important reminder because it's easy to forget the reality and harshness of life when all you see on social media is fake, cherrypicked glimpses of other people's existence.
I remember watching Rocky for the first time. It inspired me a lot. The young me pledged to became a warrior. I even took up boxing for a while after that. But that's not the only thing Rocky inspired me to do. The film taught me an important lesson about courage. Without gigantic obstacles to overcome you can't reach to the top. Only when we watch the underdogs win we are truly inspired.
In the movie Apollo's punches were in a way metaphor to the obstacles life throws at us. There are two ways people handle these obstacles. They come up with excuses to quit. These excuses are convincing too. Our brain gets pretty creative when it comes to avoiding pain. Second way is to brace ourselves for impact, to prepare for the lows, and keep fighting till the bell rings. If you haven't watched the Rocky films, please do. Following is a list of the best gifts for Rocky fans. Pick one that suits your recipient's style.
Rocky vs Creed Metal Sign
A vintage looking metal sign inspired by a fictional poster. Every Rocky fan remembers the significance of this fight in the Rocky series. The first film, which is the best one, spends a lot of time making the audience wait in anticipation of the big fight. And when it finally happens on screen, they're rewarded with a spectacular show.
Any fan of the movie will be charmed by this decor that reminds them of a fond memory.
Rocky I - V Blu-ray Collection
Any true fan of the Rocky series would love to own a set of Blu-ray disks of all the films. Even in the age of Netflix and Prime, owning a physical disk of a film you love is what most people prefer. It's about having a concrete item that you can touch and hold that makes it more real. It's the same for people who prefer to read real books rather than digital copies on kindle.
This box set is the collection of all the films in the series, except Creed, which isn't exactly about Rocky and not even that good. Your recipient will appreciate this gift.
Life Rocky Edition
The character Rocky Balboa wasn't the only underdog that beat the odds. The movie itself superseded every expectation it had and went beyond. Even Sylvestor Stallon, who plays Rocky in the franchise, had to go through lots of struggles to find success. He had a speech impediment that made it difficult to speak properly. Even despite that he put in the hard work and became a superstar.
LIFE Rocky: Underdog. Fighter. Champion. traces back the origins of the story and covers all the aspects of the franchise. It's a must read for any dedicated fan. This edition of LIFE will make a fine gift for any Rocky fan curious to learn more about the movies.
Rocky Plush Figure
Rocky is tough in the ring, but he is also a good, soft-hearted person on the inside. This plush figure reminds us of the gentle side of the champion. The side that we don't expect tough looking, macho men to have.
It will make a cool gift for a young Rocky fan, or for someone who collects Rocky collectibles. You'll also find Ivan Drago, Clubber Lang, and Apollo Creed plush toys on Amazon if you want to gift your recipient the entire collection.
Rocky IV Retro VHS Lamp
The series Stranger Things became a huge success partly because people craved stories that let them reminiscent of the 80's vibe. People still look at that time with fondness. Things that fell out of fashion at that time are making reentries in different forms.
This creative Rocky IV themed lamp is made out of old, recycled VHS tapes. It looks cool and does a fine enough job as a decor item. If your recipient has a taste for such unique, innovative products, they'll appreciate getting this lamp as a gift.
Rocky Triumph Poster
A simple yet beautiful poster that captures the essence of victory in the Rocky film is something a fan would be delighted by. The iconic scene in which Rocky finally climbs the stairs and felt achievement is a fond memory for many fans.
This Rocky triumph poster will make a charming gift for any fan of the movies who has simple tastes. They'll appreciate the clean yet attractive design.
Rocky Quote
Sometimes we need to be reminded of the truth. Life isn't all sunshine and rainbows. There are always going to be ups and downs. There are always going to be things that make you want to give up. Everyone has dreams. Some dream big, but not everyone has the courage to risk everything and follow them. And of those who do, most quit after things get difficult.
Only those who can survive life's punches and don't quit no matter what obstacle life throws at them, have a shot at making it. You can't give a better gift to someone struggling to make their dreams come true. It will always remind them to keep moving and not give up. They will always thank you for this.
Rocky T-shirt
There have not been many film characters more inspiring than Rocky. His films teach us the most important thing about success. "Things will get difficult, but only if you don't quit and keep moving forward you have a shot at success."
Which makes this t-shirt a good option for those who are trying to get into shape. It will remind them of Rocky. Whenever they're thinking of giving up they will realize that if Rocky was in my place he wouldn't have quit like this. May be it will help them push a little harder, run a little farther and lift a bit more.
Rocky Hoodie
We watch those boxers running on the street in style, punching the air, hoodie over the head. It looks so cool. A hoodie like this will be perfect for a boxer. Rocky will give them the push they need to win. Every time they wear this, they will be reminded of the scenes of Balboa training his ass off to prepare for the fight. It will make them train a bit harder.
That doesn't mean you can't give it to others. Any Balboa fan would love this. Everyone likes hoodies.
Rocky Screenplay
Making a movie is a complex process. It starts with the conception of an idea, which then has to be articulated and put down on paper in a structure that others would understand. After which a team of skilled professionals work together to turn it into a film that the audience can watch, enjoy and connect to.
This Rocky screenplay copy will make an excellent gift for any fan of the movie. They could read it while watching the film to understand how that transformation works.
Rocky: The Ultimate Guide
If your recipient is a true movie-nerd, they'll enjoy getting this well put-together movie guide as a gift. Rocky: The Ultimate Guide is a collection of over a thousand re-mastered pictures. It contains plot information, cast and character profiles and much more. Any fan of the movies would be glad to own a copy. Anyone who loves books will be impressed.
Even if your recipient is not a reader, they'll appreciate all the photographs printed on this book.
Rocky Themed Coffee Mug
If you're ever going to give someone a coffee mug as a gift, make sure it relates to their interests, looks decent and doesn't have any corny lines or jokes on it.
This Rocky mug is perfect for any die-hard fan that can't have enough of the Rocky merch. With this they'll be reminded of their favorite movie everytime they have coffee.
Rocky Poster
Sticking posters of your role models on your wall is setting a constant reminder of what the heroes stand for. It keeps guiding you, reminding you how they dealt with failures and how they survived the hardships of life. Sometimes it inspires you to overcome the obstacles in life.
Gifting such meaningful posters to someone means more than just giving them something to stick to the wall. Such gestures are remembered and treasured. Also, it looks pretty cool even if you leave out the deep philosophical stuff. So, it's a no fail.
Italian Stallion Hoodie
Italian Stallion is Rocky's boxer nick-name in the film. This hoodie is a reference to that title. It looks cool and is designed to please any fan of the movie.
Just make sure you get the size correct. Nothing offends a recipient, especially women, faster than getting a loose t-shirt as a gift.
Rocky Boxing Flag Robe
What's more American than an American flag boxing robe? May be McDonalds and guns, but this one is right after that on the list. Rocky wore the Italian stallion robe and Apollo creed wore this one. But it's from the film so makes this list.
If your recipient is a fighter or loves boxing, they'll enjoy owning a robe they've seen fighters wear. It's a unique gift idea that will appeal to any Rocky fan who also loves the sport.