15 Coolest Gifts for Rocky Balboa Fans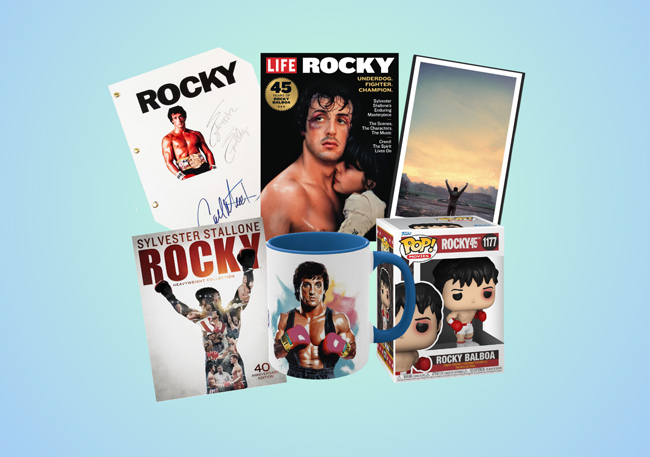 "Life's not about how hard of a hit you can give... it's about how many you can take, and still keep moving forward."
Rocky isn't just a film. It's a philosophy. A life lesson. An Inspiration.
I remember watching Rocky for the first time. It inspired me more than anything else ever had. I became a warrior in my mind. I even took up boxing for a while after that. But that's not the only thing Rocky inspired me to do.
The film taught me an important lesson about courage. Without gigantic obstacles to overcome you can't reach to the top. Only when we watch the underdogs win we are truely inspired.
Apollo's punches were in a way methaphor to the obstacles life throws at us.
There are two ways people handle these obstacles. They come up with excuses to quit. These excuses are convincing too. Our brain gets pretty creative when it comes to avoiding pain.
Second way is to brace ourselves for impact, to prepare for the lows, and keep fighting till the bell rings.
If you haven't watched the Rocky films, please do.
Following is a list of the best gifts for Rocky Fans. Things to remind them to keep fighting.
1
Win Rocky Win T-Shirt
What better way to express one's love for Rocky than wearing a t-shirt cheering for Him?
There are other T-shirts but this is the most attractive one I could find.
Any Rocky fan would love this. Pick the right size though. Nothing more dissapointing than getting such an awsome t-shirt as a present but you can't wear it because it's not the right size.
I'm going to wear this when I watch the movie again. Which is right after I finish this post.
2
Rocky Blu-ray Collection
Speaking of the Rocky films. What Rocky fan wouldn't love to own a set of all the films in the series?
Even in the age of Netflix and Prime, owning a DVD of a film you love is what most people prefer.
It's the same for people who prefer to read real books rather than kindle.
This one is the collection of all the films in the series, except Creed. Anyway that film isn't exactly about Rocky.
This is a simple present but a likable one.
3
Rocky Baseball Cap
I'm a Bruce Lee fan so I don't mind getting Bruce Lee themed gifts.
I have a collection of them. I don't really care what it is as long as it is about the little dragon somehow.
Same goes for Rocky. You can gift me something Rocky related and I'll be thrilled.
Although it helps if that something is attractive and useful. It makes the gift more likable.
I'm going to wear this cap next time I watch any of the Rocky films.
Just to cheer for Rocky.
4
Rocky Plush Figure
Rocky is tough in the ring, but he is also a good, soft person on the inside.
This plush figure reminds us of the gentle side of the champion.
The side that we don't imagine tough looking, macho men having.
It will make a cool gift for a young Rocky fan. Or for someone who collects Rocky collectibles.
You'll also find Ivan Drago, Clubber Lang, and Apollo Creed plush toys on Amazon if you want to gift your receiver the entire collection.
5
Blitzway Rocky
What can be a better gift for a Rocky fan than a life-like statue of Rocky with his dog (find out name).
A hard core Rocky fan will appreciate this present although don't spend so much for casual fans. They'd be happier with a simple and practical gift.
Expensive gifts don't necessarily make more likeable gifts.
It's how the receiver sees them fitting into their lives that makes them decide their likability of the gift.
This will be a good choice as an anniversary gift for a Rocky lover spouse or a die hard fan who's close to you. If you're rich, just buy it. It's cool.
6
Rocky Framed Art
Although generally people prefer simple and practical gifts, some have a taste for obscure ones.
This one is a limited edition framed art and even has film strips embedded on it.
You can find out if your receiver will like this as a present by paying attention to their tastes.
What kind of items they decorate their houses with? What kind of paintings they like?
If you feel like they have a taste for such creative things, gift them this.
7
Rocky Quote
Sometimes we need to be reminded of the truth. Life isn't all sunshine and rainbows.
There are always going to be ups and downs. There are always going to be things that make you want to give up.
Everyone has dreams. Some dream big, but not everyone has the courage to risk everything and follow them. And of those who do, most quit after things get difficult.
Only those who can survive life's punches and don't quit no matter what obstacle life throws at them, have a shot at making it.
You can't give a better gift to someone struggling to make their dreams come true. It will always remind them to keep moving and not give up.
They will always thank you for this.
8
Rocky T-shirt
There have not been many film characters more inspiring than Rocky. His films teach us the most important thing about success.
"Things will get difficult, but only if you don't quit and keep moving forward you have a shot at success."
Which makes this t-shirt a good option for those who are trying to get into shape. It will remind them of Rocky. Whenever they're thinking of giving up they will realize that if Rocky was in my place he wouldn't have quit like this.
May be it will help them push a little harder, run a little farther and lift a bit more.
9
Rocky Hoodie
We watch those boxers running on the street in style, punching the air, hoodie over the head. It looks so cool.
A hoodie like this will be perfect for a boxer. Rocky will give them the push they need to win.
Every time they wear this, they will be reminded of the scenes of Balboa training his ass off to prepare for the fight. It will make them train a bit harder.
That doesn't mean you can't give it to others. Any Balboa fan would love this.
Everyone likes hoodies.
10
Rocky and Adrian Watercolor Print
Rocky and Adrian's love story is a very unique one.
The film is mostly about boxing and Rocky's struggle as a boxer, but his connection with Adrian is probably the most touching part of the film.
She is by his side, supporting him, inspiring him. And he's there for her.
If your recipient is a romantic, this will make a fine gift.
And If it's for someone special, buy a frame to go with it.
11
Rocky Boxing Flag Robe
What's more American than an American flag boxing robe? May be McDonalds and guns, but this one is right after that on the list.
Rocky wore the Italian stallion, black and yellow one, and Apollo creed wore this one.
But it's from the film so makes this list.
Any enthusiastic and light hearted fan would love this present.
They can wear it at home, whenever they're feeling down and want to face their problems like a fighter.
Honestly, we should all face our problems like rocky faces his opponents.
Let them throw punches, and throw as many and as hard as they can. You stay standing and keep fighting back.
13
Rocky Poster
Sticking posters of your role models on your wall is setting a constant reminder of what the heroes stand for.
It keeps guiding you, reminding you how they dealt with failures and how they survived the hardships of life. Sometimes it inspires you to overcome the obstacles in life.
Gifting such meaningful posters to someone means more than just giving them something to stick to the wall.
Such gestures are remembered and treasured.
Also, it looks pretty cool even if you leave out the deep philosophical stuff. So, it's a no fail.
14
Rocky American Dreams Flag T-shirt
This T-shirt is so, well, American.
I like the design. It looks cool as a Benedict Cumberbatch wearing a Sherlock Holmes' hat.
Even a Non Rocky fan would probably love this T-shirt. Hell, I wear anything that looks cool enough.
I have a Beatles T-shirt and I'm not much of a fan. Just because it looks good.
Personally, I would pick this over any other gift in the list.
Well, I'm buying it.
Rocky Rocks. Also, I'm going to watch the Rocky films again.
15
Rocky Balboa Birthday Card
Birthday cards can be special and memorable when you personalize them keeping the recipient in mind.
After all, few people bother take time to think about the recipient's uniqueness when selecting a present.
You did well in this matter. You looked for gifts based on your recipient's love for Rocky.
This already makes you a thoughtful gifter.
A personalized note or card is likely to be appreciated and preserved by the receiver.