24 Cinematic Gifts For Film Buffs
An awesome collection of the best gift ideas on the internet for film buffs and movie lovers. A list of things that'll make anyone with a love for cinema very happy.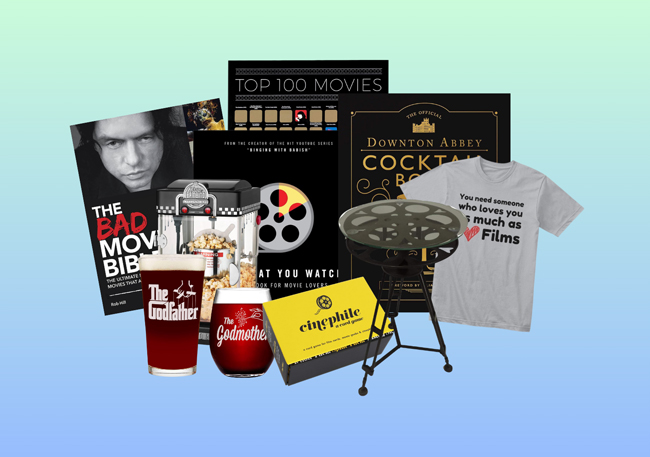 Stories have played an important role in building our civilization. Before the internet, phones, and even ease of transport, it was the stories that people told each other they learned from traveling to the other parts of the world that helped the spread of knowledge. We can go back to the caveman days of stories that warned our hunter gatherer ancestors about the dangers that existed in the wild.
We are wired to crave stories. Before cinema existed it took some imagination from the readers or listeners to visualize the images to make sense of what they were being told. With the technology of video cameras came the discovery of storytelling through moving images. Filmmakers have been honing this craft ever since.
Films take us into realities that aren't our own. They help put us into the perspectives of people that aren't us. They help us feel empathy for others that aren't in the same situations as us.
Most of us enjoy films but not everyone is a film buff. A true lover of the artform is someone who is passionate about films. There are people who can tell you all about the history of films and have developed a taste for great cinema.
Here's a list of some loveable gifts for film buffs in your life that won't shut about the movies they love.
I love Films T-shirt
One thing film buffs love to do apart from watching movies is declaring to everyone that'd hear their love for films.
This beautiful t-shirt designed by yours truly appeals to that narcissistic side of a film buff. Assuming that your recipient is a decent human being they'll have a nice laugh seeing this. A cool t-shirt that'll make a fun gift.
Letters From Hollywood Book
Hollywood as we know it is an exclusive club of self-centered, messed up creatures that attract curiosity from everyone outside. Who knows how many skeletons are buried in its backyard.
This book is a collection of some of the most famous personalities from its history. Letters written by film stars, directors, screenwriters and more.
Cinephiles Card Game
I'm sure when a bunch of film buffs get together, maybe for a movie marathon of Jean-Luc Godard's best films, they compete over who's got the biggest memory chunk filled with knowledge of cinema. And the winner gets to choose which film they see first.
Well, this card game is perfect for such occasions. A fun card game for cinephiles.
Oscar For Best Filmmbuff T-shirt
Film buffs spend so much time watching, talking about and putting up posters of films that it seems like a full time job. This almost seems like something that needs a category in the academy awards dedicated for the not so hard working cinephiles.
Maybe that will come to reality when they are desperate about saving the awards from dropping viewership but for now this concept serves well as a t-shirt.
Film Reel Themed Table
The mark of a bona fide film buff is a house full of cinema themed items. You can recognize these creatures from the choice of wall posters and decorative items that declare their love for all things cinematic.
This gorgeous table will impress any cinephile that has a place to put it in. The coolest thing you can gift a true film buff.
Eat What You Watch Cookbook
If you rolled your eyes at this title mistaking this for a vegan diet cookbook full of boring, tasteless recipes that no normal human endeavors to attempt, you'll be glad to know that it's not.
This is much more interesting. A cookbook full of guides on making food items featured in classic films. This is something your recipient likely didn't know how badly they wanted until they see it. They'll be glad to receive it. Maybe they'll even cook and serve you one of the recipes out of gratitude. Just saying.
Cinema Lightbox
Oh, the good old times when cinema was more than just clips put together with formulas guided by stolen user data. Says every frustrated film buff today.
They love watching classic movies and reminiscing about the golden times. This cinema lightbox will remind them of those times. Also, you can just put up the title of any film you're going to watch on Netflix and at least get that feeling of watching cinema.
Ideal for any film buffs, filmmakers, cinematographers and anyone who can put words together.
The Bad Movie Bible
Who says you need talent to make a movie. Money will do as long as it doesn't have to be a good film.
Believe it or not there is a market for the most terrible films made. They gain cult-like popularity because of how bad they are. Some people watch these and go–just because everyone agrees they are bad doesn't mean I have to. I'm smarter and read between the lines and even find some profound greatness among the crap.
This is not for your average reader but a movie lover may find it interesting.
The Movie Buff Mug
One wouldn't be a legit film buff if they didn't want to be reminded of their favourite classic film while sipping coffee in the morning. That's just a eligibility requirement.
This beautifully designed mug is full of illustrations that are inspired by classic hollywood films that we all love. God made this one specially for cinephiles.
Movie Scratch Poster
We have more choices for everything today than we had ever before, which is a good thing in some ways but also makes making decisions really difficult. After all, if you're spending half of your evening scrolling up and down your Netflix feed deciding which forgettable movie to watch, you're not spending all that time watching a movie.
This sort of to-watch list poster helps you with that. A good gift for a semi-organized film buff.
Godparents Wine Glass Set
If someone claiming to be a real film buff hasn't mentioned The Godfather within the first sixty nine minutes of meeting you, they're a phony. This film doesn't go unmentioned in cinephile circles for spans of more than twenty sentences. Maybe I'm exaggerating a bit, but you get the point. They love this film. And The Godfather themed items are popular.
You can gift this to a movie loving couple so that they can the next time they watch a film together they can have the pleasure of sipping some wine while admiring your gift giving skills.
Customized Clapboard Pillow
Sometimes I wonder what happens when a male from a film buff species mates with a female of the same species. I guess you create offsprings that utter film dialogues as their first words instead of the traditional "Mom" or "Dad."
You would think that won't go well with the parents but I think it will be the opposite. Papa will be so proud when the baby says, "I'm going to make him an offer he can't refuse." For such a devoted family this customized clapboard pillow is an ideal gift.
Ticket Shadowbox
Someday I hope the pandemic will be over and we'll be back into cinema halls to watch movies rather than living rooms with crying baby noises in the background.
Well, assuming that it'll happen, after all I'm an optimist, this will help your recipient collect those memories in the form of tickets.
Retro Popcorn Popper
A movie night isn't complete without a bucket of popcorn. Watching a movie without popcorn is like a bachelor party without strippers and booze. What's the point?
Well, this gorgeous retro popcorn popper makes it easier. A necessity for a film buff.
Film Equipment Themed Wall Hooks
Life is too short for regular, boring wall hooks. These film equipment shaped hooks are made for film buffs who are frustrated by their regular, soulless wall hooks.
Gifts don't have to be useful but when they are it helps if they look as cool. Also, movie buffs never get tired of vintage camera shaped stuff. As long as you gift them something that resembles a film camera, you're good.
Mobile Projector
Readers can carry their books wherever they go, music lovers got their ipods and phones. Film buff didn't have the same luxury. They couldn't carry their LCD Tvs or bulky projectors everywhere. And if you're wondering why not watch a film on a phone or laptop, that's not how we do things. Those tiny screens don't do a film justice.
So, here is something that allows cinephiles to watch their favorite films on an acceptable sized screen and is portable. A practical gift.
Downton Abbey Official Cocktail Book
For all their unending love for movies even film buffs can't talk about films all the time without boring the brains out of each other. They need something fun to do. But because they're cinephiles it has to be connected to films in some way.
Here is a good way to socialize on movie night. A book full of cocktail recipes from Downton Abbey. It's fun. Your recipient will have a good time trying out the concoctions from the book.
Movies Lover Log Book
When you're watching over a dozen movies a week (like every self respecting film buff does) you tend to lose track of what you watched. After all human brain is not as efficient as a computer and we forget things.
This ultimate movie lover's log book is a useful tool for movie buffs to note down the movies they watched and other stuff they want to remember. A simple but practical gift your recipient will appreciate.
Fluent Movie Quotes Mug
Movie buffs love quoting the classics. And they're usually unaware that it may come off as an annoying behavior trait to an average person. They think it's cool while others see them as being nerdy.
This I Speak Fluent Movie Quotes mug appeals to that nerdy side of a film buff. You can gift this mug to any movie loving recipient who drinks coffee.
Book of Movies
A behavior you'll notice among the film buff creature is their tendency to ask for film suggestions to everyone who breaths. The constant need for finding new material to watch and the search for it makes them helplessly irritating.
This book by the New York Times has about 1000 movies listed on it. Enough to keep your recipient satisfied for at least a few months.
Classic Movies Mug
I doesn't take long to recognize a film buff. They're the the ones that spontaneously quote lines from obscure films and get confused when no one gets the reference.
This coffee mug is designed for movie buffs who love the classic. The most iconic lines from some great films all on a ceramic surface.
A simple gift idea that'll please your average film buff.
Roku Ultra
Gone are the days when you had to put actual efforts to watch a movie. Streaming services has changed the game. No longer you need to go to movie theaters or Blockbusters. Almost any movie you want to watch is available to you at your fingertips.
The Roku Ultra makes streaming experience better. Your recipient is going to love the convenience that comes with this. It's as good a gift as any.
Movies Night Dice
We all choices can be difficult. If faced with too many we often get into decision panicking and freeze. Most people spend more time browsing Netflix than watching movies on it.
This movie night dice can somewhat help out with the problem. It helps you get started by leaving the genre to chance. After all it's only the first step that is the most hard to take.
This will make a useful gift for any uncertain movie buff in your life.
Funny Movies Critic T-shirt
Most ardent film buffs fancy themselves as either potential filmmakers or at least worthy film critics. Even if you question their title as they're not being paid they'll tell you that they do it for passion and not compensation.
It's easy to criticize and much more difficult to create. Let's not hold it against them though. They can't help it.
This funny t-shirt will make a fine gift for anyone who loves films and takes pleasure in playing critique.