47 Lovable Gifts for Filmmakers
A collection of gift ideas for aspiring and professional filmmakers. A list of the best gifts for movie directors.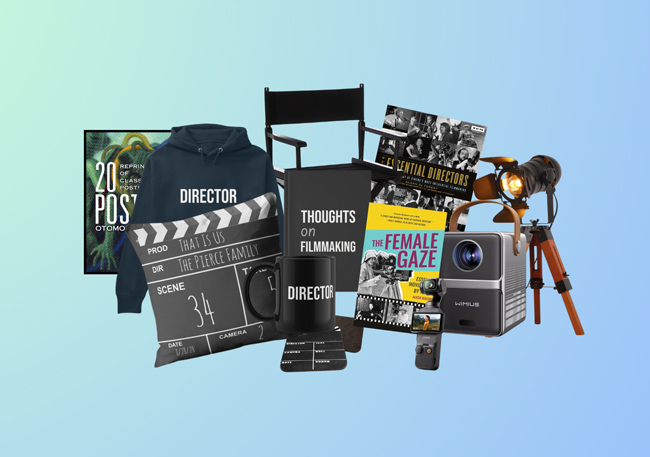 Ever since the invention of a camera that could record motion (even when there wasn't audio to go along with the pictures) filmmakers have made films that entertained us as well as taught us about life. Through stories is how we learn to make sense of the world and filmmaking is a way of telling stories about our shared human existence. Charlie Chaplin made us laugh with his hysterical stunts, Alfred Hitchcock made the audience grip their seats in suspense and a rush of fear, and Stanley Kubrick took the cinema hall on a ride into outer space. You could say that a film is nothing but a filmmaker's vivid dream come to life on a big screen.
It's hard to know what goes on in a director's head. You never know if they're paying attention to the mundane, earthly matters you're talking about or their minds have taken them to explore an intriguing idea about their next great movie. It's also difficult to figure out if the gift you've picked for them would charm them or inspire a scene about a shitty gift giver who ruined christmas.
Don't worry though. This gift guide will help you avoid that fate. There are some guidelines to keep in mind. As a general rule, you should stay clear of buying equipment and filmmaking tools for professionals. They're picky about that kind of stuff and your gift, despite the price tag, will annoy them. You can buy them for struggling directors who are not quite there yet and won't mind getting all the help they can. Say you have a son, daughter or some loved one who dreams of becoming a filmmaker someday, a good video camera will make a thoughtful gift.
Following is a list of gift ideas for aspiring and professional filmmakers. Pick one that suits your recipient's style.
Martin Scorsese Filmmaking Masterclass
Martin Scorsese is considered to be a master of the craft and as such his masterclass on filmmaking is a great source of valuable knowledge for any aspiring filmmaker. Besides discussing the foundations of filmmaking such as casting, production design and cinematography there are more lessons that talk about the more nuanced aspects of filmmaking. There's a segment which gives some insights on things that influence a director's "style." A memorable line from the segment is "The written word is not superior to the moving image, they are both modes of communication and expression of equal value."
There are more interesting segments such as one about the discovery process and the final chapter is titled "Finding Your Way." He also touches on religion and how it affects his storytelling. You can gift this course to any student of the craft who is open to learning. Masterclass provides a gift option on their website.
Filmmaking Definition T-shirt
According to the Oxford dictionary the definition of filmmaking is "The direction or production of movies for theater or television." It's an apt definition but falls short on considering the artistic aspect of it. Filmmaker is more than a job title—It's an identity.
"The art of visualizing dreams" is a definition any real artist would find more appropriate. The source of creative vision comes from the ability to play the film in your mind long before the shoot begins. They say the editor is the first one to watch the first cut of the film, but that comes at a much later stage.
A cool, minimalist t-shirt anyone in love with this artform would be glad to own. It'll make a fine gift for any filmmaker.
The Filmmaker Says Book
In any form of craft the masters of it, the most skilled and insightful practitioners of the field, keep adding to the ever growing compendium of knowledge. That is how that craft evolves. Every bit of this wisdom is precious for a filmmaker aiming to improve their own knowledge and skill. This is true for both aspiring as well as established ones.
This book is a collection of the most insightful quotes and sayings about making movies. Anyone who is passionate about filmmaking will love this book as a gift.
Classic Film Posters Collection
Filmmakers love the classics. They enjoy and praise them more than anything that is made in the present. Ask any aspiring filmmaker or your average film buff their favorite films and classics such as The Godfather or Citizen Kane will likely be on the list. Maybe it has something to do with envy. After all, you aren't competing with Orsen Welles in 2021. Or maybe it's because the classic films represent the times of true innovation and the beginning of something that will forever change the way cinema was made.
This is a collection of 20 poster reprints of classic films. No movie buff can resist such a present. Your recipient will love it the moment they see it.
Written & Directed by Tote Bag
Sometimes the simplest gifts make the most impressive ones. A director is often proud of their identity as a filmmaker. A gift like this does an effective job of letting them know that you recognize that. It's thoughtful, charming and even useful (Not to carry camera equipment but who says you can't go shopping while showing off your cool job).
Most great artists are deeply insecure people. Like everyone else, they need validation and gestures of support. This Written & Directed by Tote will please any struggling filmmaker in need of encouragement.
Customized Filmmaker Clapboard Pillow
Personalized things can make very impressive gifts. If you are witty and original you can really delight your recipient. For someone who makes films for a living a substantial part of their lives revolves around them—watching films, studying them and making them. Being such an important part of their lives, anything related to movies tends to be pleasing.
You can gift this customized pillow to any filmmaker. It will also make a great gift for a cinematographer, screenwriter or any film professional. You change the text on this pillow and get the text you want printed on it. Don't write anything too cheesy though.
Cinema Lightbox
This is a pleasant reminiscence of the age of cinema when the audience waited outside a theater with the film titles lit up a huge lightbox outside. In the age of netflix and a gigantic number of new films coming out everyday filmmakers feel they don't get the appreciation and respect that they deserve for their efforts.
Well, you can show your appreciation for their craft by gifting them this mini lightbox.
Martin Scorsese: A Retrospective
A celebrated career of a veteran filmmaker that spans over 50 years is covered in this biography. Film critic Tom Shone does a good job at commentary and handles the material well. Martin Scorsese - A Retrospective has many insights on the art of making movies and valuable advice for aspiring filmmakers.
If your recipient enjoys reading, especially reading about the art of making movies and about the stories of its legends, they'll love this gift.
Minimalist Director's Hat
For anyone who takes pride in their work and competence, the job becomes an important aspect of their identity. Especially for creatives early in their career who aren't well recognized, small gestures from a loved one who acknowledges their aspirations are flattering. Doctors are attached to the "Dr." in their title, Police officers love their uniform.
A minimalist director's cap for a filmmaker is a simple idea but is more thoughtful than any expensive gift you can give them. They'll wear it like a badge of pride, showing off a bit in the process. Also it makes for a good ice breaker for interested strangers; "Are you a director?"
Godparents Wine Glass Set
During their education as a director every student is introduced to the list of classics they must study. One movie that ends up on almost every list is The Godfather by Francis Ford Coppola. It has a special place in the hearts of all film buffs. The film has inspired many references and puns. A friend of mine who is a dog lover owns a water bottle with a Godfather themed graphic and a pug in a suit. The text says, "The Dogfather."
This wine glass set by paramount pictures is a fun gift for any aspiring director or even a fan of the film. A must have in a true movie buff's home.
Cinema Lights Tripod Table Lamp
You'll hear filmmakers talk about something looking cinematic. Many are obsessed with achieving a certain look for their film (even though by itself it doesn't make a film good. A bad story will ruin a film no matter how pleasing the aesthetic). You have to make the two dimensional image on the screen feel three dimensional. You do that with composition, arrangement of things and good lighting.
Proper lighting is crucial to cinematography. Filmmakers and cinematographers have to work with light to get the look they desire.
This lamp is inspired by cinema lights and as such is ideal for people who work in the film industry. It looks really cool too. A perfect gift for a director.
Minimalist Camera Backpack
An indie filmmaker's worst nightmare starts something like this— you're at the location, all pumped up, ready to go, everything is set up, actors are ready and when you press the power button on the camera, you realize you forgot the batteries. Forgetting and misplacing equipment is common among disorganized filmmakers. I'm speaking from personal experience. And while losing a lens cap or battery once in a while isn't a big issue, when you lose something important (expensive stuff, sd cards that aren't backed up, etc.) it can cause problems and even hurt your career.
This minimalist camera backpack is a practical gift for a filmmaker they'll appreciate. It'll help them keep stuff organized and look cool wearing it.
Akira Kurosawa's Autobiography
You have to be careful when gifting a book to someone. Give a book to someone who doesn't enjoy reading and it'll annoy them. If you know, though, that your recipient is a reader who's curious enough to open a book, a well chosen book can make a great gift. All artists find themselves in need of inspiration from time to time. Some find it in people, others travel, but some look for other artists they admire for guidance.
Akira Kurosawa was an accomplished Japanese filmmaker respected by many. This is his autobiography. Give this to a director who's a fan.
Personalized Filmmaking Clapboard Coasters
A filmmaker's job is a tough one. It takes many sleepless nights of working and planning to figure out how to make vision come to reality. Motivation and Coffee helps you get through those nights What would we do without caffeine?). The hot beverage leaves a mark on the table which could ruin it. Most directors treat their work table as a sacred thing.
These clapboard inspired coasters will solve that problem for your recipient. You can personalize them too, making the gift very special.
Master Shots - Volume 1
There's plenty of material and resources out there to teach you about the theory of filmmaking. But theory and technical know-how is only half of what it takes to make a movie. You also need to be able to problem solve as a filmmaker. How to get the shots you want, how to make them look the way you want is essential. Most practitioners of the craft learn these techniques by working on sets and observing others achieve them.
The Master Shots series is an amazing set of books that teaches independent filmmakers how to get these shots. This book is the the first installment in it. It's a very useful book that is not much known about. It'll make an impressive gift for anyone who wants to learn and improve.
Drone Camera
This is the age of indie filmmakers. Just a few years ago, you'd need to rent a helicopter to get an aerial shot, which was a little too costly for an independent filmmaker with low or no budget. They would have to do without these shots. But now, thanks to the inventors of this amazing gadget, for much much less cost you can buy a drone camera and shoot aerial shots all day (Hopefully not overdoing these shots in their films).
Not just for aerial shots though, you can fly it close to the ground and follow your subject. The limit is your imagination. There is nothing more impressive as a gift for an aspiring filmmaker than this. They'll see this and instantly imagine the things they can do with this. This will also make a cool gift for a Youtuber.
Smartphone Filmmaking Rig
When people realized that one of the breakout hits at the Sundance Film Festival, Tangerine by director Sean Baker was shot on an iPhone, the smartphone filmmaking revolution got kick started. It was the time people knew that not owning a professional film camera was no excuse not to make a film.
This smartphone video rig is a great tool for filmmakers experimenting with iPhone filmmaking and will make a fine gift.
The Anatomy of Story
This is one of the best screenwriting books available today. The author John Truby spent years studying the greatest films to understand the workings of a great story.
We can now learn from the lessons he laids out in this book. From developing a premise to scene reconstruction. This book has it all and more. The Anatomy of Story is truly a useful gift for any filmmaker or writer.
Filmmaker Pendant
People try to find unique items to give to their recipients believing that the uniqueness itself makes their gift more desirable, but recipients don't care much about it. Given a choice, recipients would prefer general gifts that reflect their personal interests over very specific and unique gifts.
This pendant is a creative idea but since it reflects something they're passionate about and is also very stylish. A cool gift from a giver with good taste.
1001 Movies You Must See Before You Die Book
As a lover of cinema, I'm always asking people to suggest to me good films to watch. The hunger for more films never ends. The problem is, not all films are worth my time. There is no way to rank films for quality objectively. It is mostly a matter of opinion. The author of this book has done enough research to make sure that the films on this list deserve to be there.
This book will expose you to great films you might have not known about. Your recipient will appreciate all the new suggestions they got from this.
Cinematography: Theory and Practice Book
A substantial part of a director's job is to work with the director of photography. Together they make use of the visual storytelling techniques to tell a story the best way possible. Without a good understanding of cinematography techniques, a filmmaker cannot reach his potential. Visual storytelling techniques help affect the audience's emotions. Texture, mood, color, balance all play a part in how we perceive a scene.
This book has everything you need to know about cinematography techniques. Useful for any filmmaker.
Premium Director's Chair
Practical gifts are great but they're not for every occasion nor for every recipient. Sometimes it's the thought that matters more than the usefulness of the object. I'm sure you could find many better, more comfortable chairs to give to someone but for a proud filmmaker their chair with "Director" written on the back is their preferred one.
This director's chair will make a thoughtful gift for any movie director. It's good quality, well built and looks great. Your recipient will appreciate the charming gesture.
Cinematography Focus Chart
If you're looking for a simple, practical gift idea for an aspiring filmmaker, there are tools you can give them that they need for work. If your recipient is an independent filmmaker, chances are that they have to rely on themselves to take care of the technical aspects required in making a film.
Getting the perfect focus is important when shooting a video. If the subject isn't in focus and ends up looking blurry, it will degrade the quality of the output. Professional cinematographers use focus charts to solve this. You can give this to an independent filmmaker who doesn't own one. They'll be glad to get a useful tool.
Mini Portable Projector
If you love to read, you carry a book around, or maybe a kindle (And save some trees). Which is great. Reading is very important, but what if you love watching films and have an urge to watch one. Sure, you can watch a movie on your phone, but the small screens are no fun. At least not for a filmmaker who constantly likes to notice the details and visual storytelling. We don't want to miss out on those.
Fortunately, technology has done us justice. This tiny projector is the best thing you can give to a lover of films. It's capable of projecting a 120 inch display. Your own personal portable theatre.
Director's Notebook
Creativity is born out of a mess of ideas floating around in your head unchecked, but if that chaos is left unchecked, those ideas never come to fruition. The fine line between chaos and order is where good things come to life. That is why a little organisation is important for an artist to become productive and create great art.
This notebook is designed for directors to organize their ideas and plan their films. It's a great tool to have for any filmmaker and makes a fine gift.
Movie Food Reference Cookbook
What if you could try out recipes you see in your favorite films? Fortunately for us we can find out. Someone had this great idea of putting together the recipes from a great collection of films. From giant timpano from Big Night to deli fare from When Harry Met Sally this book has it all.
This cookbook for movie lovers makes a fun and lovable gift.
Director's Megaphone Prop
Practical gifts are always good, but sometimes a fun gift makes someone's day. We grow up and become too practical but we still miss the old fun and carefreeness from our childhoods.
This Director's megaphone prop is a cool present for any filmmaker. They'll love it.
Rebel Without a Crew - Robert Rodriguez
We can be too practical in life and let excuses and obstacles let us stop from going after the things we really want. Robert Rodriguez didn't let the fact that he didn't have a massive budget or even a camera stop him from making a film. With $7000 he saved up from participating in medical trials and his creative problem solving skills, he made a film that was screened at Sundance Film Festival and launched his hollywood career.
In this book he tells the story of the making of El Mariachi. An inspiring read for any aspiring filmmaker.
My First Movie (Book)
Reading, listening and watching stories is how we learn. Our brains are hardwired to crave them. And it's the best way to gain knowledge about anything.
The tales about their first films by twenty different filmmakers have many lessons any filmmaker can benefit from. They'll thank you for this.
Film Equipment Themed Wall Hooks
Our homes and our walls reflect who we are because we like to surround ourselves with the things that represent our personalities.
A filmmaker proud of their craft will love to have things like these film related wall hooks remind them about the love for their art.
Cinema Room Sign
A fun gift for a filmmaker to hang outside their doors to let people know that they're always working and creating. Their minds are always on a task to come up with creative ideas.
Essentially their bedrooms are where filmmakers sit in solitude watching the films they will be making in their mind's eye.
Downton Abbey Official Cocktail Book
Cocktail recipe books are always great to have. You can show off your mixing skills at a party and leave people awed. A cocktail recipe book based on a classic film is a genius idea. They probably don't know it exists yet, but when they get it, they'll know they always wanted it.
They'll thank you for your great mind reading skills.
Movie Quotes For All Occasions
Filmmakers and film buffs are known for annoying people with movie quotes all the time. Well, films are our passion and we can recite movie quotes all day.
A filmmaker will be glad to add more quotes to his collection. This book has movie quotes for all occasions so that they'll never be out of a quote.
Cinema Themed Vinyl Clock
Vinyl isn't mainstream anymore, but that hasn't stopped creators from using them to make stunning decor pieces. After all there's a strange beauty to vinyl discs that makes anything made out of them look classy.
This cinema themed vinyl clock is made for film lovers. And who else loves them more than movie makers? It'll make a fine gift for any director. A proud film buff would be glad to put this up on their wall along with the movie posters they own.
Cinema Lens Kit
When it comes to cinematography, one of the most important decisions the cinematographer has to make is the choice of lens for a particular shot. That's why film-makers are obsessed with lenses. It allows creative visual style and experimentation. Choice of lens makes a significant difference. You can use them to apply various visual storytelling techniques that affect mood and the interpretation of the subject's importance on screen.
The professional cinema lens kit is what a filmmaker needs to create memorable scenes. Of course you can rent these when filming but owning them will help practice different techniques. Practice makes perfect, right? If you're looking for a gift for someone close who dreams of becoming the next Spielberg, this will be the best thing to help them advance in their career.
Making Movies by Sidney Lumet
The late legendary filmmaker of the films like 12 Angry Men, Dog Day Afternoon, The Verdict, wrote this book about making films. And it's a must read for anyone who wants to learn the craft. What I really like about this book is that, without getting too technical, it takes you through every aspect of filmmaking you need to know. From directing actors, cinematography to editing. A filmmaker must have a strong understanding of these to effectively work with the professionals and get the best results.
Lumet wrote the book in a casual, entertaining style with anecdotes and more, which makes it an enjoyable read. It will make a fine gift for an aspiring director, and even for a more experienced one who keeps an open mind for learning.
Blackmagic Design Production Camera
Just a couple decades ago if you wanted to make a film you had to consider the cost of 35mm or 16mm film and editing costs, which are expensive. Forget practising and learning by trial and error, you had to save the film which made the filmmaker's job hard. Today, DSLRs are the most popular cameras to shoot videos. They have huge sensors which work great in low light.
Blackmagic Cinema Camera is essentially an upgrade to DSLR video technology. It allows 4K resolution shooting. At this price, this is the best camera a filmmaker can buy.
Mirrorless Camera
DSLRs changed the game for independent filmmakers. No longer one had to rely on expensive, professional filmmaking cameras and high end gear to make your vision come true. All you had to do was buy or rent a DSLR and some memory cards and you could make a decent movie. Mirrorless cameras are an upgrade to that. They come with some advantages to DSLRs such as low light performance, less weight, ability to shoot in Raw formats and more.
The Sony A7 III is the best one for indie filmmaking. It's full frame and shoots 4K. If you have a loved one trying to make it into this field this camera would help them out a lot.
Filmmaker Keychain
Keychains make likeable gifts. There's a lot of variety out there. Google for keychain designs and you'll find endless creative and fun designs. While you might think of giving them a video camera shaped keychain, that's unoriginal. It takes a little more effort to impress a creative person.
This keychain is amusing and funny. I came, I saw, I shot. Sounds like something out of a novel. The simplest things can make great presents if given to the right person. It's the thought that counts.
Filmmaker Wire Sculpture
Filmmakers are artists. And they appreciate creativity in everything. You don't have to buy them an overpriced painting from an art gallery to impress them. A small but creative, and attractive thing like this will do. They'll love it. And they'll love your thoughtfulness and respect for their craft.
Usually I would recommend you give something practical and useful rather than something that's just for show, but things like these are not just for show, they represent a person's love for an art form. And they represent their dreams.
GoPro HERO9 Camera
Technology keeps giving wonderful gifts to filmmakers. After the invention of digital video recording, which revolutionized independent filmmaking, the progress has never been so fast. New gadgets are introduced every day that make the lives of filmmakers a lot easier.
GoPro is a popular choice among indie filmmakers. It's tough, water resistant, small enough to be mounted on a helmet, shoots 4k videos, and is surprisingly affordable. Shots you can take with a GoPro are limited only by the extent of your creativity. No filmmaker wouldn't want a GoPro for a gift. Even if they have one already. More the better. It's the perfect gift.
Film Camera Patent Poster
This is not just a poster. It's a time travel machine. You look at it and it takes you back to the time when the inventor was scratching his head while trying to figure out a perfect design for his invention. You can imagine the excitement and the joy while rushing to the patent office.
Presents like these are memorable. They're never going to take it off the wall. They think of you every time they look at it. Put it in a nice, attractive frame if you want.
Filmmaker Mug
This cup makes me wonder if making a film is like living a new life. You live sometimes in your imagination, sometimes on set making that story & its characters come to life. When you give this to a filmmaker, every time they use this mug it will evoke some great memories.
This quality makes a mug much more than just a mug. This makes a machine that brings back precious memories. They will love it.
Portable Digital Audio Recorder
Any filmmaker will tell you how important audio quality is to a film. Even more important than video quality. If the film is interesting, the audience will likely ignore a less than great image quality, but if the audio fails to live up to the standard, they will walk away. And you can't blame them. Bad audio is unbearably annoying.
A newbie indie filmmaker with a DSLR can use a decent sound recorder like this (Audio recording on DSLRs is awful). This recorder is the choice of professions. Remember, practical gifts are the best.
Quentin Tarantino Collection
I don't know if you know who Quentin Tarantino is, you likely do, but any movie buff or filmmaker has heard of him. His first film, The Reservoir Dogs (An independent film) is considered one of the best films ever made. Tarantino didn't go to film school. All he learned about filmmaking is by watching films. He watched and learned and then tried making his own. A method of learning people have used for centuries to master their crafts.
Watching films is what a filmmaker must do to learn. Gift this set to them or works of some other directors they like. They'll love it, and enjoy the films.
Beyond Continuity Book
Organization is crucial in any job. Creative Arts are not an exception. Effective management and organized workflow leads to less unnecessary stress and hence more productivity. Which is very important. As a director you have to act as the manager who takes command of all things happening on the set. Not an easy job. If you don't do it properly, script supervision is a task that can make a lot of complications during the shooting process.
The techniques that this book offers will help them be more efficient at script supervising, making their job easier and giving them time to be more productive. Gifts that make our lives easier are the most liked.
Film Reel Wall Clock
It's common for people to try to be creative with their gifts. A common assumption among givers is that unique, novel gift ideas are more impressive to the recipient. This is mostly counterproductive. Recipients prefer practical things they can put to use and derive ownership value out of. There is nothing wrong with creative gift ideas as long as you pick something that is related to your recipient's interests and adds value to their life in some way.
A vintage looking wall clock may not be the most practical gift in the world, but will still make a fine gift for anyone involved with filmmaking. A film reel is associated with movies since before digital cameras became the preferred choice for shooting, it was film that was essential (It is called filmmaking for a reason). This classy wall clock will make a charming gift for any filmmaker.