24 Coolest Police Academy Graduation Gifts
A list of gift ideas for police academy graduates virtually handpicked by us. We have put together the best collection of things to gift to a new cop.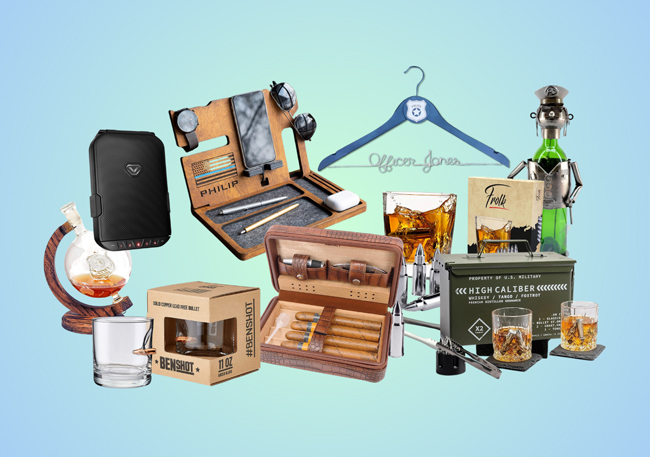 The day one graduates from the police academy, after years of tests and hard work to begin their journey to maintain order and peace in society, help those who need help and fight crime alongside Batman, is the day they're filled with pride and excitement.
For some getting that police badge is what they've always dreamed of and when that dream comes true, the joy is just too much to be kept to oneself.
Be part of that joy, let them know you're proud of their accomplishment. We have put together a list of the best gifts you can gift a new cop as a graduation gift. Scroll down to find the best suggestions.
Personalized Men's Watch
Sometimes the simplest gifts are the best ones. It has been a long tradition to gift watches to make an accomplishment memorable. It's usually a father who gifts his son a watch as a gesture of letting him know that he's proud of his son.
A personalized watch with a thoughtful message printed on the belt will always remind them of your endearing present.
Bullet Bottle Opener
For a writer like me typewriter related gifts are the best ones. I don't use a typewriter but it reminds of my job, which is always a pleasant thought.
Bullets aren't the most pleasant things, but for a new cop who just graduated they're reminders of the job he's looking forward to do. They'll find this set of bullet bottle openers very charming.
Bullet Lodged Whiskey Glass
This whiskey glass is, may be, the coolest whiskey glass I've seen. It's such a great idea. No one will not like this as a gift.
Well, unless they had an incident in which a bullet passed through their glass and spilled the 30 year old whisky they were drinking. You don't want them to remind them of that memory.
But otherwise you're good to go. This will make a cool gift.
The War on Cops by Heather Mac Donald
If they like reading non fiction you can consider gifting them this book.
The war on cops by Heather Mac Donald is a book that critics the attack on the police and argues how it is making everything less safe. When those who keep the order are under constant attack, keeping the order becomes more difficult.
A must read for any cop. They'll appreciate this present.
Survival Cards
Guys love stuff like this. Survival tools are always a hit. And this credit card sized survival cards is a great invention. You can carry it in your pocket.
As a police officer this might come in handy. If not to disarm a time bomb that the bad guy planted in a bus, may be just to open up a beer after work. It's simple enough but will make a good gift.
Smart Notebook
I don't know if you watch cop shows on TV, but those guys are always taking notes. There are too many details to remember on the job.
So, why not help them do it in a cooler and smarter way? This eco friendly notebook (You can just microwave it and use the pages again) can be used with the Rocketbook App to back up the notes on cloud.
They even have features like smart titles, smart search and email transcription that will make your new on the job police officer friend's life much easier.
Thin Blue Line Punisher Keychain
The Punisher is not great to cops in the series but for some reason cops love The Punisher. Maybe it's just all the badass action scenes. It's a good series and the skull logo is really cool.
This thin blue line keychain is a simple but likeable gift you can gift to a new cop. It's practical and looks really awesome.
Straight Outta Police Academy T-shirt
They're proud of their accomplishment and there's no better way to express it other then having it on your t-shirt.
Most new cops will find this t-shirt charmingly funny. I did some research and found out that some women gifted this to their newly graduated cop boyfriends and it was a hit.
This is a likable gifts. They'll gladly wear it. Make sure you get the size correct though. Mistakes like that can ruin a good gift.
Training Day
Training Day is a film about a rookie cop's first day at the job and how his training officer gets him into a deep mess.
It's a classic film and a must watch for any rookie cop. Hopefully they won't have a first day like the Officer Jake Hoyt (The rookie cop), but they'll learn some useful things while watching this film.
Even if they've seen it, I'm sure they'd love to own a copy. Any good cop would.
Emotional Survival For Law Enforcement by Kevin M. Gilmartin
This book is not just meant for police officers coping with difficult situations or dealing with emotional issues. It's meant for officers and their families to be used as a prevention guide to better prepare themselves for the unpleasant situations they might find themselves in.
It's always best to be prepared for adversity and plan for it then letting it catch you with your guard down. A police officer new at the job will not be used to bad experiences that are part of the job and will need it the most.
This book is probably the most thoughtful gift you can gift a cop.
Multipurpose Folding Plier
Multipurpose tools make great gifts because they are, well, multipurpose. The more useful something is, the more value it adds to our lives and the better we like it.
This one can be used as a plier, bottle opener, scrapper, saw and more. Your rookie friend will probably find this handy. And anyway it's a cool thing to own. You can't go too wrong with a gift like this one.
Police Officer's Decanter
This one is just a classy traditional gift. It's especially designed as a gift for police officers. It's made of hand blown glass and handcrafted wooden base which gives it an authentic look.
This decanter has a law enforcement badge on it. It looks awesome and makes you want to own one. It will make a fine present.
Ridiculously Real Stories from Real Cops
You don't have to be an officer of the law to enjoy this book. When I found it online, I was very curious about it.
The title is intriguing enough and I wanted to read about the ridiculous stories that the cops shared. It's funny, engaging and outright entertaining. Any cop, rookie or veteran will love it.
For a new cop the stories in this book will give them some stories to share with their peers. Which is why this will make a good graduation gift for a police officer.
Grenade Screwdriver
There's nothing not awesome about a grenade shaped handle screwdriver. It's much more interesting than your regular screwdriver.
Cops don't usually end up using a grenade in their entire careers unless they're in a special task force or such, so let them use this instead to screw things up.
It's a fun thing to have in your toolbox.
Law Dogs: Great Cops in American History
As a filmmaker, I love to read about the history of filmmaking. It's fascinating to read about the greats who shaped and added to the knowledge of the artform.
A new cop should have some knowledge of his professions rich history. Law Dogs is about the heroes in the past, the greatest cops that set out examples with their bravery in those tougher times.
If they like reading, this will make a great gift. If not, pick something else from the list.
Weatherproof Feild Interview Notebook Set
Taking lots of notes is part of the job. And a spilled coffee or heavy rain can lead to the loss of valuable information. Which makes this a very practical and useful gift for a police officer.
Gift them a set of these weatherproof feild interview notebooks to make this part of the job a bit more convenient.
Geekey Multi Tool
You saw the multipurpose card before. A useful tool that will fit into your wallet and which comes in handy in many ways.
Well, this one is even smaller. It's the size of a key and shaped like one. You can put it in the keychain with the rest of your keys and use it to open bottles, unscrew stuff, cut wires, smoke tobacco are more.
Men love this stuff. Your cop friend will find it useful.
Metal Police Wine Holder
A small metal wine holding cop as a graduation gift to an actual cop? What part of that idea isn't awesome?
You can gift it to any wine drinking police officer. And even those who don't drink wine can use this as a cool showpiece.
Law and Justice Engraved Flashlight Pen
This pen with law and justice stylishly engraved on it is traditional as well as modern. They'll need to take notes during interviews and this cool law and justice pen is the right way to do it for an officer of the law.
As a bonus it has a flashlight. I'm sure it'll be useful in some investigating situation.
Police Badge Bottle Opener
They'll get a police badge when they graduate from the academy. You can gift them one more that they can use to open beer bottles (off duty, of course).
It's simple enough but a cop will find it charming to get a badge as a graduation gift.
Be Safe Keychain
If you're looking for a gift for someone close to you who is graduating the academy, you can gift them this keychain with a heartwarming message engraved on it that tells them to be safe.
For someone fighting crime for a living sometimes a small reminder like this can help them make better choices.
Also, I love the fact that there is a tiny handcuff in it. It's a perfect keychain to gift a cop.
Bullet Shaped Whiskey Stones
I know I've included bullet themed gifts on the list already, but I couldn't keep this off.
Bullet shaped whiskey stones are just cool. I'm not a cop and the closest I've come to a bullet was shooting blanks during the shoot of one of my short films, and I still want these.
You can gift them these. I bet they'll like it.
Gun Coffee Mug
This coffee mug with the handle shaped like a gun is genius. I think all mugs would be better off shaped this way. It's just much more convenient to hold.
Honestly, anyone else owning this mug just makes them a nerd but for a police officer it's just a badass way to drink coffee. You can gift them this mug to take it to the new office. It'll look great on a cop's desk.
Tao of Jeet Kune Do by Bruce Lee
You may know Bruce Lee as a badass action movie star or a martial artist, but he was also a philosophy student. When he created his martial arts style Jeet Kune Do he wrote this book as a spiritual guide to go along with the style.
This book is filled with insights about fighting and developing the mental strength required to deal with any opponent.
This could be a very useful guide for new police officers to help them cope with and handle difficult situations they will have to face during the job.