34 Texas Themed Gifts For Proud Texans
The best Texas themed gifts for anyone who loves the lone star state. You'll find the best Texas gift ideas in this guide.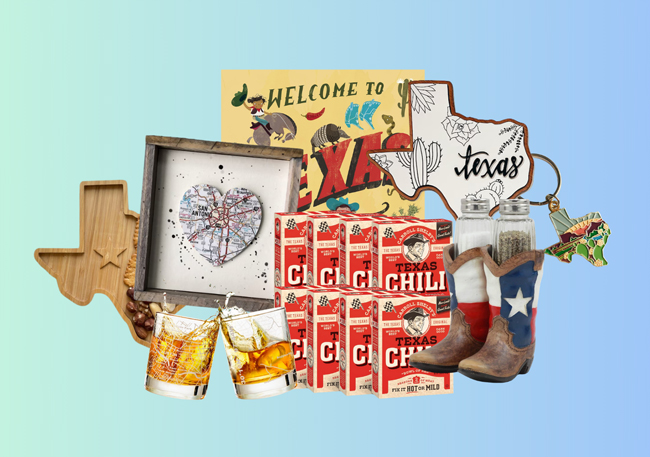 Texas, the lone star state of patriotic, gun loving cowboys and cowgirls, gets a bad rep because of some people who have the wrong idea about it. Maybe it's because of the name itself. It sounds really similar to taxes, and no one likes taxes except for maybe socialists and greedy, power-hungry politicians. I'm only half kidding. Names affect perception. I don't trust people named Adolf for a reason.
All you have to do to get over your misconceptions about Texas is just spend some time there, meet and get to know some Texans, who are friendly, polite people who know how to give back respect. They're nothing like what outsiders have been led to believe. Recently, comedian and host of the biggest podcast in the world, Joe Rogan moved to Texas and many guests have been showing up with Texas style gifts for him. And I figured I should make a list of Texas themed gifts for my readers.
Following is a collection of the best gift ideas for proud Texans. You can also gift these to anyone moving to or has recently moved to the state.
Texas Tough T-shirt
The color red in the Texas flag represents bravery. Texans are known to be brave, tough, and patriotic people. Being Texas tough means being courageous in the face of adversity like Texans have had to for centuries. You put your family and country first and not back away from a just cause.
This t-shirt will make a charming gift for any proud Texan.
Austin Map Whiskey Glasses
The capital of Texas, Austin, is located in the center of the state. You could call it the heart of Texas. Being the fourth most populous city, chances are your recipient could be from Austin or currently lives there.
It's known as the live music capital of the world, drinking goes hand in hand with the music experience. Hence, a whiskey glass with its map will make a cool gift for anyone who loves the city.
The Great Book of Texas
One must know about the place they come from. It helps us connect with our roots by knowing how the culture shaped our lives. The Great Book of Texas boasts to have stories and facts about Texas and its fascinating history that even the natives don't know about.
Everything about pop culture, sports to folklore and a haunted hotel. If your recipient is the curious type who loves to read, then this will be the perfect gift they'll enjoy.
Texas Bamboo Tray
Recipients prefer getting practical gifts they can put to use. And while they're not suitable for every situation or recipient, in most cases, you're better off giving something that is somewhat useful to your recipient.
This beautiful Texas map shaped bamboo tray will be a perfect gift for any Texan. It's made out of good quality bamboo wood. You can get text of your choice engraved on it to make it feel more special for them.
Texas Gift Basket
Gift baskets make delightful gifts. Most recipients are happy to get a variety of products they get to enjoy. Gift baskets are perfect to give to people you don't know well to know their specific needs.
This gift box is a charming gift idea for anyone who loves the lone star state. It comes in a cool metal tub with the Texas flag print on it. It's filled with a variety of Texas specialty items such as butter popcorn, coffee, almonds, pecans, etc.
Texas Themed Tank Top
Who wouldn't want a beautifully designed tank top like this? Even people who aren't from Texas would want it just for the cool design.
If your recipient has a taste for clothes with minimal designs, they'll love this tank top. You can also buy a t-shirt with the same design in case your recipient doesn't prefer tank tops.
Texas Keychain
You don't have to buy shiny, expensive things for your recipients to impress them. A simple gift that communicates that you know what they value in life, their interests and what they love is often more endearing than costly items.
This stunning keychain shaped like Texas will be a charming gift for anyone who loves their state. The design is unique and aesthetically pleasing. Ideal for Texans who are away from home and miss it.
Texas Wood Wall Art
When picking decor items, especially wall art, as gifts, you have to be thoughtful to your recipient's needs and preferences. Is the item you chose something they'll like to have in their home? Chances are, that unless it differs from their style too much (they prefer minimalistic and your gift is loud and distracting or features colors they dislike) they won't mind.
Observe the existing art and decor they have. Notice the pattern of their choices and pick something that is similar and doesn't differ too much.
This Texas map wood wall art will please any Texan who is proud of their home state. It's attractive, well designed and the black and white color makes it a versatile gift.
Welcome to Texas
If your recipient is a young, curious and proud Texan, this picture book will make a great gift for them. It's full of attractive illustrations and interesting facts about the state to keep the readers engaged.
Visual learning is ideal for young children, especially remedial students, as it is better at capturing their attention. Any child who loves reading and learning will enjoy this book. It covers the state's animals, plants, customs, people and even places to visit.
Texas Cowboy Salt & Pepper Shakers
When most people think of Texas, I think an image of a cowboy from the western films comes to mind. Maybe that's just me, but still cowboys are part of Texan history.
This cowboy themed stand is the perfect salt & pepper shaker stand for any Texas born and bred cowboy and cowgirl in your life. It's charming and looks as cool as a salt and pepper shaker can look.
San Antonio Heart Map
Home to the Alamo and the second oldest park in the country, San Antonio is the most visited city in Texas. It is a pretty popular destination for tourists. It has many historically important places for anyone who loves to learn about the country's history.
If your recipient is from San Antonio or lives there and loves the place, this beautiful heart map will make a fine gift for them.
Texas Pint Mason Jar
Texas is a beautiful place with gorgeous scenery, but it's also very hot. The Texas sun can be brutal. Thankfully, God invented beer to help us cope with the heat.
This pint mason jar with a Texas map print will be a nice way for your Texan recipient to enjoy their beer. It will make a fine gift.
Cowboy Wine Bottle Holder
They say drinking a moderate amount of wine every day is good for you. I ignore the moderate part of it. Why even bother if you're not getting drunk and have some fun? But that's just me.
Anyway, this cowboy style wine bottle holder looks so cool that you don't really need to be a Texan to want it. But if your recipient is a Texan, they'll love to own this. It will make a cool gift.
Someone in Texas Loves Me Mug
Isn't it nice to know that someone in Texas loves you? Call me corny, but I'd feel good about knowing there is a beautiful cowgirl in the lone star state who loves me.
You can gift this mug to a boyfriend, girlfriend, maybe a close friend who lives in some other state. Although if you're a dude, don't gift this to your pals. That's gay. Unless, of course, you're gay and want to gift this to your partner.
Texas Authentic Recipie Book
They say the fastest way to a Texan's heart is through his stomach with an authentic Texan dish. Well, I made it up, but you can't deny that sounds true. Texas is known for the best barbecues in the country and maybe the world, but there are also many other original recipes that make just delicious food. The food culture is influenced by the various settlers in history, like Germany, Mexico, Spain and Czechoslovakia, which adds diversity to it. The book includes history, facts and suggestions for cooking techniques.
This will make a useful and memorable gift for anyone interested in learning about the great food culture of Texas. You'll be giving them the experience of trying out all those wonderful dishes.
Bullet Shaped Whiskey Stones
It is no secret that the Texans love their guns. I'm a great fan of the second amendment myself and everything it represents. It is truly a unique American symbol of liberty and freedom. And no matter how much power hungry fascists try to take our rights away, freedom will prevail.
That being said, your Texan, gun loving recipient probably will be delighted by the sight of these bullet shaped whiskey stones that remind him of his precious ammo. It will make an exceptional gift.
Texas Bamboo Cutting Board
Texas is a big state, and that is something to be proud of. I love the shape of it too; it looks like a mini America. And it allows for things like this gorgeous cutting board to exist. I mean, imagine trying to use a cutting board shaped like California or Florida. They can't have such wonderful things.
If your recipient is someone who enjoys cooking, they'll love this as a present. Also, it'll make a fine housewarming gift.
Texas Badass Tumbler
That sounds like a pretty accurate description of a born and bred Texan. If I had to make one for California, I'd say 20% Californian and 80% soy.
Anyway, a charming tumbler for any tough and proud Texan. Things like this make fine gifts because they're practical and people feel like using them out of affection.
Texas Flag Metal Wall Art
No one knows who designed the lone star Texan flag. It's a mystery. We know that Dr. Charles B. Stewart drew an early image of the flag, but no one has any idea about the original creator.
Whoever designed it did it well. The Texas flag looks pretty cool. And this Metal Wall Art looks amazing. It seems like something out of a Captain America film. Any Texan proud of his state would love to own this one. It'll make an impressive gift.
Texas Cocktails Book
Making cocktails is an art. And it's fun. I love to try out new cocktail recipes at my parties and use my friends as guinea pigs. Everyone has a good time.
This book has over 100 cocktail recipes inspired from the Texas cocktail culture. A collection of inventions by the best mixologists (I guess that's what they're called.) from Houston to El Paso, it also features interviews with famous bartenders about their creations. Overall, it's a fine choice of gift that will charm your recipient.
Texas Themed Coffee Mug
Not everyone prefers colorful, printed mugs to sip their coffee with, some like them minimalistic and simple, but when received as a gift, such coffee mugs are well liked. When well targeted to your recipient's interests and personality, coffee mugs can make charming gifts.
This Texas themed coffee mug will make a fine gift for any Texan who loves and takes pride in their great state. It looks very cool too and highlights the Texas state motto: Friendship.
Definitive Texan Guide
Being a Texan means more than learning to say "Y'll", you know? The Definitive Texas Guide is an interesting book about the great state full of fascinating facts and practical information about it. Texans are unique in the way they speak, act and everything about them reflects the diverse history of the state.
Written by a lifelong Texan photographer, this book gives the reader insight on the amazing Texan culture. A helpful guide for anyone who has recently moved to the state and wants to know more about it. Not ideal to gift to a Texan native, though.
Texas Map Pendant
At the risk of sounding very corny, I'd say what better gift you could give someone than giving them something close to their hearts? I was right. That's way too cheesy. Maybe I should write scripts for Spanish daily soaps.
Anyway, this creatively made pendant looks really cool and minimalistic. Any woman who loves Texas would appreciate it. It's simple yet charming.
Texas Flag Throw Blanket
When we are kids, we depend on our parents to comfort and protect us. As we get older, the harshness of real life forces us to grow up and toughen up. You need to be competent and stoic to be a man. But even the toughest badasses among us long to be comforted under the soft embrace of a Texas flag inspired throw blanket. There is no more patriotic way than this.
This beautiful blanket made out of American grown cotton is a great idea to gift any Texas loving person. The only downside of owning one of these being everyone in the family will fight for it. A fine gift.
Texas Eats Cookbook
Maybe you know of the famous Texas barbecue, which is the best barbecue you'll have. But Texans are also blessed with diverse options of delicious food thanks to their rich history as a food loving culture.
Now, thanks to Robb Walsh, a dedicated food writer who went on a journey of seven years looking for the best food Texas had to offer. This book is a collection of hundreds of recipes that weren't so accessible before. A must have for any foodie anywhere in the world. It will make an outstanding gift for a Texan with curious taste buds.
Texas Custom Doormat
Personalized gifts are very popular nowadays. And for a reason. They have that effect of making the recipient feel you've put in some effort into picking something that's specifically for them.
They're not appropriate in all cases, though. Save them only for your loved ones. This doormat can be a very fine gift for any Texan family. Great choice as a housewarming gift too.
Houston Map Coaster Set
A lot of people live in Houston. Being the most populated city in Texas, chances are that your recipient might be from Houston or living there. In which case, you might want to consider something that is made for people of Houston, like this really cool looking coaster set.
It's a nice set to own. The concept is simple; a street map of Houston carved into a wood coaster. And the design is impressive.
Texas Bottle Opener
Some folks don't need bottle openers, they use their teeth to pop open a beer. No thanks to my not so strong, smoke damaged teeth I need openers. I find it very useful to carry around a bottle opener. I have a keychain equipped with one.
Practical gifts don't always work unless you put thought into them. This elegant Texas map shaped bottle opener makes a simple yet useful gift.
Texas Embroidered Hat
If you were expecting a cowboy hat to be on the list, you'll be disappointed. That's just too predictable and embarrassingly lame. As your guide, I won't stand by and let you be either of those things. A simple hat like this, on the other hand, is not a bad idea. I'll admit it's not the unique gift idea in the world, but appropriate in some instances.
Say, you don't know your recipient very well and don't want to come off as trying too hard, in which case you can gift them something simple like this. A cool hat with an embroidered Texas logo.
Texas Circle Wall Hanging
A simple gift ideal for old-fashioned Texans who are proud of their state. Sometimes the simplest gifts make the best ones.
You can spend hours looking for creative gift ideas and not find a gift your recipient likes. Because at the end of the day, what we think people will like is based on our own perception and biases. If you're unsure about your recipient's taste, a simple and elegant gift like this Texas themed wall hanging is your best bet. Ideal for country home owners.
Texas Longhorn Ceramic Cup
The Texas longhorn ends up portrayed in many graphics and logos related to Texas. After all, it's the official state mammal.
Well, I think this uniquely designed cup is something any Texan will find amusing. If your recipient is a tea enthusiast or even enjoys a cup of tea once in a while, they'll find this cup pretty useful.
Texas Football Plays Coasters
Sports, right now, is not what it used to be. There was a time when you could just lie back, forget about all the earthly problems and have a good time watching your favorite team perform. It used to be a distraction, an escape from the hardship of life. The politicization of sports today has drained the fun out of it.
Well, these coasters are reminiscent of the good old days of the glorious history of football. Inspired by the most legendary plays in Texas football history. This coaster set will make a fine present for any Texas A&M fan.
Texas Map Themed Bracelet
If you're trying to find a gift for a lady friend, this charming Texas themed bracelet will make a fine gift. Jewelry can be effective as long as you don't divert too much from your recipient's tastes.
This one is simple enough and will match most outfits. It comes with a little Texas map pendant and you can even customize it to add their initials on.