27 Hawaii Themed Gifts for People Who Love the Aloha Culture
The best Hawaii themed gift ideas that will delight anyone who loves Hawaii and its culture.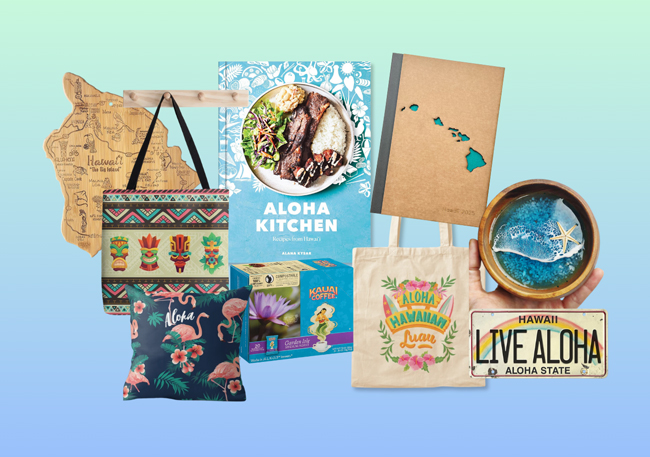 Capitalism and the free market have brought billions of people out of extreme poverty in the last few decades. No one can deny the positive impact of it on the people around the world. That progress came at the cost, though. In trying to make the world a better, richer place, we ended up hurting the environment in ways that are going to have an impact that will be fatal to the future generations. Considering the fact that, as of now, there is no replacement for Earth that we can find, it's a good idea to care more about it.
In that respect we can look upon the lessons from the Hawaiian culture about caring about the environment and our responsibility to our future generations. Hawaii is a beautiful place with a great culture. They put great value in kindness, compassion and humbleness. It's a culture we should all inspire and learn from. They know how to live well.
Following is a list of gift ideas for a recipient who is from Hawaii or is in love with the culture. Pick one that suits them.
A History of Hawaii
A place is like a person in many aspects. It has a personality, a history that shaped it and a culture that it prides itself on. It's interesting to learn about the history of a particular place and find out how it developed with time.
Captive Paradise - A History of Hawaii explores the rich and fascinating history of the place. It tells you about the events that took place in the past that lead to Hawaii being what it is today.
If your Hawaii loving recipient is someone who loves learning history, they'll enjoy reading this book.
Tiki Themed Tote Bag
Tiki is an important figure In Maori mythology. He was the first man, and he found the first woman. That's where the name comes from for the tiki carvings you see in the Hawaii culture. They are used as marks for boundaries of sacred sites.
This tiki design tote bag takes the inspiration from those. You can gift it to anyone who likes their accessories with exotic designs. Don't gift it to someone who has a minimalist style. It won't impress them.
Aloha Kitchen
If you don't believe that diversity is a good thing, know that without it, and the differences that cultures have, we wouldn't be able to enjoy so much variety of delicious food that we can now. Different cultures around the world experimented and developed over time their own unique style of cooking. It's fun to try out food from different cultures. If you haven't tried Hawaiian seafood, you should. After all, who is going to be better at it than a culture that has lived and survived on an island for centuries?
Aloha Kitchen is brought to you by a Maui native. It has a collection of over 85 local recipes that you can try. If your recipient is someone who loves to cook and is also a lover of Hawaiian culture, they'll appreciate this gift.
Aloha Pillow
It's common for people to try to pick the most rare gifts they can find, hoping to impress their recipients. This doesn't work.. More often than not, you'll miss the mark and leave your recipient with something they don't need or want.
A better way to do this is to pick something that is distinctive yet general and useful to your recipient. This Aloha themed pillow is such a gift. It's stunning, good quality and will look nice on any Hawaii lover's couch.
Personalized Hawaii Ring Dish
A trinket bowl is normally used to store common jewelry, but there are more ways to put it to use. You can put small plants, keep your keys, coins, small accessories and about everything small that'll fit. People even use it to collect water dripping from plants. A small way to help conserve the environment.
A cool-looking bowl like this adds to the beauty of your home. It will make an impressive gift for any woman who likes Hawaii. It's charming and useful.
Hawaii Lover Premium T-shirt
If you ever have visited Hawaii on a vacation, you know the feeling. It feels like you are in a different world. Maybe it's the beautiful scenery or something in the air that makes you feel at peace. For most people living in the cities, a visit to the island feels like paradise.
If your recipient shares this feeling, they'll like this t-shirt. Clothes make impressive gifts if you know your target's style. Just make sure to pick the right size.
National Geographic Traveler: Hawaii
National Geographic is a trusted name in exploration and travel for a reason. They have been scouting the planet for fascinating places around the globe for decades. Every curious and nerdy kid grows up watching their documentaries. So it's a good idea to refer to their guides if you want to know the really cool stuff about a place.
If your recipient is planning a trip to Hawaii, they'll find this guide useful. It'll make a fine gift for anyone who takes pride in their independence and resourcefulness as a traveler.
Fascinating Facts About Hawaii
Some people are naturally attracted to learning facts. They have this insatiable need to know stuff. I guess this was a useful trait to have in our hunter/gatherer days. Someone had to know which plants were edible and which would kill you.
If your recipient is a person who dislikes having gaps in their knowledge, which drives them to a quest to learn everything, they'll enjoy this book. It's full of interesting facts about Hawaii. It'll make a fascinating read for anyone who is curious about the culture.
Hawaii Themed Aloha Apron
Human civilization hasn't come this far in terms of technological advancement just for us to suffer with ugly aprons. There's a demand for creative designs in all kinds of things. We have capitalism to thank for the variety that's available to us today.
This Aloha apron is perfect for a recipient who likes to cook. With this, they can cook their favorite Hawaiian recipes while looking exceptional in their new gorgeous apron.
Cook Real Hawaii
I pride myself for being able to surprise my guests with exotic cuisines they haven't tried. There's no match for my sea food portfolio. Foodies love to experiment with a variety of foods. Hawaiian cuisine is diverse. It has been influenced by all the different voyagers and settlers that brought their own style to the island. They have a fusion of Chinese, Korean, European, Japanese, Portuguese and more.
This recipe book, brought to you by two time Top Chef finalist Sheldon Simeon, contains some outstanding Hawaiian fusion recipes. If your recipient is a foodie who likes to try out different recipes, you can gift this cookbook to them.
Aloha Hawaiian Luau Design Tote Bag
An important part of Hawaiian culture is for people to come together with family and friends to the Luau festival, which celebrates food, music and art. Often the occasion is for celebrating family milestones.
This tote bag is inspired by this beautiful tradition. Ideal for Hawaii lovers who are connected to and respect the culture. It's well designed and useful, which makes it an impressive gift idea.
Decorative Hawaii License Plate
People like decorate their homes with stuff that reflects their interests. Our home is a canvas for us to turn into art. Even prehistoric humans decorated their caves in their own unique style. Normally I wouldn't recommend gifting decorative things to others. It's hard to gauge someone else's style and you're likely to hit off the mark. But if you keep things simple and pick something that's simple and attractive, you'll be fine.
You can gift this license plate to anyone who loves everything Hawaii related. It'll make a pleasant addition to their Hawaii décor.
Kauai Hawaiian Coffee
Hawaii makes lots of coffee. It's the second largest crop produced there and is a significant part of their economy. Many people love the taste of authentic Hawaiian coffee. And while the packaged stuff doesn't compare to the actual thing you'll find on the island itself, it's still good enough.
If your recipient is a caffeine addict or even enjoys a good cup of exotic coffee once in a while, they'll enjoy this pack of Kauai ground coffee. Food products don't always make the best gifts because they need to be consumed instantly, but something like this lasts much longer.
Honolulu Etched Map Whiskey Glass
Should a gift be practical or more traditional and "gift like?" There is no clear-cut answer to this. Recipients want gifts that they specifically asked for or that are useful to them. But this goes against the spirit of gift giving. A suitable solution to this dilemma is to strike a balance between practical and desirable. Find a gift that seems thoughtful and is also useful to your recipient.
This Honolulu map etched glass is such a gift. If your recipient is someone who drinks whiskey, they'll like this gift.
Sea Glass Earrings
Nature is the best artist there is. It feels like everything that is natural is beautifully designed. Long before we figured out how to mine gold and diamonds from the Earth, people made jewelry out of things they found around.
Sea glasses aren't valuable since they're abundant, but they are beautiful. If your recipient is someone who likes such things, they'll appreciate this set of earrings made out of sea glass found on the beaches of Hawaii.
Hawaii Map Bamboo Salt Box
Recipients prefer gifts that are practical and reflect their interests. Try to ensure that any gift you pick is at least somewhat useful to your recipient. Even if the application is as simple as storing salt.
This bamboo salt box with the map of Hawaii engraved on it will be endearing to anyone who loves everything related to Hawaii. Also, it's not just a salt box, but rather a storage box that you can be creative with and store anything in it you wish.
Hawaii Themed Keychain
Hawaiian hibiscus is a native flower that is found in Hawaii. It's beautiful in its simplicity. For the people of Hawaii, it's nature's jewelry. The natives use it to make Lei and as an ornament to wear. Wearing it on your ear signals that you are single. It's a flower closely associated with the culture.
You can gift this wooden keychain to any woman who adores the culture. It's a thoughtful and lovable gift.
Aloha Self Care Gift Box
Gift boxes, when tailored as per your recipient's needs, can make lovable gifts. Just the amount and variety of items send a rush of dopamine into the brain of someone who opens them. They're like a box full of surprises.
This Aloha self care box comes with a couple of vanilla scented candles, confetti, a bottle of colored matchsticks, cookies (Who doesn't like cookies?) a plant and a personalized greeting card. If you're in doubt of what your recipient will like, this is a safe bet.
Hawaii Bamboo Cutting Board
Recipients prefer gifts that are practical and add some value to their lives. Givers instinctively choose gifts they think are more "desirable" but are usually not very practical. This conflict between what recipients want vs. what the givers pick can lead to bad gifts that annoy the recipient.
To avoid this, pick something that satisfies you as a giver and is more traditionally gift like, but make sure it's also somewhat useful. This beautiful Hawaii map shaped cutting board will make a fine gift for anyone who loves the island. It's more interesting than your average cutting boards and will make an excellent addition to their kitchen tool collection.
Hawaii Themed Wall Clock
"Ka la hiki ola" meaning "The dawning of a new day" is a phrase you'll hear Hawaiian elders speak. It is meant to be a reminder of the value of living in each day as it comes. You should let go of yesterday and focus on making today the best it can be. An important value we must all keep in mind. While it's important to reflect on the past, getting hung up on it will prevent you from moving forward.
Tag along this message with this Hawaii themed wall clock. Your recipient will be reminded of it whenever they see it.
Hawaiian Natural Tea
Hawaii is one of the few places in the United States that can produce tea. The volcanic soil, humid climate and ample sunlight make it perfect for growing high-quality tea. It used to be the most produced crop on the island before they switched to producing coffee, as it was more profitable. They still produce a lot of it though and it's good.
If your recipient enjoys drinking tea, they'll appreciate this fine natural tea gift box. You can tag it along with some other edibles on the list.
Unwritten Literature of Hawaii
The passing of knowledge to the future generation has been the most essential part of the growth of our civilization. We learn from the lessons of the past generations and add to the knowledge through our own experiences.
Unwritten Literature of Hawaii covers the somewhat forgotten arts of Hawaii. The dance, music, poetry and more. It discusses Hula poetry in great detail. It's a fascinating read.
If your recipient loves to read, they'll appreciate getting this book as a gift.
Hawaii Macadamia Nuts
Along with being delicious, Macadamia nuts are also very nutritious. They're good for the heart and help you maintain weight. They're grown in a few places around the world, Hawaii being a major producer.
If your recipient is a foodie who enjoys nothing more than a good snack, consider gifting them a pack of these Hawaii made Macadamia nuts. If you wish, you can make a food gift basket and put it with other edibles from the list.
Made in Hawaii Seaglass Earrings
Gifting jewelry has been part of our civilization for a long time. In many cultures, gifting jewelry to someone is considered a sign of good luck. For centuries, people have used it to seduce and please their lovers. It's one of the traditional gifts that will never go out of style.
These sea glass earrings are perfect for gifting to a romantic partner who likes this style. Ideal for women who are spiritual and connected with nature.
Lonely Planet Hawaii Guide
I like the Lonely Planet guides. They're very well put together. You can find everything essential and useful in one place. It makes travelling easier. Also, it helps you be more independent in your travels. This Best of Hawaii guide from them is no less. It's a very organized guide that covers getting around in Hawaii very well. You'll find useful suggestions on places to go to, contacts, maps and even cultural insights.
If your recipient is someone who is planning a trip to Hawaii or frequently visits there, this will make a practical gift for them.
Hawaii Themed Necklace
If you are buying jewelry items for someone, make sure you pay attention to their style. Look at what they like to wear. Is the item you picked for them too loud or colorful for them? If it doesn't match their style, they are not likely to use it, which means it won't please them.
This Hawaii themed necklace is inspired by the beaches of Hawaii. It has a sea glass, a turtle pendant, a pearl which makes it ideal for someone who likes beaches.. If your recipient prefers this type of jewelry, they'll like this.
Personalized Hawaii Journal
This journal is not an ideal gift for everyone. Some people never write on paper and prefer typing. If your recipient is someone who has no use for it, they won't like your gift.
Give this elegant Hawaii themed journal to someone you know uses notebooks and journals. If they're aspiring writers or even keep a personal diary, they are more likely to be delighted by such a gift.