34 Beach Themed Gifts For People Who Love The Beach
A list of some creative and lovable gifts for people who love the beach. Everything from interesting cocktail recipe books to cool sand coasters.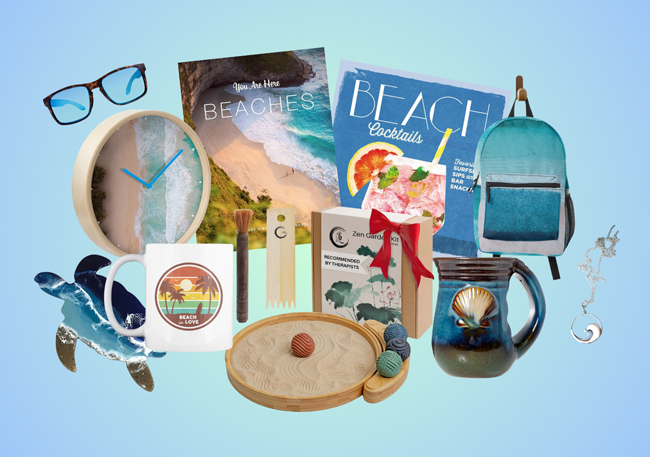 I grew up in Goa. It's the smallest state in India and is known for its tourist friendly beaches, spectacular nightlife and casinos. It's like the Miami and Las Vegas of the country. We get tourists from all over the world.
I'm not much of a gambler and I seldom go to these parties anymore but I do find myself going to the beach every now and then to enjoy the peace and the natural beauty of the places where the land meets the sea. For me the sound of water playing pull and push with the land is soothing and even comforting. It's like nature's own melody.
I love the beach. And this list of gifts is dedicated to the fellow beach lovers.
Beach Themed Curtain Lights
They say everyone is the star of their own film that is their life. Well, maybe, but no one said it always turns out to be an entertaining one. Anyway, a film has to look cinematic and to make that happen the director has to work with the cinematographer, lighting department and the production design crew.
With this as a gift you can be the production design and lighting department in your recipient's movie. These beach themed curtain lights will certainly make anyone's home look more cinematic.
Ok, may be that was too cheesy. Just gift them the lights. They're awesome.
Make Beaches Great Again Tank Top
If you're a lefty, wait a second, don't get your torches yet. It's not political. I'm not talking about kicking out anyone from the beaches (Although, it'd be nice if I got a whole beach to myself. I guess I'll do that when I run for office.)
This is a pun. And most people will find it funny (Except humorless people who get mad at jokes and look for offensive things with a torchlight).
Funny gifts are very effective. People love them.
Beach Seashell String Lights
My creativity has its limits. When I was looking for gift ideas for beach loving folks, seashells were the first thing that came to mind. And what's a better gift for a beach loving person than a jar filled with seashells? The answer is a jar filled with seashells and string lights. Because light makes everything better. Except the darkness in my heart. There's no light that can cure it.
This is one of my favorites from the list. Go for it.
Vintage Style Beach Umbrella
There's nothing quite like chilling on the beach under shade and reading a book listening to the soothing sound of waves coming in. It feels like background music to the story.
This beautiful vintage style umbrella will give your recipient enough cover to sit there and get hours of peaceful reading done. As far as useful gifts go, you can't go wrong with this one.
Palm Leaf Straw Hat
Unless your recipient is a devoted Donald Trump Supporter who refuses to wear anything but a MAGA hat, they wouldn't mind having a gorgeous looking hat like this to their collection.
And what's better to wear to a beach than a cool hat made out of palm tree straws? After all, you can't beat nature when it comes to designing stuff. Nature is the O.G. designer.
Floating Sunglasses
Sunglasses designed to float on water. Now that's what I call a necessary innovation. I guess some guy was fed up with having to go scavenge the pool every time he dropped them in it.
These are designed for pools but will float just fine in the ocean. If you're lucky the waves will bring them back to you. Your beach loving recipient can use a pair of these.
Beach is Love Coffee Mug
People drink coffee, and they need mugs. Add a cool looking print on it that says something corny that everybody seems to love nowadays . For a coffee drinking, beach loving person this will make a fine gift.
You can't be sipping your beer on a beach all the time, sadly, blame that on society and your responsibilities, but you can have a cup of coffee in the morning reminding you of it.
Beach Cocktails Book
To know how to make cocktails is a handy skill. Sometimes when I invite my friends over to my place one of the things I do is try out cocktail recipes and let my guests try them. They're mostly well received, I think. It's fun and adds to the party.
The beach cocktail book is full of awesome beach snake and cocktail recipes that any lover of the beach will be glad to have in their cocktail arsenal. Something they can try out at their next trip to the beach to make things more fun.
Ocean Wave Necklace
Have you ever seen a cooler looking necklace. It looks like something you'd see in a superhero movie in which everyone is looking for a mystical, hidden necklace that holds the power to save the world.
I don't know if this one comes with magic powers but regardless will make a charming gift. This ocean wave necklace captures the beauty of the beach in a magnificent way.
Beach Table Centerpiece
When I was a kid I used to collect sea shells every time I went to the beach. One day I got bored and decided to create something using them. I had an empty fish bowl so I filled it with stones and some of my shells to make a centerpiece very similar to this.
This one looks way better with the sand though. I'm sure your recipient would love having this and being reminded of the beach every time they look at it.
Sea Turtle Wall Art
Who doesn't like turtles. They're amazing. If your beach loving friend is fond of sea turtles this will be the perfect gift for them.
This wall art comes in a set of two, as if the sellers didn't want that turtle to be alone. Well, two is better than one anyway. I love the style of this artwork. It looks cool.
Beach Glass Leather Necklace
I don't think we can create anything that can compete with creations of mother nature. Maybe that's why being close to nature feels much more fulfilling than living in the most well designed city ever could.
This leather necklace with a beach glass necklace allows you to add a close to nature look to your style. This will make a charming present for any woman.
Beach Citizen Towel
The printing revolution shaped the world in significant ways. It allowed us to have t-shirts with your awkward family photos on them, world's best dad coffee mugs, and allowed criminals outsmart the cops and their handwriting experts. Oh, and also publishing books, literature, news and all that stuff.
Now that it's here humanity wondered why not use this amazing technology to transform boring old towels into cheezy printed pieces of hygiene art.
This beach citizen towel is just what your friend is missing in their life. By life I mean towel shelf. A fun gift. They'll like it.
Beach Themed Steering Wheel Decor
You don't have to be one of those people who can't stop talking about boats to have a ship steering wheel on your wall. Boats float in the sea, which is connected to the beach and so by association it is an ideal gift for beach loving people.
Just kidding. It's the shells and the net that remind people of the beach and makes this an ideal gift for your recipient. Bonus points if they love boats. In which case I'll recommend you avoid the "aye, aye captain jokes."
Sea Glass Earrings
If you're looking for a gift for a lady friend, consider these stunning earrings for a moment. Women like jewelry as gifts if it matches their style.
These earrings are made out of sea glass. They look like someone has captured the beauty of the ocean into tiny drops and was able to freeze it for eternity.
Turkish Beach Towels
Turkish towels could be the only contribution the existence of Turkey has made to the world. Maybe you can count Turkish baths too but besides those two, there's nothing much else. When the rest of the world was innovating Turkey was refining it's bathing technology.
And, before you get triggered by my xenophobia I dare you to think of any contributions I missed out on.
Anyway, these are high quality Turkish beach towels that'll make a nice addition to any beach lover's towel arsonal.
Beach Loving Family Poster
As far as shared family interests go, apart from being part of weird cults or watching reality shows together, they help you create good memories and bond. One of my earliest memories is me with my family and cousins on the beach, playing with the sand. I made a castle that looked more like a nuked pyramid. Fun times.
If your recipient is fond of his family trips to the beach they'll appreciate this present.
Beach Themed Coffee Mug
Maybe my love for caffeine makes me biased towards adding all these mugs in the list, my feelings are probably clouding my judgement. That's what love does to people, but anyway this is my website and I choose so here it is. I like the design and I can't imagine any sane beach loving person not liking it.
Also it does an excellent job of what it is supposed to do, which is holding liquids inside. Can't go wrong with this one.
Beach Tapestry
What can I say about this? It's pretty and useful. I mean you can sit on it, which is necessary for humans, to sit and not have sand drive extra blood circulation in your butt. You need that blood near your heart for better endurance. Now that I think about it this is life saving.
This is an ideal gift for women who like the beach, and picnics. And shapes.
Beach Themed Shell Holder
Shell collection is an important hobby. Who knows, one day you're collecting shells off the beach and end up discovering the secrets of the ocean that lead to amazing discoveries that change the modern world. Well, it's a possibility. Charles Darwing used to do that.
Anyway, some people like collecting shells they find on the beach, in which case they need a place to store them. I don't think the kitchen shelf is the right place. Although in case they're out of spoons they can use these shells instead. Still, there needs to be a box and this is the one.
And in case they don't collect shells or you don't know if they do, you can still gift them this holder and maybe they'll start and you can take half the credit for their world changing discoveries. Win, win for all.
Beach Mat
When in doubt about your recipients tastes, find something decent and useful. A gift can't be a bad gift if they end up using it. A beach mat is a good choice. Mind you it's just a mat.
It doesn't come with an ability to save you in case of a shark attack or something. Just a mat that is foldable and easily portable. Simple and practical. It says you're not trying too hard but have good taste.
Beaches Photo Book
If you want to help with the survival of the overgrowing population of a species called "photographers" you can consider buying and gifting this to your recipient. No one reads anymore so photobooks are the new books. I'm sure the literature in the future will be 50% emojis and 50% savvy tweets.
This is a good choice of gift for any beach lover and a great choice if they're into photography.
Beach Themed Dish Towel
We live in the age where we value equality so how can regular towels get to be printed on and you can leave out dish towels? After all, even dish towels deserve a shot at having a creative design makes them stand out from the crowd of boring plain dish towels. And so we have this product.
Won't be my first choice but I added this because you people want a bazillion options to choose from. On the other hand people do seem to be buying these, so you never know. They may like it.
The Beach - Movie
This movie is so damn good that halfway through the film I almost decided to give everything up to move to a deserted island and start my own community, which is what the film is about. Then I realized I couldn't continue writing here without electricity and the internet and changed my mind. The things I give up for you people.
Anyway, enough about my sacrifices, this is a really good film and as the title suggests it's about a beach. By gifting your recipient this film you'll be gifting them an experience. Films are awesome.
Beach Themed Phone Purse
Remember the times when mobile phones used to be too big to fit in our pockets? Yeah, those times have returned and people need something to carry their 20 inch screen smartphones phones.
You can gift this beach themed purse to any woman who owns a phone, which makes it pretty universal. Only aliens don't own phones. That's because they use telepathy to communicate. And their world is too politically correct to have entertainment. Don't gift this to an alien. And if you know one, just tell us. People need to know. All those UFO conspiracy theorists are going crazy not knowing. Save them.
Beach Sand Coasters
They say invention is born out of necessity. I imagine some guy sitting at the beach, he digs his bottle into the sand to keep it standing while he checks how many likes he got for the overexposed beach selfie he just posted with a caption inspired by a tumblr post about nature. After he's done dealing with the disappointment of the lower than expected number of likes he turns around to find a bigger tragedy. The hole wasn't big enough and the bottle is toppled, his beer consumed by the sand. He says to himself. "I wish there was some way to prevent this."
He's an optimist and figures he should make something out of a bad situation. Suddenly he hears the wind talking to him. There's is whisper, "Beach sand coastersss!" And thus a new product idea is born.
I don't know if it happened that way, but whatever the origin story we now have this gift from god to the beach loving, beer drinking mortals. This is clever gift idea that is hard to be not impressed by.
Beach Themed Kitchen Towel
Did you ever want to own paper towels so beautiful that they made you feel bad about using them? Probably not, but they're here.
These ocean themed paper towels are too good to be paper towels. And because of what goes for art these days, if you frame a piece of these towels and tell people it's art, they'll believe you. Using these would be like Tyler Durden's line from Fight Club after punching the symmetry out of Jared Letto's character's face, "I just wanted to destroy something beautiful."
These are ideal presents for people who love the ocean and the beach.
Beach Towel
May be you're wondering why there are multiple towels in this list. Well, it's a list of beach themed gifts. People go swimming. You need towels. I'm just giving you choices. America likes its freedom. And having twenty four billion choices for everything represents that.
This one is a lightweight, easy to pack and carry towel that is very popular. I like the design too. It will make a fine gift for any beach going person.
Ocean Gets Me Socks
All right. Ocean doesn't really get you. People don't get you. You don't understand that well. Humans are complicated, irrational, emotional beings. That being said, some people do feel a connection with different elements of nature. After all we belong to and are a part of it. Sometimes connecting back to our roots makes us feel good.
This corny message will charm the people who feel that connection to the ocean and to the beach. Again, not the best option on the list but it will work for some people.
Starfish Plaque For Beach Lovers
This is a kind of thing you can gift someone knowing that while they won't really be impressed yet not hate it either. It's like having your first date with someone in a restaurant–you could do something more interesting but it's better than having it in your parents' basement. This is a safe gift that'll do its job as a gift.
This is an Ideal present for someone you don't really know that well.
Goa Cookbook
If you skipped the intro, which you probably did, you social media induced impatience suffering person, you should know that I'm from Goa which is known for its awesome beaches and delicious seafood. It used to be Portuguese colony so it has its own unique food culture which is a fusion of the native Konkani style and the portuguese mix added to it.
The recipes are a must try. Not many vegan recipes in it though, mostly seafood. So don't gift this book to a vegan. I won't be held responsible if they attempt to lecture you out of existence about the evils of seafood.
Beach Flip Flop Wall Ornament
In case you're the DIY gift types I recommend you do not attempt to make this out of your old flip flops. That will be a very weird gift and they won't care about the efforts you put into it. Unless they're weirder, in which case they might just find it to be the best gift ever.
This is a nice decor that a beach lover will adore. It's a cool design. You're going with this? You have good taste in gifts my friend. I should have been a salesman.
Personalized Beach Bag
Personalized gifts exist because people absolutely love the sound of their names. I think in the future, as we grow more narcissistic, we will have custom music options with half the lyrics made up of the customer's name. There's nothing bad about a personalized gift though. People love them. You can give this to a close friend.
Tip: Don't give personalized gifts to people you don't really know. It's weird and seems like you're trying too hard to get them to like you.
Beach Resin Necklace
This might sound a bit cheesy, but if the beach is something that's close to your recipient's heart then they might like to wear it close to their heart. Ok, definitely cheezy.
Anyway, you get the point. It's a gorgeous looking necklace made for people who admire the beauty of the ocean meeting the land. You can even adjust it to match the length you want. After all, we look out for our readers of all shapes and neck lengths.