45 Awesome Japanese Gifts For Those Who Love The Country
A list of Japanese gift ideas for people who love the Samurai country. A collection of the best Japan themed gifts for Japan loving people in your life.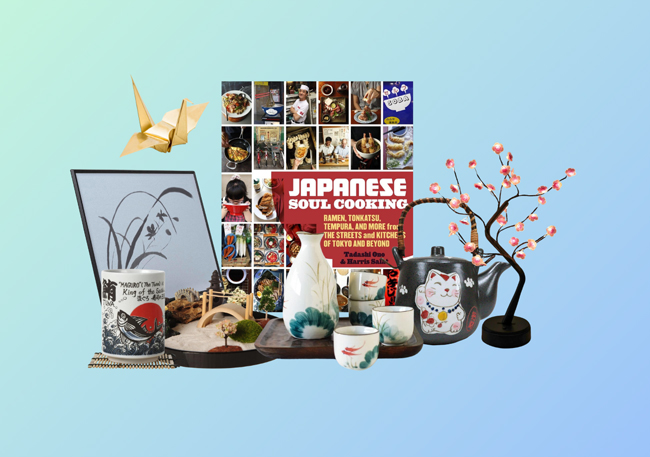 Growing up all I knew about Japan was that it's the country where I had to go to get my dream job, which was to become a Ninja.
I had aspiration even before I knew what the word meant.
Unfortunately, my ambition was never realized because my parents didn't support my rational and thought out decision (Parents are such dream killers). And I decided to become a writer instead. After all, the pen is mightier than the katana.
Anyway, you're probably here because you're looking for a gift for either a Japanese person you know, or for someone who isn't Japanese but loves the country.
Following, you'll find the collection of the best Japan themed gift ideas for both.
If you make your gift even more Japanese, you can use this Japanese style present paper to wrap it up.
Japanese Design Tea Pot And Cups
Do you know that tea is the most popular drink in Japan? It's has been in the country since the 9th Century. It used to be a drink only enjoyed by royalty before it was adopted by the masses.
If your recipient drinks tea, you can gift them this Japanese tea set. And considering the kitty design on the pot and the cups, it's ideal for women.
Brass Japanese Origami Crane
Origami was invented by the Japanese about a thousand years ago. It's fascinating how a simple piece of paper can be turned into so many creative shapes. Origami is closely related to the culture of the people of Japan.
If your recipient is admirer of the culture and an origami artist. They'll appreciate this beautiful brass origami crane. It makes a classy decorative peace and a memorable gift.
Japanese Censers Set
Life can be stressful in this incredibly complex world. You have to always be sharp and moving forward. A relaxing activity or hobby can calm you down and help take your mind off of things.
This censer set is like a mini DIY garden that some people enjoy. It's a Japanese tradition that is popular among people who like the culture. It will make a charming gift.
Be More Japan - The Art of Japanese Living
Anyone fascinated by the Japanese way of life will love reading Be More Japan. It covers everything from Shinto monks and ancient Japanese philosophers to the anime culture in the country.
This book is an ideal gift for people who are interested in learning about the Japanese culture.
Japanese Flash Cards
Learning a foreign language takes dedication and persistence. It's difficult in the beginning but as you learn the basics and get the basic skills, it keeps getting more fun.
Flash cards help us learn by letting us revise and consolidate the information we studied. Your recipient will have fun using these to get started on their journey to learn Japanese.
Japanese House Night Light
Good lighting is important in arts such as filmmaking and photography. Proper lighting makes a scene look pleasing to the eyes. A well placed night light can give your house a cinematic look.
This beautiful solar powered Japanese house night will make your recipient's home more beautiful. .
Japanese Sewing Set
Hobbies are fun. They let us express ourselves and engage in things we enjoy. They also help us connect with people who share our interests.
Recipients prefer practical gifts that reflect their personal interests. If your recipient likes sewing and is a lover of the Japanese culture they'll love this DIY bookbinding sewing set.
Japanese Sakura Watch
A watch is considered a traditional gift in many cultures. It represents time after all. Time is especially valued by the Japansese. It's common for people in Japan to show up 10 minutes early to a meeting.
This Sakura watch will not fail to impress. Write a note with a Japanese proverb about time to make this more meaningful.
Something such as: "Even when months and days are long, life is short."
Japan Travel Guide
May be your recipient's wish is to travel to Japan someday. Even if it's more of a wish than a plan.
Still, as long as they dream of walking the streets of Japan, they'll be interested in reading this book. Things I Wish I Knew Before Going to Japan is a fascinating read with many useful tips for travelers.
This is perfect for anyone in the process of planning to travel there.
Japanese Teacup
If you weren't impressed by the tea set idea above, consider this tea cup with a beautiful design that is assured to be loved.
The unique design and the Japan elements make it an ideal gift for a tea drinking, Japan loving person.
Japanese Soul Cooking
Your recipient will love this if they like to cook. The Japanese Soul Cooking is a cookbook filled with over a 100 recipes of tasty Japanese dishes.
Gifts like this are loved because the recipient is rewarded with lots of cooking and learning experiences that they had because of your gift.
If you know they never cook and are happy with takouts, this won't make them try, so pick another gift.
Japanese Apron
Trends keep changing, style go in and out of fashion constantly, but there are classics that are just timeless. This Japanese apron is such design that will always be in fashion. It's simple and stylish.
A likeable gift for any Japan loving woman.
Understanding Japan: A Cultural History
Any realist writer will tell you; no one reads anymore. Reading books is not as popular as it used to be. In the age of multitasking, binge watching crowd, we've lost the patience required to enjoy a good book.
Now, people like to listen to the book while driving. So for those busy recipients who would appreciate learning about Japan's rich cultural history, but don't have time to read it, this book is an ideal solution.
Sushi Socks
Can you love something too much? Well, I think you can. Someone decided that there's a need for sushi themed socks in the world for people who are obsessed with sushi and came up with this idea.
They're funny, I admit. And they're perfect if you want to tease a friend who insists on going for sushi every chance she gets.
Japan Cover Writing Journal
Is your intended recipient a scribbler who has a habit of writing down their thoughts?
This Japan cover journal is good gift for writers or anyone who prefer writing down their ideas on paper.
Japanese Sake Set
If you are looking for something traditional to give your recipient, this is a fine choice. The Japanese sake set is a simple yet effective gift idea. It has a beautiful design and any Japan lover will like to have it.
The simplest gifts often are the best ones.
Tales of Japan
The tales we learn as kids and the lessons we take from them shape the way we see the world when we grow up. Stories are life lessons and can mould a person's morality.
Tales of Japan gives us insights on the foundation of the Japanese morality. After all Japan has one of the lowest crime rates in the world and these stories are part of the reason.
You can gift this to people who like to read.
Miso Happy T-shirt
T-shirts like this one are popular. There's a lot of demand for creative design T-shirts. You can get a t-shirt on any topic nowadays.
But when it comes to gifting, they aren't always a great idea. People prefer to buy their own clothes.
But if you do get it right, then t-shirts can make surprisingly delightful gifts. If your recipient loves miso soup, they'll find this charmingly funny.
Tayo Bowl Set
People love getting gifts which they can put to use, and while practical gifts don't always make a great impression, in most cases they work.
You can gift this Tayo bowl set to anyone who eats noodles which makes it a pretty versatile gift among people who like Japanese food.
Japanese Key Rings
Cats are to Japan what Pandas are to China. Japanese people can't have enough of cats. Can't say it's not the same in the US. Cat memes always go viral, no matter where in the world you are.
The Maneki Neko cat originates from Japan and has been regarded as a mascot for wealth and fortune. They have a tradition in which a cat with raised right paw brings you good luck.
This set includes 12 pieces of keyrings in a set so that they have a variety of them to switch. You can gift it to any Japan loving friend.
Japanese Guitar Picks
If your intended recipient plays guitar then this beautiful collection of Japanese themed guitar picks will be perfect for them.
Gifts like these are loved because it is targeted to two of the recipient's interests overlap (Japan and Guitar) which makes a double impact on them. This is much more effective than if just one of it was involved.
Akira Kurosawa's Autobiography
Akira Kurosawa was one of the most brilliant and artistic filmmakers in the history of cinema and Japan's gift to the world.
In this autobiography he shares his story and thoughts on filmmaking. Gift this to people who like to read and also love films. They'll love this.
Personalized Japanese Necklace
Personalized gifts are very popular nowadays. People like to add their own custom touch to their gifts. Make yours meaningful by picking a word that has some meaning to you and the recipient.
You can have their name carved out in Japanese on the locket. That'll make a great gift.
Hand Forged Japanese Chef's Knife
This is a kickass gift. I bet the very first gift in history was a tool that a caveman gifted his best bro caveman.
This hand forged Japanese chef's knife is an excellent gift for chefs and also for those who are passionate about cooking.
Don't gift this to people who don't cook. They won't be able to use it and so not feel that it's the gift for them. You'll end up wasting a good gift on the wrong recipient.
Japanese Ceramic Teapot
Another pick for recipients who like tea. I was reluctant to put two tea pots in the same list, but couldn't decide which one to keep off it. So, I've included both. You decide which one to give them. Neither will disappoint.
This one is a Japanese style ceramic pot with a solid bar handle that looks unlike any other tea pot handle you've seen. There are a couple of color options, but I'll recommend the black one.
Japanese Rice Bowl Set
Rice is Japan's staple food, so rice bowls made a popular traditional gift. It makes sense to give something practical. People like getting things they can use. It increases the value of the gift.
You can gift this to a Japanese couple as a housewarming gift. They'll appreciate the beautiful present and your respect towards their culture.
Kutani Coffee Mug
Coffee mugs have been over abused as go to gifts, so I advise against it. But this Kutani coffee mug looks artistic and is pretty likeable.
The color combination is pleasing to the eyes. It'll make a simple but charming gift.
Japanese Candy Snaks
When it comes to gifting food items, people have their doubts about it. Maybe mostly because it doesn't last. You eat your gift, and it's gone. And they prefer their gifts to be lasting.
But on the other hand, it's food. Everyone loves food. After all you can live without love, but not without food. Gift them this dompine loaded experience they'll enjoy.
Ideal for anyone who isn't an inch away from diabetes or obesity. Let's say healthy people under thirty.
Cool Japan Guide
There are tons of fascinating things about Japan that most people don't know about. The culture is full of interesting customs and traditions. This graphic guide explores the culture from a cartoonist's perspective.
Anyone who wants to know more about the country will love to read this. Ideal for people who read comics.
Japanese Style Bookmarks
Someone who loves to read can never have too many of two things–books & bookmarks for those books.
If your recipient is a reader, they'll love to add these Japanese style bookmarks to their collection. You get 30 pieces in this set, each one with a beautiful illustration related to Japan.
Don't gift this to the occasional reader.
Ninja Coffee Mug
As I said, I wanted to become a Ninja so maybe I'm biased about this choice, but this may be the coolest mug out there.
Ninjas are part of Japan's history and if your recipient likes them they'll love this awesome mug.
Rice, Noodle, Fish - Book
If your recipient is in love with Japanese food. This book is something they will enjoy reading.
The author, Matt Goulding, shares his experiences with Japan's food culture. It explores the most intriguing culinary disciplines in the seven key regions. Ideal gift for a foodie.
Yakuyoke Figurine
In Japan the black maneki neko are talismans used for warding off bad spirits. Black cats symbolize safety. It's different in other parts of the world. In India if a black cat crosses your path, it's believed to be bad luck.
Your recipient doesn't have to be superstitious for you to gift this to them. Tell them it's for good luck.
Tokyo Geek's Guide
If your Japanese by soul recipient spends his time playing video games and regularly quotes star wars and anime characters, Tokyo Geek's Guide may be something they'll be interested in.
This book explores Japan's otaku culture, anime, manga, gaming and much more.
Sumo Wrestler Solar Figurine
If you've seen a sumo wrestling match, you must have noticed the ring entering ritual. It almost looks like a dance.
They do it to drive evil spirits from the ring (Japanese folks can be very superstitious).
Well I'm not sure if this little sumo figurine can ward off evil with it's solar powered moves, but it'll make a charming gift.
Lost Japan
Globalization has sped up the cultural evolution worldwide. People are adopting new cultures and lifestyles they get exposed to through the media.
Lost Japan: Last Glimpse of Beautiful Japan* is Alex Kerr's experiences living in the country for over 30 years. Haunted through nostalgia for the old Japanese ways, he writes about the traditions that must be preserved.
A gift for anyone who would like to read about the glorious past & traditions of Japan.
Samurai Armor Showpiece
The Samurai were the knights of Japan. Noble warriors, expert swordsmen and wise leaders. We've all seen them in historical films.
They are an important part of Japan's history and are respected by its people.
This showpiece will make a fine gift for anyone who is a fan of Samurai fighters.
Japanese Hair Crocodile Pinch
Flowers can be seen everywhere in art and culture in Japan. They're obsessed with them. And why not? Flowers are beautiful and Japanese people must have been like "Let's have them on our clothes."
If you are looking for a simple gift idea for a casual friend and don't want to be too fancy and yet give a nice gift, this crocodile pinch will work just fine.
Sushi Sakura Set - Plates, Bowls & Chopsticks
I scoured the internet for the best looking sushi set and found this one. Sakura in Japanese means cherry blossoms.
Something classy like this makes a great impression. It's simple but effective.
If they occasionally enjoy preparing sushi, or even order it once in a while, this gift will not disappoint.
Handmade Kumihimo Kimono Braid Bracelet
The accessories we wear and the clothes we put are ways to express our individuality. Anyone who relates to the Japanese culture will likely find this Kumihimo braid bracelet charming.
You can gift this to someone who has a taste for colorful and exotic clothes.
Japanese Kanji Mug
Learning a new language can be a fun experience. At first, when you are a beginner, it makes you feel incompetent. Then you start getting better at it and feel rewarded for you efforts. Learning any new skill reminds you than seemingly difficult tasks can be mastered with time and persistence.
You can gift this to Japanese Kanji mug to anyone trying to learn or even interested in language.
Kanagawa Game
A fun game about a universe inspired by the art of a famouse Japanese painter Katsushika Hokusai. It's a good multiplayer game you can play with friends.
If your recipient is an artist or a Japanese art enthusiast. Playing it will be a fun experience for them and they'll appreciate you for it.
Japanese Cherry Blossoms Storage Box
We store away things that are valuable to us yet not essential in daily life. People store their memories in forms of pictures, gifts, mementos and such.
Cherry Blossoms can be found everywhere in Japanese art. This storage box is a practical thing you can gift to a lover of Japan. It's big though. Not a thing you can carry in a paper bag. You can gift it to a family member in proximity.
Japanese Wind Chimes
Most eastern cultures, especially Japaneses, appreciate nature and its gifts. The Japanese aesthetics philosophy is based on the connection between man and nature.
The soothing sound that this wind chime makes is like a gift of music from the wind.
Anyone who likes soothing music will love this gift.
Japanese Custom Stone Seal Stamp
Seal stamps don't have to look boring. The Japanese had realized this. And decided to put some art into designing hanko chops which look like decorative items.
If your recipient has a business, you can gift them this one of these. The exotic design makes them a great gift.