47 Awesome Japanese Gifts For Those Who Love The Country
This gift guide brings you the best collection of gift ideas for people who love Japan. A list of coolest Japanese gifts that your recipient will adore.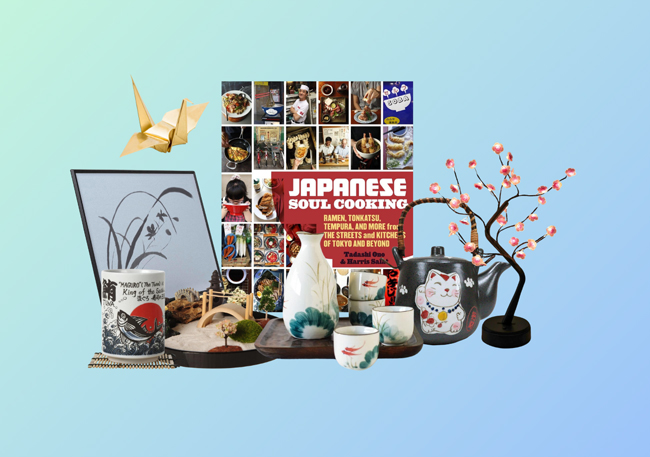 Growing up, all I knew about Japan was that it's the country where I had to go to get my dream job, which was to become a Ninja. I had aspirations even before I knew what the word meant. Unfortunately, my ambition was never realized because my parents didn't support my rational and thought out decision (Parents are such dream killers). And I decided to become a writer instead. After all, the pen is mightier than the katana.
Anyway, you're here because you're looking for a gift for either a Japanese person you know, or for someone who isn't but loves the country. Gift giving is a very integral part of the culture in Japan. They are very much involved in gift exchange for all aspects of their lives. They exchange presents with friends, business associates and family on all kinds of occasions. There's no shortage of gift shops in resort towns in Japan. During ochugen (midyear festival) you'll find major department stores filled with gift sales.
The gift giving tradition is made up of complex rules. You have to consider all kinds of rules such as: whom to gift what, what gift is appropriate on what occasion, and even how the gift should be properly presented. These rules are loosely followed by the youth in urban Japan though and the tradition has adapted somewhat to western influence.
Following, you'll find the collection of the best Japan themed gift ideas for your recipient. If you make your gift even more Japanese, you can use a Japanese style present paper to wrap it up.
Japanese Design Tea Pot And Cups
Did you know that tea is the most popular drink in Japan? It has been in the country since the 9th Century. It used to be a drink only enjoyed by royalty before it was adopted by the masses. Maneki-neko is a common symbol in Japan. The cat, called 'calico' (Japanese Bobtail) is supposed to bring good luck to the recipient. The tradition is believed to have originated in Tokyo.
If your recipient drinks tea, you can gift them this tea set as a gesture of wishing them good fortune.
Buddha Board Art Set
The hectic nature of modern life can often be stressful. You have to make sure you give your mind some rest and let it relax so that it can function well. Mindful meditation has been proven effective in relieving stress and is used by millions of people all over the world.
A buddha board is a tool that allows you to focus on a soothing task and be mindful about it. It works similar to Japanese Sumi painting. Give this to a person you care for.
Japanese Mini Zen Garden
Life can be stressful in this incredibly complex world. You have to always be sharp and moving forward. A relaxing activity or hobby can calm you down and help take your mind off of things.
This set is like a mini DIY garden that some people enjoy. It's a Japanese tradition that is popular among people who like the culture. It also comes with a censers set. This beautiful zen garden will make a charming gift for your recipient.
Be More Japan - The Art of Japanese Living
Learning about a culture that is different from our own can be an interesting experience. It makes us aware of how, as a species, we evolve and transform based on our surroundings. Anyone fascinated by the Japanese way of life will love reading Be More Japan. It covers everything from Shinto monks and ancient Japanese philosophers to the anime culture in the country.
This book is an ideal gift for people who are interested in learning about Japanese culture. It is full of cool pictures so even if your recipient isn't an avid reader they can still enjoy it.
Japanese Flash Cards
Learning a foreign language takes dedication and persistence. It's difficult in the beginning but as you learn the basics and acquire the basic skills, the process gets more fun. There's nothing like a feeling of reward you get when the work pays off and you are able to communicate in a language that was completely alien to you.
Flash cards help us learn by letting us revise and consolidate the information we studied. Your recipient will have fun using these to get started on their journey to learn Japanese.
Japanese House Night Light
Good lighting is important in arts such as filmmaking and photography. Proper lighting makes a scene look pleasing to the eyes. This look is what in filmmaking terms you would call cinematic. A well placed night light can give your house that cinematic look.
This beautiful solar powered Japanese house night will make your recipient's home more beautiful. It'll make a charming gift for any homeowner with good taste in decor.
Japanese Bookbinding/ Sewing Set
In a study conducted by researchers Yuko Minowa and Stephen J. Gould on Romantic gift giving among Japanese couples they discovered that many of the popular gifts among men tend to be the first handmade gift they received in their life. They perceived their partners' handmade gift as a symbol of sacrifice, surprise and assurance of relationship.
Gifts like handmade sweaters serve as a symbol of perfect gifts from a woman to a man in a romantic relationship. It can also be applied in western contexts. No matter where you are on the globe such gestures convey a lot of meaning.
Japanese book binding is an interesting hobby that many people enjoy. It's popular among lovers to make valentine's day gifts for their partners. Also, recipients prefer practical gifts that reflect their personal interests. If your recipient likes sewing and is a lover of Japanese culture they'll love this DIY bookbinding sewing set.
The Japanese Art of the Cocktail
Some people prefer to stick to their regulars, they walk into a bar and know exactly what they want, others love variety in their drinks and enjoy trying out new cocktails. If your Japan loving recipient is the latter, they may appreciate this book as a gift.
The Japanese Art of Cocktail is put together by Mashahiro Urushido, an award winning mixologist and the owner of Katana Kitten, a famous Japanese cocktail bar. In this book, Urushido shares his knowledge with the readers. A fun loving recipient who loves to try out new stuff will find this book very useful. Impressing guests with exotic cocktails is a fun trick that doesn't fail to delight.
Japanese Style Cutlery Set
Over six hundred species of bamboo grow in Japan. The abundance of it makes it ideal raw material for all kinds of useful stuff. You can even find references to it in Japanese literature and plenty of artworks with bamboo as the favored subject. "Takeziku" (Bamboo Work) is a traditional Japanese craft with a range of fine and decorative arts.
Giving cutlery as a gift is not exclusive to the Japanese. It is a traditional present that people all over the world prefer. After all, it's useful to anyone with a kitchen in the house. You can give this to a recipient who enjoys cooking.
Japanese Sakura Watch
A watch is considered a traditional gift in many cultures. It represents time after all. Time is especially valued by the Japanese. It's common for people in Japan to show up 10 minutes early to a meeting.
This Sakura watch will not fail to impress. Write a note with a Japanese proverb about time to make this more meaningful. Something such as: "Even when months and days are long, life is short."
Japan Travel Guide
It's not always a good idea to give books and travel guides as gifts. Chances are your recipient owns it already, in which case, your gift will end up in the wastebasket.
To prevent this, give them a guide that they're not likely to own or is an upgrade. The Lonely Planet guide is an excellent travel book to refer to. It has all the relevant information anyone traveling to Japan would need. It contains insider tips that'll help a traveler save money and have a better experience in the country.
It also covers cultural insights relating to history, food, local festivals and more. Ideal for anyone who wishes to learn more about the country.
Cherry Blossom Tree Light
A gift should be aesthetically pleasing. It should delight the recipient when they see it. If you focus too much on function and not pay enough attention to how it looks, your present won't be as effective.
This Japanese bonsai style cherry blossom tree light is a beautiful decor item that any Japan loving person would want to have. It gives a nice glow.
Japanese Teacup
If you weren't impressed by the tea set idea above, consider this tea cup with a beautiful design that is assured to be loved. It's a made in Japan product.
The unique design and the Japan elements make it an ideal gift for a tea drinking, Japan loving person. It's a simple gift idea that will not fail to please.
Japanese Soul Cooking
Some people love to try out new exotic recipes from different parts of the world. There's nothing like the feeling of achievement one gets when they get to literally taste the fruits (among other things) of their labor.
The Japanese Soul Cooking is a cookbook filled with over a 100 recipes of tasty Japanese dishes. It is put together by chef Tadashi Ono and Harris Salat and features some popular authentic home style recipes. Your recipient will love this if they like to cook.
Gifts like this are loved because the recipient is rewarded with lots of cooking and learning experiences that they had because of your gift. Although, if you know they never cook and are happy with takouts, this won't make them try, so pick another gift.
Japanese Apron
Trends keep changing, styles go in and out of fashion constantly, but there are classics that are just timeless. This Japanese apron is such a design that will always be in fashion. It's simple and stylish.
A likable gift for any Japan loving woman.
Understanding Japan: A Cultural History
Any realist writer will tell you; no one reads anymore. Reading books is not as popular as it used to be. In the age of multitasking, binge watching crowds, we've lost the patience required to enjoy a good book.
Now, people like to listen to the book while driving. So for those busy recipients who would appreciate learning about Japan's rich cultural history, but don't have time to read it, this book is an ideal solution.
Japan Cover Writing Journal
Is your intended recipient a scribbler who has a habit of writing down their thoughts? Writers love variety in notebooks. It's the same as how filmmakers are obsessed with trying out different cameras.
This Japan cover journal is a good gift for writers or anyone who prefers writing down their ideas on paper.
Japanese Sake Set
Sake is the national drink of Japan. And there is no shortage of sake connoisseurs around the world. If your recipient is one or even someone who enjoys a drink once in a while they'll be pleased with this gift.
If you are looking for something traditional to give your recipient, this is a fine choice. The Japanese sake set is a simple yet effective gift idea. It has a beautiful design and any admirer of Japanese sake will love to own it.
Tales of Japan
The stories we learn as kids and the lessons we take from them shape the way we see the world when we grow up. Stories are life lessons and can mold a person's morality.
Tales of Japan is a collection of 15 traditional Japanese folktales. It gives the reader insights on the foundation of Japanese morality. The book is full of interesting illustrations by artist Kotaro Shiba so as not to make it boring for your average non-reader.
If your recipient likes mythology, history and samurais, they will enjoy this book. You can gift this to people who like to read.
Japan is Calling T-shirt
In the era of print-on-demand you can get every feeling you have expressed on a t-shirt. This is not a bad thing. After all, there are many ways to express oneself. Some write songs, others share memes. Someone who loves Japan will relate to the message on this t-shirt. Also, it looks really cool.
You can gift this t-shirt to anyone who loves the country and wishes to visit there more often. Just make sure you get the correct size. There is no better way to ruin a good gift than getting one that doesn't fit.
Japanese Retro Style Rice Bowl Set
People love getting gifts which they can put to use, and while practical gifts don't always make a great impression, in most cases they work.
You can gift this Tayo bowl set to anyone who eats noodles which makes it a pretty versatile gift among people who like Japanese food.
Japanese Key Rings
Cats are to Japan what Pandas are to China. Japanese people can't have enough of cats. Can't say it's not the same in the US. Cat memes always go viral, no matter where in the world you are.
The Maneki Neko cat originates from Japan and has been regarded as a mascot for wealth and fortune. They have a tradition in which a cat with a raised right paw brings you good luck.
This set includes 12 pieces of keyrings in a set so that they have a variety of them to switch. You can gift it to any Japan loving friend.
Japanese Guitar Picks
If your intended recipient plays guitar then this beautiful collection of Japanese themed guitar picks will be perfect for them.
Gifts like these are loved because they are targeted towards two of the recipient's interests which overlap (Japan and Guitar) which makes a double impact on them. This is much more effective than if just one of them was involved.
Akira Kurosawa's Autobiography
Akira Kurosawa was one of the most brilliant and artistic filmmakers in the history of cinema and Japan's gift to the world.
In this autobiography he shares his story and thoughts on filmmaking. Gift this to people who like to read and also love films. They'll love this.
Personalized Japanese Necklace
Personalized gifts are very popular nowadays. People like to add their own custom touch to their gifts. Make yours meaningful by picking a word that has some meaning to you and the recipient.
You can have their name carved out in Japanese on the locket. That'll make a great gift.
Hand Forged Japanese Chef's Knife
This is a kickass gift. I bet the very first gift in history was a tool that a caveman gifted his best bro caveman. This hand forged Japanese chef's knife is an excellent gift for chefs and also for those who are passionate about cooking.
Don't gift this to people who don't cook. They won't be able to use it and so not feel that it's the gift for them. You'll end up wasting a good gift on the wrong recipient.
Japanese Ceramic Teapot
Another pick for recipients who like tea. I was reluctant to put two tea pots in the same list, but couldn't decide which one to keep off it. So, I've included both. You decide which one to give them. Neither will disappoint.
This one is a Japanese style ceramic pot with a solid bar handle that looks unlike any other tea pot handle you've seen. There are a couple of color options, but I'll recommend the black one.
Japanese Rice Bowl Set
Rice is Japan's staple food, so rice bowls made a popular traditional gift. It makes sense to give something practical. People like getting things they can use. It increases the value of the gift.
You can gift this to a Japanese couple as a housewarming gift. They'll appreciate the beautiful present and your respect towards their culture.
Kutani Coffee Mug
Coffee mugs have been over abused as go to gifts, so I advise against it. But this Kutani coffee mug looks artistic and is pretty likable.
The color combination is pleasing to the eyes. It'll make a simple but charming gift.
Japanese Candy Snaks
When it comes to gifting food items, people have their doubts about it. Maybe mostly because it doesn't last. You eat your gift, and it's gone. And they prefer their gifts to be lasting.
But on the other hand, it's food. Everyone loves food. After all you can live without love, but not without food. Gift them this dompine loaded experience they'll enjoy.
Ideal for anyone who isn't an inch away from diabetes or obesity. Let's say healthy people under thirty.
Cool Japan Guide
There are tons of fascinating things about Japan that most people don't know about. The culture is full of interesting customs and traditions. This graphic guide explores the culture from a cartoonist's perspective.
Anyone who wants to know more about the country will love to read this. Ideal for people who read comics.
Japanese Style Bookmarks
Someone who loves to read can never have too many of two things–books & bookmarks for those books.
If your recipient is a reader, they'll love to add these Japanese style bookmarks to their collection. You get 30 pieces in this set, each one with a beautiful illustration related to Japan.
Don't gift this to the occasional reader.
Ninja Coffee Mug
As I said, I wanted to become a Ninja so maybe I'm biased about this choice, but this may be the coolest mug out there.
Ninjas are part of Japan's history and if your recipient likes them they'll love this awesome mug. Ideal for young recipients who enjoy Ninja movies.
Rice, Noodle, Fish - Book
If your recipient is in love with Japanese food. This book is something they will enjoy reading.
The author, Matt Goulding, shares his experiences with Japan's food culture. It explores the most intriguing culinary disciplines in the seven key regions. Ideal gift for a foodie.
Yakuyoke Figurine
In Japan the black maneki neko are talismans used for warding off bad spirits. Black cats symbolize safety. It's different in other parts of the world. In India if a black cat crosses your path, it's believed to be bad luck.
Your recipient doesn't have to be superstitious for you to gift this to them. Tell them it's for good luck.
Tokyo Geek's Guide
If your Japanese by soul recipient spends his time playing video games and regularly quotes star wars and anime characters, Tokyo Geek's Guide may be something they'll be interested in.
This book explores Japan's otaku culture, anime, manga, gaming and much more.
Brass Japanese Origami Crane
Origami was invented by the Japanese about a thousand years ago. It's fascinating how a simple piece of paper can be turned into so many creative shapes. Origami is closely related to the culture of the people of Japan. In the recent decades, artists such as Jun Mekawa, Fumiaki Kawahat and Issei Yoshino advanced the techniques, creating new intricate designs such as insects with multiple legs and antennae.
If your recipient is an admirer of the culture and an origami artist. They'll appreciate this beautiful brass origami crane. It makes a classy decorative peace and a memorable gift.
Lost Japan
Globalization has sped up the cultural evolution worldwide. People are adopting new cultures and lifestyles they get exposed to through the media.
Lost Japan: Last Glimpse of Beautiful Japan is Alex Kerr's experiences living in the country for over 30 years. Haunted through nostalgia for the old Japanese ways, he writes about the traditions that must be preserved.
A gift for anyone who would like to read about the glorious past & traditions of Japan.
Sushi Socks
Can you love something too much? Well, I think you can. Someone decided that there's a need for sushi themed socks in the world for people who are obsessed with sushi and came up with this idea.
They're funny, I admit. And they're perfect if you want to tease a friend who insists on going for sushi every chance she gets.
Samurai Armor Showpiece
The Samurai were the knights of Japan. Noble warriors, expert swordsmen and wise leaders. We've all seen them in historical films. They are an important part of Japan's history and are respected by its people.
This showpiece will make a fine gift for anyone who is a fan of Samurai fighters.
Japanese Hair Crocodile Pinch
Flowers can be seen everywhere in art and culture in Japan. They're obsessed with them. And why not? Flowers are beautiful and Japanese people must have been like "Let's have them on our clothes."
If you are looking for a simple gift idea for a casual friend and don't want to be too fancy and yet give a nice gift, this crocodile pinch will work just fine.
Sushi Sakura Set - Plates, Bowls & Chopsticks
I scoured the internet for the best looking sushi set and found this one. Sakura in Japanese means cherry blossoms. Something classy like this makes a great impression. It's simple but effective.
If they occasionally enjoy preparing sushi, or even order it once in a while, this gift will not disappoint.
Japanese Pagoda Lantern
Tōrō is a traditional Japanese lantern made out of wood, stone or metal. It was originally only used in Buddhist temples. This lantern is shaped after a Pagoda (Tiered tower with multiple eaves) and is part of the culture.
It's a stylish and exotic design that adds to the beauty of a home. If you know your recipient has a taste for such decor you can gift this lantern to them.
Kanagawa Game
A fun game about a universe inspired by the art of a famous Japanese painter Katsushika Hokusai. It's a good multiplayer game you can play with friends.
If your recipient is an artist or a Japanese art enthusiast. Playing it will be a fun experience for them and they'll appreciate you for it.
Japanese Cherry Blossoms Storage Box
We store away things that are valuable to us yet not essential in daily life. People store their memories in forms of pictures, gifts, mementos and such.
Cherry Blossoms can be found everywhere in Japanese art. This storage box is a practical thing you can gift to a lover of Japan. It's big though. Not a thing you can carry in a paper bag. You can gift it to a family member in proximity.
Japanese Wind Chimes
Most eastern cultures, especially Japaneses, appreciate nature and its gifts. The Japanese aesthetics philosophy is based on the connection between man and nature.
The soothing sound that this wind chime makes is like a gift of music from the wind. Anyone who likes soothing music will love this gift.
Japanese Custom Stone Seal Stamp
Seal stamps don't have to look boring. The Japanese had realized this. And decided to put some art into designing hanko chops which look like decorative items.
If your recipient has a business, you can gift them this one of these. The exotic design makes them a great gift.