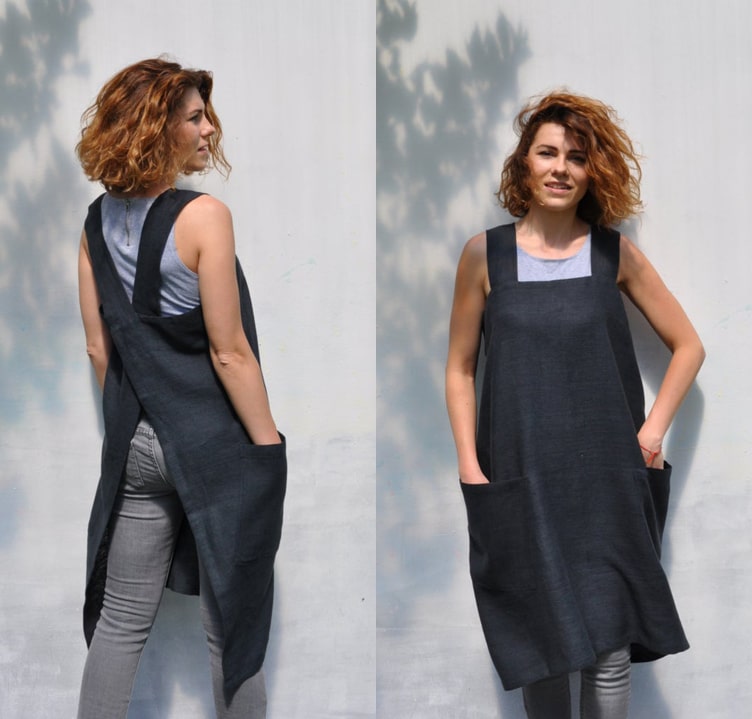 Japanese Style Apron For Women
| Ideal Age | Source | Price |
| --- | --- | --- |
| 18 - 44 | etsy.com | $60 |
A Japanese style apron for the women in your life who love to cook. Gift them this stylish apron as a refreshing change from the regular, boring ones.
If you're looking for a gift for a woman who likes to cook, then this can be an impressive gift. Japanese traditional clothing has a quality to it that makes the one wearing it feel elegant. The designs are simple yet attractive. A minimalist's dream. While you can't casually walk around in a kimono without getting stares this apron is cool enough to pass off as a new fashion trend in the kitchen.
This apron will make an excellent gift for a chef. They'll love to have a unique addition to their apron collection. After all, there's no rule in International Chef's Regulations against switching it up with a trendy Japanese apron once in a while.
You can also give it to someone who loves Japanese culture. They'll be glad about your thoughtful present.
Don't gift it to people who don't or seldom cook. It's likely they'll not end up using it and so won't appreciate it as a present. While it's still something they'll be glad to have in case they ever decide to step in the kitchen, it won't have the same impact as on someone who has a secret fantasy of going on Master Chef.
ideal gift for:
✔

Women who like Japanese Culture

✔

Women who cook

✔

Chefs
Don't Gift to: