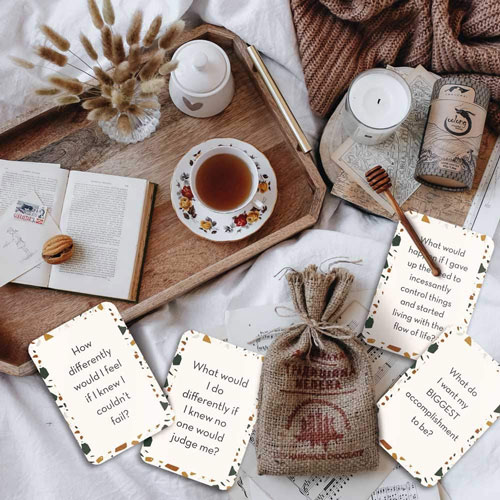 Self Care Questions Cards
| Ideal Age | Source | Price |
| --- | --- | --- |
| 16 - 60 | amazon.com | N/A |
A set of self care questions cards to gift to a friend you care about. A thoughtful gift for any woman in you life.
Mental health is something one should not take for granted. In this complicated world full of conflict, negative events can easily affect our confidence. It's not easy to stay optimistic when things go wrong making you doubt your abilities.
Being more introspective than men, women are more prone to insecurity. This self care question card set is a good way for women to maintain their emotional well being.
You don't have to always wait till things go bad and you need to get medication and help. Prevention is the best cure. These self care questions help you sort out your thoughts and unresolved feelings. These things can turn into anxiety if left unchecked.
You can gift this to anyone you care about and want them to be well. It will make a good gift for a friend, a wife or a mother. If your recipient practices yoga and meditation they'll love this gift idea.
ideal gift for:
✔

Women who practice yoga & meditation

✔

Any girl who deals with anxiety

✔

To Moms on Mother's day
Don't Gift to:
✖

People with serious mental issues that need professional help