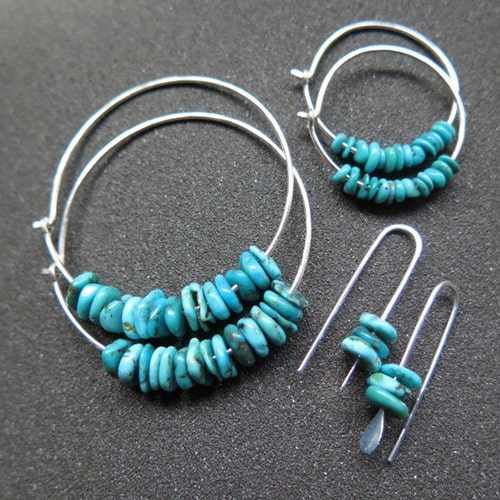 Natural Turquoise Earrings
| Ideal Age | Source | Price |
| --- | --- | --- |
| 18 - 44 | Etsy.com | $48 |
A beautiful pair of handmade turquoise earrings you can gift to the women in your life. Impress them with this unique gift.
Jewelry has been one of the most popular gifts since the dawn of civilization. I'm sure even cavemen gifted their wives jewelry made out of stones and animal bones. It's considered romantic and well as a gift.
Which is probably why when men screw up they buy their lovers jewelry to diffuse the situation. It's tried and tested.
These handmade earrings are made out of natural turquoise and sterling silver wire. And since they're handmade each one has a unique character that machine produced products don't get.
Handmade jewelry made out of natural stones makes an impressive gift.
Turquoise is the birthstone for December, so if your recipient is born on December and believes in astronomy, they'll love the thoughtfulness behind the choice.
This will make a romantic gift for a wife or girlfriend.
ideal gift for:
✔

Women born in December

✔

Women who are follow Astronomy

✔

Wife or girlfriend
Don't Gift to:
✖

Women with specific taste in jewelry

✖

idots

✖

assholes