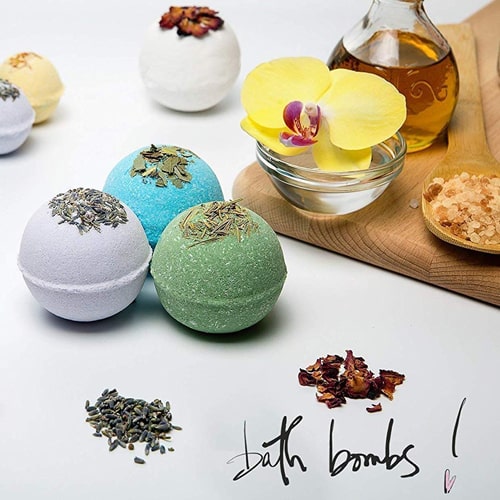 Organic Bath Bombs
| Ideal Age | Source | Price |
| --- | --- | --- |
| 18 - 44 | amazon.com | N/A |
A fine gift for any woman who loves her baths. Gift them a pleasurable scented experience that they'll remember.
Bath bombs are popular as gifts nowadays. It makes sense too. They're like balled up experiences. They give the recipient a pleasant, sweet experience.
After all women love their baths. Who doesn't. And bath bombs make that experience better.
They also help relieve stress and make you feel relaxed after a long day of work. What more could you ask.
With so many benefits, who wouldn't appreciate them as a gift?
This one comes with different scents — Blossom Euphoria, Eucalyptus Wave, Lavender Sky, Mango Papaya Island, Cedarwood Forest and Monkey Farts.
The last one cracked me up. It's toilet humor used properly. I don't know how it got the name monkey farts but it's sure to crack up anyone who reads it.
Ideal gift for a woman from a woman, maybe as a baby shower gift. I wouldn't recommend it for guys to gift it to their girlfriend or wife. It's not romantic.
ideal gift for:
✔

Just about any woman who owns a tub

✔

Babyshower gift
Don't Gift to:
✖

As a romantic gift to girlfriend