16 Kickass Gifts For Donald Trump Supporters
This is a great collection of gift ideas for Donald Trump supporters. Really, the best ever presents, I tell you. They are the best. Let's make gifts great again.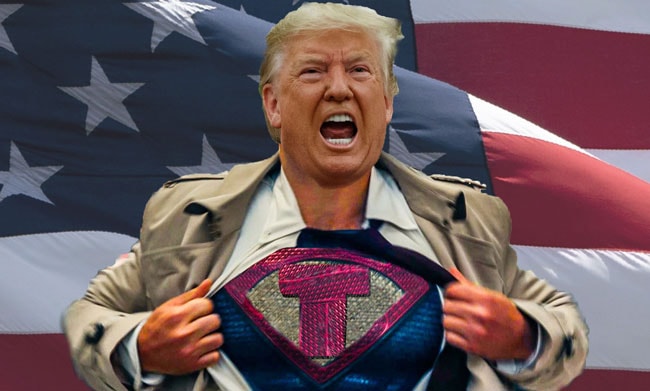 The politically active people in this country can be categorized based on two kinds of ideologies. Ones who support Donald Trump and those who want to punch them for that reason. I guess that's what you get when the mainstream media who you naively put your faith in brainwash you with lies to drive their agenda which is to make their rich corporate friends richer.
The lesson here is that you should treat mainstream news with the same skepticism you would an overweight fitness instructor. Maybe try following some honest independent journalists with integrity on either side of the political spectrum. That works for me. I digress.
Anyway, if you're one of those people who haven't voluntarily infected yourself with propaganda driven TDS and are trying to find a present for a MAGA person, here's an awesome list of the best gifts for Trump supporters.
Orange Man Badass T-shirt
If you follow Trump on Twitter or have watched him in action in the debates you know his troll game is strong. He's the ultimate troll. And he's the president. Fun times.
The guy is his 70's and his more internet savvy than most teenagers. The way he destroys his rivals makes him the most badass president in history, maybe with the exception of the vampire hunter Abraham Lincoln. This t-shirt is perfect for his supporters.
Trump Mount Rushmore Clock
Donald Trump just brokered a historic peace deal in the middle east no one thought was possible to do. They said it couldn't be done and he made it happen. He was even nominated for a Nobel Peace Prize.
Trump jokes about getting a spot on Mount Rushmore, but all he has to do now to make it happen is either legalize weed, provide good healthcare or pull the troops out of all the unnecessary wars.
Maybe that'll happen someday, but for now here's a Mount Rushmore miniature with Trump added. You can gift it to any avid Trump supporter.
Trump Make Coffee Hot Again Mug
Trump says his "Make America Great Again" is the best political slogan ever. Classic Trump.
I think it's a good one although it was inspired by Ronald Reagan's "Let's make america great again." Trump admires Reagan and they even have a similar story. Both outsiders who made it to the White House and ridiculed by haters for it.
Anyway, this "Make Coffee Hot Again" mug is the best coffee mug ever. A supporter will love it.
Fake News Button
Trump says the fake news media is the enemy of the people. I guess when the people in the news, who you're supposed to put your faith in to tell you the truth, instead sell you lies that are against your best interest it is your enemy.
Pressing the button plays the president's savage media roasts. A fun gift.
Universal Mail in Voting T-shirt
Well, this is how I feel about Universal Mail in Voting. We need to call it out for what it is. At best a broken system with many flaws and inaccuracies and at worst a system that'll undermine the legitimacy of an election and could lead to chaos.
If you know your recipient feels the same way, they'd want this t-shirt.
Donald Trump Bobblehead
Ladies and gentelman (and, of course, the non-binary deer people) I present you the stuff of a liberal's nightmares. I believe the far-left, never trumpers always feel he's giving them the bird just being him. They can't tolerate him being in the White House.
This will make a fine gift for a conservative Trumper.
Donald Trump Pool Float
Some would say that Donald Trump is metaphorically keeping the country from drowning in a pool of corruption inside the government. While I don't think he or anyone else can do that much to clean up the corruption, it was about time someone disrupted the cycle of these establishment politicians screwing people over while pretending to be their saviours.
Anyway, this pool float will keep your recipient afloat. A useful gift.
Trump Second Termnation Tank Top
President Trump jokes about going twelve more years instead of the four more he's allowed to. Of course, the media & his haters lose their minds and call him a fascist because they think he's serious. I think he just loves messing with them.
Anyway, for those who are enthusiastically waiting to vote to get him his second term and waiting for him to clear the swamp, here's a t-shirt they'll love. Also, the Terminator reference is kind of cool.
Donald Trump Boxing Pen
Trump went to the WWE and slammed down McMahon. That was fun to watch.
He has the fighter spirit and he likes to win. Dana White thinks so. This Trump boxing pen is a cool gift for any Trump supporter. There are buttons to throw a punch and all. Ideal for students.
Trump Wall Game
A country is no country without secure borders. You gotta secure the borders and keep the people safe. Trump's wall is technically a fence, but still, it's a good idea.
Thousands of women and children are victims of trafficking because of weak borders. Maybe he'll get the wall done in his second term. Meanwhile you can gift this to a young Trump supporter.
Trump Keychain
Even if you disapprove of him as a president, you can't deny that Trump is a funny guy. He has the comedic timing of a professional comedian. His comebacks to his rivals and the fake news media don't fail to crack me up.
This Trump keychain can play some of his iconic sayings, like "Look, I'm really rich," and "You're fired." A fine way to crack up your friends. A fun gift for any supporter of the orange man.
Trump Drink Cooler
I'm planning to open up a beer and sit back to watch the debates this year. It will be glorious to watch Trump tear down sleepy Joe. And as much as I'm against elder abuse, I guess it's DNC's fault propping Biden up for this slaughter. It'll be entertaining.
Well, this cooler will keep your recipients beer cold for them to enjoy the debates.
Trump Money Gun
The economy was doing very well before the pandemic and it is already recovering very well, thanks to Trump's policies and tax cuts.
Donald Trump has had his failures but in all when it comes to money he knows what he's doing. Which makes this money gun a symbolic portrayal of his success. Ok, maybe that's a bit corny, but still shooting money is fun.
Trump Quote Machine
Trump is no George Washington. He's not the most articulate person in the world, but man he's funny.
This quote machine lets you play his most funniest quotes. A fun gadget to own. Like the keychain from above in the list, you can use it to crack up your friends. A cool gift for any MAGA person.
Trump Apron
Self reflection can be a good thing but confidence helps you get things done. And there's no lack of it when it comes to Trump. He has an abundance of it. The exaggerations are what makes it funny. Just look at the countless memes.
If your recipient likes cooking, this will make a charming gift for them.
Trump 2020 Flag
Sometimes the simplest gifts are the best ones. This Trump 2020 flag is especially useful now because of all the people running around stealing and destroying Trump signs.
I've seen videos of people setting up booby-traps to deter these lunatics. Those are hilarious.
With this you can help your recipient have back ups just in case.