30 Incredibly Useful Gifts for College Students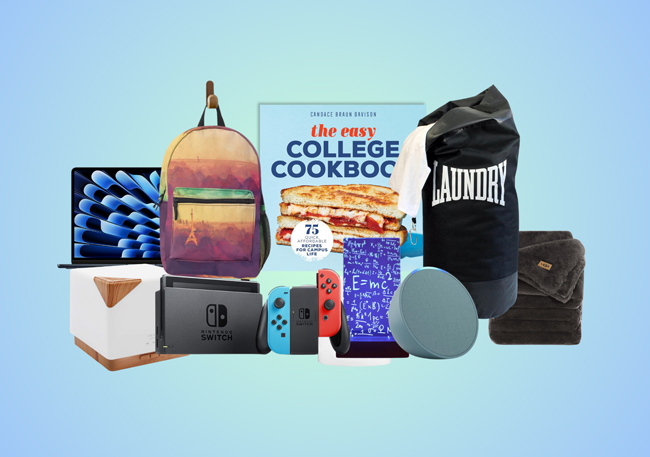 Practical, useful gifts are always the best. A simple, inexpensive gift which the receiver can see fitting in their lives they'll like it much better than an impractical, more costly gift they don't know what to do of.
This applies more to young people than adults, especially college kids who always have to buy things. They'll appreciate a gift that makes their lives easier much more than any thoughtful, unique gift you get them.
Givers often choose bad gifts because they try to impress and be thoughtful and do something different. Which doesn't work, because research says that receivers don't think about the effort you put into it or even the price tag. They only see themselves using the thing.
This list is made up of things that college students will like.
Printer
Printers are absolutely useful to college students. They have lots of assignments, research, and study load, and can use all the help they can get. And a printer helps a lot.
It's also important that you have a printer that won't fail when you need it the most. This printer is one of the best quality there is in the market. It's also one of the best rated.
Finally, it has every feature a college student will need. So If they don't have one already, gifting them a printer is a good idea.
Sandwich Maker
This might not seem like an ideal gift, but a college kid living in a dorm room can use one. After all a sandwich provides better nutrition than potato chips.
This is a good thing to have is mainly because it's easy to lose track of appetite when busy with college life. At least when they have this thing around, which makes it very easy to make sandwiches, they'll have something to feed themselves.
About the likabilty. Like I said, practicle gifts are always the best, so they'll see themselves using it to make sandwiches in the furture, and they'll like the idea of it
Also, these things are easily portable, easy to use, and don't take up much space. Perfect for dorm rooms.
Kindle
Kindles are technology god's gift to readers. A few years ago who could have imagined you could have a device that lets you carry your library in your pocket? With no backlight?
Of course you carry a book around, but in college you need to carry a lot of books. If you have those books on your kindle, you can just carry it around. Also, I love the inbuilt dictionary feature. It saves time and effort.
Kindles are pretty popular. Make sure if they don't already have one. And if they do, you can always gift them a newer version.
Noise Cancelling Headphones
This is a no brainer, but noise cancelling headphones are amazingly useful for a student. And for everyone else for that matter. The world is full of annoying noises.
Personally, I can't focus on anything properly with a lot of background noise. And studying already is hard as it is, students don't need more distractions. This thing solves that problem.
All students, and everyone else, should own one of these. The world would be a better place if everyone owned noise cancelling headphones. Don't you think?
Other applications: For people with roommates who snore, neighbours who like to pary hard, etc.
Magazine Subscription
A few years back when people had nothing else to do they'd grab a magazine and read it, now we have smartphones.
But, still, reading an magazine is a good way to combine entertainment and gaining somewhat useful knowledge.
Internet can't compete with the editorial standards of the print.
Mental Floss is ideal for students because it's full of interesting facts and useful articles, and list posts that people are used to now.
Other options: Readers Digest–If you're more into storytelling style articles.
Popcorn Maker
This is not a must have, but having a popcorn maker is a lot of fun.
Gift someone this, and they'll be thankful for the countless popcorn filled fun nights.
It's inexpensive, easy to use and can be easily maintained. Plus, it works fast and makes tasty, yet healthy, oil free, and low calorie popcorns.
Seriously, they'll like it. It's a fun gift.
Go ahead, I know you're thinking about buying it for yourself. How can you not?
Electric Kettle
An electric kettle is like a survival tool for college kids. There are times when you don't even have time to eat real food.
That's when this baby comes to your rescue. Ramen, Coffee, Tea, you can make anything that needs boiling.
What makes it ideal for dorm rooms is the lack of exposed heating element. Which is not allowed for a very good reason.
I know it doesn't seem like gift material, but trust me, when funny coffee mugs and showpeices fail to feed them, they will be thankful for this.
Mini Fridge
Imagine your life without a fridge at home. Inconvinient, right? It is.
Refrigerators are essential to every household, yet we take them for granted. When was the last time you told your fridge you appriciated it's effort? Just kidding.
Point is, a fridge is essential unless you live in the north pole (Actually they use fridges to keep the water and food warm.) and dorm room isn't an exception.
Of course, mini fridge are ideal for dorm rooms because of the space.
It'll fit colddrinks, and leftovers.
Coffee Maker
Americans drink coffee more than anywhere in the world.
After all it's a drink that's both tasty and good for you.
I think it's safe to say that a coffee maker is a no fail gift. Who doesn't drink coffee?
College students are especially prone to this habit because they tend to stay up late.
While this isn't a problem when partying, it is when studying for tests and completing asssignments.
Also, in an social relations point, if you have a coffee machine, you tend to have friends.
Also goes for microwave.
Portable Speaker
Speakers used to be huge. Now they come in size of a rubic cube.
And with an astonishing sound quality.
You can imagine how a portable speaker can come in handy during party emergencies.
With a battery life that'll last all day, and such great sound quality, it'll keep a small party going.
Also, they are trendy, easy to use, usfull, and likable in every way.
They'll like it.
College Hacks Book
I'm not a fan of "How to" books, and this one is not.
It's filled with extreamly useful insights that will save them a lot of money, time, and effort.
This book is filled with amazingly useful and life saving hacks.
Every college student must own this.
Gift them this book, and you'll help them have a more pleasent college experience.
If they like reading, they'll like it instantly.
If they don't, they'll like it while reading the first chapter.
Action and Sports Video Camera
This is more a freshman moving into a dorm gift. It's one of the essentials they'll need to buy.
Personally, I can't focus on anything properly with a lot of background noise.
And studying already is hard as it is, students don't need more distractions. Am I right?
These headphones actually work like wonder.
You can't imagine unless you used them. I think all students, and everyone else, should own these.
Other applications: For people with roommates who snore.
Underbed Storage Box
When you have low real estate, you have to be economical in how you utilize storage space you have, and the space under the bed is a resorce you can't waste.
Underbed storage boxes are excellent.
They have sevral tk which helps you organize different things.
Gift them a bunch of these if you want.
Very useful, very functional, very likable.
Laptop
Most have a laptop already but an upgrade is always nice. Computers with power, storage, and resolution are more convinient and reduce headaches.
Students have loans, and other expenses, and may not be able to afford one.
So you'll be doing them a favor.
If you're a parent, ask them if they need an upgrade.
The Freshman Survival Guide
Like the title suggests the book is filled with insightful advice for college students.
Tips on studying, whom to trust, relationship and sex advice.
Things every college student can make use of. It also has an section on procrastination.
Something which almost everyone struggles with in life at one point or another.
And the most underrated yet most important thing, a healthy diet. It has advice on that too.
The book is written in a friendly tone and is a great read.
Things like: "Be generous with your friendship and stingy with your trust." and so on.
Digital Voice Recorder
A digital voice recorder is an absolutely useful device. There are so many advantages of having one.
College students can make a good use of it. To record interviews, take notes (For those who are too lazy to write), record ideas while writing essays and articles, and even record what's on their mind.
Sure, there are recording apps for smartphones but the quality and user experience aren't the same.
This is a great investment that saves time and improves efficiency.
Lipstick Size Power Bank
This is something James Bond's girlfriend would have in her purse. Just in case they need power to activate a hi - tech device and save the world.
Power banks are an awesome enough invention by themselves, but power banks the size of a lipstick? These are just a marvel.
The small size makes carrying it around easier, and saves purse real estate.
Imagine how many horror movies wouldn't even exist if those victims with battery drained phones had one.
Things like these no one cannot love.
Dictionary Safe
More James Bond stuff. A safe in disguise of a dictionary. What an idea. With dictionaries now available on phones, who's ever going to touch it?
The safe is big enough to store small valuables and important documents.
Dorm rooms aren't the most secure places in the world. It's a good idea to have something like this available.
As far as likeability, who doesn't like spy stuff?
Simple and Delicious Cookbook
Going to college, facing the brave new world.
They are on their own when it comes to feeding themselves. With no Mom around to make nutritious home-made food. Cooking is the skill they have to learn.
But cooking isn't easy to learn. You have to start with something simple, yet it's better if it doesn't taste like grass.
This book is filled with 242 recipes. They're taste good, and are easy to make.
Any beginner can try them.
A useful thing to have. Isn't it?
Microwave
Microwaves A.K.A College dorm social relationship builder. Ok they are not called that, but they should be.
You have a microwave, people will come to you. And like they say way to someone's heart is through their stomach (or something like that.)
The point is, Microwaves are extremely useful to college students living in dorms. Not just do they help feed you, but also an excellent way to make friends.
Multi-Port USB Charger
Sometimes my phone, my tablet, kindle, Ipod all decide to die at the same time. Which can be pretty inconvenient for me because I constantly switch between devices.
This is a bigger problem for those living in dorms because you're sharing ports with your roommate.
This device helps you connect 6 USB cables at once. So you can charge away and still have all the devices close.
Waterproof Portable Speaker
Waterproof portable speakers, also called as the shower speakers because people use them in the shower.
Yeap, they're waterproof and also shockproof. So you can take them to beach parties, outdoor parties and games, etc.
If you love music, why let water deprive yourself from great music. The sound quality is good.
Also, you get twelve hours of playtime in a single charge. It'll last all day.
Amazon Gift Card
Research says most people would prefer gift cards or cash as a present rather than anything else, but I usually don't include it in my lists because I know my readers have come here looking for gift ideas.
But in this case I had to say that for students, I think you should consider giving cash or gift cards.
Students constantly need to buy things. With a gift card they can order whatever they want, rather than you guessing what they do.
Desk Supplies Organizer
College is the time to find yourself, not worry about finding your stationary all over the place.
Like for everything else, there's a solution to this: desk supply organiser.
If you make it a habit to put your things in their place, you'll have no trouble finding them when you need them.
Students can use this more than anyone. It'll make a fine gift.
Desk Lamp
I have an ugly, old lamp that's brighter than I need it to be.
Compared to that, this one seems like a high-tech, next gen lamp.
I like old school designs, but those can't compete with the features this one has.
Light dimming, eye caring light, USB charging, color temperature control, and some more.
Perfect for late night studies.
Show them you care about their comfort.
Mesh Storage Bags
Cables have a nasty habit of tangling with other cables whenever they get the chance.
The result being a messy knots that are tedious to separate.
Mesh storage bags are useful for storing cables. Especially in bags, or drawers.
You can also use them to store other things, like headphones, USB drives, etc.
They have hooks so you can hang them in the cupboard, and because you can see through, it's easier to find things.
Freelance Guide
Freelancing is getting more and more popular these days.
Freelance writing, web design and development, graphic design, photography, you name it.
People love the freedom and flexibility of being freelancers.
College students often take part time jobs to help with the expenses.
Give them this book, and they can make use of their skills and find freelance opportunities.
This will help them try new things, put their talents to test, find their passions and strengths, get a head start on a career path.
Stylus Pen/ Phone Stand
Everyone loves multi-purpose things.
It's as if you get more features for free.
This one is a pen on one side and a capacitive stylus on the other, oh, and you can use it as a stand for smart phones and tablets. View it on Amazon to see how.
I can't think of a reason for anyone to not own one.
Everyone needs pens and phones. Students use both more than anyone else.
This will make a cool gift. Also buy one for yourself
Pull-up Bar
According to various studies, exercise plays a significant role in learning. It helps build neural connections in the brain.
You don't have to get a gym membership to stay fit. Your bodyweight is enough. Except may be a pull up bar.
For chest you can do push ups, squats and lunges for legs, handstand pushups for shoulders, but for back and biceps you need a pull up bar.
Don't buy the one that doesn't need to be fixed with a nail. Those can cause injury. This one is much safer.