18 Racing Gifts for Race Car Drivers
A collection of some awesome gift ideas for racing drivers and people who love racing. A list of things all speed junkies want.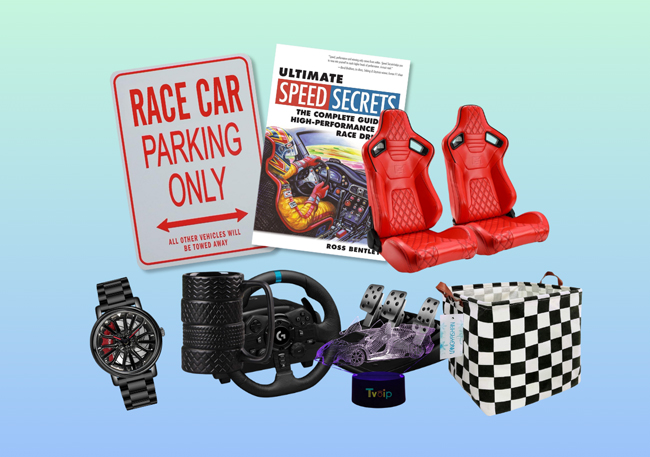 There is an innate need for humans to strive for our independence. Some people are more motivated than others to fight for it. Driving, for most of us, represents that autonomy to navigate life and explore.
There is another need that drives us. The need to compete. Racing is just people competing to be the fastest. Racing drivers want to be fast. Driving fast is all about knowing your car limits and your own. It's about going fast but also maintaining control. And it makes you feel alive and, when you are winning, unbeatable. Why wouldn't anyone want to race is the question.
People who like to race are those who get a thrill out of excellence. And the adrenaline rush you get facing the danger at high speed is better than any drug. Every corner, every risky move feels like a brush with death.
Following is a collection of gift ideas for race driver and anyone who loves to race. A variety of gifts for different types of racing junkies. Pick one according to your recipient's needs and desires.
Racing Seats
Professional race drivers are very specific about their choice of equipment. They won't likely appreciate nor put to use some piece of equipment someone gifted them but isn't their style. Leave that choice to them.
For any budding race driver who is getting by with regular car seats but is passionate about racing, these seats will make them happy. Perfect for newbies to start their careers with.
Racing 101 T-shirt
As any respectable adrenaline junkie will tell you, there is something about moving past one's fears that just makes you feel alive like nothing else. Maybe danger just reminds us about our own mortality and how being near death feels like.
This T-shirt portrays what any race lover would relate with. The thrill that lies after fear. It will make a fine gift for any racing lover. Just make sure you pick the right size.
Racing Wheel
Sometimes circumstances can prevent people from achieving greatness that they had potential for. Someone who can't afford to go to the track everyday, maybe it's too far or maybe they don't have the means or even a car.
Things like that shouldn't stop a dreamer from practicing their craft. This racing wheel is perfect for anyone who wants to hone their racing skills before they get the opportunity to do the real thing.
I own the G29 version of this and it's fun. The Logitech G923 Racing wheel will make an impressive gift for about anyone who doesn't own one already.
The Ultimate Speed Secrets Book
To attain mastery in any field one must learn from the best. And while the saying "Practice makes perfect" is true, you need to know what to practice for that to happen.
Ultimate Speed Secrets by Ross Bentley is perfect for anyone willing to learn, improve or master the art of racing.
You can gift it to any racing fan who likes to read. It will probably go to waste in the possession of non readers though.
My Greatest Defeat Book
Failures teach us about our weaknesses so that we can avoid them and improve. One must risk making mistakes to find something that the cautious ones never will.
My Greatest Defeat is a collection of stories about testing times that the best drivers in the world faced and overcame. Legends like Jimmie Johnson, Niki Lauda and Jeff Gordon.
If your recipient likes to read, they will find this gift helpful and inspiring.
Tire Themed Mug
Gifts themed around anything related to your recipient's profession won't fail to charm. It makes them feel like you acknowledge their love for their passions and dreams. Gift camera themed stuff to a filmmaker and they'll be pleased, and so on.
This tire themed mug looks as cool as a windy breeze on the north pole. I don't see why any race driver or even a car guy won't find it as a perfect gift.
Driving Rules Premium Tank Top
Before you lose your mind and try to cancel me for preaching risky behavior to your kids just take a breath and remind yourself that you don't have to be so serious and offended all the time.
This funny and not to be taken seriously tank top will make a great gift for anyone who loves racing. It's a joke and a good one. Plus, it looks so cool.
Racing Camera Mount
In the age of YouTube and Tiktok Stardom recording every cool moment of your life has become the norm. You don't have to be a cinematographer to take great shots. Someone who likes to race can definitely use the technology that Go Pros offer to get some cool shots to share their talents with the world.
If your recipient is someone who's interested in becoming or is already a Youtuber, this will be a practical and wanted gift they can use.
The Lost Art of High Performance Driving Book
Another great book by Ross Bentley. This one deals with high performance driving.
This book teaches you to be a better performance oriented driver. How to incorporate things like traction and stability control, self braking, ABS and aiding tech that modern cars are equipped with.
It will make a fine gift for any knowledge hungry race driver or enthusiast.
Racing Themed Wrist Watch
When you do something you love to do time may seem like it's going too fast. That's just how passion works. Boring stuff makes you feel the opposite.
Go for this gorgeous racing themed wrist watch if you want to give your recipient a classy and useful gift they'll love.
Formula 1 Track Neon Sign
The walls in each of our homes are canvases for the artist within the homeowners. What you put on your wall reflects who you are as a person. The choice of art and decoration is a expression of the person's inclinations.
Someone who is passionate about racing cars, especially on the track will love this amazing track shaped neon light. Perfect for any aspiring or professional race car driver.
Car Themed Thermos
The fact is that can't drive without tires and they're important to racing as strings are to a guitar player.
Tires and all things inspired by them are appealing to a real driver who appreciates the importance that tires have on all aspects of racing.
Practical gifts don't always makes good presents, but when done thoughtfully and creatively, they end up being the best ones. And, hey, no one minds getting a cool looking thermos as a gift.
Car Floor Mat Shaped Coasters
Water is essential to life and all, but it is known to also slowly destroy things it comes in contact with. To prevent this destruction humanity came up with floor mats to protect car floors and coasters to protect tables.
These car floor mat shaped coasters are creative and perfect for any car enthusiasts.
Metal Gearbox Part Keychain
I love cars so I am naturally fond of collecting cool keychains as most people obsessed with cars. I have one that's a multipurpose tool which I have on my off-road car. So it makes sense to gift a really cool looking keychain to anyone who loves to race.
This one is shaped after a gearbox part in Formula 1 cars. And it looks really cool. Very appealing to any car lover with good taste.
How to Make Your Car Handle
Anyone who has worked on a car or tried to upgrade it themselves knows how fun and satisfying it can be. Men are wired to love this stuff.
How to Make Your Car Handle is a great book for anyone who wants to learn more about cars. Mostly suspension and handling.
You can gift this to anyone who likes to work with cars and also doesn't mind reading every once in a while.
Race Car Parking Sign
A funny sign that instantly lets people know that the owner of the spot is someone who likes racing and fast cars. This is a simple one yet charming.
If you want to appeal to your recipient's proud race car owner side, this will make a fine gift.
Sports Car Night Lamp
People think that they have to put a lot of thought into picking a gift for their recipients to be impressed.
To tell you the truth, it's really much more simple than that. All you have to do is find something that looks really cool and is in some way relatable to your recipient and you're good.
This sports car night lamp is gorgeously amazing and anyone who loves sports cars will love to own one.
Race Themed Laundry Basket
Race car drivers have families too and also the responsibilities that come with it. Laundry is an essential part of living. The fact of life is, you need to wash your clothes.
Not many people can dodge this responsibility, but you can, by gifting them this beautiful race themed laundry basket, make their chore more pleasant. At least it'll remind them of racing.