10 New York Themed Gifts for People Who Love The City
A cool collection of gift ideas for people who love New York. A list of things that any true Yankee will want to own.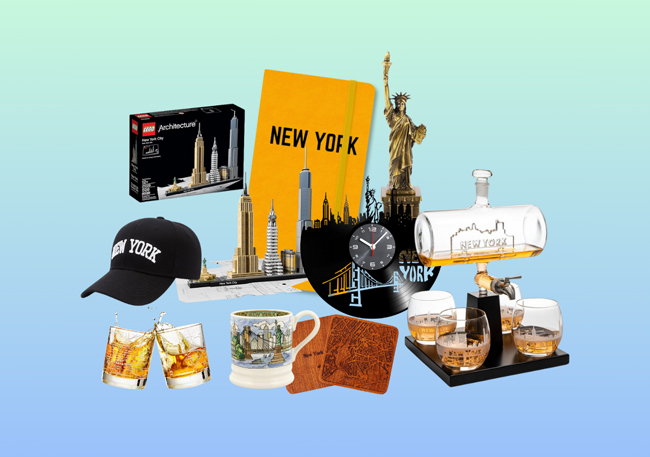 "London is satisfied, Paris is resigned, but New York is always hopeful. Always it believes that something good is about to come off, and it must hurry to meet it."
New York is a unique city in many different ways. The diversity of its citizens and their cultural backgrounds makes the city a beautiful cultural mess. The city has its problems but if you were ever going to make a case for why diversity is good you could point to this city and its rich culture that you can never get bored of.
New Yorkers are notorious of being proud of their city and its culture. They'll defend the good and the bad with stubbornness whenever outsiders criticize it. Even with all it faults and problems they still love it.
Following is a list of some cool gift ideas for people who love New York. A unique set of gift suggestions that will impress a hard to please Yankee. Pick one that suits your recipient.
1.
New York Themed T-shirt
Even people who love the city with all their heart get bored of getting the corny, unoriginal "I heart New York" T-shirt for the dozenth time. There's nothing more that makes you look like an NPC than printed t-shirts like that.
This creative New York themed t-shirt does a fine job expressing one's love for the city while not making them look like a tourist. It'll make a fine gift for anyone. Just make sure you get the size correct.
2.
New York Key Rack
Practical, useful things that are also aesthetically pleasing make great gifts. This New York skyline themed key rack meets both criterias. As far as key racks go you'll have a tough time finding a better looking one that is themed after a city.
Things like these make versatile gifts because, well, everyone owns keys and for most people misplacing them leads to wasted time. A perfect gift idea for a forgetful Yankee with good taste in home decor.
3.
Art Hiding in New York Book
New York is a hub for artists all over the country who move in there to pursue their dreams of achieving greatness. A place that is rich in culture naturally attracts those who aspire to influence it through their art.
Art Hiding in New York is an amazing guide for anyone who is interested in exploring the art in the city. You'll find all the cool places to go to and admire the creativity. An interesting gift idea for anyone who is new in the city or simply don't know much about the art scene yet want to explore it.
4.
New York Themed Mug
Mugs generally make for boring gifts. Chances are that for every coffee mug you give to your beloved recipient, they've got at least five more as gifts. A well designed mug that is targeted to your recipient's interests will work if you're the only one with a mug. For small, private parties and on occasions where there aren't many others likely to give similar gifts as you this will stand out.
This beautiful New York skyline themed coffee mug is an ideal gift for any lover of New York who enjoys their coffee.
5.
New York Embroidered Hat
Sometimes the simplest gifts are the most effective ones. When you're trying to express your love for someone how useful, expensive or unique the gift is doesn't matter as long as it communicate your feelings through it.
If your recipient is a friend or a lover who is from New York and lives in a different city this New York hat will be endearing to them. With a present like this you're letting them know that they miss their home and the gesture itself will be more touching than whatever fancy gift idea you can concoct.
6.
New York Snowglobe
Not every great invention was intended by their creators. Some just happen to be the product of accidental genius or even came out of things meant to be for a different purpose. Some surgeon in the 19th century tried to make a lamp to help light up his surgeries and as he experimented with the light he noticed a snowfall like effect leading to the invention of snowglobes.
Whatever their intended purpose was, snowglobes have become popular among lovers who want to gift something romantic and memorable to their partners. Also, they make for nice souvenirs.
If your recipient is from New York who is living in some other state you can gift them this globe. It'll remind them of home they'll appreciate you for it. Ideal gift for romantic partners or people close to you.
7.
New York Map Coasters
Coasters save our furniture from ugly water rings yet no one likes to use them. And no one likes to be the person who negs people to use coasters every time they pick up a pint. So how do you get people to use them without biting their ear off? You make them noticeable.
This beautiful set of coasters with the New York map carved on it will attract some eyeballs. The unique design sets them apart. People will notice and use them without suggestion. A useful gift for any lover of the city who also loves their furniture.
8.
New York Themed Vinyl Clock
Giving someone a wall clock is the most boring thing you can do. They're useful but don't make fun gifts. A creatively designed wall clock, on the other hand, is something that will impress the right recipient.
This New York themed wall clock carved out of an old vinyl disk is the perfect gift idea for any New Yorker who appreciates good home decor. It looks cool on almost any wall which makes it a universal gift idea.
9.
NY Map Whiskey Glasses
There's no gift like a cool looking glass set to impress your average whiskey connoisseur. The plain ones do the job but no one minds owning a pair of glasses that stand out.
You can gift this glass set with the map of New York streets etched on it to anyone except recovering alcoholics (It'll be a bit awkward if you do. Don't be that autistic.). Perfect for people who occasionally enjoy their whiskey.
10.
NY Themed Notbook
If your recipient is a writer or an occasional scribbler who enjoys noting down their thoughts they'll appreciate getting this beautiful New York themed notebook as a gift.
It's full of stunning pictures of the city along with interesting trivia and enough blank space for them to jot down their ideas on. A perfect gift for creative people of all sorts.
This post was originally published on Jul 20, 2022