24 New Orleans Gifts for People Who Love the City
A list of some cool gift ideas for people who belong to or just love New Orleans. The best New Orleans themed gift ideas.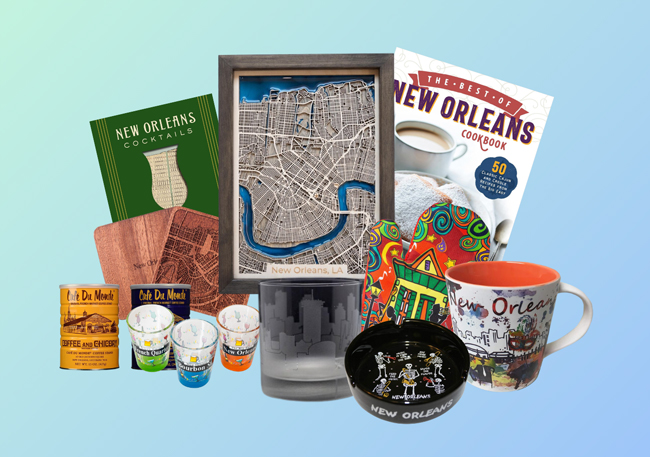 New Orleans is one of the most culturally interesting cities in America. Its history is full of intriguing stories and lore that is fascinating to learn. Of course there is a lot more to the city than witchcraft and good food. If you want to witness the magic of authentic street Jazz musicians, go to New Orleans. The city also makes for a great location for films and TV shows because of its beautiful architecture. Not to mention, the people of this great city know how to have a good time in their own way. After all, the motto of New Orleans is "laissez les bon temps rouler", which roughly translates to "Let the good times roll."
Following is a list of New Orleans themed gift ideas for those who love the culturally rich city. Pick one that suits your recipient best.
New Orleans Cocktails Book
A fun way to charm guests at your party is to dazzle them with your cocktail making skills. Not everyone succeeds at making a career as a bartender with kickass mixing skills. They can live it though, sometimes, equipped with a few interesting recipes in their own homes.
This book is full of cocktail recipes your recipient will enjoy making. It'll make a fine gift for anyone who appreciates diversity in their alcohol.
Silver Crescent Necklace
For many romantic souls, there's not many things that represent romance more than the moon. "I'll bring you the moon," used to be a very effective line before Hollywood made it an overused cliche.
The line is, alas, dead but the essence of it is usable. A crescent shape has a unique look to it that some people find fashionable in jewelry. This crescent necklace will make a fine gift for any woman, especially someone from New Orleans. Their literature is full of lore about spells and crescent shaped objects used in rituals.
New Orleans-opoly
Monopoly is good fun and all but you can only play it for so many times before, as with every other thing in life, it gets boring. Here's a brand new board game for New Orleans loving Monopoly players out there, New Orleans-opoly.
All you need is two people to play the game and it can hold upto six players, which makes it ideal for having a fun time with friends and family. Also, real places from the city are represented which helps with brushing up your New Orleans geography.
New Orleans Roast Coffee Bundle
No city in the U.S has a more prominent coffee culture than New Orleans. Being the biggest international port in the country for centuries it has been, and still remains, a major importer of coffee. They have a rich coffee culture.
During the civil war the French New Orleans used chicory roots to bolster coffee supplies and chicory roasted coffee remains popular to this day. This bundle of Cafe Du Monde coffee and chicory is an ideal gift for anyone who enjoys a delicious cup exotic coffee blend. It's perfect for Coffee lovers.
New Orleans Jazz Themed Oven Mitt
Recipients generally prefer practical things they can put to use. Except in certain situations, such as a gift for a romantic partner early on in a relationship (Where gifts tend to be more expressive), you should always pick a gift that's of some utility to your recipient.
This cool Jazz themed oven mitt will make a fine gift for anyone from New Orleans who owns an oven. It's pretty versatile and likeable.
Pesonalized Saints Whiskey Set
The New Orleans Saints haven't been the most successful of the NFL teams yet they have no shortage of diehard fans in The Big Easy. Everyone loves an underdog after all, especially if they represent the city you love.
If your recipient is someone who loves football and is a fan of the Saints this will make a classy gift for them. For people who enjoy a good drink, whiskey sets make great gifts.
New Orleans Themed Coffee Mug
You don't have to spend countless hours looking for the perfect gift for every recipient on your list. Life is short and you should spend your precious time on things that matter more. A simple yet thoughtful gift will suffice.
If you are looking for a cool gift for a friend from New Orleans, this coffee mug with a creative design will make a fine gift. Everyone needs a mug after all and they won't mind owning a beautiful one that reminds them of their city.
New Orleans Shot Glasses
When it's time for a fun drinking game, what's better for a bunch of New Orleaneans than to drink out of some cool New Orleans themed shot glasses.
A gift like this is useful and feels personal since you base the choice on something they love―their beloved city. It's a creative gift idea that anyone who's a fan of drinking games or vodka will enjoy. These also make great souvenirs if you want to bring something back to gift to friends after a visit to the city.
New Orleans Cookbook
For those who enjoy experimenting with new recipes and food, cookbooks can make for charming gifts. They're not for everyone though. Don't give your mother a cookbook for mother's day, even if she cooks like a goddess. She'll buy it if she wants to.
If you know your recipient to be someone who enjoys exploring new food and even cooking exotic stuff themself a recipe book they haven't likely come across but will find interesting to try out will make a fine gift.
The food of New Orleans is very diverse, borrowing from different cultures and rich in variety. The best of New Orleans Cookbook brings you fifty authentic recipes the city is known for. It's a good book for anyone who wants to learn the New Orleans cooking style.
New Orleans Saints Throw Blankets
Blankets, for centuries, have been used as gifts in various cultures. In some native tribes they are considered to be gestures of wishing good fortune for the recipient. I don't know about the fortune part but blankets do make good gifts because they're useful and as long as you target them to the right recipient and consider their interests, you'll impress them.
This New Orleans Saints themed throw blanket will make a fine gift for any fan of the team. It's well designed and of good quality. It'll also a be fine idea for a housewarming gift for a Saints fan.
New Orleans Jazz Skeleton Mug
Jazz is a big part of the culture in New Orleans. And according to some, it is "America's only original art form." I'm not so sure about that but I can say that is one of the best music genres to have originated in the country.
If your recipient is from New Orleans and loves Jazz they'll find this mug, with a graphic of skeletons playing Jazz on it, a very charming and fun gift. It looks really cool and is ideal for people who have a dark, grim sense of humor.
New Orleans Saints Grill Set
If you're trying to find the perfect gift for a guy who loves hanging out with his pals in the backyard while cooking mean barbeque and who also happens to be a giant New Orleans Saints fan, this is it.
This classic three piece grill set with a stylish Saints logo on it is something they'll be glad to get. It's practical and helps express their love and support for the team. Perfect gift for a boyfriend or husband who loves the Saints.
New Orleans Voudou Priestess
A book can make a good gift for the right recipient. You should only gift books to someone who enjoys reading and not your average person who reads a couple of books a year. Also, the book itself needs to be well targeted to their interest.
The New Orleans Voudou Priestess is about the famous Marie Leveau. While you might have heard legends about this Voudou icon, this well researched book separates facts from fiction.
If your recipient is interested in this subject they'll have a good time reading this.
New Orleans Skyline Whiskey Glass
You shouldn't try to find the most unique gifts for your recipients. Stuff that reflects their general interests is more likely to hit the mark. Still, if you want your gift to be more "giftlike" pick something that is unique yet is practical enough for them to put to use.
This whiskey glass with the New Orleans skyline printed on it will make a cool gift for anyone who enjoys their occasional drink.
Jazz Themed New Orleans Ashtray
If your recipient is a human chimney whom you'll rarely find without a cigarette or joint in their mouth, gifting them a cool ashtray is a good idea.
Regardless of your opinion about their vices, they need ashtrays. Even if they have one or a couple already, more are always welcome. After all, no stoner likes getting up a lot once they're high.
Drowned City - Story About Hurricane Katrina
We're drawn to learning about historical events, whether good or bad, because they're part of our development as a species. Sharing stories with each other is our way to, in a way, warn others about the things that could happen so they're prepared to deal with them. This sharing of stories has been an essential tool to our survival.
Drowned City is the story of New Orleans facing a deadly hurricane. It's about death, survival, courage and even racism. A fascinating read for anyone who is interested in such topics. If your recipient is someone who loves reading about history they'll like this book.
Saints Leather Wallet
Some gift ideas never go out of fashion. A good quality, well designed wallet always makes for a classy gift. Wallets are practical, after all. All men need them. And coming from a beloved girlfriend or wife they feel very endearing for a traditional guy.
This Saints themed leather wallet will make a fine gift for any guy who is a fan of the New Orleans Saints.
Made in Orleans Scented Candle
A question gifters wonder is if candles make good gifts. It's a tricky one to answer. Generally, they do because, unlike stuff like coffee mugs and t-shirts with cliche quotes on them which you can end up with too many than you can use, candles are finite and when you use one you need another to replace it.
You have to keep in mind that only people who are already in the habit of using them will be glad to get them as gifts. Overall, scented candles are the best to give since the pleasant aromas will enhance their mood and give them a somewhat soothing experience.
This Made in Orleans candle will make a charming gift for any person who enjoys a candle with a good scent.
New Orleans Saints Speaker
The city of New Orleans is known for its impromptu street performances. It's a way for struggling artists to let their music be heard. The experience of spontaneously coming across a passionate street musician performing their craft and witnessing raw, unfiltered passion is a unique one. You should visit New Orleans and just roam around the streets if you want that experience.
Most people can't afford to spend all their time on the city's streets to enjoy the music so for someone who loves the city this Saints themed bluetooth speaker is a good alternative. It will make a fine gift for a music lover who is also a fan of the New Orleans Saints.
Wood Map of New Orleans
Maps are more than just lines drawn on a piece of paper. They represent the very identity of a place. Which is why they have such a significance for people proud of the place they belong to.
This beautiful wooden New Olreans map is a perfect gift idea for someone who loves the city. It'll make a fine fifth anniversary gift for a spouse who is from New Orleans.
Very New Orleans Book
Some people enjoy learning about cultures that are foriegn to them. Reading about diverse cultures around the globe gives us perspective on how circumstances lead to differences in cultures and traditions based on where you are in the world and your geography.
Very New Orleans: A Celebration of History, Culture and Cajun Country covers all the essentials of the New Orleans way of life. If your recipient enjoys reading books and is interested in the city's culture this book will make a charming gift for them.
New Orleans Map Coasters
Nature creates and it destroys. That is true for everything in life and it's true for watermarks damaging wooden furniture. The point being, coasters are useful and the creative ones make for nice presents to the right recipient.
These stunning wooden coasters with the New Orleans map engraved on it are perfect for anyone who loves the city. You can tag them along with the whiskey glass listed above for additional impact.
Book About New Orleans' Architecture
I'm not a big fan of focusing on efficiency in design when it comes to architecture. Sure, you save space and modernize the building to keep up with the time but ignoring the aesthetics make the buildings look boring and even depressing. As humans we've evolved to live around the beautiful architecture of nature with colors, curves and imperfections that make us feel a sense of calm. We've not evolved to spend our time in lifeless boxes that feel more like cages.
What I love about New Orleans more than anything is the old school buildings with beautiful architecture that takes you back in time. This book covers all aspects of it and gives you insights into the development of the style.
This will make a fine book for architects, whether aspiring or professional and even for people who just enjoy learning about architecture.
Saints Themed Steering Wheel Cover
A good way to find an ideal gift for someone is to consider their interests. Giving them something that reflects their personal interests increases the chances of them liking your gift.
If your recipient loves cars or racing and enjoys customising the look of their cars, they'll be thrilled to get this beautiful New Orleans Saints design wheel cover.