27 Kickass Captain America Gifts for Fans
This gift guide will show you the best Captain America gifts for your recipient. Find the most creative gifts for Steve Roger fans.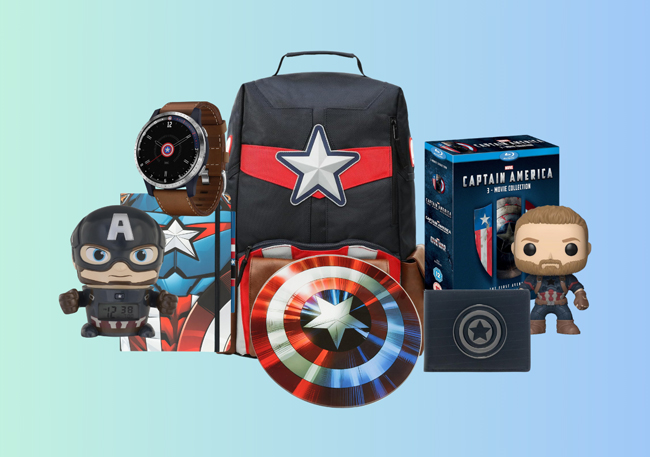 Genius and witty Iron Man may be the coolest Avenger, Hulk may be the strongest (Although Thor would argue otherwise), but the most heroic of them all and the one who inspires courage in everyone, is Captain America. The skinny, weak underdog who was given a chance to prove himself and made the best of it. Steve Rogers is an inspiration to all. Being the leader of the Avengers is no easy feat. After all you have to be the best when the survival of the entire world, and sometimes the universe, depends on you.
His fans deserve only the best and so I bring you a list of the best Captain America gifts you can find online. You'll find a variety of gift ideas for all kinds of recipients. Pick one that suits their style.
Captain America Infinity War Collectible Figure
I like Cap's new look. The 1940s style wasn't working for him. I miss the shield, though. Captain America feels incomplete without his iconic shield. Fans might own a collectible figure of the old Captain America already, but they will love to add this Infinity War collectible to their collection.
It's a small, simple and likable gift. Any fan of Steve Rogers will appreciate it.
Captain America Themed Wallet
Who wouldn't want to own a Captain America themed wallet? Maybe hard core Iron Man fans & Hydra supporters won't want one, but for everyone else, this wallet will make a great addition to their wallet collection.
On the days when they're feeling extra patriotic and heroic, they could carry this with them. It's minimalistic, great quality and comes with the shield embossed. I wonder if the captain carries this in the Marvel universe.
Captain America T-shirt
I'm sure Chris Evans wears this at home. T-shirts make good gifts because they're practical and no one minds getting stylish, well designed new clothes as gifts.
This t-shirt with the Captain America shield logo looks so cool that even non fans would want it. If you get the size right you can't go wrong with this. If you don't mind risking being a little lame you can write a note saying "You can wear this all day." A fan will get this joke, I promise.
Captain America Wall Art
An inspiring wall art that will please any true fans of the first avenger. It's well designed and the print is high quality. It also comes in a variety of sizes, so you can buy one that is appropriate for you and your recipient.
If you think your recipient is someone who would want to put up a classy poster of their favorite superhero on their wall, give them this one.
Captain America Controller Stand
If your recipient is a gamer and owns a console, this will make a perfect gift for them. This Captain America controller stand is useful for any gamer to have.
It's funny and charming. Any gamer who's a fan of Steve Rogers would be thrilled to own this. If they're a streamer or make YouTube videos they could use this as a decor item in the background to add aesthetic appeal to their content.
Captain America Shield Cutting Board
This is how the avengers cut their vegetables, kids. Yes, they eat them. Veggies are good for you. When Tony had the shield after Civil War he used it to make breakfast for Pepper and his daughter. In case your recipient is a dad or mom or anyone who works in a kitchen, this will make a fun gift. Who wouldn't like to make salad avenger style?
Tell them not to use this to deflect bullets if burglars break into their house. This doesn't work like the real thing. The only way it will be useful is if the burglars are Captain America fans too and respecting your mutual admiration for the first avenger they leave you alone.
Captain America Backpack
This Captain America themed utility backpack is practical, good quality and has a vintage look that is perfect for fans of a superhero who's from different times. Also, the rumor has it that Nick Fury has one of these backpacks. It's his favorite one. It even has a compartment for his spare eyepatch.
I wouldn't recommend this gift for anyone over twenty five, unless they're geeks with a geeky job and proud of it (For them it will be perfect). You can give this to school & college students, scientists, gamers, and aspiring startup founders.
Captain America Coffee Maker
The standard coffee maker works just fine for most people. It does its job, which is to make coffee, but for fans of the first avenger, the usual coffee makers fall short because they don't reflect their love for their favorite superhero.
This Captain America coffee maker will make a fine gift for any fan who is also a caffeine drinker. It looks great and does a fine job of making delicious coffee.
Captain America 3 Movie Collection
Streaming services have allowed us to access our favorite movies with ease. You no longer have to order the disks for every film you want to watch or rent them from a store. It's way more convenient to just subscribe to a streaming platform and watch all the movies you want. It can be a bummer though, to have to pay for a subscription to just watch one or two films on the platform.
It's good to own Blu-rays of your favorite movies so you can watch them any time your heart desires. This Blu-ray collection includes all the solo films in the series. It's a cool gift idea for film buffs who love Captain America.
Captain America Armor T-shirt
If there's a list of coolest looking superhero t-shirts out there, this Captain America sports t-shirt will top the list. It'll make an impressive gift for any fan. Although, you need to have a fit body, some muscles to fill up the sleeves and ideally some abs to pull off a t-shirt like this. It won't suit a person rocking a Dad bod.
If your recipient is in good shape and doesn't mind wearing tight fitting clothes, this is a gift for them.
Captain America Mini Bluetooth Speaker
Recipients, especially men, tend to prefer getting cool gadgets as gifts. It makes sense. Gadgets are useful and fun and everyone likes to buy the latest ones for themselves. They're like toys but for adults.
This mini bluetooth speaker that looks like a grumpy Captain America will make a cool gift for any fan. It's small enough to carry in your pocket and the sound quality and loudness is decent for its size.
Captain America Themed Alarm Clock
Captain America Themed Alarm ClockBulb Botz Avengers: Infinity War Captain America Night Light Marvel Alarm Clock - Amazon.com VIEW ON AMAZON Alarm clocks may seem obsolete now since everyone who owns a smartphone has an alarm feature in-built, but it's still useful to own one. Having a dedicated device that only does a specific job is better than using a multipurpose one. They're more reliable and you can avoid the distractions that come with smartphones.
This Captain America themed alarm clock is perfect for any fan who is in the habit of hitting the snooze button by instinct. Also, it helps to have an avenger wake you up in the morning.
Captain America Water Bottle
Everyone knows that drinking enough water is good for them, but most of us ignore it. For a true fan, owning a cool Captain America themed water bottle may be the thing they need to motivate them to drink more water.
This stylish bottle with the iconic Vibranium shield logo is insulated, made of stainless steel and comes with a folding metal handle. It's high quality and durable, just like the Captain.
Captain America Keychain
If you're trying to find a simple yet effective gift that will delight your recipient, this Captain America keychain is a good choice. Either they will use it like a regular keychain and put some keys in it or store it as a collectible.
If your recipient is someone who collects superhero merchandise, they'll be pleased to add this to their collection.
Captain America Themed Premium Smartwatch
As far as effective gifts go, you can never go wrong with giving them a stylish, good quality watch. This First Avenger smartwatch will be a perfect gift for any guy who loves Captain America.
The trick to picking a watch your recipient will be satisfied with is to consider their sense of style. Do they like minimalist designs? Do they wear bright colors or prefer muted ones? Pay attention to things they wear to get clues.
It comes with smart features such as fitness tracking, notifications and even contactless payment options. It's pretty expensive, though. Ideal to give to a boyfriend, husband or someone very special to you.
Captain America Shield Replica
As of now science hasn't made much progress to get us a superhero serum nor an indestructible vibranium shield. Until that happens, all those who dream of becoming a super soldier will have to wait. They can, though, have the little pleasures in life, such as this premium Captain America shield replica.
It's full scale, high quality and comes with adjustable straps so the user can wear it like the Captain does. It'll make a cool gift for any fan who enjoys roleplaying or just collecting cool superhero stuff.
Chris Evans Signed Display Print
This Chris Evans signed display is just a print. I'm sure if you try, you'll find authentic ones online, but they'll cost you much more and will likely be fakes.
This display does look cool though. It's a high quality print that comes with a silver name plaque and, overall, aesthetically pleasing (Which recipients like). Any Captain America fan will appreciate getting this as a gift.
Captain America Comics T-shirt
The Rollings Stones magazine is considered by music lovers as a reliable source of information on the artform and its developments. They cover musicians all over the western world and feature stories that both aspiring musicians and audiophiles enjoy. The magazine is known for publishing the collection of their choice of top songs in a ranked list.
This book is the second installment of the Top 500 Greatest Songs of All Time - Guitar Classics series. It covers sixty seven classic rock and modern rock tracks. It's meant for experienced tab players though. Don't give this book to beginners. If your recipient is someone who has been playing the guitar for a while and is interested in the classic rock or modern rock genre, they'll like this present.
Marvel Captain America Blaster Reveal Shield
If your recipient is an age that is well below the legal requirement of driving, then this Captain America blaster reveal shield is an appropriate gift for them. You can also give this to a fan who is a man-child who loves playing pretend with his other man-child friends.
The shield comes equipped with two nerf darts and a push button that reveals the blaster. A fun gift that any young fan would be delighted to get.
Captain America Night Lamp
Proper lighting can do wonders for indoor aesthetics. You have to pick the lights that are appropriate for the color and size of the room you're putting them in. Night lamps are useful when all the primary lights are off but you still need a faint light that illuminates enough for you to reach things.
This Captain America night lamp is perfect for a fan of the super soldier. It's attractive, multicolored and durable.
Captain America Shield Coaster Set
Captain's indestructible Vibranium shield protects him from any attack from the enemies. It can deflect bullets, Iron Man's repulsors and even Thor's hammer.
These coasters inspired by the same shield will protect your recipient's furniture. They're practical, look classy and any fan of the first avenger will be glad to use them.
Captain America Notebook
If your recipient loves Captain America and is also an aspiring writer who loves to note down ideas for comic books or movies, they'll be pleased to get this premium hardcover journal as a gift.
It comes with the iconic shield printed on the cover with some comic graphics inside. You can also give this to a student who's a fan.
Captain America Comic Wall Art
Comic books didn't have the same perception as they do now. Adults who were into comics were considered losers who don't get laid. Things have changed. Thanks to the popularity of comic book movies by Marvel and DC, there's no more shame in being interested in reading comics or watching superhero movies as an adult. It's cool now as long as you're not obsessed and have other things going for you.
This Captain America comic wall art is perfect for a nerdy recipient who isn't shy of showing off their love for comic books.
Captain America Shield Pin
This Captain America shield pin is ideal for hardcore fans who don't mind showing off their devotion to their favorite superhero. You can also give it to fans who enjoy collecting comic merchandise.
This is a limited edition pin which, if preserved in mint condition, may turn out to be a valuable item.
Captain America Mask
If your recipient is into cosplays or intends to go as Captain America on Halloween, this helmet will help them complete their costume. And while it won't do much to protect their heads if they decide to get into a fight with some supervillain, it does look kickass.
This helmet is pretty realistic and good quality. It'll fit any person with an average sized head. Don't give this to someone with a freakishly large head. It won't fit them.
Zombie Captain America Headphone Stand
In an episode of What If…? series, most of the avengers turn into zombies, thanks to Hank Pym bringing back his zombie virus infected wife from the quantum realm. The virus even gets Captain America, who looks pretty good even as a living corpse.
This headphone stand is inspired from the show and looks pretty cool. If your recipient isn't the kind of person who'd get upset over the sight of their favorite avenger being a zombie, this'll make a fine gift for them.
Captain America Smartwatch Band
This is a pretty stylish Captain America themed smartwatch band, but it won't please your recipient if they don't own a smartwatch to put in it. It may seem obvious but just make sure they own an Apple watch before you buy this for them.
This band is officially licensed by Disney. It's good quality, sweat and UV-resistant and comes with a downloadable watch face collection. They'll be glad to get a pleasant upgrade.