18 Kickass Gifts for Bruce Lee Fans
Cool gifts ideas for the fans of the little dragon. The best gifts any Bruce Lee fan would enjoy. We made a collection of the best gifts for Bruce Lee fans. Everything from action figures to nun chuck pens.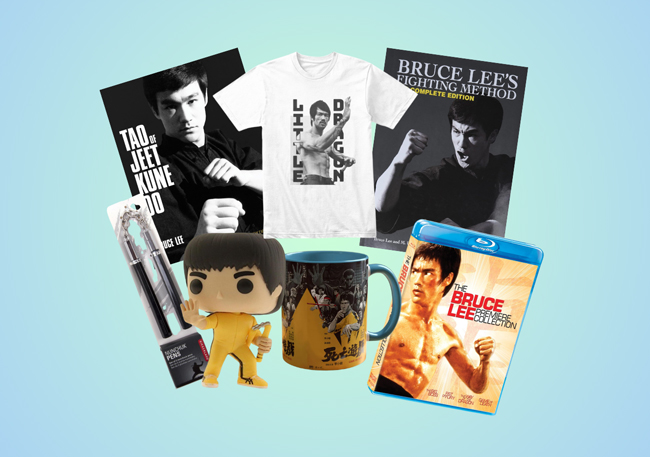 Some of you may know Bruce Lee as an film-star and as a martial artist but he was a lot more things than that. He was a writer, film-maker, founder of Jeet Kune Do and a philosopher.
Some people aspire to change the world and influence it in a meaningful way. He achieved that. Through his work, his films, martial arts. He has influenced our culture in ways most people can't even imagine to.
There is no shortage of Bruce Lee fans in the world. Even decades after his demise millions of people still admire him.
Following is a list of the best gift ideas for a fan of the little dragon. Pick the one you think most suits your recipient.
Horribly Inaccurate Bruce Lee Quotes T-shirt
Recipients like gifts which provide ownership value. Which is why they prefer practical gifts they can put to use rather than highly specific or unique gifts.
A cool t-shirt with a funny message is loved by recipients because as long as you pick a t-shirt not too disconnected from their style they won't mind having an extra piece of clothing for them to wear.
This inaccurate Bruce Lee Quote t-shirt is not made up real quotes by him but false, exaggerated ones. Which is what makes it funny.
Be Like Water Poster
"Be Like Water" is perhaps the most famous quote by Bruce Lee. He said it in his Piere Burten interview and people today still try to find inspiration from it.
Writers and philosophers observe the world and try to find meaning from it. Then they share it with the world. An element that is essential to life and which we interact with and we can turn its properties into a metaphor to learn about life.
Like water we should be flexible and adaptable. Like water we must slip through the cracks and obstacles and continue. We must take the shape of the container, change to survive in our surroundings.
A true fan of Bruce Lee's philosophy would appreciate this gift.
Tao of Jeet Kune Do
How much wisdom can someone fit in a single book? Read this book and you'll find out.
This book is the philosophy of the martial arts Bruce Lee invented, Jeet Kune Do. It's full of gathered chuck sized bits that Bruce tries to make practical for combat and even life in general.
A real fan of the little dragon should own this book. A cool gift idea for those who don't mind reading a book.
Bruce Lee Iron Man T-shirt
Every fan of the little dragon lost their minds when Tony Stark wore a t-shirt with DJ Bruce Lee graphic on it in the film Avengers: Age of Ultron. Even Iron Man loves the guy.
If your recipient is a fan of Iron Man and Bruce Lee this will make an awesome gift for them.
Bruce Lee's Fighting Method Book
Want to learn how to kick ass like Bruce Lee? This book can help.
Fighting Methods by Bruce Lee will teach you everything you need to know to defend yourself against various threats. Our ability to protect ourselves and our loved ones against dangers we might face in our lives affects how confidently we navigate it. Everyone should learn how to defend themselves.
Bruce Lee wasn't into tradition martial arts. This book is a practical manual of useful fighting techniques. Defense from armed and unarmed assailants to counter for locks and chokes.
This is the complete edition and all four books are joined together. Will make a great gift for anyone interested in learning combat arts.
Bruce Lee Card Game
A fun card game for any admirer of Bruce Lee to play with fellow fans. Card & Board Games can make great gifts if they match with the recipient's interests.
It comes with miniatures and overall is a good way to past time. Ideal for any nerdy fan of the legend.
The Bruce Lee Premiere Collection
Sometimes you just want to sit back and have a movie marathon of Bruce Lee films with your pals. Netflix and other services are great but it takes effort to find out which platforms has the film you are looking for. And sometimes these platforms don't host old films.
If your recipient owns a disk player they'll find this Blu-ray collection very handy. They'll be able to watch their favorite Bruce Lee films anytime they want.
A true fan would want to own all of Bruce Lee movies. This will make a fine gift.
MMA Gloves
Bruce Lee was many things. Filmmaker, writer, actor, philosopher. But most of all he was a fighter. He invented his own form of martial arts that is said to be the foundation of modern day MMA.
If your recipient is also interested in combat sports themselves, this will make a very practical and impressive gift for them.
Bruce Lee Car Air Freshner
Bruce Lee's most famous quote is a metaphor about water and its form. "Be like water. Water is shapeless and formless." he said. I think it applies to air too. Air is also shapeless after all.
Anyway, I think a cool looking air freshener tag like this should be a welcomed by any recipient who is a fan. It's simple yet unique in a way.
I Am Bruce Lee Movie
An average Bruce Lee fan likes him for his kickass action films and cool martial arts moves. Someone who has learned about his life and struggles likes him because they can relate.
I am Bruce Lee is a biography of the legend. Narrated by many people who either knew him and worked with him or those who are inspired by him at some points in their lives.
This film wasn't too mainstream so chances are your recipient hasn't watched it. They'll appreciate this gift.
Bruce Lee Print
Sometimes it's just better to go for simple gifts that your recipients can enjoy. You don't have to put too much thought in every gift you give. Recipients don't think about the efforts and thoughts the givers put into the gift unless they're made aware of it.
This simple and classic poster of Bruce Lee will suffice for a casual friend you want to find a gift for.
Bruce Lee Funko Vinyl Figure
If your recipient is a little dude who admires Bruce Lee they'll enjoy this vinyl figure of the Game of Death Bruce with nun-chucks.
Game of Death was his last movie. He died before he could finish it. Many modern films have been inspired from this one. Even Quintin Tarantino's Kill Bill pays homage to a scene.
This will make a fine gift for a collector.
Bruce Lee T-shirt
Clothes are one of the most popular gifts in America. And for a good reason. Everyone likes new clothes and they can't have enough of them.
A fan of the Bruce Lee would love to own a stylish looking t-shirt like this. The picture is from an iconic scene from Enter the Dragon.
Be Like Water Tote Bag
At face value it doesn't seem like a tote bag would be a desirable gift for anyone. But recipients prefer gifts that are general, feasible and reflect their personal interests.
This well designed tote bag is practical and will suit any stylish admirer of Bruce Lee.
Bruce Lee Poster
We sometimes need a little push to get moving. To start with the tasks that we don't want to. To begin a project we have been willing to start for a long time but never did.
The true words of wisdom on this poster act as reminders for us to take that action. To apply rather than just knowing to do rather than just willing.
Gift this to a Bruce Lee fan who needs a little motivation in life. Maybe it'll help.
The Bruce Lee Society
If you don't know how popular Bruce Lee was in his time you need to know that long before reddit forums, fans of the film star has their own community in the UK. They relied on each other for source of information on the Enter the Dragon Star.
This book is about The Bruce Lee Society which operated for seven years during the 70's and 80's. A fascinating read for any fan of the star.
Enter the Dragon (40th Anniversary Edition)
This is a phenomenal film. I can't help but admire the skills of Bruce Lee as a filmmaker who could work with less budgets and still make good quality, box office hits.
He revolutionized action film-making as it was then. It's unfortunate that we'll not see any more of his films.
This Blue-ray, 40th anniversary edition is a cool gift idea for a fan who loves Bruce Lee films and wouldn't mind adding this to their collection.
Nunchuck Pens
When Bruce Lee first came upon this weapon, he wasn't at all impressed. He thought nun chucks were useless and a waste of his time. Then he started playing around with them and after three months of practice he was swinging it like he had been practicing for years.
He popularized nun chucks in America through his action films and now they are associated with him. These nun chuck themed pens are awesome. A fan would love this gift idea.