10 Ideal Aviation Gifts for Aspiring & Professional Pilots
A collection of gift ideas for pilots and those who love to fly. A ranked list of aviation themed gifts that pilots will love.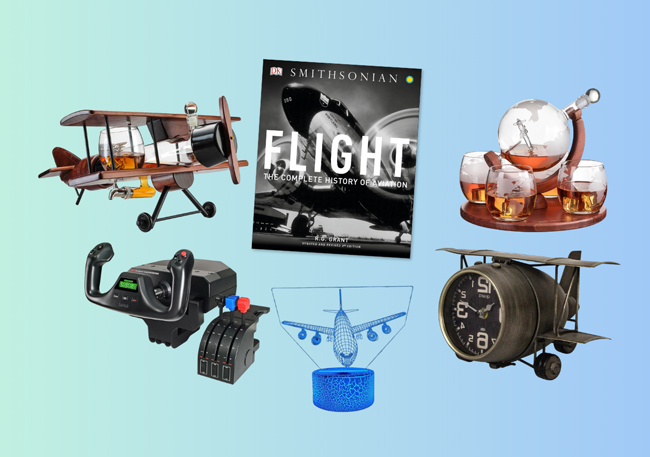 " Once you have tasted flight, you will forever walk the earth with your eyes turned skyward, for there you have been, and there you will always long to return. "
Most animal species we share out planet with have some strengths that give them an advantage and have flaws that limit them. Most natural creatures are dependent on their environments and rely on them.
Us humans have seem to surmount some of these limits and we're still not done. We invented ships and crossed the oceans, we invented airplanes so we could fly and we even figured out to get out of our atmosphere and walk on the moon.
I'm sure even in prehistoric times people looked at the birds and had a desire to fly. After all there is no shortage of deities and mythological figures who could fly like birds. Zeus could turn into an eagle and fly away to wherever he pleased.
Today people who dream of flying in the skies don't need magical fantasies. It is a reality. This human achievement is an amazing thing that we take for granted. Pilots end up with the job because of their love for flying. They spend their life in the skies because they feel like they belong there. The mundane lands just don't seem do it for them.
Following is a list of some impressive gift ideas for people who love flying. This includes aspiring and professional pilots and even those who do it for fun. Pick one that suits your recipient.
1.
Flight Simulator
I love racing and if I could I'd do it all. That's not realistic though. I can't go to the track every day and burning all that fuel is bad for environment. I do own a driving simulator and it's fun. With it I can have some enjoyable racing experience and keep my skills sharp.
This flight simulator is a great gift for anyone who loves to fly. With this they can have the flying experience whenever they desire.
2.
Plane Whiskey Decanter
Recipients prefer gifts that they can use and reflect their personal interests. Whenever you're trying to pick up a gift for anyone take that in consideration.
This antique plane shaped whiskey decanter will make a fine gift for any pilot who has class. If they enjoy their whiskey once in a while they'll find this useful.
3.
Airplane Journal
Things like journals and books aren't ideal gifts for everyone. For someone who doesn't like writing or prefer using laptops they won't mean much since they don't add much value to their life.
If your recipient is a pilot who enjoys writing or keeps a journal this airplane themed diary will make a great gift that'll delight them.
4.
Airplane Bookends
Not many people read book but everyone owns them. Having some books in the house makes you look smart. For some people books are just décor items.
For someone who doesn't enjoy reading this airplane bookends set, while still useful as a decorative piece, won't make an impressive gift since it doesn't connect to their real interests. But if your recipient likes to read they'll appreciate it.
5.
Mens Pilot Bracelet
Here's a suggestion for women to keep in mind when picking jewelry for men: pick something that looks at least somewhat masculine. While I believe that gender is a spectrum and there are men who dress more flamboyant than others, it doesn't apply to most men.
This airplane themed bracelet looks cool and if your recipient is a pilot with a good fashion sense they'll be impressed.
6.
Aircraft Propeller Wall Clock
Some people like minimalistic, modern designs and others prefer old fashioned, antique looking stuff.
When picking a gift you should consider your recipient's tastes. You can figure it out by observing their preferences in the things they own.
This aircraft propeller clock is styled after old planes. If your recipient likes old school stuff, they'll love this gift.
7.
Airplane Pilot Decanter
This is the second decanter in the list. Maybe it's just my bias because I like whiskey but also because decanters make impressive gifts.
This one is more classy and old fashioned than the other one. If your recipient is a retired pilot or is at least middle aged this will make a fine gift for them.
8.
Flight - A Complete History of Aviation
Passion drives curiosity. When you're passionate about something you are drawn towards learning it.
This book is about the history of aviation. From the very begining to the modern develpments, it has everything a pilot will find fascinating to learn. It's full of beautiful pictures of all kinds of planes. What true pilot wouldn't love that?
If your recipient is a history buff or likes reading this will make a awesome gift.
9.
Airplane Night Light
People like to decorate their houses with things that reflect their intrests. You'll find movie related things all over a film buff's place.
For a pilot who flies one for a living, an airplane night light will naturally find a place in their home.
If your recipient is someone who's proud of their work as a pilot they'll find this flattering and useful.
10.
Lessons From The Sky
We are born, we live, we learn and we share. Us humans have dominated the planet because of our ability to learn about our environment and share our knowledge with others. No one starts from scratch. First we learn from those who have achieved what we want to achieve while adding to the compendium of knowledge ourselves in the process.
This book is full of stories about pilots and their experiences. If your recipient likes to read they'll enjoy the lessons this book has to offer.