29 Creative Gifts for Classical Music Lovers
Discover the best gifts for classical music lovers with this gift guide. Find the ideal present to celebrate their passion for classical music and make their day truly special.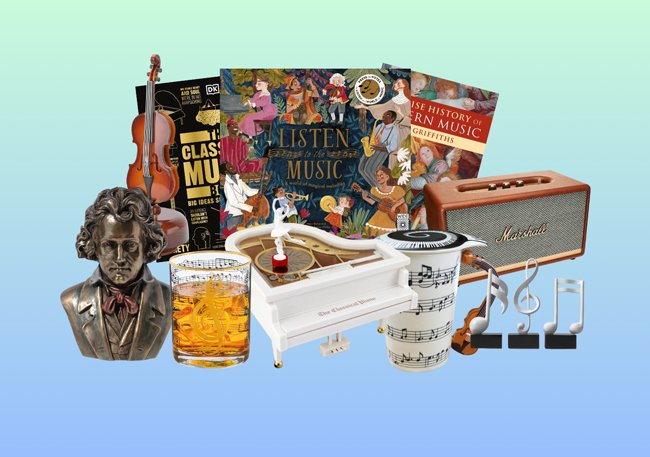 People of all ages love classical music for its timeless charm. Its appeal extends to those who seek intellectual stimulation and appreciate the intricacies of complex compositions. Classical music resonates with individuals who are moved, introspective, and deeply stirred by music that touches their souls. They see classical music as the epitome of artistic expression, drawing them in with its beauty and sophistication.
But classical music offers more than just enjoyment. It has tangible benefits for our well-being. Listening to classical compositions helps us relax, reduce stress, and find inner calm. 1 Research shows that classical music improves cognitive functioning, enhancing attention, memory, and spatial reasoning skills. 2
If you have a friend or family member who appreciates the depth and complexity of classical music, this gift-guide is for you. In this post, you'll find a curated selection of gift ideas for classical music lovers. Whether you're searching for a present for a concert enthusiast, an aspiring musician, or someone who simply appreciates the beauty of this genre, you'll find the best gifts for your recipient.
Violin Music Box
When it comes to choosing the perfect gift, quality plays a significant role in making it memorable and appreciated. This violin music box, with its exquisite craftsmanship and precise mechanical movement, checks all the boxes for being an exceptional gift for classical music lovers.. It's ade with high-quality materials and offers a delightful musical experience. Also, the compact and portable size of the music box makes it versatile and convenient. It can be easily displayed as a decorative piece.
The music box's clockwork design adds an element of charm and nostalgia. If your recipient is old school, they'll appreciate the traditional aspect of winding up the mechanical spring to activate the music.
The Classical Music Book
This comprehensive guide takes readers on a journey through the history, composers, and iconic compositions of classical music. From the works of Bach and Mozart to Beethoven and beyond, it offers insights into the evolution of this art form. With detailed profiles, captivating anecdotes, and stunning illustrations, this book brings the magic of classical music to life.
It's an ideal gift for music lovers who want to have a deeper understanding of the genre, providing them with knowledge and appreciation for the masterpieces that have shaped it.
Music Note Decor
Decor items can make excellent gifts, depending on the recipient's taste and preferences. They can be chosen to align with the recipient's personal style, interests, or the aesthetic of their living space. Tailoring the gift to their tastes shows thoughtfulness and consideration. Decor items come in various forms and styles, offering a wide range of options to suit different preferences and purposes.
It's important to keep the recipient's taste, lifestyle, and preferences in mind when selecting decor items as gifts. Taking into account their existing decor, color schemes, and personal style will help ensure that the gift is well-received and appreciated.
This music note decor statue set is an ideal gift for a classical music lover. It's made from high-quality polyresin,and is meticulously crafted with attention to detail, showcasing the artistry and elegance associated with classical music. The gift comes packaged in a printed box, making it ready for gift-giving on special occasions. It is a thoughtful gesture that shows an understanding of the recipient's passion for classical music. Every time they see the statues, they will be reminded of the gift and the memories associated with it.
Marshall Speaker
Marshall speakers are known for their combination of stylish design, exceptional sound quality and durability. The Marshall Stanmore II speaker will help your recipient to immerse themselves with symphonies of Beethoven, Mozart, and other classical masters. This premium audio device delivers high-quality sound that faithfully reproduces the nuances of classical compositions.
It's a fantastic gift for classical music lovers who crave a superior listening experience. Whether they're enjoying solo piano concertos or epic symphonies, this speaker will fill their space with music that resonates deep within their souls.
Classical Music Themed Whiskey Glass
Pick a gift that combines your recipient's multiple interests and you'll be more likely to hit the mark. If your recipient is a whiskey guy or gal, they'll appreciate getting this beautiful music themed glass as a gift. This elegant glassware is adorned with musical motifs, such as sheet music or treble clefs, adding a sophisticated touch to any drink. Comes with a box and gift card. You can write your warm blessings on it to make this present more meaningful and special.
It's the perfect gift for classical music lovers who appreciate both the beauty of music and the indulgence of fine spirits. Whether sipping on their favorite whiskey or enjoying a relaxing evening with a classical playlist, this glass will enhance their experience and serve as a delightful conversation starter.
Film Music Cinematic Orchestra
Film music holds a special place in the hearts of classical music lovers. It combines the power of storytelling with the emotive qualities of music, creating a profound and memorable experience. This collection not only showcases the artistry of renowned composers but also allows the recipient to relive the magic of these beloved films. It features iconic soundtracks of timeless cinematic masterpieces like "Once Upon a Time in America," "Il Padrino" (The Godfather), and "The Mission." This exquisite gift features a compilation of beautifully composed and orchestrated music that has captivated audiences for decades.
By selecting this collection, you are acknowledging the recipient's passion for classical music and their appreciation for the art of storytelling. It demonstrates your thoughtfulness in choosing a gift that aligns with their interests and provides an opportunity for them to indulge in the beauty of film music. Ideal for movie buffs.
Piano Music Box
As you search for a special gift for a classical music lover, consider this piano music box. This enchanting music box combines elegance, nostalgia, and a touch of whimsy. One of the reasons why this music box stands out is its unique mechanical design. As the cover is closed, a charming ballerina girl gracefully dances on top of the piano, creating a captivating visual display. The music box is accompanied by two beautiful songs, "City of Sky" and "Fur Elise." It requires no batteries, as it operates on mechanical movement.
This mechanical music box is not only a thoughtful and sentimental gift but also a keepsake that can be cherished for years to come. Its unique design, melodic tunes, and sentimental value make it a perfect choice for anyone who appreciates the beauty and elegance of classical music.
Treble Clef Themed Necklace
Necklaces make good gifts for many reasons. They are versatile accessories that effortlessly enhance any outfit. With their sentimental value, they can symbolize love, friendship, or commemorate special moments. Worn close to the heart, necklaces create a personal connection between the giver and recipient and make meaningful and lasting gifts.
This stylish treble clef necklace is a perfect gift for someone who enjoys classical music. It symbolizes the love for the genre. The necklace will serve as a personal expression of their passion, and allow them to showcase their love for music in a fashionable way.
The Greatest Music Stories Never Told
When it comes to discovering captivating stories from the world of music, The Greatest Music Stories Never Told is a must-have book for classical music lovers. Author Rick Beyer, known for his enthralling historical tales, presents an enchanting collection of astonishing and intriguing narratives. From scandalous scandals to moments of genius, this book delves into the unexplored corners of music history. With a delightful blend of jazz, classical, country, rock 'n' roll, hip-hop, and more, readers will be astonished by the hidden gems found within these pages. This book reveals the untold stories of influential figures, from ingenious composers to unsung heroes who shaped the music industry.
Whether your recipient is a music aficionado or a history buff, this volume promises to astound and entertain, making it an ideal gift for classical music lovers seeking a deeper appreciation of the art form. It serves as a gateway to exploring the rich history and cultural significance of classical music.
Handmade Sheet Music Roses
Recipients often prefer unique gifts because they evoke a sense of thoughtfulness, personalization, and exclusivity. They demonstrate a deeper level of consideration and thought, making it more likely to be appreciated and treasured by the recipient. These unique and artistic roses are crafted using actual sheet music, transforming musical notes into exquisite floral arrangements.
This gift is perfect for classical music enthusiasts who appreciate the creative expressions inspired by their favorite genre of music. They also make wonderful decorative pieces.
Classical Music Themed Cuff
Bracelets symbolize unity, connection, and commitment. Giving a bracelet as a gift can represent a bond between two individuals, such as friends, siblings, or partners. It signifies a special connection and the promise to be there for each other. When selecting a hand cuff as a gift, consider the recipient's personal style, preferences, and the meaning you wish to convey.
Tchaikovsky's 1812 Overture is a renowned and powerful orchestral work that is widely recognized and celebrated. This cuff is inspired by that work and will impress any classical music lover who appreciates the history of the genre. It is a thoughtful gift that celebrates the wearer's passion for classical music, allowing them to showcase their love for the art form in a fashionable and stylish way.
Hans Zimmer Classics Vinyl
Hans Zimmer is a highly acclaimed and influential composer in the world of film music. With a career spanning several decades, Zimmer has created iconic and emotionally charged scores for numerous blockbuster films. He has collaborated with many renowned directors, earning him widespread recognition and critical acclaim. Zimmer's compositions blend orchestral elements with electronic music, pushing the boundaries of film scoring. His work has left an indelible mark on the industry, making him one of the most celebrated and sought-after composers of our time.
This vinyl collection brings together some of Zimmer's most iconic works, including scores from blockbuster movies like "Gladiator," "Inception," and "The Dark Knight." It's a must-have for classical music enthusiasts who appreciate the emotional depth and cinematic brilliance of his music. This is a gift that allows recipients to experience the power of music and relive the magic of their favorite movies through Zimmer's captivating compositions. It'll also make a great gift for any aspiring filmmaker.
Classical Music Themed Coffee Mug
When it comes to selecting a gift, it's important to consider the recipient's interests and passions. For a classical music lover, a music-themed coffee mug is an excellent choice. Not only does it serve as a practical item for enjoying their favorite beverage, but it also celebrates their love for classical music.
The music-themed design on the coffee mug adds a touch of personalization and uniqueness to the gift. It shows that you have taken the time to select something specifically tailored to their interests. Every time they reach for the mug to sip their morning coffee or tea, they will be reminded of their deep connection to classical music.
Victrola Record Player
Looking for the perfect gift for a classical music lover? Look no further than the Victrola Record Player. With its timeless charm and modern features, this record player will transport your recipient back to the golden age of music. This bluetooth equipped record player offers a unique and nostalgic experience, allowing classical music enthusiasts to immerse themselves in the purest form of their favorite compositions. Its retro design adds a touch of elegance to any room, while its advanced technology ensures exceptional sound quality.
This gift is more than just a record player. With this present, you'll be giving them the gift of a nostalgic journey and a deeper connection to their favorite compositions. It's a gift that will create unforgettable moments and reignite their passion for the beautiful melodies that have stood the test of time.
Beethoven Bronze Statue
Searching for a gift that pays homage to the brilliance of Ludwig van Beethoven? Look no further than the Beethoven Bronze Statue. This exquisite statue captures the essence of one of the greatest composers in history, showcasing his iconic figure and intense expression with remarkable craftsmanship.
For classical music lovers who deeply appreciate Beethoven's profound impact on the world of music, the Beethoven Bronze Statue is a perfect choice. Placing it on a desk, shelf, or piano creates a captivating focal point that serves as a constant reminder of his genius and artistic legacy.
Piano Art Wall Decor
Art pieces make exceptional gifts as they evoke emotions, add a personal touch, enhance aesthetics, and endure over time. Each piece is unique, reflecting the recipient's individuality. Art becomes a captivating focal point, transforming spaces with beauty and sophistication. It holds sentimental value and sparks intellectual engagement, encouraging conversations and self-reflection. By giving art, you offer a meaningful symbol of appreciation and thoughtfulness.
When choosing wall art for someone, think about the recipient's personal taste and style. Consider their preferences for colors, themes, and artistic genres. Also, consider the intended space where the artwork will be displayed.
This abstract piano wall art is an ideal gift for classical music enthusiasts. You can also give it to musicians and piano players.
The Vintage Guide to Classical Music
Looking to surprise a classical music lover with a gift that will deepen their appreciation for the genre? Look no further than The Vintage Guide to Classical Music: An Indispensable Guide for Understanding and Enjoying Classical Music. This comprehensive and engaging book is the perfect companion for exploring over five hundred years of classical music. Inside this guide, you'll find chronologically arranged essays on nearly 100 composers, from the likes of Johann Sebastian Bach to Igor Stravinsky, providing biographical insights and detailed analyses of their major works. You'll also discover informative sidebars that shed light on broader musical topics and a helpful glossary of terms.
When giving a book as a gift, don't forget to include a heartfelt message or inscription inside the book, expressing your thoughtfulness and the significance of the gift.
More than just a history book, The Vintage Guide to Classical Music offers a step-by-step guide to building a great classical music library, ensuring your recipient has a wealth of exceptional recordings at their fingertips. This guide is suitable for both music experts and beginners, making it an invaluable source-book for music lovers everywhere.
Personalized Sheet Music Leather Print
Personalized gifts are highly effective as they go beyond the ordinary, forging a unique and heartfelt connection. They show thoughtfulness, creating a deep, sentimental bond between giver and recipient. Standing out from generic presents, they leave a lasting impression.
Create a personalized and meaningful gift with the sheet music leather print. This unique artwork combines the recipient's favorite sheet music with high-quality leather material. You can customize the song title, artist name, couple's name and the date. It's a perfect gift to get your romantic partner or even to give to a couple you know who loves classical music.
Music Note Neon Sign
This music note themed neon sign is a perfect gift for classical music enthusiasts who appreciate unique and creative decor. Its colorful LED neon light, in the shape of a music note, adds an elegant touch to any space. This attention-grabbing piece can be displayed on its own or combined with other decorations for a personalized touch.
Your recipient will be able to hang it on a bedroom wall, window, or anywhere else to create a captivating ambiance. It comes with the option to operate it with batteries or through USB, which makes it very convenient to use.
Wooden Vintage Player Music Box
This wooden vintage player themed music box is a perfect gift for classical music lovers who appreciate the craftsmanship and simplicity of vintage-inspired items. Crafted from high-quality walnut wood, this music box features a Japan Sankyo movement that plays a beautiful melody. You can have your own heartfelt message or a special phrase engraved on the top of the music box, adding a unique touch to this cherished keepsake.
It's a simple yet elegant gift that'll impress any old fashioned recipient who enjoys the classics. You can also choose from Japanese melodies if your recipient is someone who loves Japan and its culture.
Eighth Note Crystal Sculpture
Decorative sculptures make great gifts because they offer a unique blend of aesthetic beauty and personal expression. Their artistic design and craftsmanship add an elegant touch to any space, making them a delightful addition to home decor. Sculptures also hold symbolic value, representing various emotions, themes, or interests. By selecting a sculpture that resonates with the recipient's taste or captures a shared sentiment, you can create a meaningful and thoughtful gift.
This sculpture showcases the iconic eighth note symbol in a stunning crystal form, capturing the essence of classical music's rhythmic beauty. Any music lover would appreciate getting this as a gift.
Chopin Piano Masterpieces Vinyl
Frédéric Chopin was known for his expressive and lyrical piano compositions, which showcased his mastery of technique and ability to evoke deep emotions through music. His works, predominantly for the piano, exhibit a unique blend of technical brilliance and poetic sensitivity.
If your recipient is a fan of Chopin or they are classical music lovers who you believe will enjoy his music, this piano masterpieces collection will make a great gift. Just make sure they own a vinyl record player.
Classical Music Themed Travel Mug
Practical gifts aren't appropriate for every occasion and recipient. And while they can be effective gifts in certain situations, you shouldn't overdo it. It's best to mix function with thoughtfulness when picking a gift.
This stylish classical music themed mug achieves this balance well. It's practical yet thoughtful and considerate of the recipient's interests. It'll make a fine gift for any music lover who is always on the move. They'll be able to express their love for the genre and also spark conversations with fellow classical music enthusiasts.
The 50 Greatest Classical Composers Book
Explore the lives and works of the greatest classical composers with The 50 Greatest Classical Composers book. This comprehensive guide takes readers on a journey through the centuries, introducing them to the geniuses behind the masterpieces. From Bach to Mozart, Beethoven to Tchaikovsky, each composer's story is vividly told, accompanied by insights into their music and its cultural significance.
This book is a treasure trove of knowledge for classical music enthusiasts, offering a deeper understanding of the composers' influences, styles, and contributions to the genre. If your recipient enjoys reading, they'll love this gift.
Sheet Music Themed Sticky Notes
Add a touch of musicality to your recipient's daily reminders and notes with the sheet music themed sticky notes. This set of sticky notes features designs inspired by sheet music, making them a perfect gift for classical music lovers who appreciate both functionality and aesthetics. Whether used for bookmarking pages in music scores, jotting down musical ideas, or organizing tasks, these sticky notes combine practicality with a dash of musical flair.
They bring a sense of creativity and inspiration to daily tasks, reminding recipients of their love for classical music and the beauty of musical notation. This classical music themed sticky notes are a delightful addition to any workspace, music studio, or study.
The Concise History of Western Music
In his book A Concise History of Western Music Paul Griffiths explores how music has mirrored humanity's evolving perception of time. It's an engaging and informative book that delves into the rich tapestry of composers, performers, and listeners, unraveling the changing concepts and purposes of music throughout history. It's written in a way that makes it an accessible introduction for students and beginners, providing clear explanations without overwhelming technical jargon. Teachers, musicians, and music lovers will also find its perspectives and insights illuminating.
This book will make an exceptional gift for classical music lovers due t o its unique ability to unravel the intricate evolution of Western music. It also provides recommendations for further reading and suggested recordings. Your recipient will find it very useful.
Personalized Minimalist Piano Sculpture
Minimalist decor items make excellent gifts due to their timeless elegance and versatility. These items embody the principles of simplicity, functionality, and clean aesthetics, making them ideal for a wide range of interior styles. As gifts, they offer recipients the opportunity to enhance their living spaces with sophisticated and uncluttered style.
If your recipient prefers minimalistic decor, they'll be delighted to get this piano sculpture as a gift. What makes this gift truly special is the option to personalize it with the recipient's name or initials, adding a personal touch that reflects their unique connection to classical music.
Beethoven Quote Pen
This stylish pen features a famous quote by Ludwig van Beethoven engraved on its body, reminding users of the power of music and the indomitable spirit of the renowned composer. Whether used for writing notes, jotting down musical ideas, or simply as a keepsake, this pen carries the essence of classical music's passion and artistic expression.
If your recipient is a fan of the great composer, they'll appreciate getting this simple yet charming gift. It's a gift that will resonate with classical music lovers, encouraging them to channel their inner artist and find inspiration in their own creative pursuits.
Listen to The Music
Listen to the Music: A World of Magical Melodies by Mary Richards takes young readers on a time-traveling adventure through the rich history of music. With 10 key moments in different parts of the world, each accompanied by a renowned musician, this book offers an immersive experience like no other. Through these musical encounters, children not only learn about cultural history and famous musicians but also gain insights into the inspiration behind these magical melodies. Each musician shares their personal connection to their music and the places they call home, fostering a deeper understanding of the origins and significance of these timeless compositions.
Ideal for young recipients who are fond of classical music or parents who wish to introduce their children to it. This book will provide them with hours of entertainment and musical discovery. The interactive buttons and accompanying soundtrack will help your recipient to engage with the music in a meaningful way, making it a truly immersive experience.
1. Scheufele, P.M., 2000. Effects of progressive relaxation and classical music on measurements of attention, relaxation, and stress responses. Journal of behavioral medicine, 23, pp.207-228.
2. Mammarella, N., Fairfield, B. and Cornoldi, C., 2007. Does music enhance cognitive performance in healthy older adults? The Vivaldi effect. Aging clinical and experimental research, 19, pp.394-399.