19 Awesome Gifts for Mechanics They'll Like
A collection of the best gifts you can gift to a mechanic. Gift ideas that'll impress the car doctors in your life.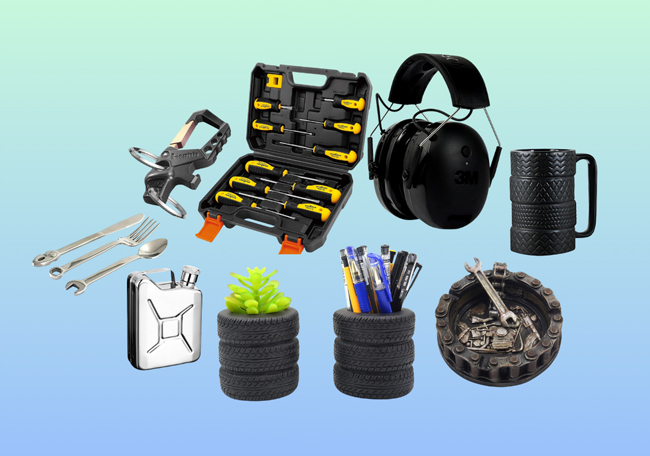 They say nothing is permeant (Except student loans in the US. They're forever.) Humans get sick and die, buildings fall down, your favorite T.V shows get cancelled and machines break. Mortality is a painful truth we have to accept someday. There is nothing that cure immortality in humans and prevent machines from ever breaking. But, when they do, act faulty from time to time you have doctors and mechanics to fix them for you.
Some men, such as myself, mostly unfruitfully, sometimes with success, try to fix the problem ourselves. Others are humbler and get the man for the job right away. They seem to have realized that life is short and you can't know to do everything.
You can't have cars without people being there to fix them when they break down. And without cars the world would not function. Mechanics are important members of our society. What would we do without mechanics?
Here's a list of gifts for the mechanics in your life. These gifts will get them working.
Car Themed Wrist Watch
Time is valuable, we know, but so are classy, gorgeous wrist watches. No man doesn't appreciate a cool watch.
This watch was designed for people who love racing. And no mechanic doesn't also like high speed cars. This will make a great gift.
Supermechanic T-shirt
Superman can fly crashing planes to safety and fight evil alien monsters and save the world, but if my car breaks down, he's practically useless to me. Even if he offers to fly me to work along with my car I'd refuse. I'm no damsel in distress.
A mechanic, in the end, is the true live saver for millions of people. This is a perfect gift for your favorite mechanic.
Motorcylce Chain Ashtray
When you're working with toxic fumes all day you don't worry about cigarettes.
A classic gift for any mechanic or anyone who likes cars, which is basically every straight guy on the planet.
Jerry Can Shaped Flask
A car needs its fuel to run. A man needs his to maintain his sanity. Life is hard and boring most of the time. A little sip of liquid confidence that is alcohol helps you keep going.
This shiny, beautiful flask shaped like a Jerry Can is a creative gift idea for any mechanic who enjoys his liquor. Well, that is unless they're an alcoholic, in which case, you don't want to exacerbate the problem.
Tire Shaped Planter & Pen Holder
One of the principles of good gift selection is to pick something that the recipient will find useful. But it doesn't make sense to gift only super practical gifts every time.
This will make a fine gift for a mechanic parent. They'll always have this pen holder or planter(depending on how they choose to use it) to remind them of you and this gesture.
Personalized Spanner Keychain
Considering the popularity of personalized gifts, I'm inclined to include at least a couple into these lists.
And while not very effective in most situations, when it comes to people who you are really close with, you can get them something personalized that's also useful.
For people who are casual friends you are better off giving them something practical and general rather than useful.
Heavy Duty Bottle Opener Key Chain
As I mentioned, recipients find practical things they can use more desirable than any unique stuff that doesn't serve much purpose.
Anyone with a car or even a key will find this heavy duty bottle opener desirable. A fine gift for any mechanic.
Funny Pro Mechanic Tough iPhone Case
Most professionals hate it when chatty clients interrupt or distract them while they're working. Involuntary suggestions are more annoying.
This tough phone case captures a mechanic's feelings and protects their phones. Why wouldn't they love it?
LED Work Light
Humans rose over our dependencies and limitations that nature has put on us. We don't just rely on sunlight for illumination we invented devices that help us see independent of the rotation of the earth. At first it was torches, now we have LED lights.
The point being lights are very useful and a rechargeable ED work light with 5 modes and 360 degree rotation will not fail to impress your mechanic recipient.

Hearing Protector Headphones
Being exposed to loud, irritating noises for long durations is part of life for anyone working on machinery. Garages are noisy and a hearing protector, noise cancelling headphones will make a useful thing to own for a car mechanic.
Keep in mind that some recipients might think it's lame and not manly to wear it while working. They won't appreciate it.
Funny Trump Quote Mechanic Mug
Donald Trump's talking style is inspiration for a lot of comedic material. And many artists and sellers are exploiting it to come up with funny, somewhat creative products like these.
If your recipient is a fan of Donald Trump, gift them this coffee mug.
Car Tire Themed Mug
I believe that one must drink his coffee in style. A well designed mug just makes the process of drinking coffee look cool. And this one fits the criteria.
This will make a decent gift for any mechanic or car lover.
Car Floor Mat Shaped Coasters
I'm not trying to generalize that all mechanics love everything car related. I'm just saying a mechanic, if they decided to own coasters, would prefer these cool looking car floor mat shaped coasters over the boring, ordinary ones.
A simple, somewhat useful gift for your favorite mechanic.
Car Mechanic Evolution T-shirt
T-shirts make fine gifts. They're practical, you can be creative with the message, and no one minds owning an extra t-shirt. All you have to do is pick a decent looking t-shirt that fits them well and your recipient will by happy.
These evolution themed t-shirts are kind of popular. This Car Mechanic Evolution t-shirt is funny and well designed.
You can gift this to a mechanic with a good style. They'll love it.
101 Piece Magnetic Screwdriver Set
I've always maintained that in most gift exchange situations, with a few exceptions, practical and feasible gifts are superior.
This 101 piece magnetic screwdriver set is high quality(which recipients prefer in their presents) and incredibly useful. A mechanic would not mind adding this to their arsenal.
Mechanic Themed Silverware Set
This tool themed silverware set is kind of corny, but is also something a mechanic would want to own. They'll find your present charming.
Also, no one minds owning more cutlery. It's useful.
Multitool Handymen Gadget
Mechanics love their tools. The more practical and efficient the tool is the better they like it. This multitool handyman gadget is a very handy tool to own not just for mechanics but for anyone who doesn't mind using their hands to fix things.
This heavy-duty multitool comes with a hammer, screw driver, bottle opener, wire cutter and lot more all in one. This will impress them.
Wrench Key Rack
We all want our houses and the walls inside them to reflect who we are. Someone whose livelihood depends on using tools would love a decorative wrench key rack holding their keys. They can hang it in their garage (After all mechanics deal with a lot of keys).
A charming gift for your favorite mechanic.
Mechanic Stool
Sometimes simple but useful gifts are the most loved ones. You don't really need to be extra thoughful or try to make your gift unique (Givers try to do this).
A mechanic stool will help them with their work. Even if they already own one, they'd likely be glad to upgrade to this one. It's high quality and sturdy. It will make a great gift.