41 Creative Fishing Gifts For a Fisherman
Discover the perfect fishing gifts for any angler in your life. From gear to personalized items, find the ideal present to celebrate their love for fishing.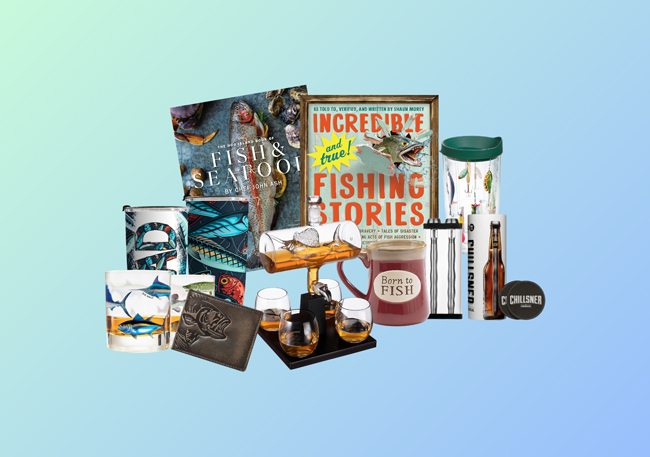 Fishing is one of the oldest and most widespread activities practiced by humans. It dates back thousands of years and has been essential for sustenance and trade in many cultures. It is a beloved hobby for many people because it offers a peaceful escape from daily life. For some it's a chance to enjoy nature's beauty and find comfort in the quiet. For others it can often be more than just a hobby–It can be a way of life, passed down through generations, and deeply rooted in cultural traditions. Many fishermen have a profound respect for the traditions and practices associated with their craft.
Research suggests that there are therapeutic benefits of fishing, including stress reduction, relaxation, and a sense of connection to nature. Engaging in fishing activities can have positive psychological effects and contribute to overall well-being.1
The thrill of catching fish and the challenge it presents is also rewarding for people who do it. Fishing lets them connect with the natural world, appreciating the ecosystems that support aquatic life. It's also a social activity that brings people together, creating lasting memories. A study done on veterans dealing with combat related disabilities found several positive outcomes among the veterans who participated in the therapeutic fly-fishing program. These outcomes include improvements in physical functioning, reduced pain levels, enhanced mood, increased self-confidence, and improved social connections.2
If you're looking for the perfect gift for the fisherman in your life you'll find a diverse collection of gift ideas that are sure to delight any fishing enthusiast. Whether they spend their weekends casting lines in lakes or challenging the ocean waves, this list has something special for every type of fisherman. Pick one that suits your recipient's style.
Mystery Tackle Box
Mystery boxes make exciting gifts because they offer an element of surprise and anticipation. The recipient gets to experience the joy of unwrapping a package filled with unknown treasures, creating a sense of excitement and adventure. The element of mystery adds an extra layer of excitement to the gift-giving experience. It's like receiving a surprise present every time, making mystery boxes a fun and memorable gift choice for any occasion.
This fishing kit is specially curated with high-quality baits and lures designed specifically for freshwater bass, including smallmouth and largemouth varieties. Each of these mystery tackle boxes contains a minimum of five different items, ensuring a diverse and exciting fishing experience. Whether your recipient is an experienced angler or a novice, the Mystery tackle box makes for an ideal fishing gift.
Bass Fish Wallet
Wallets make excellent gifts because they are practical, can be stylish, and feel personal. A well-chosen wallet can complement the recipient's style and personality, showcasing their unique taste. It's a lasting gift that the recipient can use and appreciate every day. This bass fish themed wallet is not just a practical accessory, but a statement piece that celebrates the passion for fishing. Handcrafted with full grain leather and featuring a beautifully embossed bass fish graphic, this wallet is designed to catch attention. The hand burnished finish adds a vintage touch, giving it a unique character that will develop over time with everyday use.
This wallet will serve as a constant reminder of your recipient's favorite hobby. Its durable construction ensures long-lasting use, making it a practical and sentimental gift that your recipient will be able to carry with pride wherever they go.
Incredible Fishing Stories
For a fisherman who enjoys a good read, Incredible Fishing Stories by Shaun Morey is a captivating book that takes them on an adventurous journey through the captivating world of fishing. Filled with thrilling tales, heartwarming anecdotes, and inspiring accounts from experienced anglers, this book offers a delightful escape into the fascinating realm of fishing. This book is a perfect gift for any fisherman. Whether they're seeking a dose of adventure, looking for inspiration for their own fishing endeavors, or simply enjoy a good storytelling, this collection of true tales is sure to delight them.
With its illustrations, photos, and links to videos, it provides a visually engaging and immersive experience that will keep your recipients hooked from cover to cover. It's the perfect gift to fuel their imagination and will provide them with hours of enjoyable reading.
Personalized Fishing Flask
This personalized fisherman themed flask is a thoughtful and unique gift that combines your recipient's love for fishing with a touch of personalization. This high-quality stainless steel flask features an engraved design of a fishing motif along with their name or initials. It's not only a stylish accessory for their outdoor adventures but also a practical item for enjoying their favorite beverage while fishing.
When giving a flask as a gift, there are a couple key things to keep in mind. First, consider the recipient's personal preferences and style. Second, consider any relevant cultural or social norms regarding alcohol consumption and ensure that the gift is appropriate for the recipient.
This flask is expertly laser engraved with precision and care, making it a truly unique keepsake or practical memento for future fishing adventures.
Sailfish Whiskey Decanter
Decanters can make excellent gifts for various occasions. They are often beautifully crafted, adding a touch of sophistication and elegance to any bar or dining area. They come in various designs, materials, and styles, allowing you to find one that suits the recipient's taste and complements their home decor. They can symbolize special occasions, milestones, or shared moments.
This Sailfish whiskey decanter is an exquisite gift for the discerning fisherman who appreciates the finer things in life. Crafted with precision and elegance, this decanter features a beautifully etched sailfish design, showcasing your recipient's passion for fishing in a sophisticated way. Its lead-free crystal construction enhances the flavors of their favorite spirits, allowing them to savor every sip in style.
Fish Wall Art
A well chosen wall art piece can make a wonderful gift. It adds aesthetic value to any space, transforming a plain wall into a visually captivating focal point. It also allows individuals to express their personal style and enhance the ambiance of their home or office. As a gift giver it gives you some options to choose from because of a wide range of styles, themes, and sizes, making it versatile and suitable for various tastes and preferences. Choosing wall art that resonates with the recipient's interests, passions, or memories can make it a meaningful and thoughtful gift.
When choosing wall art as a gift, consider the recipient's existing decor, color schemes, and preferences to ensure it complements their space. Also, think about their personal interests or any specific themes they may appreciate to make the gift more meaningful.
This handcrafted wooden wall art featuring a Large Mouth Bass fish shadow box is a perfect gift for fishing enthusiasts and nature lovers. The meticulous craftsmanship and stained finish create a stunning 3D effect that adds depth and visual interest to any wall. What makes this wall art truly special is the intricate design with seven layers, including silhouettes of fishermen, children, dogs, and birds. The combination of these elements adds a touch of life and storytelling to the piece, capturing the essence of the fishing experience. Any fisherman will appreciate getting this unique art as a gift.
Fisherman Embossed Metal Sign
This fisherman themed embossed metal sign is a decorative gift that will bring a vintage touch to your recipient's fishing decor. Made from durable metal and featuring an embossed funny message, this sign will appeal to any fisherman husband. You can give this to a guy who loves his wife.
Ideal for those with dad humor and who can appreciate a good fishing pun. Gifts with funny puns can make excellent gifts, especially for those with a lighthearted and humorous nature. Puns add an element of playfulness and wit to the gift, bringing a smile to the recipient's face and creating a fun and memorable experience. You shouldn't overdo it though. Only give these kinds of gifts to people who are close to you.
Book of Fish & Seafood
For the fisherman who enjoys cooking and exploring new flavors, The Hog Island Book of Fish & Seafood is a treasure trove of culinary inspiration. This comprehensive cookbook provides a wide range of delicious recipes featuring various fish and seafood species. From mouthwatering main courses to tantalizing appetizers, it offers a diverse selection of dishes to suit different tastes and preferences. With step-by-step instructions and helpful tips, this book empowers them to create culinary masterpieces using their fresh catches, elevating their fishing experience beyond the waters.
It is a perfect gift for the passionate fisherman in your life who loves both cooking and exploring the world of seafood. Authored by renowned chef John Ash, this comprehensive cookbook offers a delightful journey into the art of preparing shellfish, crustaceans, and finned fish with expertise and flair. Filled with over 250 amazing recipes from renowned chefs and the sustainable practices of Hog Island Oyster Bars, this book will impress any fisherman who enjoys trying out new recipes.
Born to Fish Mug
Mugs can make fine gifts as long as you keep a few things in mind. First, pick one that suits the recipient's preferences or reflects their interests and second, make sure it has some sentimental meaning behind it. It can even be as simple as you considering and respecting an interest they have so that they feel acknowledged.
This Born to Fish mug will appeal to any proud fisherman who loves his craft. It is a delightful gift that combines their love for fishing with their daily coffee or tea ritual. It comes with an inspiring God quote printed on it, so give it only to a religious person.
Personalized Fishing Metal Wall Art
Make their fishing space truly their own with this personalized fishing metal wall art. This customized piece of decor features a classy fishing-related design along with the option to get your recipient's name carved into it, creating a personalized and eye-catching display.
Made from durable metal, it is suitable for both indoor and outdoor use. Whether placed in their fishing room, garage, or patio, this personalized wall art will add a special touch to their fishing sanctuary and make them feel truly connected to their favorite hobby.
Fishing Glass Set
Life is too short to use boring, plain glasses. Elevate your recipient's drinking experience with the beautiful fishing themed glass set. It includes a collection of high-quality glasses designed specifically for fisherman and fishing enthusiasts. Each glass features unique fishing-themed artwork and fish illustrations, adding a touch of personality to their drinkware collection.
Whether enjoying a refreshing beverage after a day on the water or hosting a fishing-themed gathering, these glasses will enhance the enjoyment of their favorite drinks and provide a conversation piece that showcases their passion for fishing. It'll make a cool gift for anyone who loves fishing.
The Total Fishing Manual
The Total Fishing Manual: 317 Essential Fishing Skills is the ultimate gift for any fisherman, packed with invaluable knowledge and insights from the experts at Field & Stream magazine and experienced fishing guides. With 318 field-tested tools, techniques, and tactics, this book covers everything you need to know to enhance your fishing skills. Learn how to choose the best lures, baits, flies, and tackle for any fishing situation. Discover strategies for various types of waters, from small streams to open oceans, whether you're fishing from a boat or the shore.
No matter your recipient's skill level, this book will have them covered. Whether they're fishing with family or on a serious angling adventure, the techniques and tactics in this guide will ensure their success. Authored by Joe Cermele, an accomplished fishing editor and passionate angler, this book is a trusted resource that captures years of fishing expertise. It's a great gift for beginners, weekend anglers, and seasoned sport fishers alike.
Insulated Mug for Fisherman Dad
Personalized gifts for dads from their kids can be incredibly meaningful and cherished. Dads often appreciate the thought and effort put into personalized gifts, as they demonstrate a personal touch and show that the gift was specifically chosen with them in mind. These gifts can create a sentimental connection and serve as a reminder of the bond between a dad and their children. Show appreciation for your fishing enthusiast dad with this insulated mug. This rugged and durable mug is specially designed to keep beverages hot or cold for extended periods, making it perfect for their fishing adventures.
The insulated construction ensures their coffee stays piping hot during chilly mornings on the water, while the spill-proof lid adds convenience and prevents any mishaps. With its fisherman-themed design and the endearing "Fisherman Dad" inscription, this mug is a heartfelt gift that will warm their heart with every sip.
Personalized Fishing Knife
This personalized fishing knife is a practical and thoughtful gift for the avid fisherman. This high-quality folding knife features a stainless steel blade and a fish-themed handle that can be personalized with their name or initials. A personalized fishing knife adds a special touch and makes it uniquely theirs. By personalizing the fishing knife with their name, initials, or a special message, you create a deeper personal connection between the gift and the recipient.
With its compact size and versatile design, it's the perfect tool for various fishing tasks, such as cutting lines, cleaning fish, or even opening bottles. Every time they use this personalized knife, they'll be reminded of your special gesture and their love for fishing.
Fishing Rod Holder
Help your recipient keep their fishing rods organized and in top condition with this fishing rod holder. This sturdy and adjustable holder provides a convenient and secure storage solution for their fishing rods. Whether they have a collection of rods for different fishing techniques or want to keep their prized rod safely stored, this holder will prevent tangles, damage, and clutter.
When selecting a fishing rod holder as a gift, consider the recipient's fishing preferences, the type of fishing they do, and the materials and construction quality of the rod holder. By choosing a reliable and suitable fishing rod holder, you can provide a practical and thoughtful gift for the fisherman in your life.
This fishing rod holder effortlessly spins 360 degrees, allowing quick and easy access to the fishing rods. With a capacity to hold up to 16 fishing rods of any style, including saltwater, trolling, fly fishing, baitcasting, and spinning combos, this rod holder securely protects fishing rods without causing any damage. With four anti-slip foam pads and a simple 4-screw installation process, setting up this rod holder is a breeze. Its compact and portable design allows for easy transportation, making it ideal for fishing trips or storing rods at home. Give them the gift of organized fishing gear and hassle-free angling experiences.
Grandad's Fishing Fuel Bamboo Flask
Celebrate the fishing legacy of a beloved grandad with the Grandad's Fishing Fuel Bamboo Flask. This eco-friendly and stylish flask is made from sustainable bamboo and features a laser-engraved design that honors their role as a fishing-loving grandad. With its stainless steel interior, it keeps beverages hot or cold for hours, making it the perfect companion for their fishing expeditions.
This beautiful flask combines functionality and a personalized touch that makes it a great gift for Grandads. Whether they enjoy a warm cup of coffee on chilly mornings or a refreshing sip of water under the sun, this flask will keep them hydrated and connected to their passion for fishing. Crafted from high-quality bamboo wood and stainless steel, this flask is not only durable but also eco-friendly, making it an ideal choice for those who appreciate sustainable products.
The History of Fly Fishing
Help your recipient Immerse themselves in the fascinating world of fly fishing with The History of Fly Fishing book. This captivating read explores the origins, evolution, and rich heritage of this angling technique. From ancient angling practices to modern fly fishing innovations, this book provides valuable insights into the art and sport of fly fishing. Written by angler Ian Whitelaw, this New York Times bestseller is a delightful ramble along the stream of fishing history. It chronicles the evolution of fly-fishing through the lens of fifty milestone flies, from the ancient feathered hook to modern patterns utilizing cutting-edge materials.
With vivid storytelling and stunning visuals, it brings to life the remarkable individuals, techniques, and equipment that have shaped the history of fly fishing. Whether they are seasoned fly anglers or new to the sport, this book will deepen their appreciation for the timeless artistry of fly fishing. It's a gift that celebrates the heritage of fly-fishing while inspiring new adventures on the water. A perfect gift for a fisherman who's also a history buff.
Personalized Fly Fishing Box
Give your recipient a unique and practical gift with this personalized fly fishing box. This custom-engraved wooden box is designed to store and organize their fly fishing flies, ensuring easy access and protection for their valuable collection.
The personalization feature allows you to add their name, initials, or a special message, making it a cherished keepsake. With its sturdy construction and secure latch, this fly fishing box is perfect for both experienced anglers and beginners looking to embark on their fly fishing adventures. Let them carry their flies in style and keep their fishing essentials in order. This will make a classy gift for any fisherman in your life.
Fisherman Crossword Puzzle
Delight your recipient with hours of fishing-themed entertainment with the Fisherman Crossword Puzzle. This puzzle book is filled with a variety of crossword puzzles specifically designed for fishing enthusiasts. From fishing terminology to famous fishing spots and legendary anglers, these puzzles will test their knowledge and challenge their problem-solving skills. Inside this portable book, they'll find a mix of fishing-themed words and traditional crosswords that will keep your recipient engaged for hours. Each crossword puzzle features fishing-related clues, from positive actions on a fishing line to famous fishing gear retailers. It's a delightful way to test one's knowledge while having fun.
Whether they enjoy solving puzzles during downtime on fishing trips or relaxing at home, this book provides a fun and engaging way to keep their mind sharp while fueling their passion for fishing.
Funny Fisherman Wall Art
Inject some humor into their fishing space with this funny fisherman wall art piece. This whimsical and witty piece of wall decor features a humorous fishing-themed design that is sure to bring a smile to any fisherman's face.
It adds a touch of lightheartedness and personality to their fishing cabin, man cave, or office. Every time they glance at this wall art, they'll be reminded of the joy and laughter that fishing brings into their life and the person who gave it to them.
Fishin'-Opoly
Fishin'-Opoly combines the player's love for fishing with the excitement of a classic board game. This fishing-themed version of the beloved Monopoly game replaces traditional properties and tokens with fishing-related elements. Players can buy, sell, and trade various fish species, tackle boxes, fishing gear, and fishing spots.
It's a fun and engaging game that will allow your recipient to enjoy the thrill of fishing from the comfort of their home. Whether played with family or fellow fishing enthusiasts, Fishin'-Opoly is sure to create memorable and laughter-filled moments. A perfect gift for any fisherman who enjoys playing board games.
Funny Fishing T-shirt
When picking a t-shirt as a gift take into account the recipient's personal style and fashion preferences. Choose a t-shirt that aligns with their taste, whether it's a plain and classic design, a trendy graphic print, or a shirt featuring their favorite hobby or interest.
Make sure you know the recipient's size correctly. Consider their body shape and style preference for a comfortable fit. If you're unsure, it's safer to go for a slightly larger size rather than smaller.
A proud fisherman will be happy to get this cool fishing pun inspired t-shirt as a gift. If your recipient has a sense of humor and won't mind wearing a printed t-shirt, this will make a fine gift for them. Whether worn on the boat, at the fishing pier, or during social gatherings, this t-shirt will instantly spark conversations and highlight their passion for angling in a fun and light-hearted way.
Personalized Fisherman Cutting Board
As a fisherman, your recipient likely enjoys cooking and preparing meals with their fresh catch. A fishing-themed cutting board will align perfectly with their hobby and passion for fishing, adding a personalized touch to their kitchen. This high-quality bamboo cutting board is not only a practical tool for meal preparation but also a personalized keepsake. The fisherman-themed design, along with their name or initials, adds a custom touch that reflects their love for fishing.
Every time the recipient uses it in their kitchen, they will be reminded of the special occasion and the person who gave it to them, creating lasting memories. Overall, this personalized fishing-themed cutting board combines practicality, personalization, and relevance to the recipient's hobby, making it a thoughtful and meaningful gift for a fisherman.
Marshall Emberton Portable Speaker
You can enhance your recipient's fishing experience with this amazing portable speaker from the iconic company Marshall. The Emberton portable speaker is a powerful device that delivers high-quality sound in a durable and portable design. With its water-resistant construction and over 20 hours of portable playtime on a single charge, the Emberton is built to keep the music going. Its compact size and rugged durability make it ideal for outdoor adventures. It's the perfect gift for the music-loving fisherman in your life.
Whether they want to listen to their favorite fishing podcasts, enjoy music while casting their lines, or set the mood with some relaxing tunes by the water, this speaker provides a premium audio experience. If your recipient doesn't own one already, they'll be thrilled to get this classy speaker as a gift.
Beer Chiller Sticks
This set of beer chillers is the ultimate gift for the beer-loving fisherman in your life. Your recipient will be able to keep their favorite brew cold for a long time. These innovative stainless steel sticks are designed to be frozen and then inserted into beer bottles or cans to keep drinks chilled. You can simply freeze the chiller for 45 minutes, then press it into your beer bottle to create a tight seal. It comes with a built-in bottle opener and easy-to-clean design.
Give the gift of perfectly chilled beer with the Corkcicle Chillsner. It's the ideal companion for fishing trips, outdoor adventures, or simply relaxing by the water. Your beer-loving fisherman will appreciate the convenience, durability, and refreshing coldness that this gift brings.
A Guide to Sustainable Fish and Seafood
This is another excellent cookbook that will make a great gift for any fisherman who enjoys cooking seafood. This comprehensive book educates readers about sustainable fishing practices, seafood species that are at risk, and alternative options that promote environmental conservation. Good Catch: A Guide to Sustainable Fish and Seafood with Recipes from the World's Oceans is the perfect gift for your fisherman friend who values sustainability and loves exploring new flavors. In this cookbook author Valentine Thomas shares her passion for the ocean and her expertise in cooking fish and seafood in a sustainable way.
If your recipient is someone who prides themselves for being an ethical fisherman who makes good choices for the environment they'll appreciate getting this book as a gift. Although, avoid giving it to people who have made it clear that they don't care. It'll only be a waste and even come off as virtue signaling that they won't be pleased with. For those who do care, by giving this guide, you'll empower them to make conscious decisions when purchasing and consuming fish, ensuring the long-term health of our marine ecosystems. It's a thoughtful gift that combines their passion for fishing with the importance of sustainable living.
Fishing Tackle Bag
Practical gifts aren't for every recipient nor every occasion, but if you're certain that your recipient is someone who prefers getting things they can put to use, give them something that is useful in a thoughtful way. It should be an item that reflects their interests.
This fishing tackle bag is designed with the users' needs in mind, offering functionality, durability, and convenience for their fishing adventures. Made with high-quality 1000D high density nylon fabrics, this tackle bag is water-resistant and abrasion-resistant, ensuring it can withstand the rigors of outdoor use. Stylish and durable, it's the perfect companion for any fisherman's outdoor life. Its multifunctional design and ample storage space make it an exceptional gift that will enhance your fishing experiences.
How to Think Like a Fish
Written by the renowned angling explorer and star of Animal Planet's River Monsters, Jeremy Wade, How to Think Like a Fish offers a captivating meditation on fishing and life itself. In this book, Jeremy Wade shares his wealth of experience and knowledge gained from pursuing fish of extraordinary size and ferocity in various corners of the world. Now, he turns his attention to helping fellow anglers improve their own fishing results. Part science, part art, and part something elusive yet attainable, Jeremy distills a lifetime of fishing into valuable insights that will resonate with anglers of all levels.
This book is a gift that will capture the heart and imagination of any fishing enthusiast. It is a timeless guide that explores not only the intricacies of angling but also the profound lessons that can be learned from our interactions with nature and the pursuit of our passions. Through the pages of this book, readers will discover the delicate balance between instinct and logic, the importance of paying attention to crucial details, and the profound lessons that can be gleaned from both successful catches and "non results."
Fisherman Hat
Help your recipient shield themselves from the hot sun with this stylish fisherman hat. This wide-brimmed hat provides excellent sun protection for their face, neck, and ears, reducing the risk of sunburn and discomfort during long fishing sessions. Made from lightweight and breathable materials, it ensures comfort even on hot days.
The American flag on it represents national pride and patriotism. By combining it with a fish graphic, the hat showcases the recipient's love for both fishing and their country. It allows them to display their passion for fishing while also expressing their patriotic spirit. This will make a great gift for a patriot.
Fisherman Travel Cup
With this well designed travel cup your recipient will be able keep their favorite beverages hot or cold while they're on the go. This insulated and spill-proof cup is designed to maintain the temperature of their drinks for extended periods, whether it's a steaming cup of coffee on chilly mornings or a refreshing iced beverage on hot fishing days. Its fisherman themed design adds a personalized touch, reflecting their passion.
With its sturdy construction and convenient lid, it's the perfect companion for their fishing trips, road journeys or daily commutes. Ideal for any fisherman who loves fishing themed items.
Fishing Rod Organizer
This fishing rod bag is designed to organize and protect fishing equipment. It features outside pockets that can securely hold and protect up to 5 rods and reels, preventing them from getting tangled or damaged during transport. The double straps ensure a secure fastening, giving peace of mind to the fisherman. It also has an interior compartment with a convenient side zipper. This provides extra storage space for additional fishing gear such as tackle boxes, lines, hooks, and other accessories.The bag is travel-ready, making it an ideal companion for fishing trips. Its compact folded dimensions make it convenient to carry along while traveling.
Whether it's for a birthday, holiday, or any special occasion, this fishing rod case organizer will make a thoughtful gift for any fisherman. It will allow them to keep their fishing gear organized, protected, and easily transportable, making their fishing trips more enjoyable. Ideal for recipients who prefer getting practical things as gifts.
The Book of Fishing Knots
The Complete Book of Fishing Knots is a comprehensive guide that covers a wide range of fishing knots, leaders, and lines. It contains step-by-step instructions and color photographs for fifty different knots, from basic knots for beginners to specialized knots for experienced anglers. With this book, the recipient will have all the knowledge they need to tie the perfect knot for every fishing situation. In addition to that, the book provides valuable tips for selecting lines and tying leaders.
Whether the recipient is a beginner or an experienced fisherman, this book is a valuable resource. Beginners can learn essential knots to get started, while experienced fishermen can enhance their knot-tying skills and discover new knots they may not have known before. It's a gift that will enhance their fishing skills and bring them closer to that perfect catch they've always wanted.
Personalised Fishing Keyring
You don't have to buy expensive gifts for your recipient to like them. Sometimes simple things that express thoughtfulness make a better impression than something that is costly yet lacks sentiment.
You can add a personal touch to their everyday carry with this personalized fishing themed keyring. Whether they attach it to their car keys, fishing gear bag or boat keys, this personalized keyring is a thoughtful and sentimental gift that celebrates their love for the sport. It combines functionality and sentimentality in a small, practical item. Every time the fisherman reaches for their keys, they'll be reminded of their love for fishing and the thoughtfulness of the gift. It's a simple yet meaningful gift that your recipient will appreciate.
Fishing Pun Wood Wall Decor
I've included a funny wall decor gift in this list but if that wasn't your style, this may be. This wooden plaque with a charming fishing pun will appeal to any fisherman with a sense of humor.
It will add character and a lighthearted atmosphere to their fishing cabin, man cave, or home office, wherever they decide to hang it. With its rustic and handcrafted appeal, it's a decorative piece that will help them showcase their love for fishing.
Fishing Can Cooler
An alternative to the beer chiller sticks listed above for those who prefer cans over bottles is this can cooler. This insulated can cooler is designed to fit standard-sized cans and bottles, keeping them cold for longer. With its unique design, it allows users to enjoy their favorite drink while fishing. The hard-shell drink holder features an attached hand-line fishing reel, which is convenient for any fisherman.
With the Chill-N-Reel fishing can cooler, your recipient will have a fantastic time fishing while enjoying a refreshing drink. It's a practical and fun gift that your recipient will appreciate.
Fisherman Themed Wallet
If the wallet listed above isn't your recipient's style, consider this stylish fishing themed wallet. Its durable construction and compact size make it ideal for everyday use. Give them a wallet that not only keeps their belongings organized but also showcases their love for fishing.
It features eight card slots, four clear view ID slots and two note compartments and is available in both black and brown. Pick the color that you feel suits your recipient's style best.
Book of Fishing Tips & Techniques
This book by Lamar Underwood, a comprehensive guide filled with invaluable fishing wisdom. Drawing on his vast experience, Underwood shares the best-tested tips and techniques that successful anglers use to consistently catch fish. Covering a wide range of popular freshwater and saltwater game fish, this book provides insights applicable to various fishing environments. Whether your recipient fishes in rivers, lakes, estuaries, or offshore, they'll find practical advice for targeting trout, bass, crappie, bluegill, walleye, catfish, salmon, pike, and more. By exploring the behavior and habitats of different fish species, the reader gains a deeper understanding of their patterns and preferences.
It offers interesting insights, expert advice, and practical tips that can help them become more successful. Whether they're a beginner seeking to learn the basics or an experienced angler looking to refine their techniques, this book will make a useful gift that your recipient will appreciate.
Fisherman Keepsake Box
Keepsake boxes are thoughtful and sentimental gifts that provide a special place for storing cherished memories and treasured items. These boxes are designed to hold significant mementos or any other personal items that hold sentimental value. You should choose one that suits the recipient's taste and preferences.
This beautifully crafted wooden box features fisherman-themed engravings or artwork on its lid, creating a unique and sentimental gift. Ideal to give to someone who's close to you. It'll make a fine father's day gift.
Fly Fishing Wrist Band
Add a touch of style and practicality to their fly fishing gear with this fly fishing silicone wristband. This high quality wristband is made from durable and comfortable material and acts as a fly patch to hold hooks and flies. It makes it so that you can easily access the flies whenever needed.
With its functional and fashionable appeal, it's a thoughtful gift that looks cool and is convenient.
Personalized Fish Ruler
Ensure your recipient never misses out on boasting about their catch with this awesome personalized fish ruler. You can get their name engraved on it along with a custom message making it feel more personal.
This beautifully crafted ruler will allow your recipient to measure and record the size of their catches accurately, adding a personalized touch to their fishing gear. Whether they're competing in fishing tournaments or simply enjoying leisurely fishing trips, this fish ruler is a practical and sentimental gift that will help capture their fishing achievements in a unique way. Ideal to give to family members and close friends.
The Complete Fishing Manual
The Complete Fishing Manual is the ultimate reference guide for fishermen of all levels, making it the perfect gift for your fishing enthusiast. Packed with expert advice and comprehensive information, this manual covers every aspect of fishing, from basic techniques to advanced strategies. It features stunning photography and illustrations that make reading it fun. It also covers various fishing conditions and waters, including freshwater and saltwater.
One of the standout features of this manual is its diagnostic spreads, which offer solutions to common fishing problems. From the best bait to use or how to improve casting technique, this manual has the reader covered. If your recipient is a person who's new to fishing, this book will help them learn and master the fundamentals. Even an experienced fisherman will benefit from the knowledge in this book. This will make a fine gift for any fisherman who's always looking to improve their skills and learn more.
1. Seara, T., Pollnac, R.B., Poggie, J.J., Garcia-Quijano, C., Monnereau, I. and Ruiz, V., 2017. Fishing as therapy: Impacts on job satisfaction and implications for fishery management. Ocean & Coastal Management, 141, pp.1-9.
2. Bennett, J.L., Piatt, J.A. and Van Puymbroeck, M., 2017. Outcomes of a therapeutic fly-fishing program for veterans with combat-related disabilities: A community-based rehabilitation initiative. Community mental health journal, 53, pp.756-765.