7 Ed Sheeran Gifts That Are Perfect For His Fans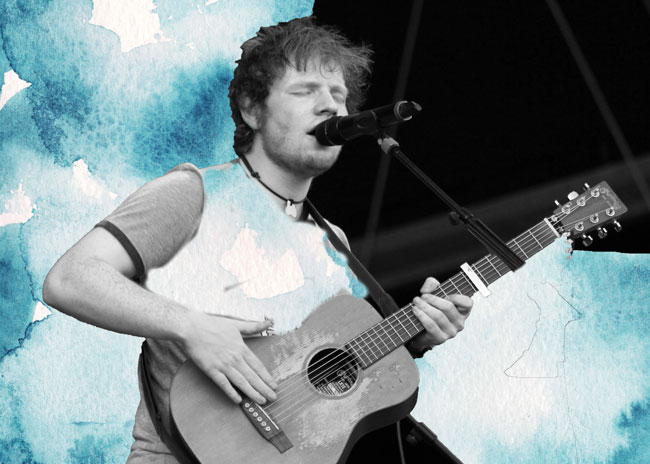 "Music is a powerful tool in galvanizing people around an issue. There's no better way to get your point across than to put it in a beautiful song."
Ed Sheeran is most popular musician right now with millions of devoted fans and several hit albums in a row. He has a massive following worldwide.
What I like about Ed Sheeran is his dedication to the craft. He started his journey to become a musician at a young age.
When he was eleven he met singer-songwriter Damien Rice who told Ed to write his own music. Sometimes all a dreamer needs is some encouragement; a little push.
After this he became unstoppable. From writing songs, recording and selling his own CDs, to going to London to find gigs, he did everything he could to fulfill his dream.
All the hard work, thousands of hours of practice and struggle made him the sensation we know.
His fans love him and they can't have enough of his songs. You can make their day by gifting them one of these gifts.
1
Ed Sheeran's Book
We humans are wired to love stories. Our survival as a species depended on it.
If you didn't pay attention to your caveman uncle telling you how his idiot grandfather died after eating a snake, you may someday try it for yourself.
Our natural love for stories is what makes gifts like these so lovable. Reading about your favorite singer, about his story, is something anyone would find exciting.
This book will work even for those who don't read since it's made up of words and illustrations.
Ed Sheeran wrote it and his childhood friend, artist Philip Butah,made the illustrations.
It's a perfect gift for fans of Ed Sheeran.
2
Ed Sheeran Rolling Stones Poster
This is an essential for a real fan.
While they might have a poster of Ed Sheeran, they won't have one that looks as kickass as this one.
Posters that we hang on our walls are, in a way, sacred. They reflect our idols & beliefs.
For someone inspired by Ed Sheeran, for someone whose life his music touched, this will make a great gift.
You might want to check if they have the same one hanged on their wall. If not, go ahead.
They will appreciate your choice of gift.
3
Ed Sheeran Guitar Pick Necklace
If human body is like a canvas, clothes and accessories are the colors we put on it to create art.
Expressing yourself with fashion is what we've done for thousands of years.
That is why a gift like this impresses the recipient.
While generally gifting a fashion item to someone is risky because if it doesn't match their style, they will dislike it.
But when you are being thoughtful about the selection, like with this one you chose it because you know they like Ed Sheeran so they will like it.
4
Ed Sheeran Scroll Poster
How much your recipient likes your gift depends on how they think it fits in their lives.
If they can imagine themselves using it and thereby it making their life better in some way, they will like it.
This scroll poster is attractive and stylish. They will imagine hanging it on their bedroom wall.
Also, it's easily portable so that's a plus.
Thinking of which of the gifts to buy? Buy multiple ones. There are lots of Ed Sheeran fans in the world. You can test which one works best.
5
Interviews with Ed Sheran
Like I said before, we love stories and interviews are essentially snippets of a person's life.
Everyone likes to watch their idols share their thoughts & stories.
To learn more about them, their lifestyle, their past, their struggles and everything there is. It inspires us. It makes us dream.
This DVD has over two hours of filmed interviews of Ed Sheeran. All the collection in one disk.
He talks about his fascinating career & life as a musician.
Two hours of Ed Sheeran is enough to impress any follower. They will love it. And they will thank you for a thoughtful gift.
6
Ed Sheeran Calendar
In the age of smartphones, who needs calendars, right? You do if it's made up of amazing photos of Ed Sheeran.
Sometimes the simplest things make the best impressions. Research suggests that we prefer simple & practical over complex.
Cheaper but simple and useful things are more likeable than more expensive but not very practical gifts.
A physical calendar is always useful but having Ed Sheeran on it makes it much more interesting.
The photos of him touring and in the studio is enough to make a fan's day.
7
Ed Sheeran Hoodie
Talking about simple things, just an Ed Sheeran hoodie can be as good a gift as any.
It's practical, attractive and affordable. They can wear it at his concerts or anywhere they feel like. Hoodies will never go out of style.
Clothes can make great gifts if you get their style right. This one looks pretty cool. I would buy it.
Make sure you get the right size though. If it's not their size, it will ruin the experience.
You don't want them to get excited when they see it and then turn sad when it doesn't fit.
This post was originally published on Jan 31, 2018