11 Cool Pulp Fiction Gifts for Fans
A collection of Pulp Fiction themed gifts for fans of the iconic film. From posters to vinyl wall clocks, you'll find the best Pulp Fiction gifts on the internet here.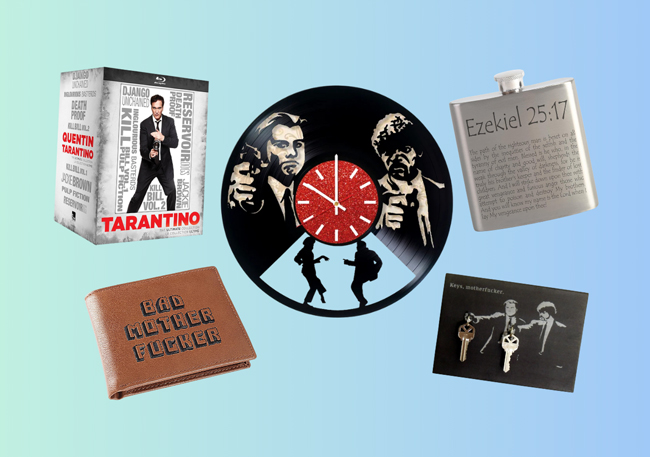 "Hamburgers. The cornerstone of any nutritious breakfast."
When you ask aspiring filmmakers and film buffs to list their favourite films most of them will have Quentin Tarantino's Pulp Fiction on their top list. When the film came out it essentially changed the way what audiences expected of movies. While the majority of Hollywood clung to the tried and tested screenplay recipes such as linear storyline and the three act structure, Pulp fiction's non conventional narrative and style was a delightful change for the audience.
Tarantino is a master of storytelling, but before he came to fame with his first film Reservoir Dogs, he used to work at a DVD store. There he did what he loved most to do, watch films. He enjoyed the job but something in him was urging him to do more–to be more. So after a failed attempt to make an independent film, which turned out to be mediocre for his own level, he put his efforts into a new script: Reservoir Dogs. He was all set to finance the film himself with the $30,000 he had saved up, but then his producer sent the script to Harvey Kaitel, who loved it and helped Quentin raise over $1 Million to make it. The film was a hit and eventually became one of the most influential independent films of all times. It was followed by the success of Pulp fiction.
If you are looking for a gift for a Pulp Fiction fan, following is a list of the best items any fan would love. Trust me. I'm one myself. If that person is a filmmaker. Check out the gifts for filmmakers collection here.
1.
Pulp Fiction Duo Poster
This is the iconic scene that everyone who has watched Pulp Fiction remembers. This is the same scene in which Jules recites the famous Bible Quote that shocked the audience.
A simple photo poster might not seem like a great choice of gift to you, but when it comes to films all that is needed is something that reminds of those great scenes. The memory does the rest. A true fan would love it.
2.
The Story of Pulp Fiction
We love films because we are hardwired to crave stories. Some prefer reading books, others watch movies, but even a guy who doesn't read won't mind taking out the reading glasses from the for this one.
No real fan wouldn't be curious about the story behind one of the most iconic films in the history of cinema. They'll enjoy the read. And for those who read, there can't be a better gift than this one.
3.
Pulp Fiction T-shirt
I did quite a bit of searching for a cool Pulp Fiction t-shirt and this is the best design I found. It's a perfect gift for any fan of the film, it captures the famous Vincent and Mia dance scene on a t-shirt.
Pick the right size and you can't go wrong with this one.
4.
Pulp Fiction Poster
Sometimes the simplest gifts are the best. And it's true in this case. Chances are that a true Pulp Fiction fan will have this poster already. You can find out just by checking their wall.
I tell you, it won't be kept inside in a drawer. If they don't have this poster already, they need one. And you'll be the cool friend who gifted it to them.
5.
Pulp Fiction Jules Poster
I know. Too many posters in this list. But I couldn't leave this one out, and besides film buffs love film posters.
Jules' Ezekiel quote from the film which any fan of the film can recite at cue makes this one a great gift. I like the design too. Gift away.
6.
Pulp Fiction Bible Quote Flask
You never know when you might need a drink. It's good to have some within reach.
Like the poster above this one has the Ezekiel quote on it, which is the most memorable line in Pulp Fiction. This will make a cool gift, trust me. A friend just gifted me a normal flask and I couldn't be happier.
Just don't gift it to someone who doesn't drink, they'll start just because this flask is so cool.
7.
Pulp Fiction Key Hanger
I'm sure of it, there can't be a cooler key hanger in existence. May be one that recites the dialogues from the film.
Anyway, the point is, this key hanger is pretty great. It acts like a poster, it's made out of wood (People love gifts made out of wood), and it's useful to anyone who owns keys. Go for it.
8.
Pulp Fiction Wallet
This one has a Pulp Fiction reference printed on it, which by default makes this wallet cooler.
Film lovers love movies references. Quentin Tarantino's whole career is based on this fact. Besides it has another great application. You take it out to pay at the mall and a cute girl gets the reference, you have a date. It it's a dude, then you have a new friend.
9.
Pulp Fiction Lamp
People can be pretty creative. There is no limit. VHS tapes are obsolete, but night lamps made out of VHS tapes are not.
Why would you let your Pulp Fiction loving person use regular, old, boring night lamps, when they could be using this piece of art? It's a crime.
You have to buy it now. Buy one for yourself too. This is too good.
10.
Pulp Fiction Vinyl Wall Clock
Like VHS tapes, Vinyl disks are going extinct. They'll soon have their place among dinosaurs in science books.
A cool wall clock like this, on the other hand, will never go out of fashion. Centuries from now, Pulp Fiction fans will pay millions to buy these things.
You'll be making your recipient's great great grandchildren very rich.
11.
Quentin Tarantino Blu -Ray Collection
In the age of Netflix and Prime, no one bothers to buy DVDs anymore. But there is something about owning a physical copy that one needs to call himself a true fan.
If they loved Pulp Fiction they probably liked Tarantino's other films too. They'll love to add this to their collection.
This post was originally published on Sep 28, 2019