25 Charming Gifts For Guitar Players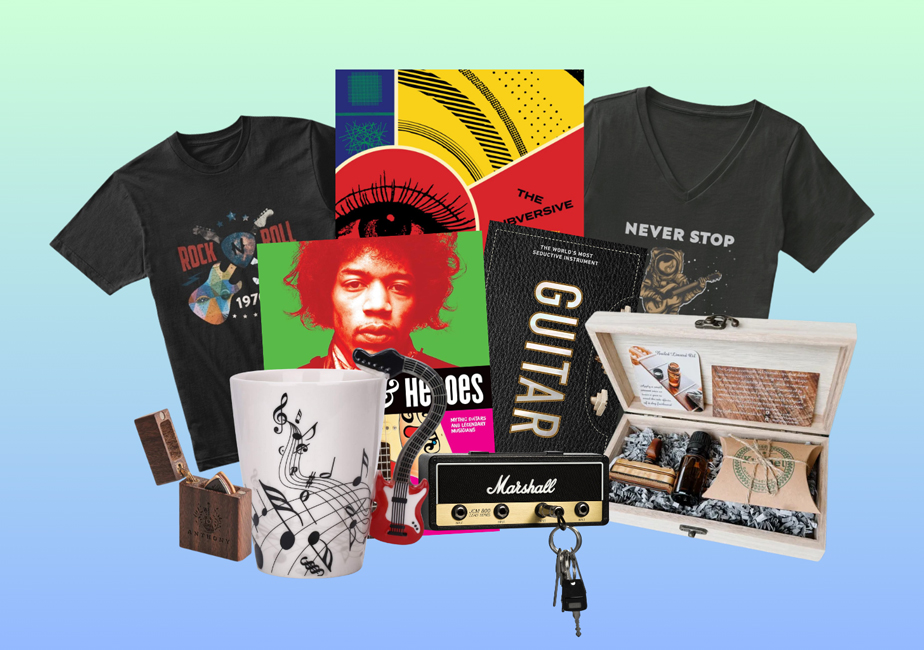 "I think its so cool that you can pick up the guitar and create something that didn't exist 5 minutes ago. You can write something that no ones ever heard before. You have music at your fingertips."
There is nothing quite like successfully playing your first song on a guitar. You can hardly control the overwhelming joy. And if you passed through the initial incompetent stage, it's very enjoyable to learn an instrument.
If you were thinking of taking up learning, go ahead, it will be worth you while.
Back to gifts for a guitar player. It can be difficult to come up with creative gifts they'll like. Don't worry, I have put together a list for you. Pick one and you'll be fine, but in case you decide to do gift hunting of your own, here's a list of things to avoid.
Gifts to avoid for guitar players:
Books and manuals on technique: Never a good idea. If they want them, they'll buy.

Guitar shaped stuff: That's silly. Believe it or not, guitarists don't eat out of guitar shaped spoons or sleep on pillows with guitars on them. Who does that? There are exceptions of course. I have included them in the post. Cool stuff they can actually use without coming of as obsessive.

Instruments and accessories: Most professions are very specific about their instruments. They hand pick accessories and tools, and will not be pleased by anyone else buying it for them, so avoid that. No tuners, no amps, no guitars, and no strings.

Mugs: No one wants mugs as gifts. Get over it.
Now, I say you stick to one of these gifts below. Hand-picked by yours truly.
1
Customized Guitar Pick Necklace Pendant
This is perhaps the most romantic way of expressing your love to your guitar playing lover (Except if you were to secretly learn to play and surprise them with a performance.)
You can pick your message. "You will always be my pick," is what they suggest, but you can be creative and come up with your own.
You can get it engraved in both front and back, so you can write two.
And if you can think of different things to write for different receivers, you can gift it to anyone who plays guitar. An aspiring musician best friend, a beginner guitarist niece, or even a cousin who thinks he's a rockstar.
2
High Definition Video/ Audio Recorder
To improve in anything, you have to first reflect on your current level of skill, and for that you need constant feedback.
Usually it's the job of coaches and teachers to give the student feedback, but for the rest of the time you are left without it. Which is a serious disadvantage.
The best way way to self access is to record the performance and observe it, finding mistakes, and see if there's room for improvement.
For musicians to do this, just any video camera won't work. You need high definition video to record your technique and high resolution audio for sound.
It'll be the most useful gift any musician can ever receive.
3
Guitar Bracelet
Gifting jewellery can be tricky, but something like this is well received by everyone. They'll find a occasion to wear this.
Perfect for those who are in a band. Musicians really love to express themselves. May that be through fashion.
They'll love the little guitar. It's thoughtful. A Hollywood kind of gift.
4
Talent Is Overrated by Geoff Colvin
This is the best thing you can gift to an aspiring musician, or to anyone who wants to achieve world class mastery in his field.
Talent is Overrated shows you what separates the masters, the world class performers, "Talented" people that everyone looks up to, from others who seem to be mediocre.
It's based on years of research of these performers. Musicians, Sportsmen, Athletes, Writers, Businessmen, and others.
If they read this and it helps them, they'll always be thankful for your gift. Wouldn't you be proud that you changed someone's life. Helped someone fulfil their dreams?
And, oh, while you're at it, buy one for yourself. Be great at what you do, or what you want to do.
5
Necklace/ Pick
This attractive, antique finish pendent is a gift any guitar player would love. It's perfect.
The best part about this is that the pendant can be used as a pick, so they'll always carry it on them. It may come in handy sometime.
The pendent comes in two designs, one has an acoustic guitar on it and the other has and electric one. Pick the one you like.
6
Whiplash
Everyone needs some inspiration once in a while. Stories make the best inspirations. We have all been inspired at some point to dream by stories of other dreamers.
Whiplash is a story about a dedicated aspiring musician. It's protagonist is a drummer, but that doesn't matter, the story is really about his passion for music.
The movie is an absolute pleasure to watch. It was nominated for academy awards. J.K. Simmons won various academy awards for best supporting role.
It will make a great gift not just for drummers, but for any musician.
Guitar Cord Stamp
The best gifts are the ones that make the receiver's life better. Give them something that saves them time, money, or effort and they'll appreciate it.
We invent machines do our work for us. This cord stamp will save them the mess of drawing the lines by hand.
Which will let them focus on the creative part. Be more productive. And they'll have you to thank for it.
</div>