25 Charming Gifts For Aspiring Writers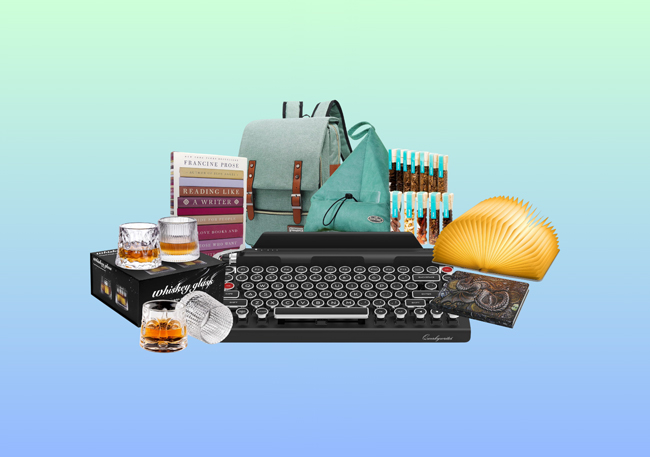 "Good fortune is what happens when opportunity meets with planning."
An aspiring writer is a strange kind of creature. Sometimes he thinks he thinks he's the best writer in the world, other times he doubts his ability to put words together to make a decent sentence. The thought process of an aspiring writer is strangely complex.
Finding a gift for one, on the other hand, is relatively easier. Either give them something they can use to write or something that acknowledges them as a writer. Because that's the thing they care the most about.
Well, here are some very charming and useful gifts for aspiring writers. They'll appreciate these much more than a "I am a writer" t-shirt or coffee mug.
1
Reading Like a Writer, by Francine Prose
You should never give "how to write" books to a writer. Besides from being useless and having conflicting and misleadingly vague advice, these books don't please the receiver at all.
This one is not a how to write book though, this is guide that shows you how to read better, more efficiently. How to read to learn the craft. No writing advice.
The reason the methods from this book are so effective is that it teaches you the old tried and true method of learning how to write. Which is studying the works of successful writers. This is what they did when there weren't many of writing guides around.
This book will save them from all the confusion out there. </div>
2
Typewriter Print Tank Top
What writer wouldn't like a tank top with a typewriter print?
If you were planning on giving some writer related cloths, this is perfect.
Those "I'm a writer," or "I will put in my novel," t-shirts are lame. They'll likely never wear it.
This one on the other hand is stylish and trendy. It doesn't have writer written on it yet the typewriter represents the craft. There are some options in color.
They'll like it.
3
Kindle
In his book On Writing, Stephen King advices any aspiring writer to do two things above anything else. Read a lot and write a lot.
This advice is so simple, that it's hard to believe it could work. But if you interpret it correctly, it is the best advice you'll ever get.
Kindle helps you with the reading part. You can download any book you want to read. Tons of great books are available for free on Gutenberg Project.
It has some great features. Inbuilt dictionary, vocabulary builder, no back-light (Good for eyes), battery lasts for weeks. The perfect reading machine.
If they don't have a kindle already for some reason, gift them one. They'll love you.
4
Antique Pen
Antique things are like time machines. Instantly they take us to the past. Even where we have never been.
You can imagine Shakespeare, excited, furiously writing Romeo & Juliet with his feather pen wearing those ridiculous English cloths.
Writers like that stuff because of the memories it evokes.
And who knows. They might use your gift to create some genius work of their own.
Noise Cancelling Earphones
Anyone who has ever tried creative writing understands the importance of avoiding distractions while writing. When you're writing, you need to focus on just writing.
Any interuption in the thought process can affect your work, even disrupt the creative flow.
Till a few years ago, the only solution to this problem was that the writer find a quite, isolated place to write. This could be expensive and, well, you can't always have the perfect circumstances.
Luckily, this is 2016. We have noise cancelling earphones now. Don't like what you're hearing, you can just put them on and it won't bother you any more. Which makes it an extreamly useful gift for writers. </div>