18 Kickass Gifts for Bruce Lee Fans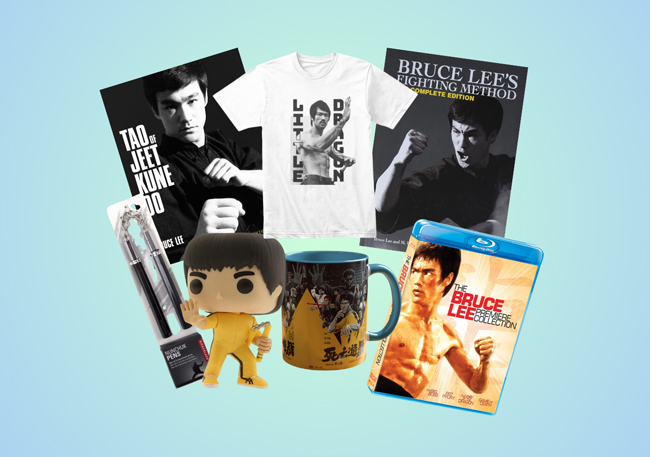 "Adapt what is useful, reject what is useless, and add what is specifically your own."
Some of you may know Bruce Lee as an film-star and as a martial artist but he was a lot more things than that. He was a writer, film-maker, founder of Jeet Kune Do and a philosopher.
Some of us dream of changing the world. He really did. Through his work, his films. Something every film-maker should aspire to do.
My point being, there is no shortage of Bruce Lee fans in the world. And if you learned about him, you'd become one too.
I know you came here looking for gifts so I'll stop my Bruce Lee fan speech there. Enjoy the list.
1
The Bruce Lee Premiere Collection
DVDs and Blue-ray disks of popular films make very likeable gifts because everyone likes films.
Even in the age of Netflix, they come in handy when the wifi doesn't work.
What Bruce Lee fan wouldn't love to watch the little dragon do his amazing performance on Blue-ray?
A hard-core Bruce Lee fan would definitely own all the films.
For those who don't, this will make an excellent gift.
2
Tao of Jeet Kune Do
How much wisdom can a guy fit in a book? Read this book and you'll find out.
The philosophies of the master, the techniques, the amazing quotes, all in one place to enlighten you.
Any fan would love to add this to his collection. Those who read as well as those who don't. Don't we love to collect fascinating things we may never use.
Still, you know they want it, and they'll love it as a gift.
3
Bruce Lee's Fighting Method Book
Want to learn how to kick ass like Bruce Lee? Doesn't everyone?
This book will teach you everything you need to know to defend yourself againts various threats.
And I'm not talking about Kung Fu techniques. Bruce Lee wasn't into tradition martial arts.
All practical moves. Defence from armed and unarmed assailants to counter for locks and chokes.
This is the complete edition. So, all four books are joined together. Will make a great gift for anyone.
4
Bruce Lee T-shirt
Clothes are one of the most popular gifts in America. And it's for a good reason.
Everyone likes new clothes and they can't have enough of them.
So, a Bruce Lee fan would love to own a beautiful looking t-shirt like this. The picture is my favourite scene from Enter the Dragon.
There are more Bruce Lee T-shirts on Amazon if you want.
5
Bruce Lee Action Figure
Dolls are for little kids, for everyone else, there are action figures.
This one is the best looking Bruce Lee action figure I've ever seen. It's amazingly lifelike.
You can make the little dragon take the pose you like.
Even switch the nun-chucks with a stick.
A perfect present for a teenager influenced by the master. They'll love this.
That doesn't mean you can't give it to adults. You can. They'll love it too.
6
Vinyl Figure
Bruce Lee was a good looking man. And his ripped physique and charisma made him popular among the ladies.
After all, he was a film star. But never I had thought there could be an image of an grown up Bruce Lee you could call cute.
Yet they did it. This thing is the cutest Bruce Lee related thing I've ever seen. Doesn't do justice to the tough and indestructible warrior image of the master, but you have to buy one.
7
PS4 Sticker
Why should your lovely PS4 look like everyone else's? Why not express yourself better by dressing up your device? Didn't Bruce Lee used to say express yourself?
Some people prefer things to look like how they came out of the box, others love variety and hate the boring looks.
This will make a very loveable gifts for them. Especially for a Little Dragon's fan.
There are more varieties on Amazon.
</div>
8
Bruce Lee Poster
Imagine how great it'd be to start your day reading this. And remembering it throughout the day when you face with some difficult thing and want to give up.
It's true. You're not defeated until you quit. You can always turn things around. Even when they seem overwhelming.
I love quotes by Bruce Lee. They're simple and practical.
9
Vinyl Clock
I dare you to find a cooler wall clock than this. And I know only way you could do that, is by keeping the same clock into the freezer.
There are a lot of different designs available, Beatles, Star Wars, etc. I have to give it to the creator for providing us with such an awesome product.
Among all these gifts, if you had to pick one for someone you don't know much about, I'd go with this one.
10
Enter The Dragon Filmcell
If you're like to surprise people with unique gifts, here is one they'll never expect yet love.
Enter the dragon was Bruce Lee's first and only Hollywood film. It revolutionized the filmmaking industry. Especially action films.
This filmcell could be your way to tribute the master.
Any fan would love to display the master's accomplishment on their wall.
11
Be Like Water Poster
This Bruce Lee quote is perhaps the most famous one. He said it in his Piere Burten interview. here is the footage if you want to see it.
Truly there is something about the quote that fascinates me. How something we use and see everyday, a necessity, and we don't learn from it. Even lifeless things can teach us the most important in life.
Like water we should be flexible and adaptable. Like water we must slip through the cracks and obstacles and continue. We must take the shape of the container, change to survive in our surroundings.
Any fan would love this.
12
I Am Bruce Lee Movie
I liked Bruce Lee before, but after I watched this film, I became even a bigger fan. This film is inspiring. It's like a biography, only on film and told by many point of views.
You'll know Bruce Lee better than you do now. You'll learn about Jeet Kune Do and its origin.
A guy with nothing but a few bucks in his pockets and huge dreams comes to America to achieve greatness. Who wouldn't be inspired?
13
Original Pop Art Painting
If we're talking about impressive gifts, let's not forget art. Although not everyone is crazed about paintings, for some people there is no better gifts.
If you know your receiver is a collector, go ahead. Gift this amazing painting of Bruce Lee to them.
If they're not, this may not make a very impressive gift. It helps to know your receiver's interests.
14
Bruce Lee Umbrella
Umbrellas are boring. Eveyone's got similar looking umbrellas.
Apart from color variations, there isn't much distinctive about them.
Why not express your uniqueness and love for the little dragon with this classy Enter the Dragon umbrella?
You can also gift it to any Bruce Lee fan on Earth and they'll love it. Who wouldn't?
15
Bruce Lee Playing Cards
Playing cards can be fun. Especially when you're stuck indoors and there's noting more interesting to do.
For a fan these playing cards are a collection of amazing pictures of the master. Each card has a different image of Bruce Lee.
Perfect gift for little warriors who admire Bruce Lee. They'll love it.
16
The Green Hornet Action Figure
This one will especially please the generation who watched Kato kick ass on TV. People watched The Green Hornet not because of the Green Hornet but to watch Kato in action.
Bruce Lee wasn't very pleased with his own performance though, he said he felt like he was a robot trying to pretend to be someone he was not.
Not expressing himself honestly. And that, he said, was a mistake.
Something he said he will never repeat again.
17
Enter the Dragon (40th Anniversary Edition)
Phenomenal film. I'm a film-maker and I can't help but admire the skills of Bruce Lee as a film-maker.
He revolutionized film-making as it was then. It's unfortunate that we'll not see any more of his films.
We'll have to suffice with Enter the Dragon and the others.
Being his most influential and popular film, it makes a fine gift for any fan.
This is the Blue-ray, 40th anniversary edition.
18
Nunchuck Pens
When Bruce Lee came upon this weapon, he wasn't at all impressed. He thought they were useless and a waste of time.
Then he started playing around with them, and after three months of practice he was swinging it like he had been practising for years.
Of course, Enter the Dragon popularized nun-chucks in America. Everyone was carrying them around, they even banned them in a few states.