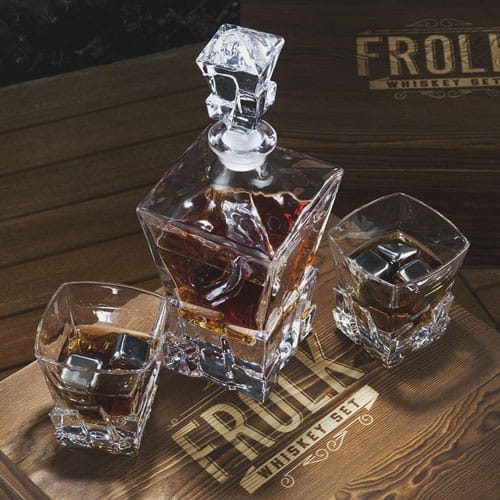 Whiskey Decanter Set
| Ideal Age | Source | Price |
| --- | --- | --- |
| 30 - 65 | Amazon.com | N/A |
An elegant whiskey decanter set for men who like to serve their whiskey with class. Gift idea for husbands and dads.
I'm not suggesting it applies to all men but most men are simple creatures who are easy to please. We like cars, sports and drinks. As long as you pick a gift related to aforementioned things, you're good.
Traditionally things such as whiskey decanters were considered to be for the bourgeoisie class. Only high class men who could afford showing off their wealth would own such things.
Things have changed. Any man with class and the desire to drink with style can buy a quality decanter online for an affordable price.
This whiskey decanter set will make a fine gift for anyone who loves whiskey. You can gift it to your day on father's day or his birthday.
Practical gifts are loved by recipients. And while you don't have to go too far and give them a microwave every time, you should make sure whatever you gift is it provides some practical value to your recipient.
Don't gift this to anyone who you're unsure drinks whiskey. It'll just end up being a not so useful decorative piece.
ideal gift for:
✔

Men who like whiskey

✔

Dad on Father's day

✔

Any guy with class
Don't Gift to:
✖

Recovering alcoholics (duh!)

✖

Not big fans of whiskey