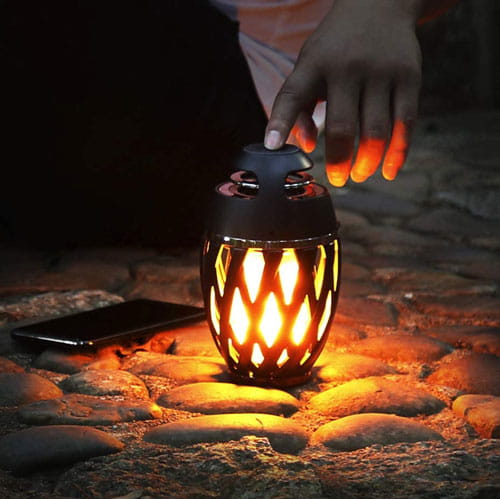 Outdoor Table Lamp
| Ideal Age | Source | Price |
| --- | --- | --- |
| 20 - 40 | Amazon.com | N/A |
An outdoor table lamp for guys who like their gadgets looking old school. A cool gift for campers and travelers.
There is no doubt that modern outdoor lights are much more efficient than your old kerosene lamps, but they are generally very ugly.
Maybe it's just me but I think the we ignore the need for beauty in things in the rush for modernization and efficiency.
Say anything about the old timers but they knew how to design things that looked good. Modern cars are faster and perform better but classic cars just look better. We have skyscrapers that touch the heavens but they're not fun to look at.
This night lamp manages to combine the technology in the modern times with the classic look and glow of old fashioned lamps. It looks like something out of a sci-fi film in the 80's.
This lamp will make a ideal gift for men who love the outdoors, guys who go camping and even those who just want to have a beer in the backyard with some mild cinematic lighting.
It's a LED lamp with Bluetooth speakers so your recipient can enjoy some music too.
ideal gift for:
✔

Music lovers

✔

Travelers & campers

✔

Anyone who likes old fashioned things
Don't Gift to:
✖

People who prefer modern, minimalistic designs