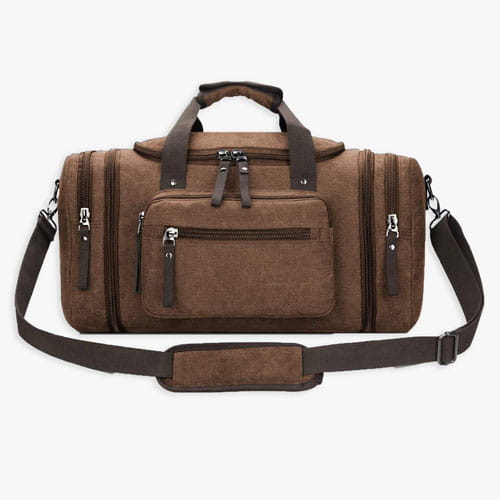 Canvas Duffel Bag
| Ideal Age | Source | Price |
| --- | --- | --- |
| 30 - 50 | Amazon.com | N/A |
A stylish canvas duffel bag for men that'll make a fine gift for boyfriend or husband who travels. A practical gift men will love.
It's generally my advice to givers to pick gifts that are at least somewhat practical. No matter how clever, funny and creative your gift idea is, if the recipient doesn't get any ownership value out of it they won't like it.
A gift should enhance your recipient's life in some way. That's what matters to them. Givers focus on the moment of the exchange and their recipient's reaction so they try to pick something thoughtful and with meaning. Recipients, on the other hand, don't think about your efforts much.
This stylish canvas duffel bag is perfect for men who frequently travel. It looks modern yet maintains a classy look.
This will make a fine gift for a boyfriend or husband who has to travel for work. It's efficient and spacious. You can also gift it to your dad on father's day.
Things like these make good gifts because they're practical and everyone has a use for them sometime.
ideal gift for:
✔

Men who like classic designs

✔

Guys who travel for work
Don't Gift to:
✖

Teenagers may not like the style

✖

Guys who prefer backpacks for travel