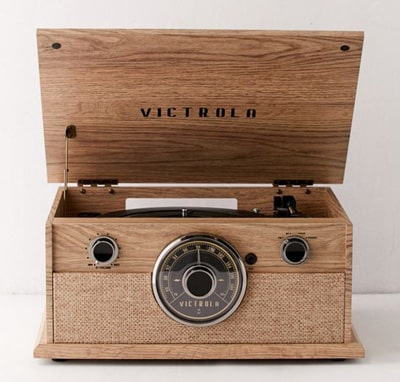 Victrola Bluetooth Record Player
| Ideal Age | Source | Price |
| --- | --- | --- |
| 20 - 44 | Urbanoutfitters | $100 |
A stunning vintage looking vinyl player with bluetooth and WiFi connectivity. This is an ideal gift for any music lover who embraces the modern but cherishes the past.
Technology keeps evolving with time and so does the music. New is better. Digital music is more accessible to the masses, but even as it becomes outdated old technology ages like old wine.
There's a pleasure in listening to music the old fashioned way. Audiophiles will argue to death about the superiority of the sound that vinyl provides. But these record players aren't for everyone. After all, it's not practical for most to buy disks for every album they want to hear.
This record player solves the problem by combining the old and the new. You get a vinyl record player along with bluetooth and Wifi connectivity. You can connect it to your phone, tablet or laptop and listen to your playlist. You can also connect a speaker.
Not to mention it looks cool. I love the vintage style. Of course, you can buy a vintage one but parts can wear out and that's a hassle. This is a modern solution.
You can gift it to anyone who loves music. Especially those who enjoy the old classics. They'll appreciate this.
ideal gift for:
✔

Audiophiles with a vinyl collection

✔

Anyone who likes music and vintage looking things

✔

Musicians
Don't Gift to:
✖

Someone who has never owned a vinyl record

✖

Teenagers who are mostly into pop music